Pořadatelé festivalu Labefest 2019, který se koná v jednom z nejkrásnějších festivalových areálů, na břehu Labe na Smetanově nábřeží v Děčíně přímo pod děčínským zámkem, 10. až 11. května, dostáli tradici a dali šanci mladým talentovaným interpretům.
Odborná porota složená ze členů již potvrzených kapel, jako jsou Vypsaná fiXa, Rybičky 48 nebo Imodium, žurnalistů, pořadatelů a především návštěvníků samotných vybrala ve dvou kolech soutěže Labefest Talent vítěze: kapely Vivian a The Remedy. Obě tyto skupiny mají teď možnost vystoupit v programu Labefestu 2019 a odstartovat tak show na pódiu, kde je budou následovat takoví umělci, jako jsou Ben Cristovao, No Name, Olympic, Vypsaná fiXa, Th!s s Vojtou Kotkem, Imodium nebo Sabina Křováková. Celý Labefest 2019 zakončí svojí velkolepou show kapela Rybičky 48, která v těchto dnech spustila předprodej na svůj koncert v největší české hale, pražské O2 areně.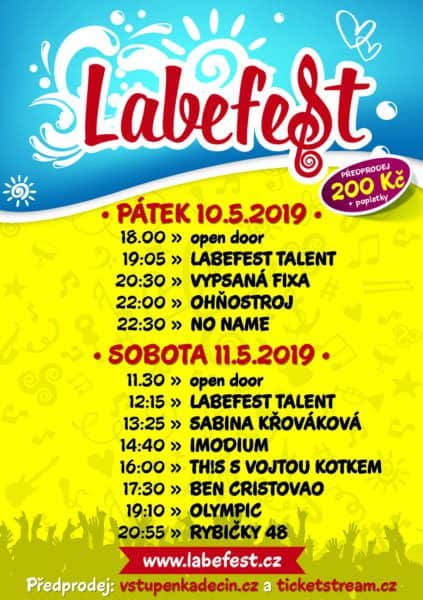 Vojta Kotek navíc přislíbil, že se stane účastníkem Adrenalin Challenge a přeletí na laně z protější skály řeku Labe. "To musím dát i se slaněním," těší se na svůj adrenalinový zážitek Vojta. Jeden z nejkrásnějších festivalových areálů na břehu řeky Labe už viděl z ptačí perspektivy Kuba Ryba z kapely Rybičky 48, Pekař nebo bratranec Tomáše Kluse Jonáš, který Tomáše statečně zastoupil loni.
The Remedy, Hard rock, Děčín, www.bandzone.cz/theremedy
Vivian, Rock'n'roll, Broumov, www.bandzone.cz/vivian
Vstupenky lze zakoupit v předprodejních sítích Ticketstream.cz. – www.ticketstream.cz/tsp/ts1website/akce/labefest-123763.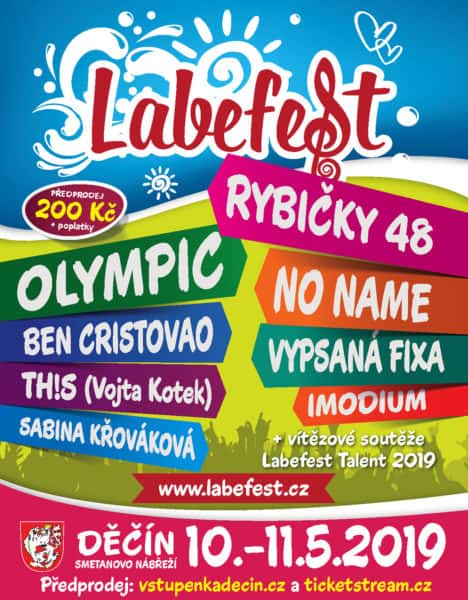 Zdroj: TS