Napriek neutešenej, kultúre neprajúcej situácii máme pre priaznivcov jazzu dobrú správu. Usilovne sme pracovali, aby sme vám mohli predstaviť ďalšie, už siedme pokračovanie festivalu Horehronské Jazzové Dni. Realizácia live verzie nebola možná. Stretneme sa však virtuálne vďaka online premiéram koncertov z NKP Bombura. Tento ročník sme mali možnosť privítať päť domácich kapiel, ktoré odohrali svoje koncerty a my sa nevieme dočkať kedy ich s vami prezdieľame. Sledujte facebook NKP Bombura a web stránku www.bombura.sk, 29.apríla a 8. mája. Veríme, že počas posledného koncertu 15.mája, sa stretneme už naživo v Bombure.
Online premiéry prvých dvoch koncertov sledujte vo štvrtok, 29.4. 2021 od 19:30 .
Ako prvé sa nám predstavia kapely Basostroj a Groovehub. Meno Martin Žiak netreba nikomu predstavovať. Učarovali mu najmä vibrácie basgitarových strún. Koncertoval s rôznymi zoskupeniami od popu cez blues až po drum'n'bass (Katka Korček, Silvia Josifoska, Jana Kirschner, Henry Tóth a ďalší) . Najnovším Martinovým hudobným počinom je vlastná skupina Basostroj, ktorej vyšiel v apríli druhý album. Kapelu okrem Martina tvoria Emil Frátrik, Samuel Kovács, Tomáš Findra. U nás v Bombure si však na bicie zahral Lukáš Kubičina. Za zmienku stojí, že s Emilom Fratríkom hral Basostroj ako doprovodná kapela spevákovi Vinxovi ( USA) z kapely Jungle Funk. Basostroj ponúka inštrumentálnu hudbu plnú basgitary, groovov, loopov a elektriny.
Groovehub je slovenská jazzové zoskupenie. Za svoju deväťročnú existenciu sa im podarilo zozbierať mnoho ocenení, čo svedčí o kvalite a vyzretosti ich hudobnej produkcie. Kapelu založil na jeseň 2012 klávesista, skladateľ a aranžér Ľubomír Šramo. Spolu s energickou a kreatívnou rytmickou sekciou, ktorú tvorí Radovan Vallach na bicie a Adam Hudec na basgitare, vytvárajú zvuk presahujúci hranice tradičných hudobných žánrov.
Online premiéry ďalších dvoch slovenských koncertov sledujte vo sobotu, 8.5. 2021 od 19:30.
V programe HJD nájdete aj unikátny koncert Zuzany Mikulcovej s hosťom, zo Sýrie, Larou Abou Hamdan. Len ťažko by ste na Slovensku našli krajšiu a silnejšiu manifestáciu ženskej sily a krehkosti, jemnosti a pevnosti či odhodlania a ľahkosti, vo vokálnom prejave. Nenechajte si ujsť tento výlet do krajiny tónov, melódií a podmanivej hudby obohatenej štipkou exotiky.
Nemenej kvalitnou hudbou sa v rovnaký deň odprezentuje aj kapela Talent Transport. Vladislav "Slnko" Šarišský, Filip Hittrich a Marián Slávka. Trio skúsených hudobníkov známych svojou vyzretou tvorbou, v ktorej pozadí cítiť, hudobný odkaz Mareka Brezovského a Deža Ursínyho. V ich hudobných kreáciách sa veľmi prirodzene spája jazz, vážna hudba a pop. Finálny dojem je uchu i duchu lahodiaci a určite stojí za viac ako jedno vypočutie.
Záverečný koncert a hudobný workshop. 15.5. 2021 (veríme že) v Bombure naživo.
Posledná kapela ktorá na HJD vystúpi potvrdzuje, že v Sebechleboch žijú talentovaní hudci. Práve odtiaľ kapela The Turnels Brass band pochádza. Ich prejav je nabitý energiou a rytmami, ktoré podmanivo ovládnu vaše vedomie a nadlho sa usadia vo vašej hlave. Nečudo, že The Turnels Brass band si v roku 2020 odniesli cenu SOZA za vlastnú autorskú tvorbu a kolektívny výkon v súťaži Nové tváre slovenského jazzu 2020. Pre priaznivcov žánrových presahov sme si pripravili v tento deň aj prekvapenie v podobe hudobného workshopu.
V rámci sprievodného programu HJD vám cez krátky video medailónik odprezentujeme aj výstavu originálnych diel, prevažne detských, návštevníkov letného festivalu Slovenské Alternatívne Leto, ktoré vznikali pod odborným dohľadom umelcov z ateliéru Riavy – Juraja Muchu, Lucii Lakovej, Richarda Boháča a Sandry Steinsdorferovej. Každé dielko je unikátom a spoločne tvoria milé, hravé a kreatívne memento z minulého ročníka festivalu. Výstava "Obrázky z festivalu" je nainštalovaná v priestoroch NKP Bombura a nedočkavo čaká na svojich prvých návštevníkov.
Podujatie z verejných zdrojov podporil Fond na podporu umenia
Web: www.bombura.sk
FB: Bombura NKP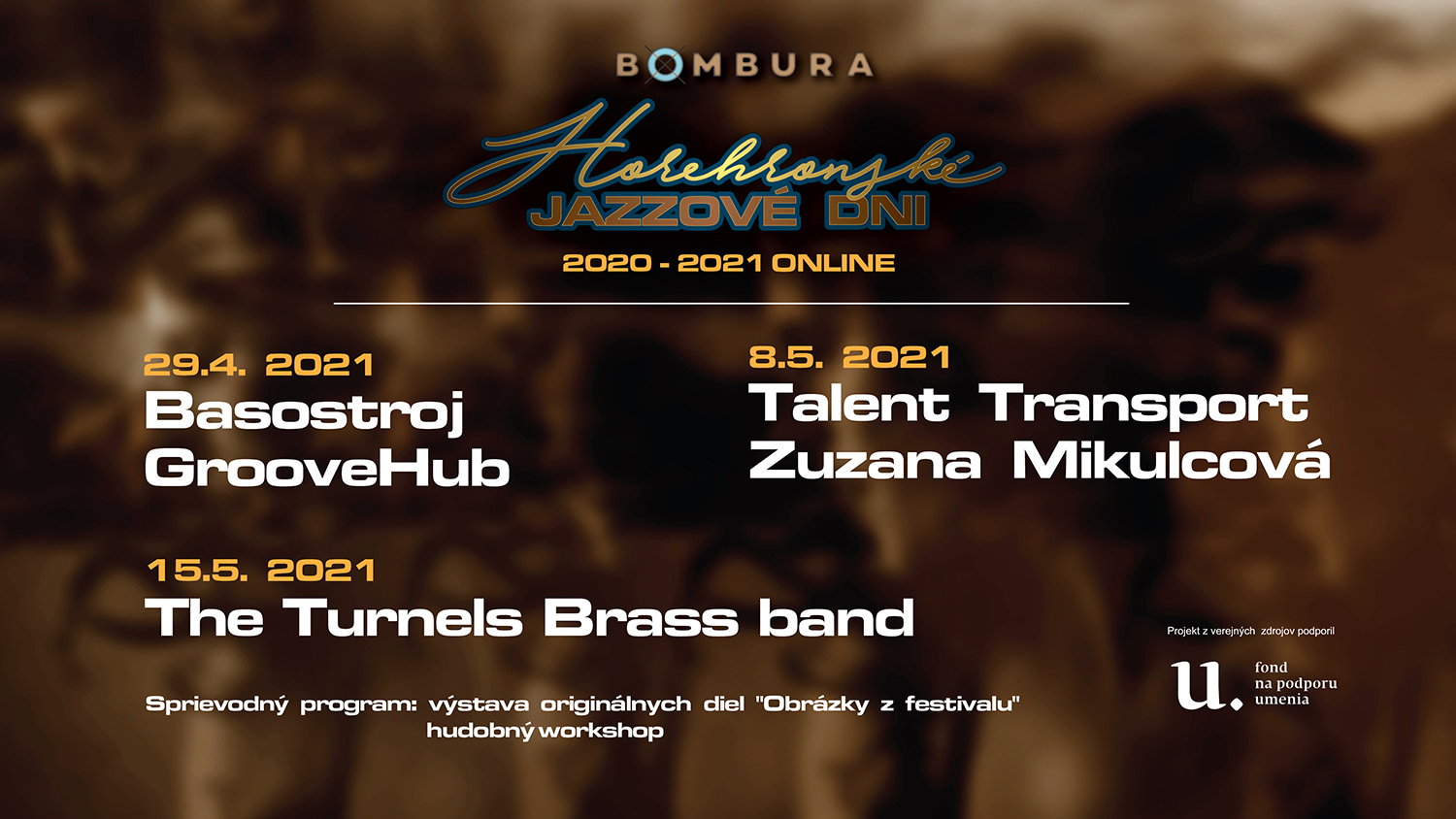 Zdroj: TS