Jedenásty Koncert pre všímavých sa sťahuje do dvoch výnimočných priestorov – v galérii Umelka zahrajú Bez ladu a skladu aJeště jsme se nedohodli, v klube Fuga Chór vážskych muzikantov, The Wilderness a vo svetovej premiére slovensko-maďarský projekt Drť. Vstupné na koncerty v Umelke je 15 €, vo Fuge 9 € a spoločné vstupné na koncerty v Umelke a vo Fuge je 19 €.
Miesta koncertov sú vybrané zámerne. V reakcii na pražské udalosti zo 17. novembra sa v nedeľu 19. novembra 1989 v bratislavskejUmelke zišlo približne päťsto umelcov, intelektuálov a osobností spoločenského života, toto stretnutie viedlo k založeniu VPN. Podnet na stretnutie dal Rudo Sikora, ktorý mal v novembri 89 v Umelke výstavu – v tomto roku tam vystavuje opäť a spolu s Ilonou Németh bude s lídrami hnutia Stojíme pri kultúre Ninou Vidovencovou a Stanom Krajčim debatovať o úlohe umenia v spoločnosti. Existencia slobodného klubu ako je Fuga je dôležitým výsledkom pohybov z roku 1989. Je dôležitým centrom slobodného umenia v centre Bratislavy, okrem kapiel tam vystúpi aj jeden z lídrov Nežnej revolúcie – Fedor Gál.
Koncert pre všímavých v Umelke otvoria Ještě jsme se nedohodli. Jedni z reprezentantov tzv. brnianskej novej vlny začali v 80. rokoch ako jednorázové recesistické vystúpenie, no zakrátko spôsobili rozruch na alternatívnej scéne. Nielen tým, že ignorovali byrokratické prekážky, ktorými si režim ponechával kontrolu nad tým, čo, kto, komu a ako hovorí, ale predovšetkým veľmi neobvyklým hudobným a textovým prejavom. Ak chcú súčasní vyznávači hudobnej alternatívy a kapiel ako Black Midi vidieť jej korene staré 30 rokov, nemali by si nechať ujsť tento výnimočný koncert.
Po nich zahrajú Bez ladu a skladu z Trenčína, ktorí sa do Bratislavy vrátia po štyroch rokoch. Pred rokom 1989 hrávali zväčša v českých alternatívnych kluboch. Prvý album mohli oficiálne vydať až po roku 1989. Denník New York Times ich v roku 2009 zaradil medzi "skupiny, ktoré prispeli k pádu železnej opony".
Koncert vo Fuge otvorí undergroundová skupina Chór vážskych muzikantov (známa aj ako CHVM). Kapela vytvorila z Trenčína centrum slovenskej alternatívy, pomáhala mnohým skupinám vrátane Bez ladu a skladu. Ľuboš Dzúrik s jeho Fukkavica Records šíril na Slovensku undergroundové nahrávky.
Po nich vystúpia The Wilderness, ktorí sú absolútnym dôkazom toho, že punk v jeho najlepšej podobe nie je mŕtvy. Skvelé texty, vynikajúca hudba a nekompromisné postoje robia z The Wilderness zásadnú kapelu na slovenskej hudobnej scéne.
Koncert pre všímavých zakončí svetová premiéra slovensko-maďarského projektu Drť. Jeho autorom je hudobný skladateľ Miro Tóth, známy aj vďaka spolupráci aj s Kronos Quartet. Okrem neho sú súčasťou projektu ďalší známi muzikanti: skladateľka Lucia Chuťková, Marek Buranovský (Vojdi), Márton Csernovszky (The Best Bad Trip), Áron Porteleki (Thisnis) a Michal Kaščák (Bez ladu a skladu). Ich piesne sú prebásnením a zhudobnením rozhovoru bývalého šéfa ŠTB Alojza Lorenca. O ich štylizáciu sa postaral Marek Kundlák. Súčasťou koncertu bude aj uvedenie albumu Puntičkár, ktorý je venovaný obetiam perzekúcii, represií a vrážd komunistického režimu.
Event na facebooku: www.facebook.com/events/389443575270707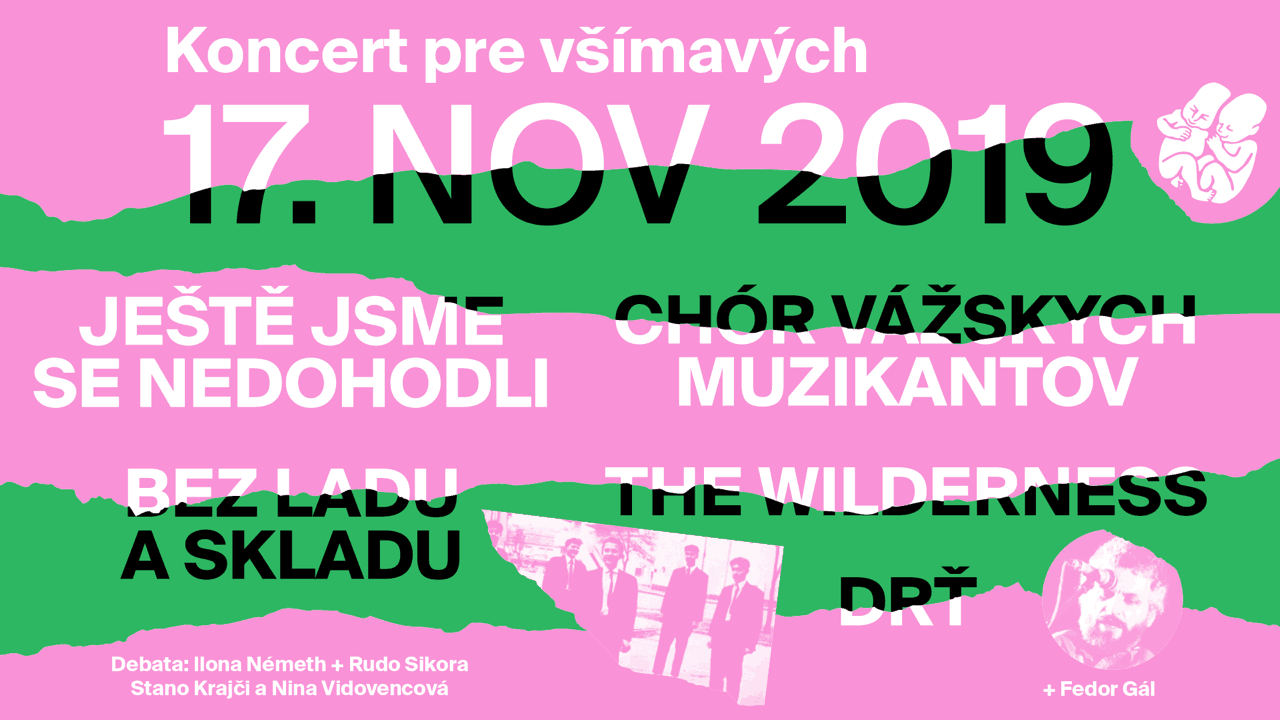 Zdroj: Pohoda Festival s. r. o.