V nedeľu 25. septembra 2022 sa Športová hala v Novom Meste nad Váhom zmenila na koncertnú sálu. Jedenásty ročník benefičného koncertu Dúha v srdci pre osoby s mentálnym a zdravotným postihnutím ho úspešne pripravili: Centrum sociálnych služieb Nové Mesto nad Váhom, Mesto Nové Mesto nad Váhom, Občianske združenie Život s dúhou v srdci a Občianske združenie Milan Štefánik. Plagát s krásnym dúhovým srdcom lákal i uvedenými menami hudobných hostí. Ale poďme poporiadku.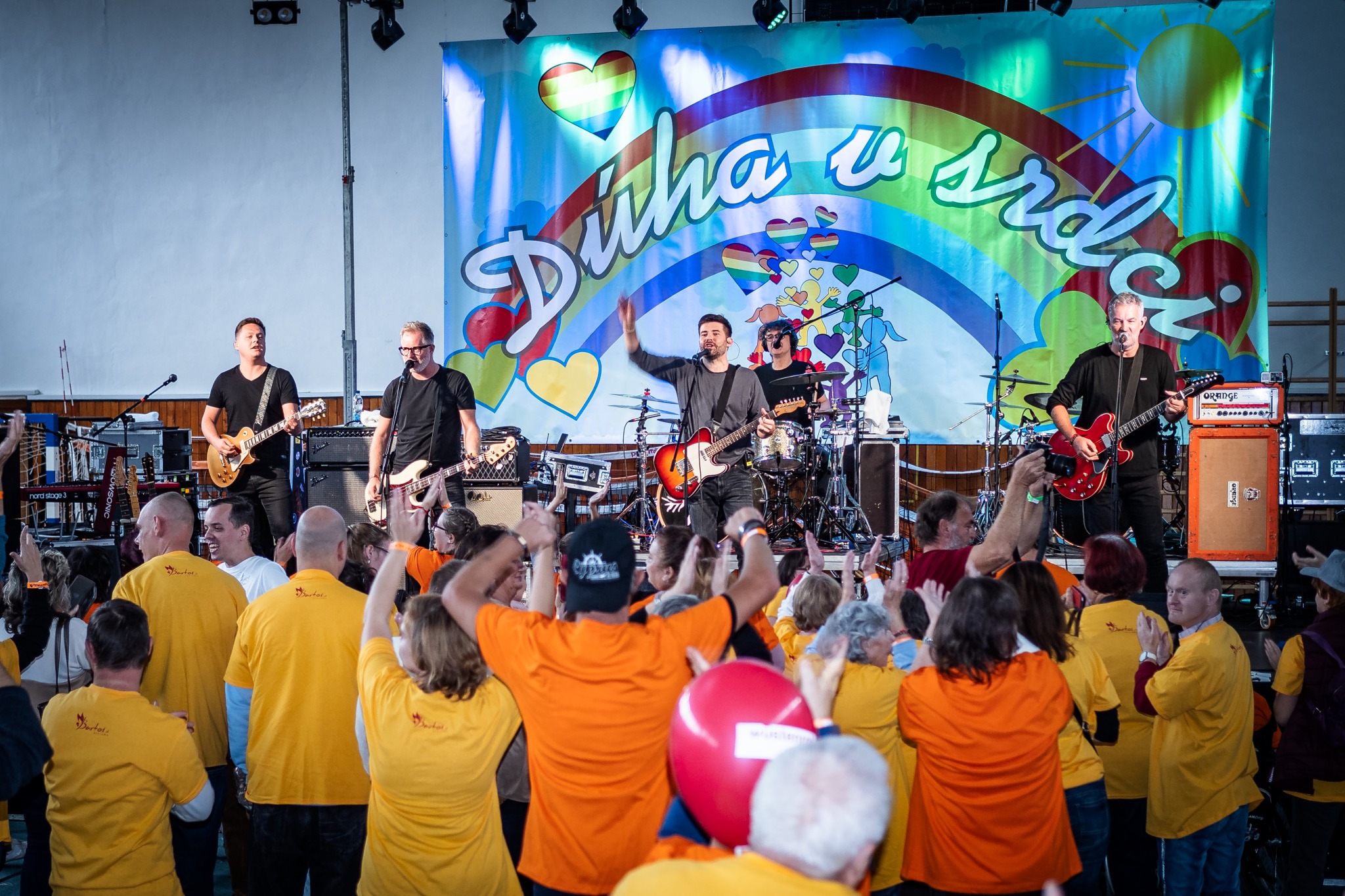 Už v sobotu poobede sa zišli dobrovoľníci, aby začali s prípravami priestorov. Nebolo toho málo. Postaviť pódium museli statní chlapi. Poriadne sa pri tom zapotili. Ešte zavesiť veľký banner. Žienky sa venovali úprave šatní pre účinkujúcich. Rozložiť stoličky v sále. Ostatné sa dokončovalo v nedeľu doobeda. Stoly pre kreatívne dielne. Priestor pre občerstvenie. Pripraviť farebné tričká. A ide sa na to.
Prví prichádzajúci. Očakávania veľké. Veď niektorí z "inak obdarených" neboli na žiadnom podujatí počas celého trvania nepriaznivej epidemiologickej situácie. Štart presne n minútu. Halu zaplavila exotická hudba. To už svoje tanečné kreácie na pódiu predvádza Zumba s Deniskou. Priniesla hneď v úvode veselú náladu. Jednoduché kroky striedajú otočky. Latino rytmy zvádzajú k tancu. Noha vpred. Noha vzad. Ruky nad hlavy. "Každý rok sa tešíme na túto akciu, lebo je pekná. Deti sú vďačné, a chodíme sem veľmi radi každý rok. To už je taká tradícia pre nás." Pre Denisku a jej dievčatá je úžasné vidieť, ako sú títo ľudia talentovaní. Mnohí z nich napriek tomu, že nepoznajú choreografie, tak sa perfektne hýbu. "A ja mám ten pocit, že tá radosť, ktorá z nich ide, tak to normálne ani na hodinách nemávam." Podskoč si. Ruky vbok. Diváci odmenili Denisku nie len potleskom, ale i darčekmi, ktoré sami vyrobili.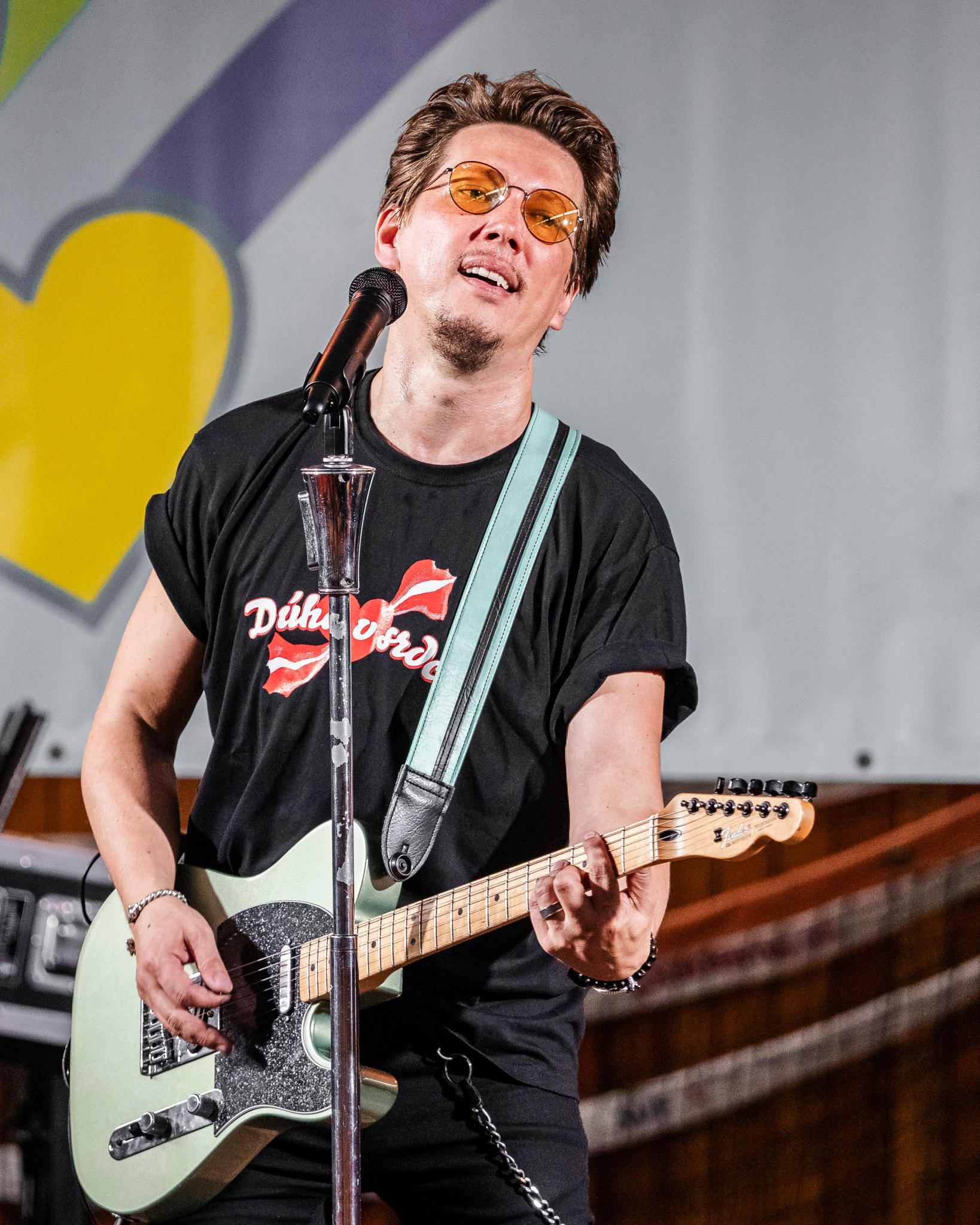 Na scénu prichádza moderátorka. Poznáte ju? Katarína Brychtová – Katka. Jej hlas je známy z dabingu filmov, z rozhlasu a stretávame sa s ňou na televíznych obrazovkách. Na podujatí Milana Štefánika nie je nováčikom. "Tu mi ľudia ďakujú. Ale ja ďakujem im, že môžem byť súčasťou takéhoto podujatia. Preto že je tu veľa lásky, je tu veľa spolupatričnosti. Títo ľudia, tieto deti, sú inak obdarení a ja som tu rada a naozaj vždy keď ma pozvú a budem môcť, vždy prídem." I tieto slová adresovala Katka na margo toho, prečo znova prijala pozvanie na podujatie. Neostáva na pódiu sama. Pozýva si k sebe primátora mesta Nové Mesto nad Váhom a podpredsedu TSK Jozefa Trstenského, vedúcu oddelenia sociálnej pomoci TSK Elenu Nekorancovú, poslankyňu TSK Annu Halinárovú, poslankyňu mesta Nové Mesto nad Váhom Kvetoslavu Hejbalovú, predsedníčku Občianskeho združenia Život s dúhou v srdci Danielu Sekerovú, riaditeľku Centra sociálnych služieb pani Miriam Mrázovú a predsedu Občianskeho združenia Milan Štefánik, pána Milana Štefánika. Každí z nich povedal pár slov.
Pred prvým hudobným hosťom je tu ešte prekvapenie od Jurka Kohútika z Centra sociálnych služieb Nové Mesto nad Váhom. Napísal svoju krásnu báseň. Robí tak už 10 rokov. Keďže rád počúva hudbu a pozerá koncerty, dostáva od Milana Štefánika darček – slúchadlá.
Už sa to na pódiu hemží samými mužmi v čiernom. HEX. Pop-rocková skupina. Basové gitary, klavír a bubny. Každý deň je nedeľa, pieseň stvorená pre tú dnešnú. Diváci už tancujú a spievajú. Chvíľu áno, chvíľu nie. Kto vie, aký mali plán členovia skupiny na dnešný deň. Dôležité je, že prišli k nám. "Je to preto, že toto je jedno z najmilších publík, ktoré my zažívame počas celého roka. A ako sa hovorí, že my sme dostali do daru akoby tú výbavu nejakého toho umenia a tak ďalej, a ono treba občas niečo aj odovzdať naspäť ľuďom, ktorí nemali toľko šťastia." Rozbehol sa kolotoč hitov. Keď sme sami, Vetroň, Srdce a ďalšie, ďalšie. Nad hlavami "inak obdarených" záplava farebných plagátov. Na viacerých je nadpis HEX. "To sa nám bežne nedeje. Ľudia majú väčšinou naše tričká, nejaký ostatný merch. Ale toto je fantastické a dokonca jeden takýto nápis sme si vypýtali a berieme si ho k nám do štúdia." Publikum ocenilo výkon skupiny dlhým potleskom. Nechýbali darčeky. Za pocity členov skupiny hovorí komentár na ich oficiálnej FB stránke: "Dnešný benefičný koncert "Dúha v srdci" bol nádherný. Ďakujeme za pozvanie, ďakujeme za vašu energiu a ďakujeme aj za nádherné darčeky. Bolo nám s vami super."
Krátka pauza na výmenu nástrojov. Katka Brychtová si s Milanom Štefánikom volajú na pódium Andrejku Šimončičovú, talentovanú žiačku zo ZUŠ v starej Turej. Namaľovala obraz ako motív dnešného koncertu Dúha v srdci. Darovať by ho chcela do CSS v Novom Meste nad Váhom. Prevziať priamo od autorky si ho prišla riaditeľka CSS pani Miriam Mrázová.
Kto bude dnes ďalší v poradí hostí? Mladá pop-rocková kapela z Michaloviec. Rúči slovenskí junáci zo Zemplína. Iconito. Do pop-rocku vnášajú prvky folklóru. Bolo to vidieť i na outfite členov. Rovnaké čierne tričká s folklórnym motívom. V hudbe to ukázali v piesňach Korene a Slovenské devy. Texty o vzťahoch, zmenách. Povedz, Táram. Čas sa kráti, čas koncertu sa míňa. A čo že sme tu ľudia z dvoch svetov? "Veríme to, že tí ľudia si to vedia naozaj užiť. Že tú hudbu chápu možno iným spôsobom ako ostatní, ale chápu ju a prežívajú a to je na tom to pekné a zvlášť, keď stojíme na pódiu a vidíme tých ľudí ako sa bavia, ako si to užívajú, tak je to pre nás taký dôkaz že áno, oplatí sa prísť." Diváci mali rovnaký názor. Tancovali, spievali, užívali si hudbu. Potlesk a darčeky.
Pred ďalším hudobným hosťom je tu milá povinnosť. Vyhodnotenie transparentov a mávadiel. Tak vyberajme. Všetky pekne nad hlavy, aby ich bolo vidieť. Ceny čakajú. Katka, tak ktorý? "Musím povedať, že už som niekoľko krát dostala také plagátiky vyrobené s mojim menom, foto. Je to neskutočne dojímavé. Jeden mám doteraz odložený doma, preto že v tom je srdce, v tom je láska. Ja si to veľmi vážim a až ma to tak dojíma keď vidím, čo všetko deti sú schopné vyrobiť." Vybrať ten veľký? Či ten farebný? Alebo ten so svetielkami? Rozhodovanie ťažké. Nakoniec si 1. miesto odnáša Amálka. Dojalo ju to až k slzám. Ale ani ostatní nemuseli zúfať. Všetci, ktorí vyrobili transparent, mávadlo, si odniesli malý darček.
A opäť muži v čiernom. Dnes to vyzerá tak, že sa všetci hudobní hostia dohodli. Prichádza Peter Cmorík so svojou skupinou. Slovenský spevák, hudobník. A naša Superstar. Zlatý slávik a majiteľ množstva ocenení. Jeho neopakovateľný chripľavý hlas. Rockové gitary. Roztočili to naplno. Taká ako ty. Vlastne ako všetky mamky, opatrovateľky v sále. "Máme z toho radosť, lebo stretáme ľudí, ktorí to nemajú v živote ľahké. Ale vedia sa baviť a vždy je taká dobrá energia, atmosféra na týchto koncertoch." Poďme si všetci zaspievať wou – oó…Premýšľam nad tebou. Aj počas koncertov treba dodržiavať pitný režim. Tak teda Pripíjam. Jedno si želám. "Inak obdarení" si dnes želali, aby koncert neskončil. "Teraz to bola veľká energia. Tlieskali, spievali, tancovali, skákali. Takže , ja si myslím, že sme sa veľmi dobre bavili všetci." I keď je vonku počasie celkom fajn, spomenieme si na Dážď. Späčatený osud dnešného koncertu v piesni Mám pocit. Tanečný parket plný, čo viac si priať. Veľký potlesk. Ďalšia záplava darčekov pre Petra a chalanov z kapely.
Priestor Športovej haly nebol naplnený len hudobnými prekvapeniami. "Inak obdarení" si mohli svoje šikovné ruky a kreatívneho ducha uplatniť i vo workšopoch. Ponuka bola bohatá. Enkaustika s Lenkou. Zdobenie farebných šiltoviek. Maľovanie na drevo a tričká. Tkanie. Maľovanie na tvár. Každý si niečo vybral. Okrem hudobného zážitku si tak odnášali i niečo z tvorenia.
Záver. Posledné obzretie sa do haly. Posledné podania rúk. Zamávanie. Poďakovanie. Komu? V prvom rade tým, ktorí toto krásne podujatie zorganizovali – organizátorom, dobrovoľníkom, účinkujúcim, podporovateľom. V druhom rade všetkým divákom, ktorí prišli a zabávali sa. Jedno poďakovanie pre Milana Štefánika od mamky Mareka, Janky Kollárikovej: "Ďakujeme veľmi pekne za dnešný deň. Užili sme si to, bola to super akcia. Marek sa dobre zabavil. Ste úžasný človek čo robíte pre naše detičky. Klobúk dole, patrí Vám obrovské Ďakujem." A my veríme, že o rok sa so všetkými vidíme znova na tomto krásnom podujatí. Veď ako povedala Julka Bublavá: "tento ročník bol skvelý, bola tu veľmi dobrá atmosféra." O rok si ju prídeme zopakovať.
Text: Júlia Platková
Foto: Igor Frimmel, Milan Maršalka a Marek Vaco
Video: Mgr. Andrej Budai, TVTEKOVHONT