Koncert Bastille v Refinerry Gallery sa presúva z 20. februára na 28. mája 2019. Ako uviedli zástupcovia kapely: "Bratislavský koncert musíme presunúť pre nepredvídateľné okolnosti." Koncert sa tak uskutoční v najbližšom možnom termíne, a to koncom mája. Koncert otvorí škótsky pesničkár ONR., no nevystúpi na ňom ďalší avizovaný predskokan Lewis Cappaldi.
Tí, ktorí už majú zakúpené lístky a nový termín koncertu im nevyhovuje, môžu požiadať o vrátenie peňazí (a zablokovanie vstupenky) mailom na shop@pohodafestival.sk. Prvé koncerty v rámci "Still Avoiding Tomorrow Tour" už vychválili v recenziách NME či The National Student. V mene kapely sa ospravedlňujeme za prípadné komplikácie, no už teraz sa na vás tešíme na koncerte Bastille v utorok 28. mája 2019.
Jedna z najúspešnejších súčasných britských kapiel Bastille vystúpi v bratislavskej Refinery Gallery v rámci "Still Avoiding Tomorrow Tour". Ich pieseň "Pompeii" má na YouTube a Spotify spolu vyše miliardu streamov. Ich letná novinka "Happier" (feat. DJ Marshmello) prekročila hranicu 100 miliónov streamov za pár týždňov. Na konte majú BRIT Awards i NME Awards a na jar 2019 vydajú očakávaný tretí štúdiový album Doom Days. Nové piesne aj staršie hity hrajú aj na aktuálnom turné v európskych metropolách. Podľa The National Student je ich nová show ešte energickejšia, než akákoľvek doposiaľ a NME dodáva, že Bastille pripravili párty v post-apokalyptickom bunkeri. Ich energickú párty v rámci "Still Avoiding Tomorrow Tour" predvedú koncom mája aj v Bratislave.
Lístky v predaji tu: www.pohodafestival.sk/sk/product/bastille-bratislava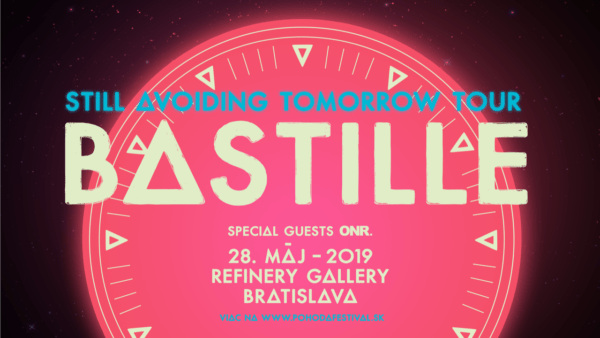 Zdroj: Pohoda Festival s. r. o.