Kapela Bufet naprieč svojráznym funkom, rock'n'rollom, country a šmrncom prog-u uvádza singel Strom, brána, cesta s príznačným bufetovským textovaním, ktoré sprevádzajú prízemné vtipy pretkané výrazmi z bohatšej slovnej zásoby.
Novinka je už súčasťou koncertného playlistu, avšak kapela naďalej pokračuje v postupnom vydávaní singlov hraných počas živého vystúpenia, čím získala skladba s výpravným názvom Strom, brána, cesta aktuálne vydanú na streamovacích službách.
Jej vznik spadá do čias tvrdého lockdownu, keď sa pohyb a socializovanie speváka a autora skladby Jána Hurtíka, ako aj zvyšku národa, obmedzilo na cestu do obchodu. "Skladba tak nejak skombinovala pocity a nálady tej neľahkej doby a snažila sa do toho vniesť trocha nadhľadu a vtipu. Už pri písaní tejto piesne som mal v hlave pocit, že ak sa raz toto bude nahrávať, tak by sa tam hodili aj nejaké prvky dychových nástrojov, také tie klasické funky-laufíky na trúbke a túto myšlienku som nosil v hlave neustále," objasňuje hudobník počiatočné úmysly, ktoré sa mierne odklonili od pôvodného zámeru.
Akonáhle bol základ skladby hotový, skontaktoval priateľa Jakuba Tvrdíka, talentovaného klávesáka z formácie Felix, známeho najmä z kapely Billy Barman. "Jakub nám behom pár dní poslal klávesové party, ktoré dokonale zastali tie plochy, ktoré si to pýtali. Hneď mi to pripomenulo zvučku jedného detektívneho televízneho seriálu, ktorý sa k nám po revolúcii okrem nemeckého Derricka dostal. Mám na mysli americký detektívny seriál zo 70. rokov "V uliciach San Francisca", a teda tá úvodná znelka toho seriálu, to je nárez a ihneď mi v hlave nabehla," s úsmevom opisuje Ján Hurtík emóciu z piesne evokujúcu aj námet na cover-art k singlu, za ktorým stojí slovenská vizuálna umelkyňa Anabela Sladek.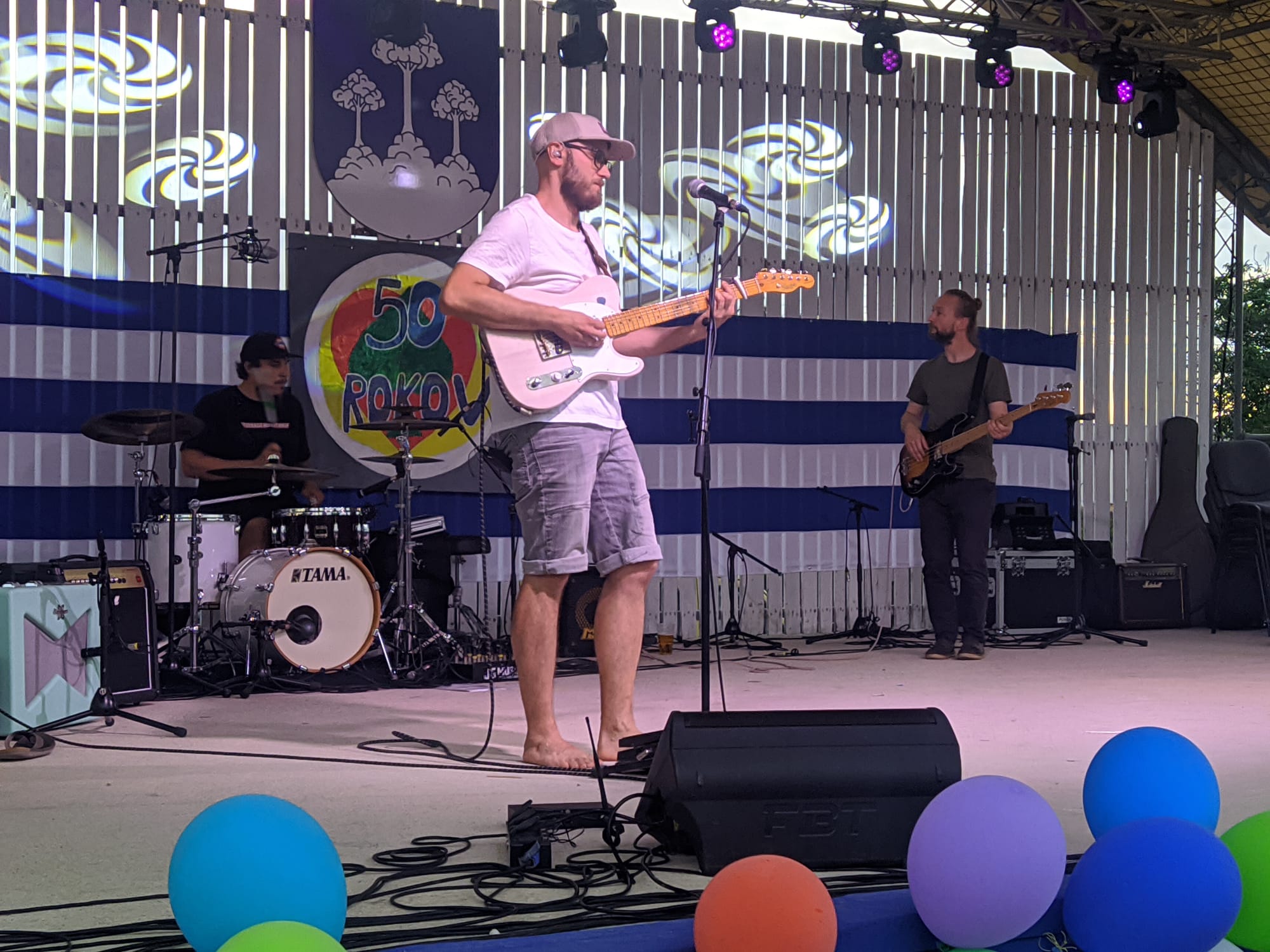 "Preto teda hviezdy a pruhy a "american style". A možno trocha i ako provokácia, lebo vírusová pandémia skončila a rozmohla sa tu pandémia blbosti a v rámci toho sa ja osobne hlásim k tomu svetonázoru, že z dvoch rovnakých zápalkových škatuliek bude pre mňa navždy lepšia tá americká," s dôvtipom i jemnou satirou, no nadhľadom vysvetľuje Ján Hurtík.
Nahrávanie prebiehalo v Pyranoja Studio, v ktorom je udomácnené rockové trio kapely Bufet, tentoraz doplnené klávesovými partami Jakuba Tvrdíka. Produkcia a mix ostávajú v réžii kapely, pričom hlavnú taktovku opäť držal Viktor Gabaj, bubeník kapely. O mastering sa postaral Tomáš Gregor vo vlastnom štúdiu Trapptone.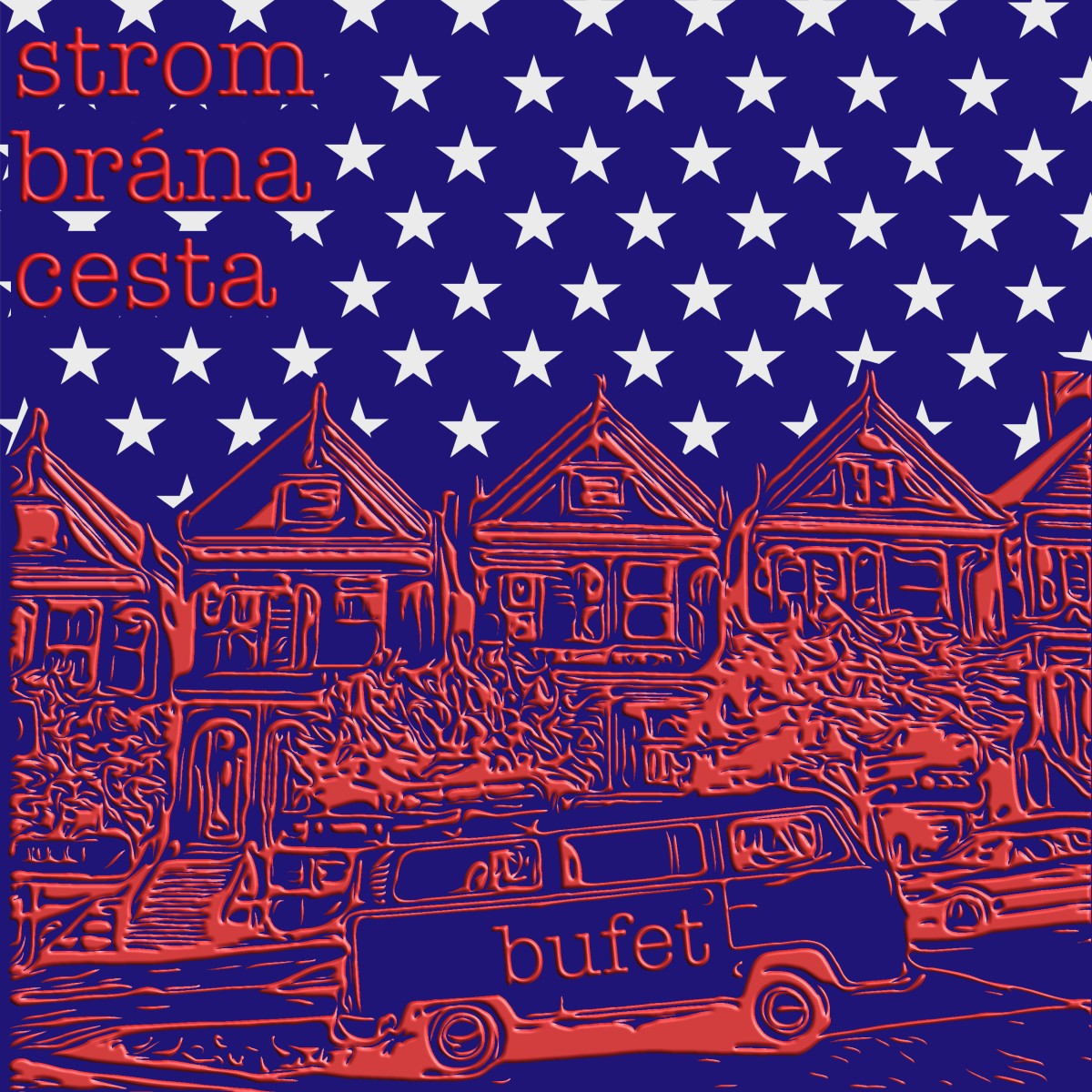 Aktuálny singel pokračuje v línii, ktorou sa Bufet vydal ešte minulý rok, vydávaním singlov vtedy, keď to uznajú za vhodné. Tak v júni 2022 vydali dvojsingel Miešačka/Povrchne a vábivo, v januári 2022 singel Kamarát, ktorými nadväzujú na debutový album Petra, Naďa, deti a dvojsingel Tak ako naozaj/Odkaz na dverách. Tieto umelecké hudobné diela Bufet etablovali ako jednu z popredných slovenských "under the radar" kapiel naprieč akýmkoľvek žánrom a štýlom.
Kapela pôsobí v pôvodnej zostave Ján Hurtík (gitara a spev), Martin Bakyta (basgitara) a Viktor Gabaj (bicie). "Skúsenosť nás naučila nemať žiadne očakávania a ambície, čo sa týka robenia hudby na Slovensku. V takom prípade z toho v konečnom súčte vyplýva, že akákoľvek deviácia mimo zabehnutý rámec intelektuálnej a vkusovej obmedzenosti domácej scény poteší o to viac," uzatvára spevák, tešiac sa na koncerty a tohtoročné festivaly.
youtube: https://youtu.be/cnWJ0hI52Os
bandcamp: https://bufet.bandcamp.com/track/strom-br-na-cesta-2023
spotify: https://open.spotify.com/track/0gYUxrU53gxp608dNugCZG?si=99cf0b51e8994576
apple music: https://music.apple.com/us/album/strom-br%C3%A1na-cesta/1664721826?i=1664721916
Viac o kapele Bufet: https://linktr.ee/bufetband
Zdroj: TS