Po dlouhých dvanácti letech se do Prahy vrací americký zpěvák, písničkář ahudebník John Grant. V roce 2010, po vydání svého prvního sólového alba, vystoupil v Divadle Archajako předskokan dnes už legendární kapely Wilco. O čtyři roky později pak na festivalu Colours Of Ostrava. Do MeetFactory v březnu příštího roku dorazí jako světová hvězda. Stal se jedním z nejzajímavějších hudebníků na mezinárodní hudební scéně, který každým svým novým albem boduje vevýročních žebříčcích renomovaných hudebních médií (časopisy Mojo, Uncut, britské rádio BBC a další).
Na svůj vynikající debut Queen Of Denmark z roku 2010 v průběhu času navázal dalšími kritiky i fanouškyopěvovanými alby. Tím posledním je silně retrospektivní a autobiografická deska Boy From Michigan, produkovaná na Islandu velšskou divou Cate Le Bon. V Reykjavíku měli spolu s kapelou odehrát několik živých koncertů, ty však zrušila pandemie a John s Cate se tak rozhodli využít situace, zavřít se do studia a několik měsíců usilovně pracovat na nové desce.
Grant se na ní vzdává svého obvyklého sarkasmu, experimentování se zvukem a volí přímější písničkářskýstyl. Vypráví o odvrácené straně utopie amerického snu. S až bolestivou upřímností otevírá méně či více dávné osobní příběhy, ať už jde o konfliktní vztah s konzervativními rodiči, jimž jako hluboce věřícím nemohl přiznat svoji sexuální orientaci, nebo paralyzující depresivní a úzkostné vztahy, které ho doprovázely za dobživota v New Yorku, kdy byl frontmanem již neexistující kapely The Czars.
Navzdory futuristickému vlnění kosmických syntezátorů (jichž je vášnivým sběratelem) se na nové descestává sardonickým trubadúrem, který se nedívá do budoucnosti, ale reflektuje svoji tíživou minulost, formativní vzpomínky na nešťastné lásky i komplikovaný coming out, aby se z nich otevřeně a upřímněvyzpíval. Lyrická přímočarost a autobiografický kontext dodávají albu na jeho síle. Přijďte se o tompřesvědčit do MeetFactory 28.3.2022.
FB event
web MeetFactory John Grant
Vstupenky:
550 Kč na bit.ly/JohnGrant_MF
550 Kč (+ případné poplatky) v dalších předprodejích 700 Kč na místě
Předprodeje: Ticketportal, GoOut & MeetFactory Předprodej bude spuštěn 8.12. 2021 v 10:00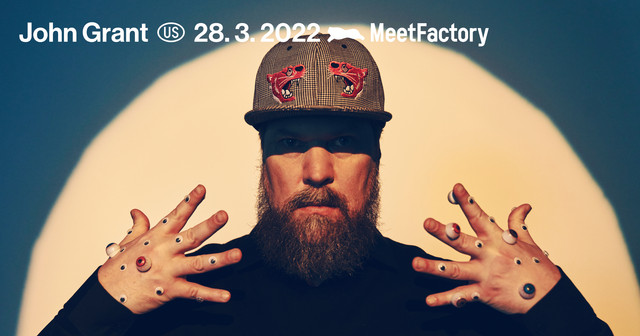 Zdroj: TS