Šansón nie je iba pieseň, tak ako Hana Hegerová nebola iba speváčka. Počas svojej vyše 50-ročnej kariéry neraz dokázala, že šansón je akýsi vyšší druh hudby. Mnohé jej skladby sa stali hitmi. Zuzana Kronerová, Richard Müller, Petr Malásek, Zuzana Mauréry a Lucia Šoralová na jej umenie zaspomínajú projektom Levandulová. Už v októbri majú priaznivci Hany Hegerovej príležitosť pripomenúť si najkrajšie šansóny z repertoáru prvej dámy česko-slovenského šansónu a ďalšie nádherné piesne z dielne autorskej dvojice Petr Hapka – Michal Horáček. Prvý zo štyroch koncertov bude prvého októbra v Banskej Bystrici.
Pravdivé, ľudské, plné života, lásky aj smútku. Také boli piesne Hany Hegerovej, ktoré dodnes milujú nadšenci kvalitnej hudby všetkých generácií. Prvá dáma česko-slovenského šansónu každým koncertom dokazovala, že šansón je akýsi vyšší druh piesne, ktorý nemusí pochopiť každý, ale túto jeho výnimočnosť cíti väčšina. Možno aj vďaka hereckému talentu boli jej koncerty nevšedným zážitkom a umeleckou udalosťou.
"Mal som to šťastie, že ma v roku 1990 pani Hegerová oslovila k spolupráci a prežil som od tej doby po jej boku krásnych 24 rokov, kým sa rozhodla ukončiť svoju spevácku kariéru, ako jej kapelník, pianista a trúfam si povedať aj pomerne blízky človek. Boli to tie najkrajšie roky na mojej hudobnej ceste," vraví klavirista a skladateľ Petr Malásek, ktorý bude sprevádzať na klavíri štyroch umelcov projektu Levandulová.
Šansóny z repertoáru Hany Hegerovej a ďalšie nádherné piesne z dielne autorskej dvojice Petr Hapka – Michal Horáček zaznejú na jeseň na štyroch výnimočných slovenských koncertoch v podaní známych slovenských a českých spevákov a hercov, akými sú Zuzana Kronerová, Zuzana Mauréry, Lucia Šoralová a Richard Müller s hudobným sprievodom Petra Maláska so skupinou.
"Keď prišla ponuka, trochu som rozmýšľal, nie som úplne priaznivcom týchto spomienkových koncertov, ale presvedčil ma výber interpretov, ktorí budú vystupovať. Myslím, že každý z nich je veľkou zárukou kvality. Bude to pre mňa krásne spomínanie na pesničky a koncerty, ktoré sme si s pani Hegerovou a celou kapelou tak užívali. Pevne verím, že sa ich ducha podarí preniesť aj na poslucháčov," dodáva Petr Malásek.
V projekte vystúpia umelci rôznych generácií, pričom všetci majú k šansónom a k Hane Hegerovej špeciálny vzťah.
"Keď som asi ako 8 ročné dievčatko plakala pri počúvaní piesní Hany Hegerovej, mama sa ma spýtala prečo plačem, keď tým textom nemôžem rozumieť. Povedala som jej, že ich cítim. Nezáleží na tom, v ktorej časti pomyselnej vertikály ženského života sa práve nachádzam, som predsa jej súčasťou, a vnímam a cítim ju celú. Na tento pocit nikdy nezabudnem. Je to úplne iný pohľad na čas, než ako ho vnímajú dospelí ľudia. Neskôr som mala príležitosť stretnúť sa s pani Hegerovou, vidieť ju pri práci, a rozprávať sa s ňou, dokonca zaspievať k jej jubileu na komornom koncerte pre ňu a pár priateľov v Štúdiu Rubín v Prahe. Ďakujem za všetky tie momenty. Mám ich v sebe navždy,"spomína speváčka Lucia Šoralová.
Šansón obsahuje a vyjadruje príbeh, vyzdvihne drámu a od interpreta sa očakáva, že sa do textu úplne ponorí. Kvalita hudby a obsah textu sú v tomto žánri zásadné. Postavenie šansónu medzi hudobnými štýlmi možno prirovnať k postaveniu poézie v literatúre. Takto to cíti aj Richard Müller, ktorý má aj vo svojom vlastnom repertoári viacero šansónových skladieb.
"Pani Hanku som miloval a často si púšťam jej pesničky. Dokonca som na moju českú dosku oslovil pani Hanku, aby so mnou naspievala skladbu Stín Stíha Stín v novom aranži a ona súhlasila. Bol som nadšený. Na týchto koncertoch ju zaspievam s Luckou Šoralovou. Nesmierne sa na to teším,"uzavrel Richard Müller.
Projekt LEVANDULOVÁ – Najkrajšie piesne Hany Hegerovej sa začne prvého októbra a záujemcovia sa môžu tešiť na 4 koncerty. Lístky je možné zakúpiť v sieti predpredaj.sk (https://predpredaj.zoznam.sk/sk/listky/levandulova-najkrajsie-piesne-hany-hegerovej/?fbclid=IwAR2C0Dhb1Nozu5BsZzY4ccaLwlUz9xo7z6-pwPDcbD928pVIj4EcdWxHZok)
01.10.2022 19:00 – Aula SZU, Bernolákova 8, Banská Bystrica
02.10.2022 19:00 – Stará tržnica, Námestie SNP 25, Bratislava
03.10.2022 19:00 – Dom Odborov, Antona Bernoláka 51, Žilina
04.10.2022 19:00 – Dom umenia, Nábrežie Ivana Krasku 1, Piešťany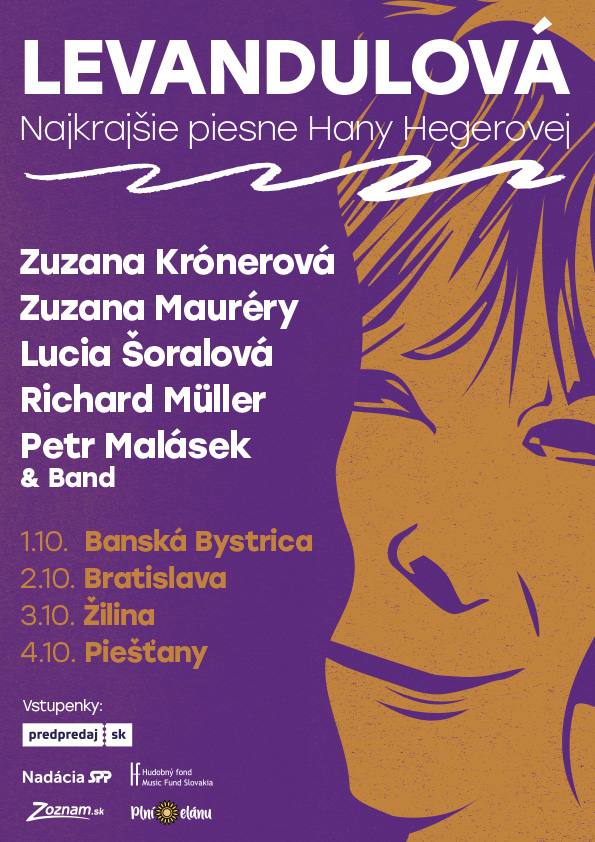 Zdroj: TS