Slávnostné odovzdávania cien s trojkoncertom nominovaných prebehlo v utorok 14. septembra v bratislavskom Divadle P. O. Hviezdoslava. Cenu za najlepší jazzový album vydaný v roku 2020 získal album gitaristu a skladateľa Dávida Kollára a nórskeho trubkára Arveho Henriksena s názvom Unexpected Isolation. Cenu verejnosti získal gitarista Samuel Marinčák za album Reflection of my Soul.
Počas slávnostného večera predstavili naživo svoju aktuálnu tvorbu tri z nominovaných zoskupení. Na úvod sa pódia zhostila mladá jazzová generácia z kompilačného albumu Young Slovak Jazz Generation. Talentovaní klaviristi Andrej Farkaš, Alan Bartuš a Ján Rigó presvedčili divákov svojou virtuóznou hrou a osvojeným jazzovým jazykom, že obavy o budúcnosť slovenského jazzu sú zcela neopodstatnené.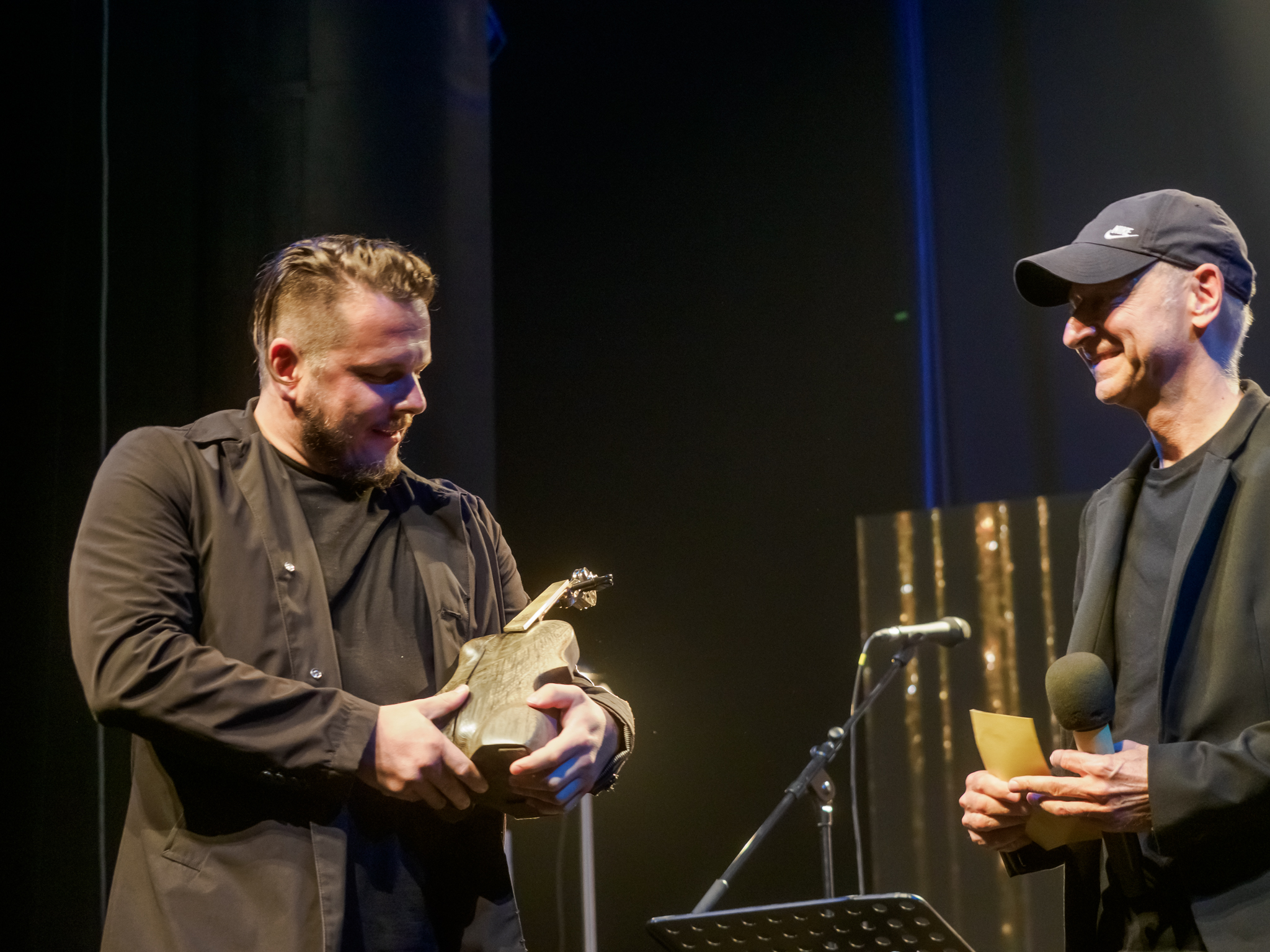 Inšpirácie folklórom s originálnou pečaťou jazzového spracovania priniesol skladateľ a klavirista Pavol Bodnár. Spolu so svojím zoskupením a spevákom Petrom Adamovom snúbili kompozičné prostriedky a improvizácie typické pre jazz s pôvodnou ľudovou melodikou a lyrickými textami.
Záver koncertného večera patril zoskupeniu Lukáš Oravec Orchestra. Trubkár, skladateľ a aranžér Lukáš Oravec predstavil skladby zo svojej aktuálnej nahrávky Light of Blue. Koncert medzinárodnej zostavy hudobníkov potvrdil status lídra ako výnimočnej jazzovej osobnosti minimálne európskeho významu.
Víťaz Hlavnej ceny odbornej poroty, gitarista a skladateľ Dávid Kollár, si prevzal cenu v podobe sošky kontrabasu z rúk legendárneho slovenského basgitaristu a kontrabasistu Juraja Grigláka.
Čo hovoria o víťaznom albume členovia odbornej poroty?
"Prečo Dávid Kollár? Obávam sa, že zvláštne obdobie minulého roka a jednoducho úžasný hudobný cit Kollárovho štýlu ma presvedčili a kúpili si moje srdce." – Daniel Ryciak, Śląski Jazz Club (PL)
"Je to zďaleka môj favorit. Milujem strašidelné, niekedy takmer desivé zvukové scenérie. Veľmi dobré duo, veľmi dobrý album." – Steffen Wilde, Tonne Jazz Club (DE)
Toto duo je jednoducho vynikajúce. Nejde len o exkurzie do industriálnych zvukov a rôznych zvukových kulís. Ide o zámerné, hlboké interakcie a produkcie hudby, umenia, bolesti, emócií a krásy. Je tu zámernosť a vymyslený príbeh. Táto nahrávka je hlbokou exkurziou a poctou." – Rudy Royston, hudobník, lektor, čestný člen poroty (USA)
Cenu verejnosti na základe SMS hlasovania získal album Reflection of my Soul od gitaristu Samuela Marinčáka.Ako sám názov nahrávky napovedá, jeho hudba prináša osobnú výpoveď a pravdivý odraz svojej duše.
Záštitu nad deviatym ročníkom ankety Esprit a čestné členstvo v porote prevzal americký bubeník, perkusionista a pedagóg Rudy Royston. Svetoznámy hudobník má na konte nahrávanie a koncertovanie s menami svetového jazzu ako sú Bill Frisel, Greg Osby, Don Byron, Dave Douglas a mnohí ďalší.
Live stream video ste mohli sledovať na stránke jazz.sk. Priamy prenos zo slávnostného večera bol odvysielaný v rádiu Devín. Večerom na pódiu sprevádzal moderátor Peter Šarkan Novák.
Generálnym partnerom podujatia je softvérová spoločnosť Espirit s r.o. Hlavní partneri podujatia sú UniCredit, Crowdberry a Vacuumlabs. Projekt z verejných zdrojov podporil Fond na podporu umenia. Hlavnými mediálnymi partnermi podujatia sú RTVS a Rádio Devín.
Grafiku pre Cenu verejnosti a sošku v tvare kontrabasu pre Cenu odbornej poroty vytvoril významný slovenskýakademický sochár Juraj Čutek.
Slávnostná ceremónia Esprit je registrovanou udalosťou participujúcou na oslavách International Jazz Day (UNESCO), ktorá združuje jazzových nadšencov z celého sveta.
—————————————-–––––––––––––––––––––––––––––––––––––––––––––––
16 nominovaných albumov za rok 2020:
Adriena Bartošová – O smútku a radosti
Altar Double Quintet – We salute the night
David Kollar, Arve Henriksen – Unexpected Isolation
Duševné vlastníctvo – Duševné vlastníctvo
Ján Hajnal feat. Wolfgang Lackerschmid, Gerd Dudek – Dedication
Jozef Scheiner – La Mando
Lukáš Oravec Orchestra – Light of Blue
MattiaBoyzz – MattiaBoyzz
Nina Berglová, Štefan "Pišta" Bartuš – Inou krajinou
Pavol Bodnár – Džez a hory
Peter Zajaček – Nemám sa s kým hrať
Samuel Marinčák – Reflection of my Soul
Szaturma – Phi
Tomáš Lukáč – Heart-shaped
uO uO – In Pluto
Young Slovak Jazz Generation – Young Slovak Jazz Generation
V medzinárodnej odbornej porote tento rok zasadli:
David Torreblanca – Montreaux Jazz festival (CH), Daniel Ryciak – Śląski Jazz Club (PL), Jakub Zítko – Klub Jazz DOCK (CZ), Rudy Royston – hudobník, lektor (USA), Judita Bartoševičienė – Vilnious MAMA JAZZ FESTIVAL (LT), Johann Kneihs – ORF (AT), Yvetta Kajanová – Muzikológia FFUK (SK), Peter Baláž – Jazz.sk (SK), Steffen Wilde– Tonne Jazz Club (DE), Will Ramsay – Herbie Hancock Institute (USA)
Ocenenie Esprit za rok 2020 je deviatym ročníkom podujatia. Víťazmi predchádzajúcich ročníkov boli umelci Ľuboš Šrámek (2019), Andreas Varády (2018), Sisa Michalidesová (2017), Lukáš Oravec Quartet (2016), Sisa Michalidesová (2015), Juraj Griglák (2014), Lukáš Oravec (2013) a Michal Bugala (2012). V roku 2014 a 2015 prebral nad podujatím záštitu prezident Slovenskej republiky Andrej Kiska.
Hlavnou myšlienkou projektu Esprit – udeľovania cien za najlepší slovenský jazzový album je podpora tvorivosti slovenských predstaviteľov alternatívneho, jazzového žánru. Deje sa tak priamou formou zviditeľňovania hudobných albumov vydaných v predchádzajúcom roku, pričom vďaka online prezentácii súťaže vzniká voľne dostupná databáza albumov s ukážkami a ich profilom.
Esprit ďalej nabáda k objektívnej konfrontácii názoru odbornej a laickej verejnosti, čo je prínosom nielen pre samotného autora diela. Ku každému z albumov zaujíma odborná porota konkrétne stanovisko, na druhej strane verejnosť prejavuje svoj názor formou hlasovania za najobľúbenejší album.
Cieľom realizátorov ceny Esprit je z odovzdávania ocenení vytvoriť pravidelnú udalosť, ktorá tak raz ročne vytvorí priestor pre stretnutie kultúrnej obce, spojenú s vysoko hodnotným programom aktuálneho držiteľa ceny – koncertom so skladbami z oceneného albumu.
Hlavná cena Esprit (hudobná ukážka)
David Kollar, Arve Henriksen – Unexpected Isolation
https://soundcloud.com/esprit-2020/david-kollar-arve-henriksen-unexpected-isolation
Cena verejnosti Esprit (hudobná ukážka)
Samuel Marinčák – Reflection of my Soul
https://soundcloud.com/esprit-2020/samuel-marincak-reflection-of-my-soul
Cena ESPRIT – anketa za najlepší slovenský jazzový album roka 2020
https://www.jazz.sk/esprit/2020
Zdroj: TS