Známa jazzová dvojica zohraných slovenských jazzmanov – saxofonista Nikolaj Nikitin a klavirista Ľuboš Šrámek – prichádza s novým štúdiovým albumom s názvom November. Autorský projekt so špičkovými hosťujúcimi hudobníkmi vznikal v štyroch mestách: v Bratislave, Prahe, vo Viedni a v New Yorku. Práve tam trávili prelomové obdobie 2019 – 2020, ktoré prinieslo aj dobré správy aj straty a ovplyvnilo hudobníkov natoľko, že newyorskú jeseň preniesli aj do názvu albumu. Nahrávku tvorí osem skladieb, pričom každá nesie špeciálne osobné venovanie. Pod album November, ktorý vychádza na CD a dočká sa aj LP nosičov, sa podpísalo vydavateľstvo Real Music House.
"Ľubošova dcéra vyhrala boj nad onkologickým ochorením, podarilo sa nám dvakrát za rok otočiť New York, využiť to na štúdiové nahrávanie a pár koncertov v Mexiku. Bohužiaľ zomreli naši drahí priatelia, tí súboj s onkologickým ochorením prehrali. Dvaja úžasní saxofonisti Duško Húščava a Rosťa Fraš. Bolesť z tejto straty veľmi ovplyvnila celkový charakter kompozícií pre nový album. Celé to asi vystihuje skladba Lux in Tenebris/Svetlo v temnote," povedal Nikolaj Nikitin.
Album November predstavuje pestrú škálu prizvaných hudobníkov mladšej i strednej generácie z piatich krajín sveta. Hrajú v troch rôznych zostavách, no vždy v kvartete, čím projekt s podtitulom Altar Quartets plynulo nadväzuje na svojich predchodcov: Altar a Altar Double Quintet. Jadrom ostávajú Nikitin a Šrámek.
Medzi špičkovými hosťami nechýba fenomenálny bicista Johnathan Blake, patriaci medzi svetovú jazzovú špičku. Jeho portfólio pozostáva zo spoluprác s vynikajúcimi hudobníkmi ako Avishai Cohen, Tom Harrell, Chris Potter, či Donny McCaslin. Rytmickú sekciu prináša kontrabasista, Američan so slovenskými koreňmi – Drew Gress, ktorý v súčasnej dobe spolupracuje s Ravi Coltraneom, či invenčným klaviristom Fredom Herschom. Európske rytmiky zastupuje kontrabasista Nenad Vasilić, pričom na bicích sa striedajú Dušan Novakov a Klemens Marktl. Hosťom zostavy je aj trubkár Kornél Fekete-Kovács.
"Dve sessions sme mali v newyorskom štúdiu The samurai hotel recording studio. Johnathan Blake a Drew Gress s nami nahrali Shorterovu skladbu Footprints. Druhá newyorská session sa konala v mesiaci november, podľa tohto sme aj nazvali album, lebo práve v tento mesiac prišlo v osobných aj hudobných životoch k viacerým rozuzleniam. A bilancovali sme v našom milovanom New Yorku. Nahrali sme skladby November (Nikolaj ) a Ana Maria (Wayne Shorter). Hrali s nami dvadsiatnici Kweku Sumbry, ktorý je bicistom už na dvoch novinkách vo vydavateľstve Blue Note a Dean Torrey na kontrabase," priblížil atmosféru nahrávania Nikolaj Nikitin.
Repertoár už tradične tvoria autorské skladby Nikitina a Šrámeka. Doplnené sú o tri kompozície legendárneho amerického saxofonistu Waynea Shortera, ktorému autori svojím albumom vzdali poctu.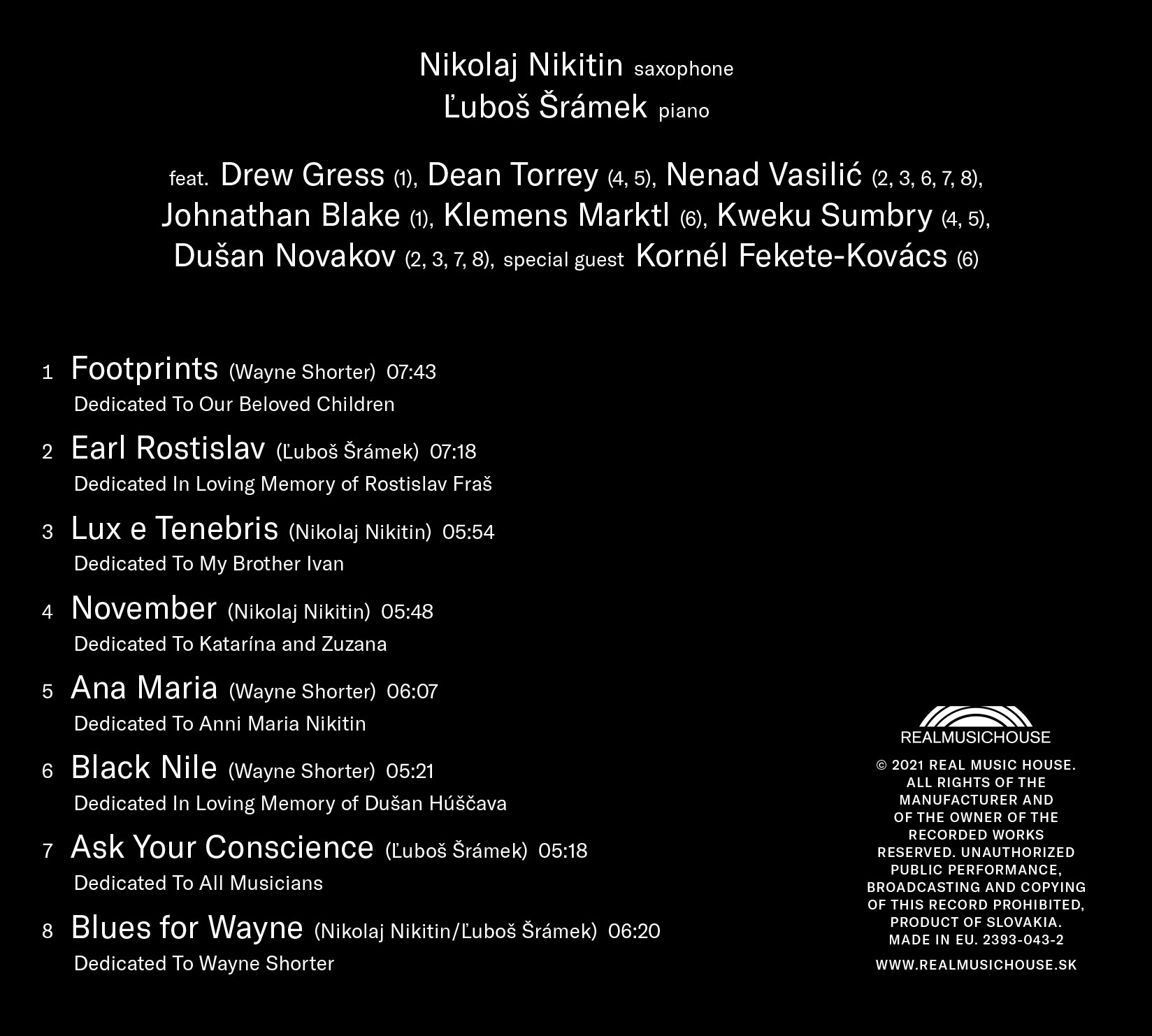 "Na prvý pohľad je zrejmé, že sme nahrali viacero kompozícii Wayne Shortera. Doteraz sme na CD nedávali veľa prevzatých skladieb. Citovali sme Bacha, Janáčka, zriedkavo štandard. Ja som si uvedomil, že Wayne Shorter je pre mňa akýmsi mágom v hudbe a jeho kompozície majú rozmer, ktorý vo mne evokoval okrem afroamerického aj čosi európske, niečo, prečo mám rád Beethovena, Schuberta, Janáčka, Šostakoviča. Práca s rytmom a časom. Shorterove kompozície neboli nejakým zámerom, či plánom. V každom štúdiu sme si zajamovali. Začalo to skladbou Footprints, potom Black Nile a tak som sa rozhodol vybrať ešte Ana Maria. To som vôbec netušil, že sa mi narodí dcéra, ktorej dá moja manželka veľmi podobné meno Anni Maria. A to je druhé svetlo, ktoré prišlo po vyliečení Lujzinky. Narodenie Anni Marie," približuje osobnejšie súvislosti Nikolaj Nikitin.
Na obaloch nového albumu sú aj básne, haiku od Roberta Pospiša. Ku každej skladbe jedna báseň, pričom každá skladba zároveň nesie venovanie. Zatiaľ čo predošlé meditácie predstavovali určitý príbeh, či už katarzný, alebo plný kontrastov, novinku autori vnímajú skôr ako plynúcu, tečúcu vodu, ktorá obmýva brehy všetkých emócii. Aj strát aj nových nádejí.
Dvojica Robert Pospiš a Martin Sillay stojí za finálnou podobou zvukovej nahrávky, album vyšiel v ich vydavateľstve Real Music House, ktoré je na hudobnej scéne už jedenásť rokov.
Charakter celého albumu dopĺňa maľba Patrície Koyšovej v grafickom spracovaní Matúša Lelovského. Album November bol realizovaný vďaka verejným zdrojom Fondu na podporu umenia, Bratislavského samosprávneho kraja a Nadácie mesta Bratislavy.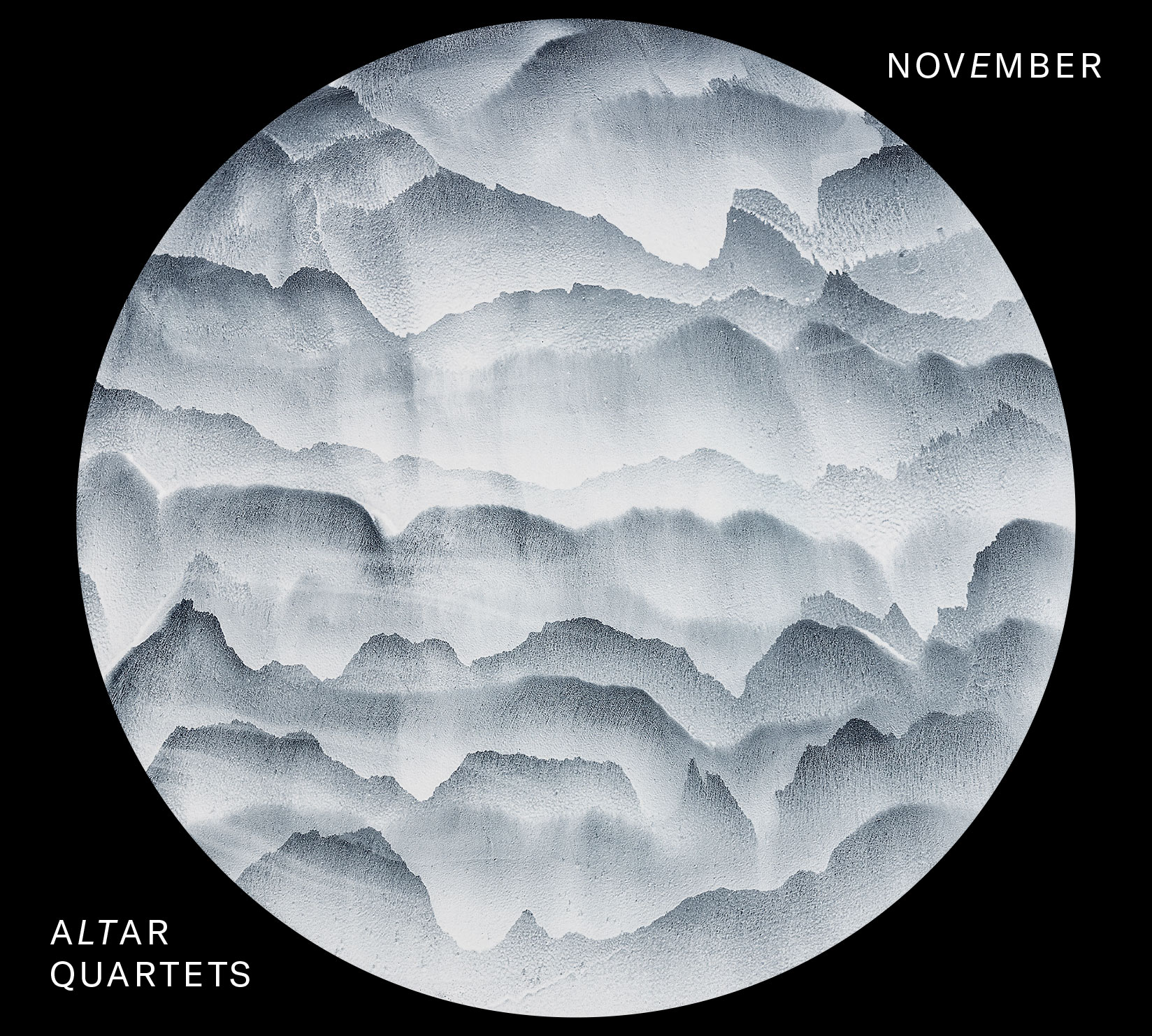 Zdroj: Real Music House