Aký význam má usporiadať v dnešnej dobe multižánrový festival, akým sú Hradby Samoty? Rok a pol sme našu pozornosť obracali radikálne iným smerom – okolnosti nás prvýkrát v dejinách prinútili opustiť skutočnosť, fysis, a spoločne sa ponoriť do virtuálnych štruktúr informácií a kolektívneho zdieľania. Veríme, že väčšina z vás je rada, že si môže opäť vychutnať zážitky blízkosti a priameho zmyslového bytia, avšak prichádzame späť do tejto skutočnosti nezmenení? Pozeráme sa na svet naozaj tak ako predtým? Poďte s nami nájsť odpoveď na kaštieli v Moravanoch nad Váhom, kde tento rok, po ročnej pauze, ktorú však vyplnila ultra last minute špeciálna edícia festivalu Mikrohradby Moravany '20, prebehne jubilejný desiaty ročník Hradieb Samoty v dňoch 2. a 3. júla.
Staré mýty existujúce naprieč kultúrami, rozprávajú o zostupe do podsvetia ako o formatívnej skúsenosti. Naša moderná doba, ktorá tak rada zahadzuje háv tajomna a transcendencie, učí o konfrontácii nevedomia, nazeraní prehistorických atavizmov, či výletoch k zabudnutým kultúrnym vrstvám. Kde je ale hranica medzi nezúčastneným putovaním múzejnými exponátmi ľudskej mysle, aké poznáme napríklad z dokumentu "Prediction of Fire" slovinských Laibach, a vedomým rituálom konfrontácie s monumentmi minulosti, či už sú to hromadné spevy novodobých pohanov alebo náboženská tryzna za obete šoa? Práve toto hľadanie hranice medzi účasťou a odosobnením, medzi výkladom a pôsobením, medzi rozumom a citom, je náplňou tohtoročných Hradieb Samoty, ktoré si k tejto zložitej úlohe povolali, tak ako v minulých rokoch, celú plejádu zahraničných i domácich umelcov, performerov a kaukliarov ľudskej mysle.
Korene nemožno poprieť, ich forma a tvar sa odráža vo výsledku, a preto tradične začnime hudobnou náplňou, ktorá stála pri počiatku stretávania sa na starých hradoch a zámkoch. Spomínali sme Laibach? Tých sa zatiaľ nepodarilo na Hradbách produkčne zvládnuť, avšak 300 000 V.K., ich odštiepenú divíziu, si tento rok určite dostatočne vychutnáte. Jeden z ústredných zakladateľov Laibach – Dejan Knez, predstaví v našich zemepisných šírkach prvýkrát naživo ako materiál z dnes už klasických nosičov 300 000 V.K, tak aj z dva roky starej novinky Peter Paradox. Všetci priaznivci prekonávania tabu a štátoprávni anarchisti s NSK pasmi si zaiste nenechajú ujsť vystúpenie tejto "Sonic division of Laibach art". Našťastie, aj napriek tohtoročnej nepriazni so zahraničnými menami nekončíme: Matt Howden, našim končinám známy okrem iného aj spoluprácou s poľskou Job Karmou, prinesie svoj zádumčivý neoklasický projekt Sieben, zo stajne Audiotrauma spojí modernú rytmickú elektroniku s industriálnym idm NOIRE ANTIDOTE a pod kotlom potom slušne zakúri rešpektovaná maďarská experimentálno-industriálna úderka ENTRÓPIA ARCHITEKTÚRA.
Hradby Samoty sú a vždy boli aj o stretávaní sa českých a slovenských hudobníkov a s čistým svedomím môžeme povedať, že na oslavu otvorenia Moravian temným tancom sa zišla vynikajúca spoločnosť celebrantov – starí známi a aj nové tváre. Po 10 rokoch tak opäť na pódiu Hradieb môžeme privítať slovenských darkambientných experimentátorov METROM, multižánrového umelca Miroslava Tótha s novým elektronickým projektom, Marakiho zo skvadry Lazy Bastards sound system, okultnú elektroniku DO SHASKA !, techno-experimentálnych klasikov URBANFAILURE, či hlukových útočníkov PAREGORIK, HLUKOVÁ SEKCIA, MASSOLA a JANO DOE. O gitarovú časť programu tohtoročných Hradieb sa postará droneový improvizátor Ondrej Zajac, či psychedelický OLAF OLAFSONN AND THE BIG BAD TRIP. Nebude chýbať ani synthwave kolektív NIGHTCALL, neurotické kopance pri vysokých BPM, či post-hudobní technologickí inovátori, ani čisto hlukové výpady. Pre kompletný hudobný program pozostávajúci z takmer 40 vystupujúcich, navštívte web Hradieb Samoty alebo profily na sociálnych sieťach, kde sa o každom umelcovi dozviete viac z medailónikov a pravidelných predstavovačiek.
Neoddeliteľnou súčasťou Hradieb sú v posledných rokoch tiež vizuálne inštalácie, klasické aj interaktívne výstavy, nemé aj ozvučené exponáty, temné i nasvietené sochy, či videoprojekcie. Skrátka, vizuálna tvorba v tom najširšom zmysle slova. Predovšetkým je však potrebné vyzdvihnúť zaujímavý vývoj udalostí vo výtvarnej sekcii posledných Hradieb Samoty – teda Artrooms Moravany. Tie sa postupom času stali samostatným projektom nádherne oživujúcim Moravianský zámok, ktorý sa tak stal skutočnou križovatkou živého umenia, ktoré je tu nielen vystavené, ale tu aj aktuálne vzniká. Artrooms pochopiteľne uvidíte na Hradbách aj tento rok, avšak už ako samostatnú udalosť, s ktorou Hradby zdieľajú miesto konania a samozrejme tiež pokrvnú spriaznenosť, na ktorú sme hrdí rovnako tak, ako sme radi, že sa Artrooms vydali samostatnou cestou. S programom Artrooms sa môžete zoznámiť tu, navyše vás môže potešiť, že ako návštevníci Hradieb Samoty uvidíte celú udalosť ešte pred jej oficiálnou vernisážou, ktorá tento rok vychádza na 4. júla.
Z multižánrovej sekcie tohtoročných Hradieb môžeme odporučiť bábkovú performance Faustova záhrada, objektovo / svetelnú inštaláciu Wax Worm, videoprojekciu na fasádu zámku od umelkyne Laily, či fotografie z publikácie o chátrajúcich hradoch a zámkoch na Slovensku s názvom "Chateaux po našom". Keď si spomínate na žánrovo ťažko zaraditeľného Petra Válka (Der Marbrechts) z minulých rokov, potom vedzte, že podobne široko rozkročeného umelca vám Hradby ponúknu aj tento rok v osobe Fera Királyho, ktorý zo širokého spektra svojich aktivít ponúkne livecoding performance s názvom FishCore. Okrem toho sa môžete tešiť aj na workshop Miroslava Tótha o elektronických nástrojoch, všemožné čítačky, prednesy, autorské debaty, či náhodné objavovanie umelcov a skupín -všetečných duchov, o ktorých zatiaľ nevieme ani my, ale tušíme, že sa nechajú strhnúť kreatívnym prostredím Moravian a prekvapia nielen návštevníkov, ale aj nás usporiadateľov. Je to totiž práve duch momentálnej inšpirácie, prepojenosť a chuť experimentovať, ktorý stál v počiatkoch Hradieb Samoty a ktorý sa v posledných ročníkoch objavoval na miestach konania v čoraz väčšej miere.
Prijmite teda prosím naše pozvanie na začiatok júla a vydajte sa s nami do Moravian nad Váhom, len kúsok od Piešťan a pár desiatok minút jazdy od česko-slovenských hraníc, preskúmať, ako veľmi sa naše nazeranie po roku života v inej realite zmenilo. Poďme si všetci spoločne oddýchnuť od závažnosti sveta tam vonku a na dva dni si vytvoriť svoju vlastnú divotvornú skúsenosť aj napriek definovanej skutočnosti. Možno spoločne zistíme, že Hradby Samoty sú príjemnou stálicou, osviežujúcou spomienkou na minulosť, či naopak, že ich jazyku už rozumieme inak a musíme hľadať nové situácie, ktoré by reflektovali novoobjavenú samotu poslednej doby. Tak či tak, je isté, že Hradby sa budú v nasledujúcich rokoch naďalej vyvíjať a neúnavne skúmať nové hraničné skúsenosti a pozitívne deviácie reality. Budú to iste zaujímavé kroky do neznáma, ktoré začnú už tento rok v Moravanoch. Dúfame, že pri tom budete s nami.
Vstupenky (kapacita limitovaná!): https://bit.ly/hradby21vstupenky
web: https://www.hradbysamoty.org
fb stránka: https://www.facebook.com/hradbysamoty/
fb event: https://www.facebook.com/events/5437689716305500/
insta: https://www.instagram.com/hradbysamoty @hradbysamoty
yt: https://www.youtube.com/user/HradbySamoty
Dátum: 2.-3.7.2021
Miesto: kaštieľ Moravany nad Váhom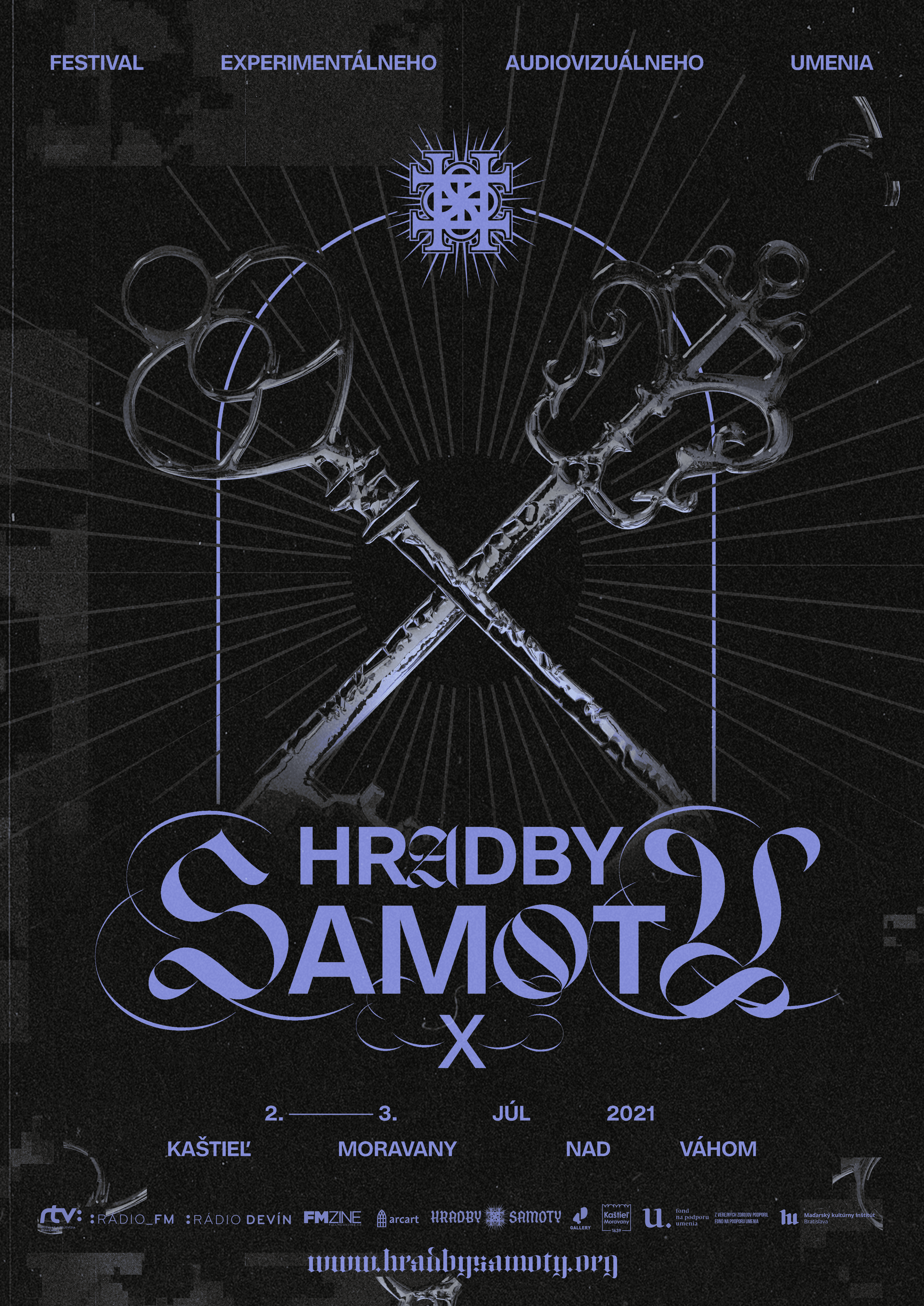 Zdroj: TS