Máme tu polku mesiaca júl, väčšina z nás sa už stihla spamätať z minulovíkendovej Pohody a naša pozornosť sa začína upriamovať na augustový festival Grape, ktorého jubilejné desiate pokračovanie sa uskutoční 9. a 10. augusta už tradične na piešťanskom letisku.
Popularita Grape festivalu je z roka na rok väčšia a svedčí o tom aj fakt, že práve v týchto dňoch organizátori ohlásili, že v predaji sú už posledné kusy vstupeniek, ktoré sa dajú zakúpiť už len v zopár kamenných obchodoch. Takže internet sa už pomaly chystá na šialenstvo, ktoré sa zvykne strhnúť okolo vypredaných vstupeniek. Šípime bartre za dom, auto, možno aj frajerku. Tento rok sa festival vypredal približne o desať dní skôr ako minulý, takže štatistiky boli opäť raz prekonané.
Kde hľadať dôvody? Organizátori si každý rok dávajú nesmierne záležať nielen na line upe a hudobnej stránke festivalu, ale aj na celkovej atmosfére a pohodlí návštevníkov. Vizuálna stránka festivalu je každý rok na veľmi vysokej úrovni. Nebude tomu inak ani tento rok. Na desiate výročie si pre nás Janči s Jurčim a ich tímom pripravili veľmi sympatickú a ironickú tému dažďa a búrok. Festival mal na počasie v minulosti naozaj niekoľkokrát smolu a musel byť dokonca kvôli bezpečnosti aj zrušený. Nikomu sa však našťastie nič nestalo a organizátori sa týmto spôsobom nad tým pousmiali. Dúfame teda, že tento signál dorazí aj do atmosféry a počasie nám bude tento rok naklonené. Zostávame v napätí, aký dress code ohlásia v najbližších dňoch, ale tušíme, že by to mohlo mať súvis s touto témou. Ku piešťanskému festivalu patria nepochybne aj umelecké inštalácie rozmiestnené po celom areáli, ktoré neplnia len vizuálny zámer. Je na nás návštevníkoch nachvíľku sa vymaniť z festivalového diania a zamyslieť sa, čo nimi chceli autori povedať. Všetko toto sú veci, ktoré Grape radia medzi najobľúbenejšie slovenské festivaly. Grape má už niekoľko rokov obmedzenú kapacitu, ktorá sa pohybuje niekde okolo čísla 20.000. Je ale isté, že jeho potenciál ju dávno presiahol.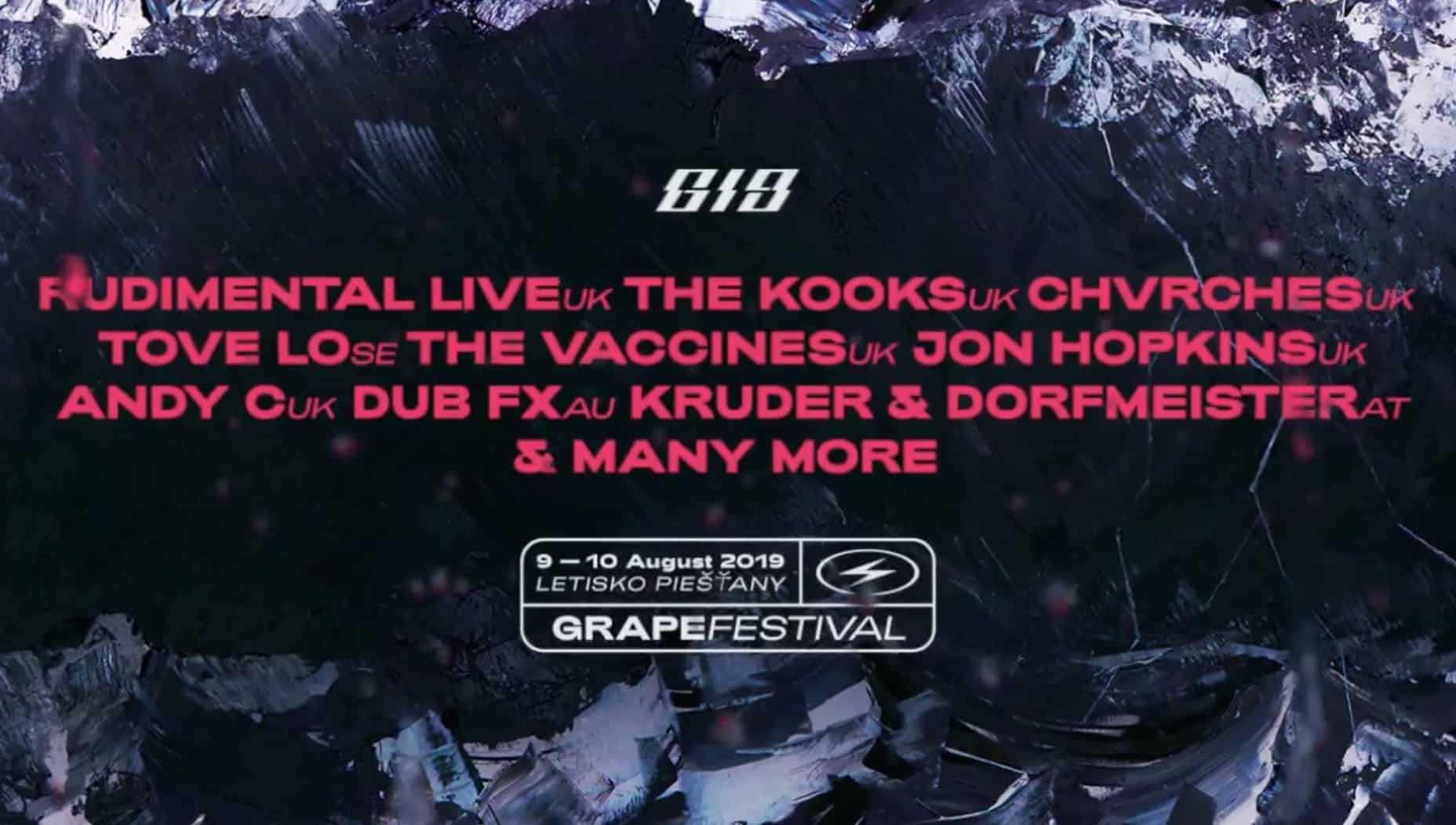 Hudobne sa festival orientuje hlavne na mladšiu generáciu, ľudí po istej hornej vekovej hranici tu medzi návštevníkmi nájdeme iba sporadicky, ak vôbec. Dôvodom je aj line up, ktorý je namierený hlavne na mileniálov a vyskladaný je hlavne z gitarovej hudby a elektroniky. Medzi interpretmi má klasicky najväčšie zastúpenie Veľká Británia na čele s londýnskymi The Vaccines, ktorých sa tím festivalu snažil do Piešťan dostať už niekoľko rokov. O nič menším headlinerom sú škótski synthpopoví CHVRCHES. Po siedmych rokoch sa na Slovensko vrátia aj veľmi obľúbení The Kooks so svojimi britpopovými skladbami. V sobotu sa môžeme tešiť na štokholmskú rodáčku Tove Lo, ktorej megahit Habits(Stay High) poznáte, aj keď o tom neviete. Po nečakane odrieknutom koncerte minulý rok dúfame, že tento rok nám multi kulti partička Superorganism napraví chuť. Elektronická hudba má nemenej silných zástupcov. Na hlavnom pódiu to v sobotu večer rozbalia Rudimental, ktorí DJ set tentokrát nechali doma a potešia nás live vystúpením. Mimoriadne sa tešíme na Jona Hopkinsa, ktorého sme minulý rok videli dvakrát na iných festivaloch, ale zakaždým nám dokázal jeho neuveriteľné majstrovstvo v produkcii a prevedení elektronickej hudby. Hneď po ňom štartuje už legendárny Andy C, chlapík s premakaným mixingom vystúpi na Suzuki stagei. Nie nadarmo ho ľudia v hlasovaní Drum and Bass Arena Awards zvolili za najplepšieho DJa. V roku 2009. A odvtedy každý rok, myslíme že až dodnes. Jedno veľké meno strieda druhé, keď ste si mysleli, že si po tomto vydýchnete, tak ste na omyle! Po Andym nám svoje beaty bude dávkovať Aphrodite. Milovníkov techna a temnejšej elektroniky potešia Daniel Avery či Max Cooper. Celý line up tanečného 365.bank stageu s domácimi klasikami aj zahraničnými nováčikmi sa nás bude snažiť udržať vo víre zábavy.
Ako každý rok, domáca scéna je aj tentokrát zastúpená nesmierne bohato. Nesmierne sa teším na znovu koncertujúcich Noisecut s Norou Ibsenovou a čerstvých nositeľov Radio Head Award za album roka kritikov, kapelu Autumnist. Pri Glebovi budú určite padať pódiá. Napriek poludňajšej hodine, tým, čo majú radi rock určite odporúčame 52 Hertz Whale alebo Vydrapená Bužírka Punk System. Lasky s Parou nemôžu chýbať a po skvelom minuloročnom koncerte ich aj tento rok uvidíme na hlavom pódiu. Nestačí vám? Bad Karma Boy, Tolstoys, Katarzia s Pjonim a Ultrazvuk, Diego, Lannne a mnoho ďalších váurčite nenechá chladnými.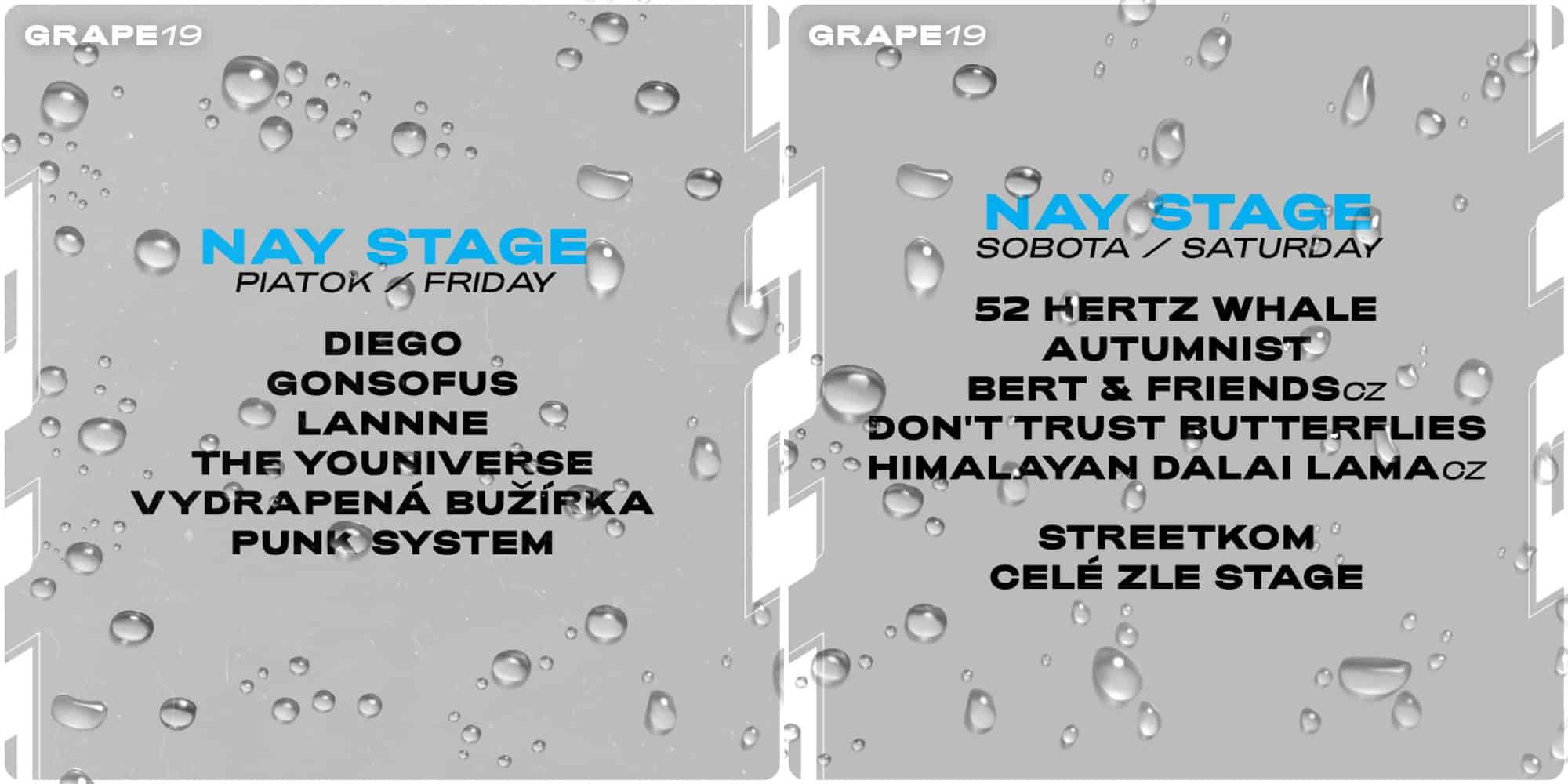 Hovoríte, že vám z toho vyhladlo? Aj gastro zónu majú ľudia z Grape Festivalu zvládnutú na výbornú. Na svoje si prídu aj tí najväčší gurmáni. Tradične silné zastúpenie majú burgre všetkých tvarov a veľkostí, chýbať nemôže klasika a lá čapovaná treska, ázijské rezance, kebab či plnené langoše. Exotika je zastúpená v podobe mexických, indických, francúzskych špecialít a obľúbených japonských gyoziek. Hladovať nebudú ani tí, čo preferujú vegetariánsku a vegánsku stravu alebo majú chuť na niečo sladké. Trdelníky, buchty, palacinky. Stačí si vybrať, ak to je to vôbec možné.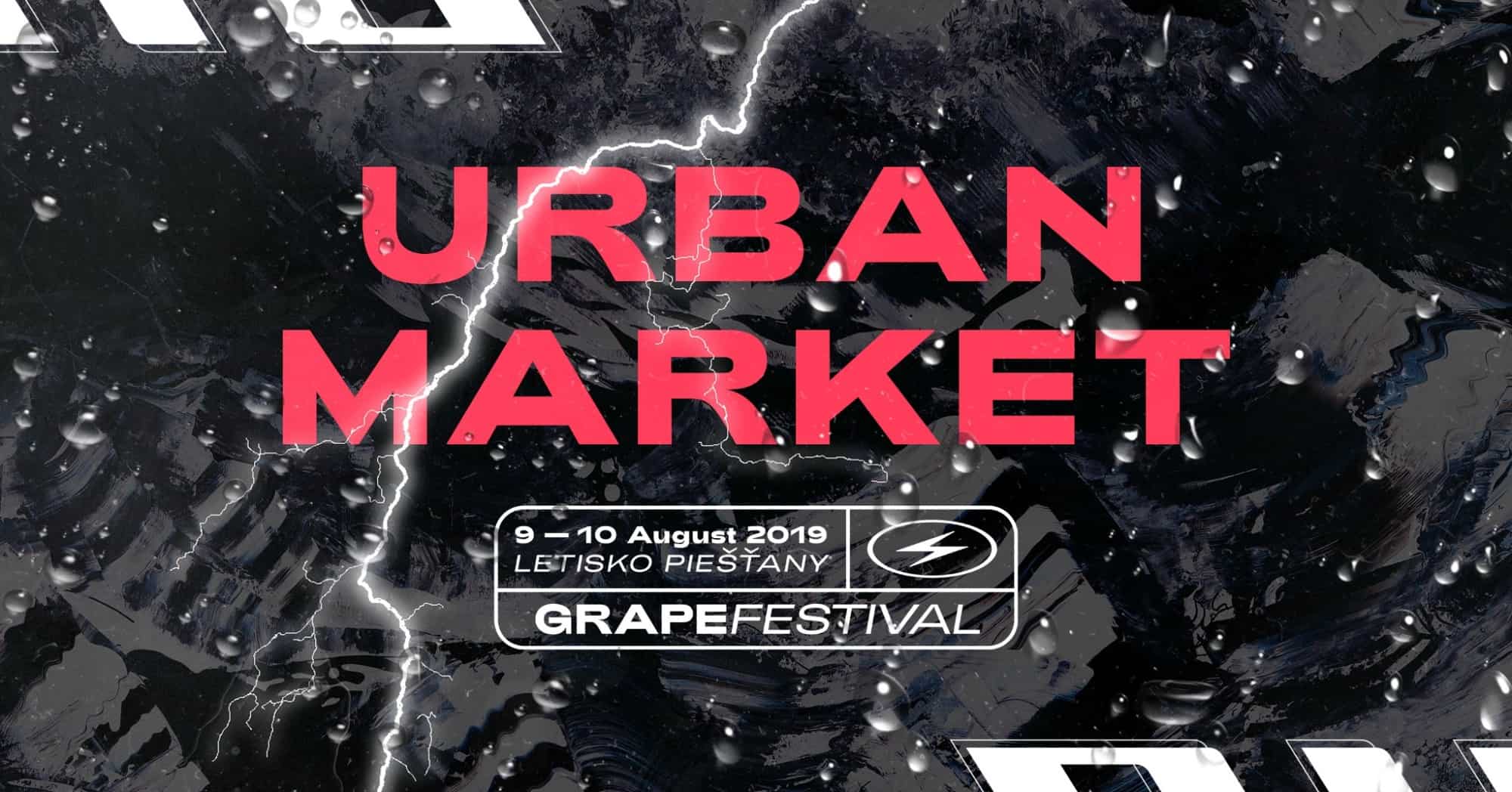 Na Grejpe tradične nájdete aj letnú edíciu obľúbeného podujatia Urban Market, kde nájdete módne dizajnové kúsky spoločne s rôznymi sprievodnými aktivitami. Takže keď si tá správna nákupná maniačka, určite túto zónu nevynechaj a obohať svoj šatník novými štýlovými kúskami a doplnkami.
Čo sa ubytovania týka, pre tých luxusnejších, ktorých už omrzelo zakaždým so sebou vláčiť celú festivalovú výbavu, spacáky, stany a altánky, ktoré sa aj tak v nedeľu po festivale nikomu nechce skladať späť, sú opäť pripravené stanové mestečká TENT INN a CHILL VILLAGE. Tent inn ako vždy ponúka postavený stan pre dve osoby s dvoma karimatkami a dekami, zatiaľ čo Bell Tenty v Chill Village sú naozaj príjemné a priestranné 5-miestne stany vybavené nafukovacími matracmi a dekami. Priam buržujské ubytovanie je v oboch prípadoch strážené vlastnou recepciou, takže nikto nepovolaný sa tam nemá šancu dostať. Alebo žeby "challenge accepted"? V každom prípade si tieto vymoženosti zaobstaráte cez shop na oficiálnej internetovej stránke festivalu.
Do začiatku festivalu zostávajú necelé tri týždne a jediná vec, čo nám zatiaľ chýba, je oznámenie tradičnej verejnej festivalovej tlačovej konferencia, ktorá sa pominulé roky konala na bratislavskom SunDecku a je spojená s koncertami a rôznymi úsmevnými aktivitami. V každom prípade, každý milovník dobrej hudby a festivalov si desiatu edíciu festivalu Grape nemôže nechať ujsť.
Tamara Zaťková