Držitel ceny BRIT Award a multiplatinový hudebník George Ezra se po téměř čtyřech letech vrátí do Prahy v rámci turné k novému albu Gold Rush Kid, které vychází 10. června 2022. Ezra vystoupí 21. února 2023 ve Sportovní hale FORTUNA v pražských Holešovicích.
Předzvěstí dlouho očekávaného alba je čerstvý singl Green Green Grass, který ihned po vydání zamířil na přední příčky britského žebříčku. Vstupenky budou v prodeji od pátku 20. května 10:00 na GoOut.cz a v síti Ticketportal ve dvou kategoriích: stání 1090 Kč + poplatky a sezení 1290 Kč + poplatky. V prodeji bude také limitované množství VIP vstupenek za 2590 Kč + poplatky, které obsahují: sezení na prémiových místech, exkluzivní VIP plakát podepsaný Georgem Ezrou a památeční VIP laminát se šňůrkou.
Singl Green Green Grass vychází po prvním euforickém singlu Anyone For You, který se dostal až na první místo v UK radio chart. "Další neukojitelná hitovka", popsal singl The Guardian. "Slaďounká popová pecka, která jeho úspěch vykopne ještě výš", hodnotí DYI a The Times přidaly: "Refrén pro zpěvy publika v halách ohlašuje klasického Ezru". O velkém úspěchu singlu svědčí i momentálně třetí místo v UK radio chart.
Green Green Grass je neodolatelně veselá písnička o těch nejlepších věcech, i když se dějí věci nejhorší: "Zelená zelená tráva, modré modré nebe, radím vám udělat mejdan v ten den, kdy vydechnu naposled."
"Kluk zlaté horečky? To jsem já," říká George o názvu nového dvanáctipísničkového alba Gold Rush Kid, které spatří světlo světa už 10. června.
Po svých dvou veleúspěšných albech – Wanted On Voyage (2014) a Staying At Tamara's (2018), která obě dosáhla na špičku žebříčků v Británii a celosvětově prodala miliony nosičů, nastal čas vrátit se k "srdci a krbu" a složit v Londýně album produkované společně s dlouhodobým spolupracovníkem Joelem Pottem.
Spolu s oznámením turné George navázal partnerství s YouTube Music, aby se stal jejich Partnerem pro udržitelnost pro rok 2022. V rámci partnerství podpořili The National Trust, který se snaží zabránit ničení přírody a snížit dopady změny klimatu sázením stromů a obnovou krajiny. V rámci partnerství bude vysazeno 17 000 stromů po celé Velké Británii.
D Smack U Promotion & Red Triangle uvádějí
George Ezra
21.2. 2023, doors 19:00
Sportovní hala FORTUNA, Praha – Holešovice
Vstupenky v prodeji od pátku 20. května 10:00 na GoOut.cz a v síti Ticketportal:
Standardní vstupenky:
Stání 1090 Kč + poplatky
Sezení 1290 Kč + poplatky
VIP vstupenky 2590 Kč + poplatky. VIP vstupenka obsahuje:
– vstupenka na sezení na prémiových místech
– exkluzivní VIP plakát podepsaný Georgem Ezrou
– památeční VIP laminát se šňůrkou
FB událost: https://www.facebook.com/events/448841647047498
GoOut: https://goout.net/cs/listky/george-ezra/vckn/
Ticketportal: https://www.ticketportal.cz/event/GEORGE_EZRA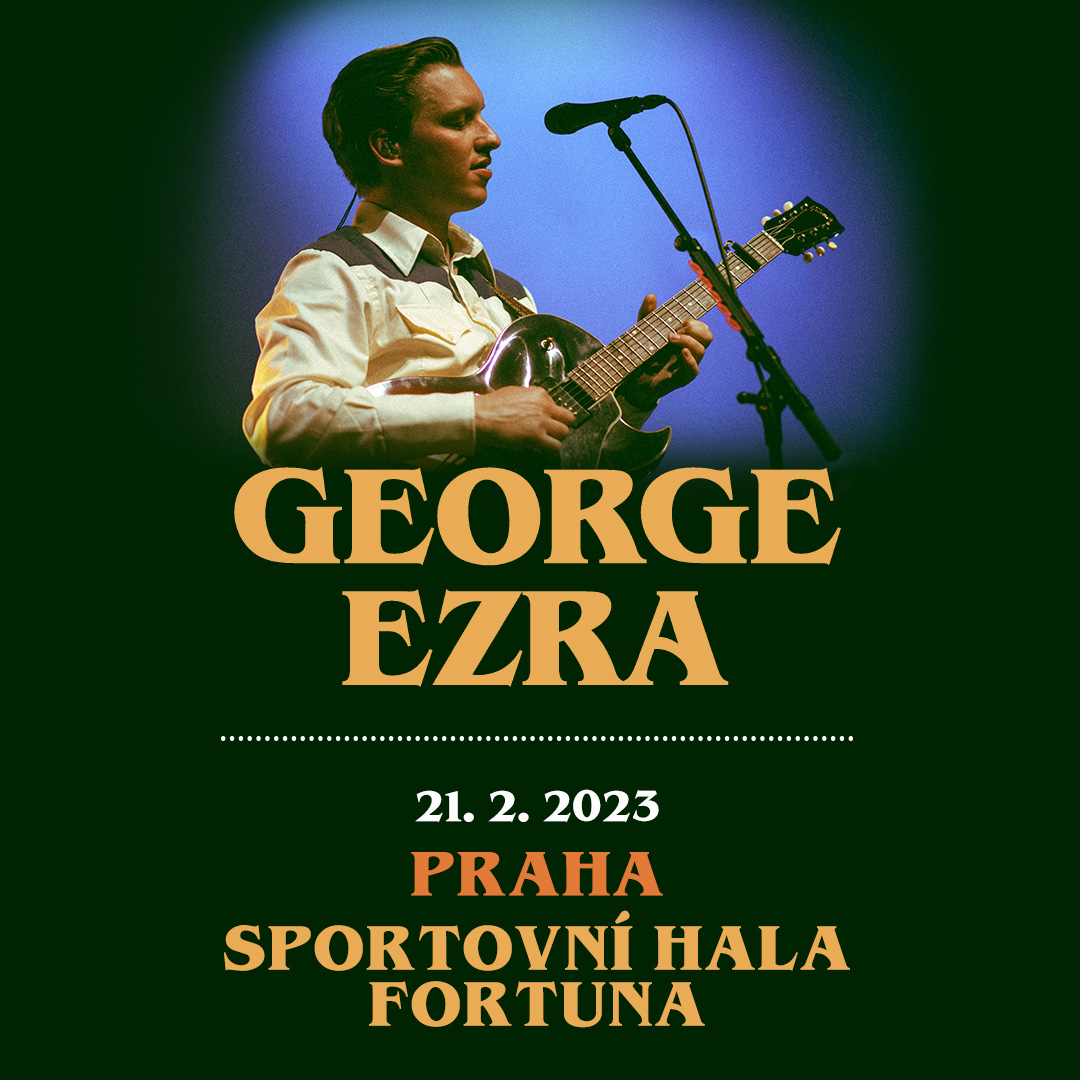 Zdroj: TS