Medzinárodný audiovizuálny projekt Fúzie speváčky a skladateľky Zuzany Mikulcovej dostane už čoskoro finálnu albumovú podobu. Výnimočné hudobné spojenia s Danom Bártom, Barborou Mochowou, Larou Abou Hamdan a Petrom Lipom tesne pred vydaním albumu dopĺňa skladba Můj stín s frontmanom českej skupiny Zvíře jménem podzim, Jakubom Königom.
"Túto Fúziu sme s Jakubom nahrávali na dve etapy. Koniec skladby sme nakrútili v noci a zbytok hneď skoro ráno, aby sme to stihli ešte pred otvorením kaviarne. Mali sme málo možností a času a vyskytlo sa aj veľa okolností, ktoré by nám to nahrávanie mohli pokašlať. Nakoniec to vyšlo a myslím, že celý náš tím si doslova užíva toto lavírovanie v ťažkých podmienkach. Aj preto sú pre mňa Fúzie unikátne a krásne. Vždy z toho máme obrovský a nezabudnuteľný zážitok," povedala o vzniku novej hudobnej fúzie Zuzana Mikulcová.
Jakub König v projekte Fúzie okrem skladby Můj stín, v ktorej spolu so Zuzanou Mikulcovou aj spieva, spolupracoval na texte k skladbe Zítra ráno.
"Musím povedať, že písanie oboch textov do projektu Fúzie bol pre mňa trochu oriešok. Zuzana a jej chlapci sa svižne pohybujú v žánrových vodách, ktoré boli pre mňa donedávna celkom neprebádané. Obidva texty vznikali dlho a mali mnoho rôznych verzií, až kým sa neskôr celkom nečakane a v okamžiku doslova vyskočili vo finálnej podobe. Bola to pre mňa veľká lekcia otvorenosti a dôvery, že všetko dobre dopadne. Čo sa nakoniec aj stalo. A rád by som Zuzke a celému projektu Fúzie poďakoval za nevšedné zážitky a nečakané spojenia. Som veľmi rád, že som sa mohol na tom podieľať," povedal o spolupráci Jakub König.
Zvuková a obrazová podoba všetkých skladieb projektu Fúzie vzniká vždy spolu a naživo. Nahrávanie skladby Můj stínprebehlo v kaviarni Styl a interiér v centre Prahy na Vodičkovej ulici. Atmosféru nočno-ranného hudobného stretnutia Zuzany Mikulcovej a Jakuba Königa s hudobníkmi Michalom Šelepom, Gáborom Tokárom a producentom Andrejom Hruškom na obraz zaznamenal a do videoklipu spracoval Dominik Janovský.
Skladba a klip Můj stín vychádzajú spolu s digitálnou verziou albumu Fúzie v piatok 17.septembra 2021. Uvedenie fyzickej podoby albumu, ktorý bude netradične USB prebehne 30. Septembra 2021. Na koncerte v bratislavskom Klube pod lampou ho do života uvedú spolu so sýrskou speváčkou Larou Abou Hamdan, ktorá odohrá aj svoj vlastný minikoncert. Oficialny krst albumu Fúzie v Českej republike bude v pražskom klube Jazzdock 23.októbra 2021.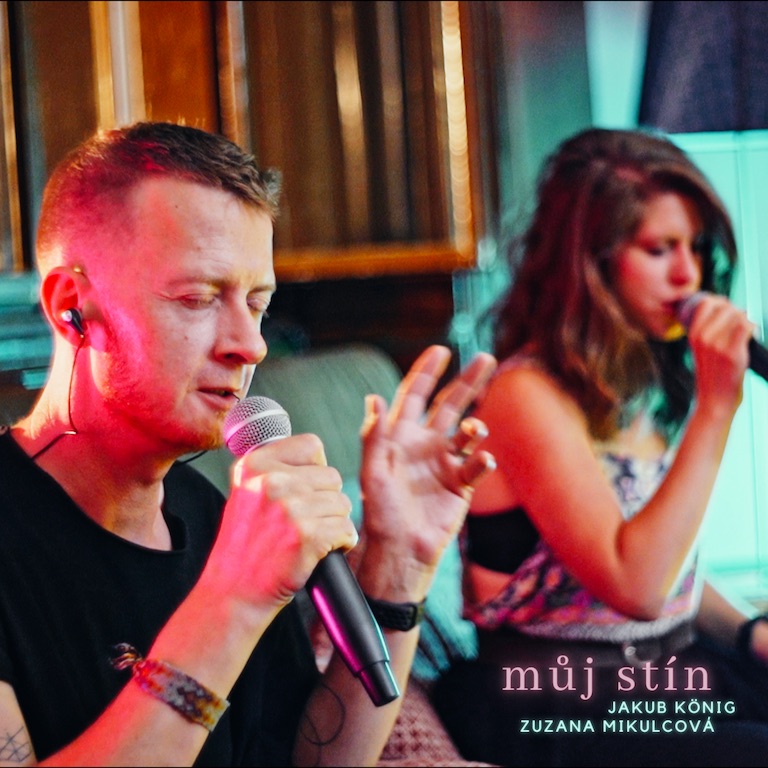 "Album Fúzie je pre mňa splneným snom. Keď si spomeniem, že tento ambiciózny nápad vznikol v malej pivničke pri vínku vo Vieche. S Andrejom sme ho dali na papier a napriek všetkým zložitým okolnostiam s pandémiou a zákazmi neostalo len pri plánoch a rečiach, ale podarilo sa nám ho zrealizovať a dotiahnuť do konca. Každá spolupráca vytvorila niečo špecifické a pre mňa veľmi unikátne. Som nesmierne vďačná všetkým, ktorí mali odvahu, chuť a ochotu podporiť tento náš srdcový projekt," povedala o nezvyčajnom albume Zuzana Mikulcová.
Hudobný producent Andrej Hruška na záver dodal: "Fúzia – to je splynutie, zlúčenie. Pre mňa je to názov nášho projektu, ktorý vystihuje všetko. Hudba ako nástroj neverbálnej komunikácie v ňom vytvára ohybný most pre rôzne kultúry, jazyky, vek. S ľahkosťou a nenútene podporuje myšlienku, že všetko so všetkým súvisí. Každá z týchto fúzií je ako živá fotografia, ktorá zachytáva sled udalostí, myšlienok a pocitov celého tímu. Pre nás je to dlhý a krásny čas procesu jej vzniku, ktorý je pre poslucháča a diváka zhmotnený len do niekoľkých minút."
Album Fúzie – keď hudba spája získal v tejto pre hudbu a kultúru neľahkej dobe podporu fanúšikov a uspel v crowdfunding kampani na hithit.sk. Tento rok ho v netradičnej podobe na USB vydá české vydavateľstvo Tranzistor.
O projekte Fúzie:
Projekt Fúzie je audiovizuálna umelecká reflexia na súčasnú spoločenskú situáciu v otázkach národnostných menšín a narastajúceho extrémizmu a rasizmu. Hudbou ako najuniverzálnejším dorozumievacím jazykom chce búrať pomyselné hranice a spájaním a spoluprácou umelcov vytvoriť nielen hudobnú, ale aj ľudskú a spoločenskú fúziu rôznych kultúr a jazykov.
http://zuzanamikulcova.com
https://www.facebook.com/ZuzanaMikulcova/
Zdroj: TS