FULL OF HELL je kapela, jejíž průsečík se nalézá někde mezi žánry grindcore, noise, hardcore, death metal a industriální hudba. Pod zvěrsky abominální hlukovou krustou, která zní zdánlivě neuspořádaně, se skrývá něco skálopevně děsivého a monumentálního. Pokud máte nějakého osobního démona, co vám po nocích způsobuje spánkovou paralýzu, tak s největší pravděpodobností má tato entita ve své Spotify knihovně právě tyto osobité extrémisty.
FULL OF HELL vznikli v roce 2009 ve státě Maryland v americké Pensylvánii. Za jejich kariéru vydali pět dlouhohrajících desek (pokud tedy pomineme fakt, že žádná z nich stopáží nepřekročila 30 minut), bezpočet dem, EP, singlů i splitek, např. s japonskými noise/grindery Merzbow nebo sludge metalisty The Bow.
FULL OF HELL se v rámci svého vývoje (od punkových začátků po příklon k death metalu) stali příkladem umělce, který přes svůj nonkonformní sound dokáže oslovit množstí posluchačů i mimo čistě undergroundovou a noisovou scénu a vábit do svých osidel ty, kteří v metalové muzice hledají nové náhledy.
A to bude splňovat i doprovod FULL OF HELL na turné, neb i ten je správně pošahaný. SANGUISUGABOGG je název skrývající kombinaci latinského výrazu pro pijavici (tedy singuisguga) a bog, což je anglický slangový výraz pro 'hajzl'. Přesně taková je i tvorba tohoto zvrhlého tělesa z amerického Ohia. Plodí muziku patřičně perverzní, nechutnou a čpící po řádně zemřelém, zakopaném a opět vykopaném death metalu 90. let.
Na startu to budou JAD, pravá varšavská punková mlátička, jejíž tvorba smrdí krchovem, a VISCERA///, kteří přivezou psychedelický post-metal ze severu Itálie.
FULL OF HELL, SANGUISUGABOGG, JAD, VISCERA
17. 11. 2022 – Praha, Underdogs'
FB event: https://fb.me/e/1IEgfHMW0
e-TICKET: https://obscure.cz/cs/tickets/detail/id/516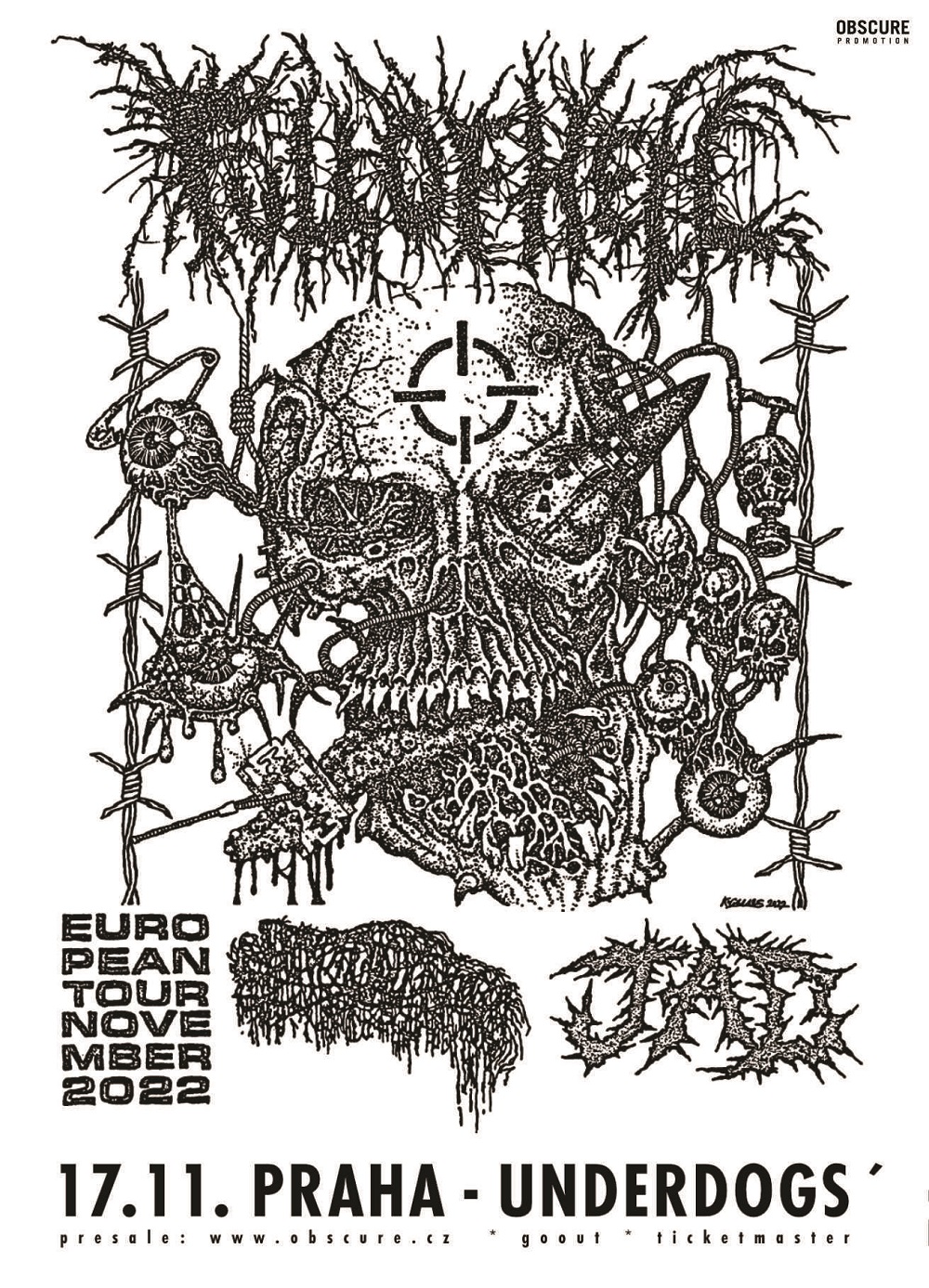 Zdroj: Obscure Promotion