FORREST JUMP vydání nového alba, jež je naplánováno na květen u Smile Music, připomínají ještě jednou skladbou plnou pozitivního poselství. Lyric video k singlu "Víc dobrých zpráv" se staví strachu a přináší víru v naději, kterou v dnešní době všichni potřebujeme.
Vydání nového alba FORREST JUMP je na spadnutí! Předchází mu ještě jeden singl, a to v podobě lyric videa k písni "Víc dobrých zpráv". "Kamkoliv se podíváš, drtí Tě negace a čím větší hrůza, tím lépe pro ty, kteří je vypouští. Samé šíření strachu – často jen proto, aby se vystrašená masa dala lépe ovládat… Mám toho plné zuby a prostě potřebuju k životu taky zprávy dobré… Proto se je snažím hledat… Často jde ale o plané sliby, takže jsme vlastně zase na začátku,"popisuje primární inspiraci k písni autor textu a frontman FORREST JUMP Pepa Michálek aka Michail Fabien, tentokrát bez svého typického úsměvu.
"Někdy na Tebe všechno padá a potřebuješ upustit páru," doplňuje kytarista a autor hudby Michal Stochleba. "Z lidí kolem sebe v poslední době hodně cítím, že jsou jako kotel před výbuchem. Myslím, že taky proto chtěl koncem refrénu Pepa říct, že prostě potřebuješ cítit naději, protože bez ní to nemá cenu. Zní to jako klišé, ale to vlastně celá spousta pravd…," zamýšlí se Stochleba.
Video pochází z dílny Petera Beťka, který je známý svým působením ve slovenské stálici Doomas a v neposlední řadě také díky pozici šéfa Gothoom Productions. "Spolupráci s Peťom "spískal" náš kamarád a parťák Rado Juriga, který je zároveň blízkým Peterovým spolupracovníkem," vysvětluje basista Kuba Ticháček.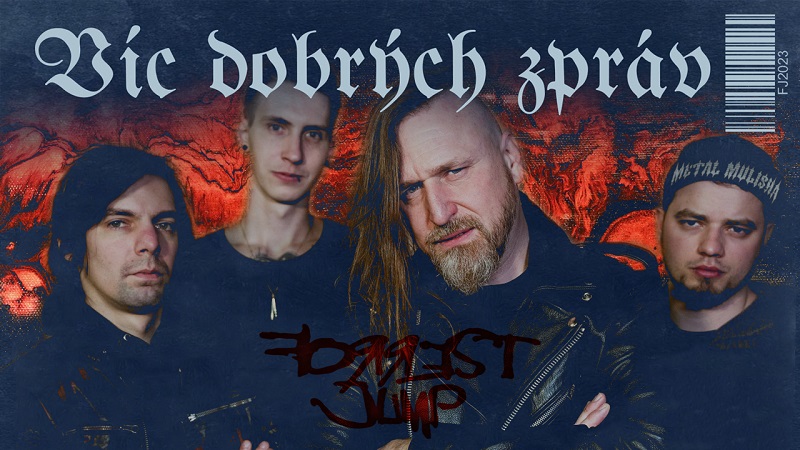 Album "Vrtochy", které singl "Víc dobrých zpráv" uvádí, vychází oficiálně 6. května 2023, kdy bude zároveň pokřtěno na luhačovické štaci jarního turné. Samotné album, z nějž pochází i předchozí úspěšné singly "Uprostřed magnetických polí", "Truet", "Do krve" nebo cover "Zafúkané", by ale mělo být k dispozici už na prvním koncertě této šňůry v olomouckém Bounty Rock Café. Celé túrování absolvují pánové FORREST JUMP spolu s parťáky PORTA INFERI.
"Už teď asi můžu slíbit, že se zdaleka nejedná o poslední obrázky k novému albu a překvápko chystáme taky spolu s klukama z PORTA INFERI. Sledujte naše sítě, jsme s Váma," uzavírá povídání Michálek.
https://forrestjump.cz
https://facebook.com/forrestjumpofficial
https://instagram.com/forrestjumpofficial
https://smilemusicrecords.cz
https://facebook.com/SmileMusicRecordsCZ
https://instagram.com/smilemusicrecordscz
Zdroj: TS