Siedmy ročník medzinárodného hudobného festivalu Zvuk for Štiavnica prinesie aj tento rok prierez toho najzaujímavejšieho zo žánrov jazz, fusion a crossover. Hudobný maratón v najkrajších zákutiach Banskej Štiavnice sa uskutoční v dňoch 24.-26. júna. Program je plný hudobných žánrových prekvapení. Spolu s hudobníkmi za Zvukov (nielen) jazzu navštívite niekoľko jedinečných štiavnických priestorov. Už k tradičnému Kultúrnemu centru a Art Cafe sa opäť pridá Starý zámok, Evanjelický kostol a Námestie sv. Trojice.
Úvod piatkové večer bude patriť temperamentnému Luizovi Murá s brazílsko-japonskými koreňmi. S obrovskou fascináciou žánrom Bossa nova, improvizáciou a mixovaním jazzu a tradičnej hudby sa snaží spojiť Brazíliu s ostatnými melódiami a rytmami celého sveta. Jeho nový album "Origem" je poctou hudbe Joãa Gilberta. V Rytierskej sále Starého zámku ho uvedie v slovenskej premiére.
Festival bude pokračovať v Kultúrnom centre kde svoj netradičný pohľad na ľudové piesne divákom poskytne speváčka a aranžérka Zuzana Mojžišová spolu s komornou verziu projektu Puščaňa. Počas večera zaznejú ľudové piesne z rôznych regiónov Slovenska, ktoré sprevádzajú, lemujú život človeka od narodenia až po smrť. Od uspávaniek, cez ľúbostné, pracovné, svadobné, vysťahovalecké, piesne pri zábave, piesne obradového folklóru až po plačky. Zuzanu budú sprevádzať trojica výnimočných hudobníkov ako Stano Palúch (husle), Rasťo Andris (ľudové aerofonické nástroje) a Miki Skuta (klavír).
Multižánrový záver piatkového večera v Art Cafe
Bratislavská kapela Zoo And Aquarium predstaví počas piatkovej párty na terase Art Cafe svoj nový album Sealed. Žánrovo by sa dala ich tvorba zaradiť niekde medzi nu-jazz a post-rock so silným vplyvom elektroniky. Tradičnú zostavu hudobníkov Vlado Oravec (bicie nástroje, elektronika), Adam Kapjor (perkusie, elektronika), Martin Kosorin (gitara, basgitara, syntetizátory) obohatí na saxofón, basgitaru a syntetizátor hosťujúci Saha Mamaev známi najmä z projektu Gonsofus.
Výpravné dielo inšpirované šamanskými liečivými obradmi. Aj tak by sa dal popísať nový album Ceremony experimentátora s ambientnými zvukmi Lukáša Bulka. Spolu s jeho umeleckými kolegami Jánom Kružliakom hrajúcim na husle a tancujúcou Kristínou Kluvánek vás v rámci projektu Alapastel pozývajú do bezpečného, rozjímajúceho prostredia v podkroví Art Cafe, v ktorom sa poslucháči môžu ponoriť do seba, počúvať a nechať sa unášať hudbou.
Sobotný program v znamení mladých talentov
Úvod sobotného festivalového programu odštartuje projekt Topoľana medzinárodne pôsobiacej slovenskej speváčky, flautistky a skladateľky Márie Rehákovej. Vo svojom sextete spája londýnsky jazz so slovenskými ľudovými piesňami, s ktorými vyrastala ako tanečnica a speváčka v detskom folklórnom súbore Kremienok. Kapela zložená z top mladých londýnskych jazzmanov hrá jej kompozície a aranžmány inšpirované ľudovou hudbou
Sakrálne priestory Evanjelického kostola tento rok rozozvučí katalánske duo výnimočných hudobníkov. Magalí Sare(spev) a Manel Fortià (kontrabas) predstavia ich nový album názvom "Fang i núvols" ( "Zem a mraky"), ktorý vznikol spojením ich vlastných jazzových koreňov. Zahŕňa repertoár tradičných katalánskych a latinskoamerických piesní a dve ich vlastné piesne vytvorené z poézie. Jeho názov dokonale definuje charakteristický zvuk hudobníkov. Ich hudba je surová a obnažená, keďže kontrabas a hlas tvoria konce pomyselnej harmónie.
Jednou zo žánrových odbočiek festivalu bude aj koncert talentovaného herca a hudobníka Richarda Autnera. Spolu s bubeníkom Marekom Žilincom vyprodukovali album Odpovede, z ktorého skladby vám v sprievode kapely odohrajú na Námestí sv. Trojice. Ich album sa snaží nachádzať odpovede na mnohé otázky ohľadom života, smrti, existencie a vzťahov. Sympatický "boy band" si postupne buduje silnú fanúšikovskú základňu naprieč celým Slovenskom. Veríme, že Štiavnica nesklame.
Záver sobotného večera bude pod hviezdami. Organizátori dúfajú, že pekné počasie dovolí pozvať návštevníkov do vonkajších priestorov lapidária Starého zámku. Práve tu zaznie koncert kapely SOLE, ktorá sa sformovala okolo talentovanej speváčky Julky Kozákovej. Hudobné zoskupenie, ktoré čerpá inšpiráciu z tradičných piesní rôznych krajín, vyberá z nich charakteristické hudobné prvky a pretvára ich do novej súčasnej podoby naprieč žánrami jazzovej, klasickej a tradičnej hudby. Julku doplní silná mužská zostava v podobe Ľubomíra Gašpara netradične na kontrabas, Ľuda Kotlára na klavír, Filipa Urdu na akordeón a Jakuba Valíčka na bicie.
Nebudú chýbať obľúbené jazzové raňajky
Bez raňajok ťažko a bez tých jazzových ešte ťažšie. Už tradične atmosféru sobotného a nedeľného rána v Art Cafe dotvoria ranné koncerty. Doprevádzané vôňou kávy a sladkými a slanými raňajkovými pokušeniami.
V sobotu bude terasa patriť štiavnickému zoskupeniu Fusion Biscuit. Ich hudobnú sušienku tvorí zmes jazzu, rocku, funku s rôznymi "žánrovými odbočkami". Kapela momentálne chystá debutový album a na festivale sa predstaví v zložení Juraj Kysel(basgitara), Jozef Sivák (gitara), Martin Jánošík ( klávesy) a Martin Mojžiš (bicie).
V nedeľu zahrá kapela zložená z mladých jazzových hudobníkov zo Slovenska i zahraničia. Mária Reháková je flautistka a speváčka, ktorá vyštudovala jazz v Londýne na prestížnej Guildhall School of Music. Tu stretla svojho spoluhráča (a teraz aj manžela), britského saxofonistu Sama Knighta. Na klavíri ich bude doprevádzať mladý londýnsky klavirista a skladateľ Eddie Lee.
Zažite štart festivalového leta v Banskej Štiavnici !
Festival podporil z verejných zdrojov Fond na podporu umenia, ktorý je hlavným partnerom festivalu. Partnermi festivalu sú Banskobystrický samosprávny kraj, SOZA, Sociálny a kultúrny fond Soza, Hudobný fond a Mesto Banská Štiavnica.
Predpredaj: https://predpredaj.zoznam.sk/…/zvuk-for-stiavnica-2022/
Web: www.zvukforstiavnica.sk
FB udalosť: https://fb.me/e/alxpbZDz3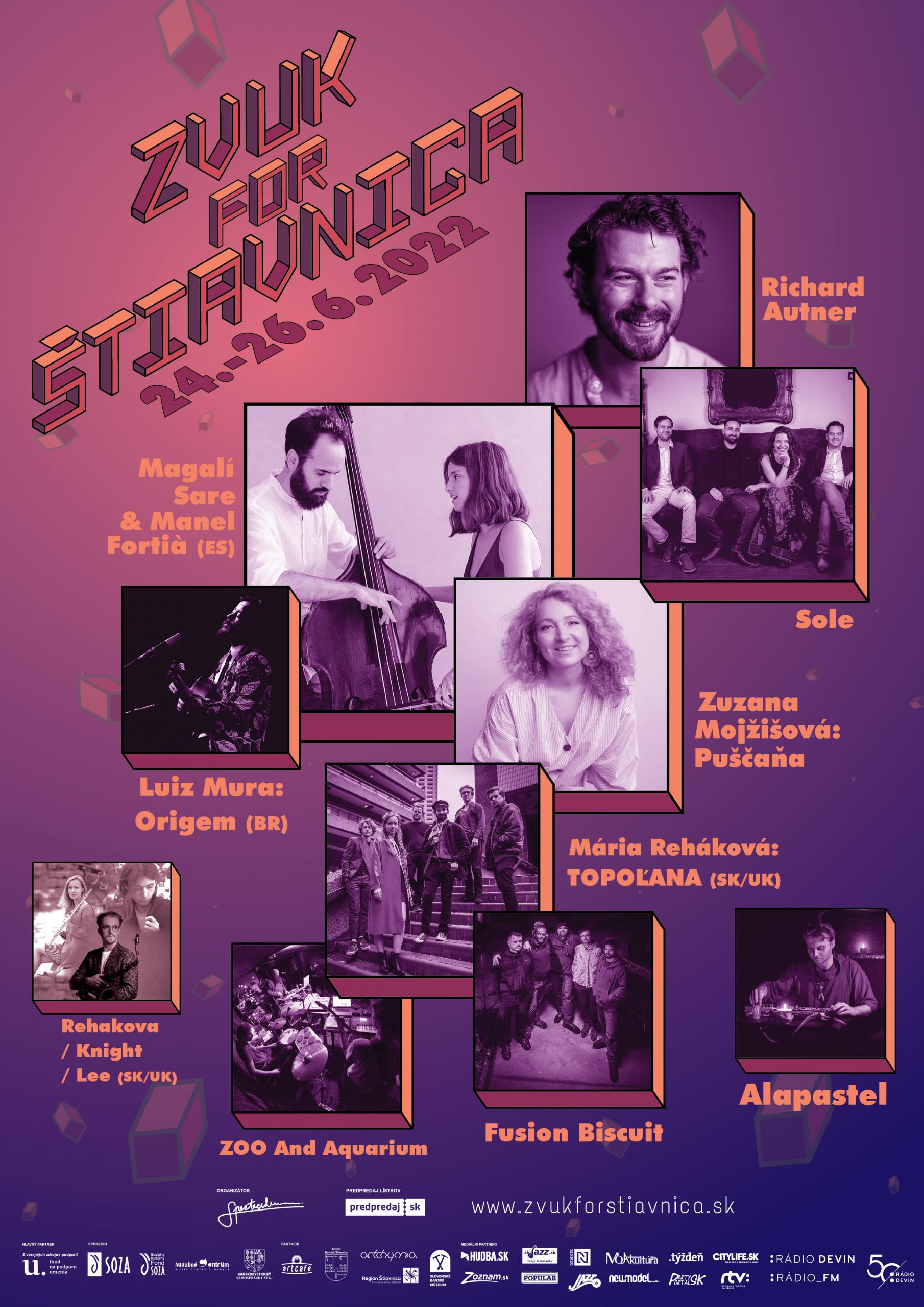 Zdroj: TS