Poslucháči kvalitnej hudby a prívrženci alternatívneho umenia a kultúry si prídu na svoje aj toto leto. Po období plnom otáznikov prinášame dobré správy. Na Počúvadle, neďaleko Banskej Štiavnice, v nádhernej prírodnej kulise sa od 16.-17.7.2021 opäť uskutoční multižánrový festival Slovenské Alternatívne Leto. Účasť potvrdili umelci, ktorých tvorba prenikavo rezonuje na pódiách, v kluboch či rádiách.
Festival odštartuje domáca kapela z Banskej Štiavnice Fusion Biscuit, ktorá sa sformovala začiatkom roka 2018. Receptom na ich biscuit je trošku jazzu, trošku rocku a trošku funku, kde-tu s príchuťou orientu. Prešovskú kapelu Vojdi charakterizujú členité kompozície s častými zmenami motívov a nekonvenčná rytmika. Prinesú svieži vánok inšpirovaný francúzskou novou vlnou.
Nie každý má možnosť vycestovať do Ameriky, no kúsok z nej pricestuje k nám. Pravý nefalšovaný americký rhytm and blues v podaní The Carpenter Ants poteší generáciu, ktorá zažila Woodstock a nielen ich.
The Carpenter Ants and Rev R L Bush "I'm Not Tired Yet"
Legenda slovenskej alternatívnej scény. Kapela, ktorá hrala v roku 1995 na prvom SAL na Bzovíku sa opäť vráti na festival. Na piatkovom pódiu nebudú chýbať Bez ladu a skladu.
Bez Ladu A Skladu – Píšte všetci modrým perom
Rôznorodosť, emócie, hudobné fúzie, vášeň, či spájanie národných a folklórnych prvkov. To všetko a omnoho viac, je vpísané do hudby Barbory Botošovej. Táto slovenská huslistka a interpretka, zastupuje žánre world music a ethno-jazz a so svojím bandom roztancuje festivalovú noc. Mladé inštrumentálne trio sa stretlo a zrodilo v Prahe. Zaujíma ich široké spektrum hudby od jazzu, post rocku, ambientu až po folklór. Hrajú jeden dlhý fúzický set ktorý plynulo prechádza z nálady do nálady a zo žánru do žánru. Vystúpenie kapely Hubnutí řízené počítačem je pre všetky váhové kategórie. Svoju postindustriálnu tvorbu predstaví aj známe undergroundové zoskupenie Otras na čele s Julom Fujakom.
Piatkový program na hlavnom pódiu zavŕšia Pán Stanislav & Raketa. Vydajte sa spolu s nimi do ich hudobného vesmíru. Miesta je dosť pre každého. Palivom bude našľapaná muzika na ktorú sa nedá netancovať
Pán Stanislav & Raketa – Kristián |Official video|
V sobotu nebude chýbať charizmatický hudobník Martin Huba zo Žiaru nad Hronom. Pod pseudonymom Samgott a Ice Foterr odohrá pár skladieb, v rámci jeho nového projektu, so synom a neskôr bude pokračovať na vlnách ambientu ako The Ambient Shrine. Priestory za múrmi bratislavskej Novej Cvernovky dali vznik kapele Soté. Hudobný prienik rockenrollu a rocku v ich podaní je mixom toho najlepšieho, čo underground ponúka. Hory môžu byť hlboké, tajomné, zelené a aj modré. Modré horyLyrik, Bene a Roland Kánik, jedno pódium a veľká radosť z hrania. Rap pre zrelé osobnosti, zážitok pre všetkých. Tešíme sa !
Modré hory – raz dva raz dva majk ček
V Prahe je okrem sto veží aj jedna ruža zo Slovenska. V pesničkách hudobníčky s umeleckým menom Nina Rosa je cítiť lásku k hudbe a cestovaniu. Jedným z pomyselných vrcholov festivalu bude koncert speváka s nezameniteľným hlasom. Dan Bárta & Illustratosphere. Spoločne s kapelou v novom zložení s bubeníkom Martinom Valihorom predstaví svoj najnovší v poradí už 5. album s príznačným názvom Kráska a zvířený prach.
Ku kúsku Ameriky ponúkneme aj štipku Francúzska. Energiou nabité trio KOMASI ponúkne exluzívne menu zložené z hudby sveta. Hovoria o sebe, že hrajú afro-latin swing mixnutý so psychedelickým afrobeatom. Európu zastupuje Simon Chenet z Francúzska, Afriku hudobník Koto Brawa z Burkina Faso a Latinskú Ameriku Mauricio Santana z Čile.
KOMASI – Doni Doni (Official Video)
Festivalovou udalosťou roka bude vystúpenie kapely Dunaj s legendárnou speváčkou Ivou Bittovou. Jedna z najinvenčnejších a najoriginálnejších kapiel 80. a 90. rokov Dunaj a najvýraznejšia osobnosť českej alternatívnej scény, speváčka, huslistka a inštrumentalistka, Iva Bittová sa v rámci série spoločných koncertov stretávajú na jednom pódiu po viac ako 20. rokoch!
Sobotný program zavŕši kapela Fiktivní Šílenství v zložení Eva Turnová, Dušan Vozáry, Jitka Chorvátová, Jan Vozáry. V špeciálnej zostave sa dali dohromady aby si pripomenuli pamiatku a dielo Mejlu Hlavsu, dôležitej postavy českej undergroundovej scény
Hudobný program doplnia: Peter Markovski – Gramcovačka Sound System , Bohdan Mezei– folk, DJ Mishek Stanica Žilina, kapela pre veľké aj malé deti Maya Gal Hanna.
Súčasťou festivalu budú divadelné predstavenia pre deti aj dospelých, diskusie na vážne témy pod taktovkou občianskej aktivistky Csilly Droppovej, vedomostný kvíz so Slavom Hlásnym, v kreatívnej uličke sa vám predstaví umelecká sekcia NKP Bombury sochára Juraja Muchu a výtvarníčky Lucie Lakovej, pre vaše ratolesti budú pripravené večerníčky z festivalu Fest Anča a kreatívny workshop z ktorého si odnesú okrem inšpirácie aj svoje originálne dielka. Lokalita festivalu ponúka množstvo rekreačných a športových aktivít na suchu či na vode a aktuálna je aj možnosť vydať sa po historicky a architektonicky zaujímavých zákutiach Banskej Štiavnice so školeným inštruktorom.
Okrem hudobnej produkcie festival ponúkne aj bohatý sprievodný program. Na Záhrada stage budú počas dňa prebiehať rôzne diskusie a prednášky:
FFF – Fridays for Future – Horúca téma zajtrajška
Diskusia – Ľudskoprávna téma – Migranti a utečenci alias Fakty o migrácii (organizátorom je Human Fórum v spolupráci s Migračným úradom MV SR). Diskutovať budú riaditeľ Migračného úradu Ministerstva vnútra SR, Ján Orlovský, riaditeľka odboru migrácie a integrácie Migračného úradu MV SR, Petra Achbergerová, prezident Slovenskej humanitnej rady, Peter Devínsky, riaditeľka občianskeho združenia Mareena, Michaela Pobudová
Diskusia – Antikorupčná téma – Ako veľmi sa nám podarilo poraziť korupciu? Diskutovať budú Xénia Makarová ( nadácia Zastavme korupciu), Michal Vašečka (renomovaný sociológ), Pavla Holcová (investigatívna novinárka).
Diskusia – Kultúrna téma: (Prečo) sú kultúra a umenie na chvoste? Sieť kultúrnych centier a organizácií Anténa. Moderuje Laco Oravec a diskutovať budú Zuzana Majlingová – historička umenia a Rastislava Marko – manažér v regionálnej kultúre.
Divadlá: Divadelný súbor Jána Chalupku mesta Brezno (rozprávka Muška Svetluška), Divadlo ZkuFraVon (Stvorenie sveta)
Podujatie z verejných zdrojov podporil Fond na podporu umenia ako hlavný partner festivalu. Partnerom festivalu je SOZA, Sociálny a kultúrny fond SOZA, Hudobný fond a Lunter.
Svoje pódium u nás postaví Centrum nezávislej kultúry Záhrada z Banskej Bystrice.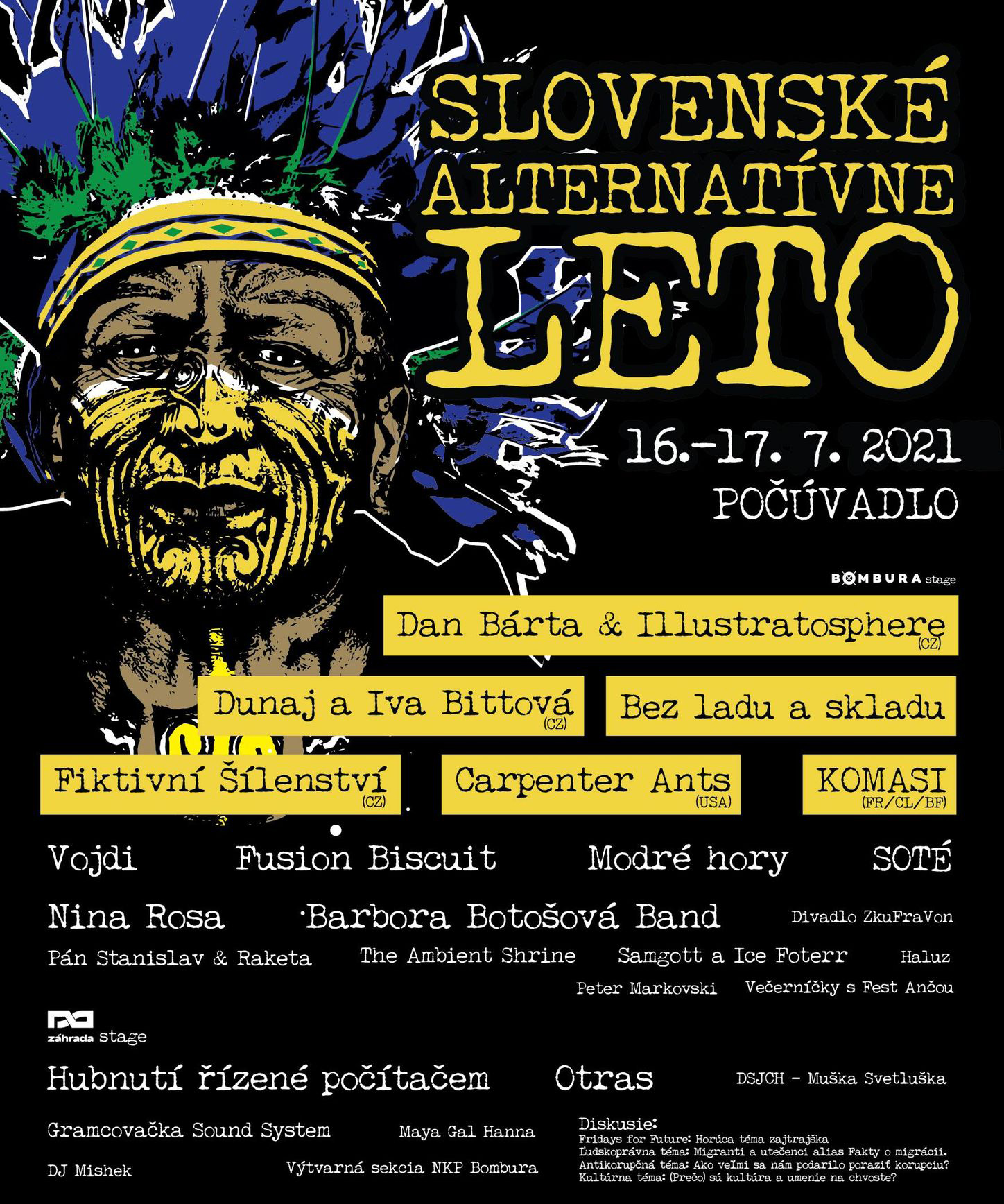 Zdroj: TS