Super správa pre hudobných fanúšikov! Obľúbený festival TOPFEST otvorí svoje brány prvý júlový víkend a 2.- 3. júla ponúkne dva dni plné hudby! Jeden z našich najlepších festivalov sa bude konať v obci Častkovce medzi Piešťanmi a Novým Mestom nad Váhom. Headlinerom festivalu je už tradične česká rocková legenda Kabát. Fanúšikovia sa môžu tešiť na vystúpenia skupín HEX, INEKAFE, Horkýže Slíže, Billy Barman, Konflikt, Smola a Hrušky, Zóna A a česká formácia Ouennie, ktorá svojou tvorbou vzdáva hold legendárnej britskej kapele.
TOPFEST odštartuje aj tohtoročnú letnú festivalovú sezónu! Festival vypukne 2.- 3. júla 2021 v areáli Jazdiareň Banát v Častkovciach!
"Po ročnej prestávke sa snažíme ľuďom priniesť skvelú hudbu a veľa zábavy. Tento rok bude TOPFEST trochu iný a iba s jedným stageom. Súčasťou budú rúška, dezinfekcie rúk a limitované kapacity ľudí. A sme pripravení aj na to, že budeme musieť kontrolovať testy alebo očkovacie preukazy. Informácie sa menia každým dňom, preto prosíme fanúšikov, aby boli trpezliví a počítali s možnými zmenami. Tam kde sme my, buďte aj vy. Dúfame, že nás v týchto náročných časoch prídete podporiť," vysvetľuje organizátor festivalu.
Tentokrát sa festival zameral na slovenskú a českú tvorbu. Tradične na ňom nemôže chýbať rocková stálica Kabát!
"Zahráme klasicky náš festivalový set, ktorý je takým prierezom všetkými našimi albumami. Tešíme sa na slovenských fanúšikov," hovorí Pepa Vojtek.
2. až 3. júna to okrem skupiny Kabát na TOPFESTEe roztočia slovenské koncertné stálice HEX, Horkýže Slíže, Billy Barman, Smola a Hrušky, Zóna A, Heľenine oči, No Control či slovenská punková skupina Konflikt, ktorá je na scéne už 30 rokov. Kultová kapela INEKAFE vystúpi v aktuálnej zostave líder Vratko Rohoň, bubeník Dodo Praženec a basgitarista Vlado Bis.
"Koncertovanie nám veľmi chýbalo a tešíme sa, to je jasné. Aktuálne máme aj nový singel "Všetky skladby sveta", je pomerne úspešný na youtube, tešíme sa aj na jeho živé prevedenie. Samozrejme zahráme aj hitovky "Ráno", "Ružová záhrada", "Ďakujeme vám", "Úspešne zapojení", "Špinavé objatie" či "Spomienky na budúcnosť"," plánuje líder kapely Vratko Rohoň.
Na svoje si prídu priaznivci legendárnej formácie Queen. Jej najväčšie pecky odpáli českú skupina Ouennie, ktorá svojou tvorbou vzdáva hold britskej kapele. Počas svojej existencie sa Quennie stali uznávanou kapelou v Čechách aj v zahraničí a zaradili sa medzi svetovú špičku vo svojom žánri.
TOPFEST sa bude konať na novom mieste. Na festival sa teší obec Častkovce, ktorá sa nachádza 17 minút od Nového mesta a 10 minút od Piešťan. V nádhernom romantickom kraji čakajú na návštevníkov zábavné hry, olympiáda, kolotoče aj vodné športy. Nebudú chýbať všetky kaviarenské a reštauračné služby i parkovisko.
Organizátor upozorňuje návštevníkov, aby si vstupenky kupovali iba na oficiálnych predajných miestach. Vstup do areálu je povolený len s platnou vytlačenou vstupenkou. Hometicket musia byť vytlačené na kancelárskom papieri vo formáte A4 s čitateľným čiarovým kódom. Potvrdenie objednávky ani vstupenky v elektronickej, nevytlačenej forme nebudú akceptované. Obmedzenia pre návštevníkov sú ako vždy – prehľadávanie batožiny za účelom zníženia prenesenia zakázaných veci, medzi ktoré patria nože a iné ostré predmety, sklo, plechovky. Príďte zažiť dokonalú festivalovú atmosféru na TOPFEST 2. – 3. júla 2021 v areáli Jazdiareň Banát v Častkovciach. Vstupenky sú dostupné v sieti Predpredaj.sk na https://predpredaj.zoznam.sk/sk/listky/topfest-2021/ aTicketportal.sk na https://www.ticketportal.sk/event/TOPFEST-2021-GASTROFEST Deti do 10 rokov majú vstup na festival zdarma len po predložení príslušného dokladu. ZŤP, Imobilný majú zľavu 50% a predaj vstupenky je iba na mieste. Vstupenka platí na oba festivalové dni, a to po predložení príslušného preukazu. Na sprievodcu sa zľava nevzťahuje. Všetky informácie nájdete na www.topfest.sk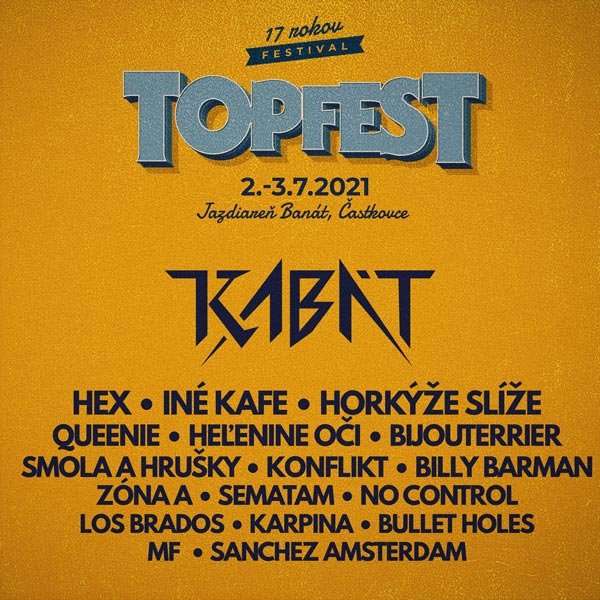 Zdroj: NK Factory