Hľadanie identity človeka v rôznych kontextoch a životných situáciách, kontrasty svetov, originálne pohľady na rodinný život i zločin, vnútorné prežívanie a obraz navonok, snaha o porozumenie. To sú všetko témy, ktoré prináša osem filmov tohtoročného Stredoeurópskeho festivalu talianskeho filmu MittelCinemaFest. Ide o snímky ocenené kritikou a uvedené na najprestížnejších filmových festivaloch v Cannes, Benátkach či Karlových Varoch. Nebudú chýbať najnovšie diela režisérov ako sú Nanni Moretti či Marco Bellocchio a ani obľúbení herci Elio Germano, Toni Servillo či Riccardo Scamarcio. Aktuálny 19. ročník sa uskutoční od 19. do 22. novembra 2021 v Kine Lumière v Bratislave. Pripravil ho Taliansky kultúrny inštitút v spolupráci s Istituto Luce Cinecittà.
"Vklad Talianska do vývoja svetovej kinematografie je nespochybniteľný: od neorealizmu až po dnešok nám talianski režiséri, herci a ľudia pracujúci vo filmovom sektore pomáhali formovať kolektívne vedomie, ktoré nepozná hranice a prihovára sa nám mnohými jazykmi. Tohtoročné tituly nás prevedú od Lazia v devätnástom storočí až po súčasnú Kalábriu," povedala riaditeľka Talianskeho kultúrneho inštitútu Bratislava Alessandra Sanniti a pripomenula, že inštitút od svojho vzniku pravidelne ponúka slovenskému publiku prehliadky veľkých filmových klasikov či súčasných filmových tvorcov.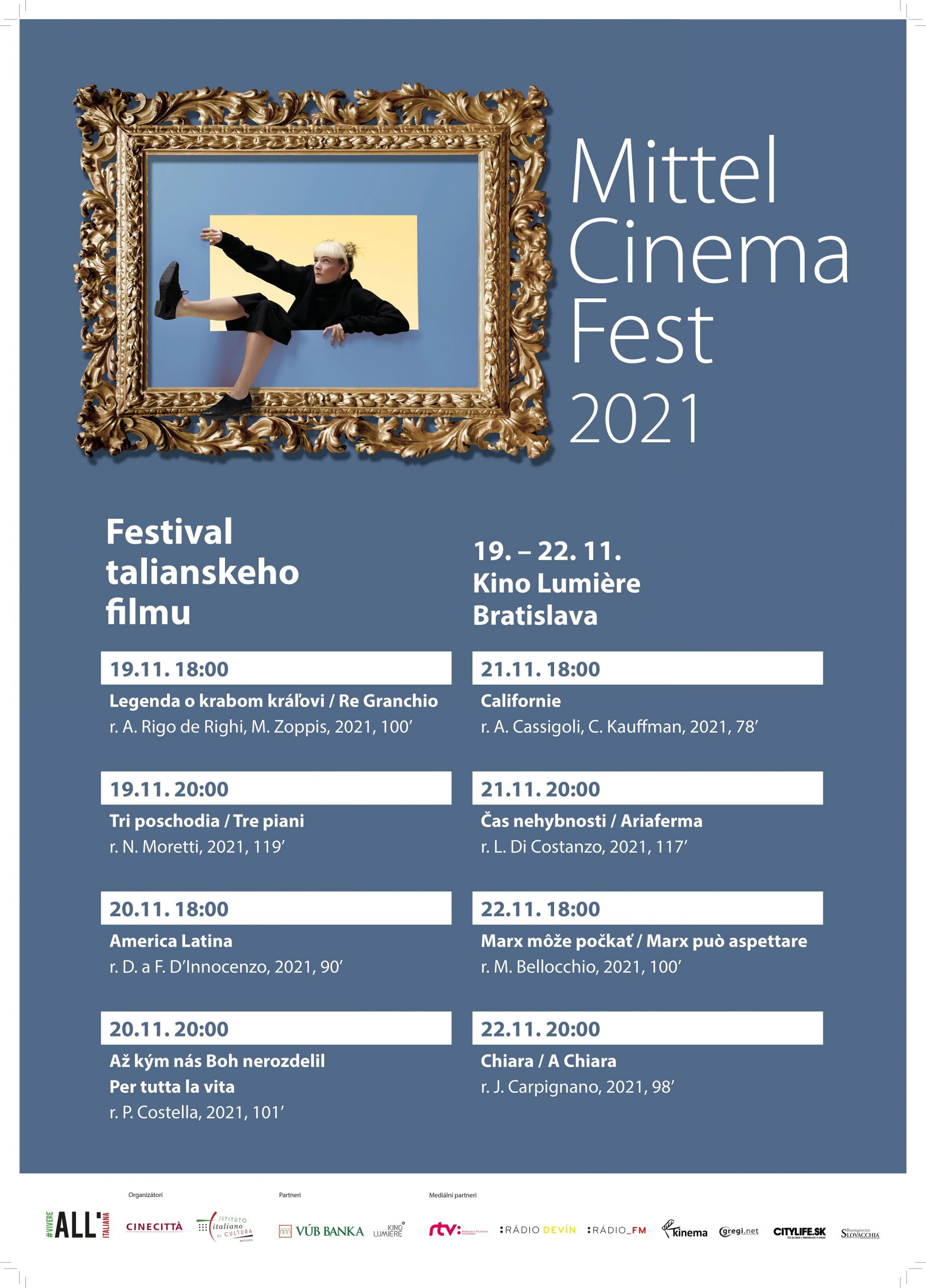 Minulý rok sa festival konal prvý raz online, tohto roku sa vracia do kinosál Kina Lumière v Bratislave. Ponuka je rozdelená do štyroch dní, pričom každý deň sa premieta o 18.00 aj o 20.00 hod. Všetky filmy budú uvedené v taliančine s titulkami. Vstupenky sú už v predaji.
Prvou snímkou festivalu bude filmový debut režisérskej dvojice Alessio Rigo de Righi a Matteo Zoppis LEGENDA O KRABOM KRÁĽOVI / RE GRANCHIO. Dnešné Taliansko. Starí poľovníci si spoločne spomínajú na Lucianov príbeh z konca devätnásteho storočia. Večne opitý Luciano žije v malom mestečku v kraji Tuscia. Jeho spôsob života a ustavičný vzdor proti despotickému princovi z neho urobili vydedenca. Pri zúfalom pokuse ochrániť milovanú ženu pred princom sa Luciano dopustí podlého činu a ten ho donúti utiecť do Ohňovej zeme. Honba za pokladom v spoločnosti námorníkov bez zábran mu pomôže vykúpiť sa zo starých hriechov. Avšak zlatá horúčka nemôže v opustenom kraji zasiať nič iné než zradu, chamtivosť a šialenstvo. Nevšedná snímka zaujala na prestížnych medzinárodných festivaloch v Cannes, Karlových Varoch, ale aj v Jeruzaleme a New Yorku. Film je na programe v piatok 19. novembra 2021 o 18.00 hod.
V piatok večer o 20.00 hod. uvedie festival novinku oceňovaného režiséra Nanniho Morettiho TRI POSCHODIA / TRE PIANI. V jeho tvorbe môžeme vidieť opakujúcu sa tému: zodpovednosť voči deťom, povinnosť vychovávať ich, strach, že ich stratíme, nádej, že ich opäť nájdeme. Režisér im zostáva verný aj pri svojej najnovšej snímke s hviezdnym obsadením: Margherita Buy, Riccardo Scamarcio a Alba Rohrwacher, vo filme si zahral aj sám Moretti. Po prvý raz inscenuje príbeh iného autora, film je adaptáciou rovnomenného románu Eškola Neva. Séria nečakaných udalostí radikálne zmení životy obyvateľov rímskeho bytového domu. Čo znamená byť rodičmi, súrodencami či susedmi vo svete ovládanom strachom a nenávisťou? Kým sú muži uväznení vo svojej tvrdohlavosti, ženy sa zo všetkých síl usilujú, každá svojím vlastným spôsobom, poskladať úlomky roztrieštených životov a naplniť ich zdanlivo stratenou láskou. Film sprevádza dlhý zoznam festivalov, kde ho s úspechom prezentovali, medzi nimi je aj prestížne Cannes, ďalej Toronto, Melbourne, Haifa a ďalšie.
Víkendový program otvorí v sobotu 20. novembra 2021 o 18.00 hod. AMERICA LATINA so skvelým Eliom Germanom v hlavnej úlohe. Hoci je snímka inšpirovaná žánrom thriller a noir, bratia Damiano a Fabio D'Innocenzo uprednostnili slobodnú réžiu a tým úplne porušili pravidlá žánrov. Vo filme nie sú žiadne konkrétne posolstvá, tvorcovia chceli urobiť výskum o človeku, jeho mieste v spoločnosti a o koncepte rodiny. Prostredníctvom jedného z najušľachtilejších citov – lásky k svojej rodine – sa rozhodli otestovať obyčajnú postavu, postaviť pred ňu niečo výnimočné a preskúmať jej reakciu. "Tento príbeh sme sa rozhodli vyrozprávať z jednoduchého dôvodu: téma identity nás dlho prenasledovala ako rozprávačov, aj ako divákov. Vzbudzovala otázky, ktoré nám núkali len odpovede plné protirečení. Do konca nakrúcania sme nenašli správnu odpoveď. Hľadanie samých seba je najvzácnejšie posolstvo kinematografie a America Latina túto príležitosť naplno využíva," uviedli bratia v režijnej poznámke k filmu.
V sobotu o 20.00 hod. príde na rad komédia KÝM NÁS BOH NEROZDELIL / PER TUTTA LA VITA režiséra Paola Costella. Pod scenárom sú podpísaní autori filmového megahitu Úplní cudzinci, Paolo Costella a Paolo Genovese. "Až kým vás Boh nerozdelí…" A čo ak zistíte, že vás namiesto Boha rozdelil sudca, ktorý anuloval vaše manželstvo po tom, čo odhalil, že sobášiaci kňaz nebol skutočným kňazom? Ak budete musieť zopakovať vašej polovičke svoje "áno" s odstupom mnohých rokov, ako sa zachováte? Film sleduje osudy štyroch párov, ktoré sa musia rozhodnúť, či sa po rokoch strávených v neplatnom manželstve opäť zosobášia.
Snímka CALIFORNIE zobrazuje päť rokov života mladého marockého dievčaťa Jamily. Žije v Torre Annunziata, má deväť rokov a veľké plány do budúcnosti. Konflikty s vrstovníkmi a chýbajúca rodina ju tlačia do izolácie a nútia ju obrniť sa čoraz hrubším pancierom. Film je režijným debutom tvorivej dvojice Alessandro Cassigoli a Casey Kauffman. Na programe MittelCinemaFestu je v nedeľu 21. novembra 2021 o 18.00 hod.
Priaznivci hereckej hviezdy, Toniho Servilla sa môžu tešiť na film ČAS NEHYBNOSTI / ARIAFERMA. Skvelý herec stvárnil v snímke väzenského dozorcu Gaetana Gargiula. Režisér Leonardo Di Costanzo situoval príbeh filmu do imaginárnej väznice Mortara, na nešpecifikovanom mieste v Taliansku. "Toto miesto sme vytvorili po obhliadkach mnohých zariadení. Takmer všade sme sa stretli s veľkou ochotou rozprávať, častokrát sedeli bok po boku strážcovia, vedenie a aj niektorí väzni. Zrodila sa zvláštna, priateľská atmosféra a účastníci sa takmer predbiehali v rozprávaní príbehov. Dokonca sme sa veľakrát zasmiali. Keď sa stretnutie skončilo, všetci sa vrátili ku svojim úlohám a muži v uniformách s kľúčmi v ruke odprevádzali väzňov späť do ciel. Drsný stret s realitou v nás, ľuďoch z vonku, vyvolal zmätok," povedal režisér. Festival uvedie snímku v nedeľu 21. novembra 2021 o 20.00 hod.
"16. decembra 2016 sa v Kultúrnom centre v Piacenze zhromaždila celá naša rodina… Chceli sme osláviť viaceré narodeniny. Zorganizoval som spoločný obed s myšlienkou, že natočím film o našej rodine, ale nič som nemal premyslené. Nevedel som, ako to urobiť. … Existujú prinajmenšom dva dôvody, prečo sa výsostne autobiografický príbeh stáva univerzálnym posolstvom: ponúka úvahu o bolesti tých, ktorí prežili a našej snahe ukryť pravdu pred matkou v obave, že tragédiu neunesie. Vznikla z toho fraška./A tak sme hrali tragikomédiu…," napísal k realizácii svojho najnovšieho filmu MARX MÔŽE POČKAŤ / MARX PUÒ ASPETTARE významný režisér súčasnej talianskej kinematografie Marco Bellocchio. Spolu so svojou rodinou oživuje na plátne príbeh brata, ktorý nečakane zomrel v revolučnom roku 1968 a robí to bez ostychu a cenzúry. Rekonštruuje jedno obdobie dejín, ktoré sa ako červená niť tiahne celou jeho tvorbou. Jeho rodinný dokument je na programe festivalu v pondelok 22. novembra 2021 o 18.00 hod.
19. ročník MittelCinemaFestu uzavrie v pondelok 22. novembra 2021 o 20.00 hod. film vychádzajúcej hviezdy súčasnej talianskej kinematografie Jonasa Carpignana CHIARA / A CHIARA. Pätnásťročná Chiara Guerrasio je druhorodená dcéra, ale v srdci svojho otca zaujíma prvé miesto. Na rozdiel od svojich dvoch sestier je bystrá, rozhodná a silná osobnosť. Keď otec odchádza z kalábrijského mesta Gioia Tauro ďaleko za prácou, rodinná rovnováha dostane trhliny a Chiara sa odrazu začne dívať na svoje mesto a rodinu inými očami. Na tohtoročnom filmovom festivale v Cannes sa Chiara stala najlepším filmom sekcie Quinzaine des réalisateurs, uviedli ju všetky významné európske filmové festivaly, rovnako tak festivaly v USA, v Austrálii a na Novom Zélande.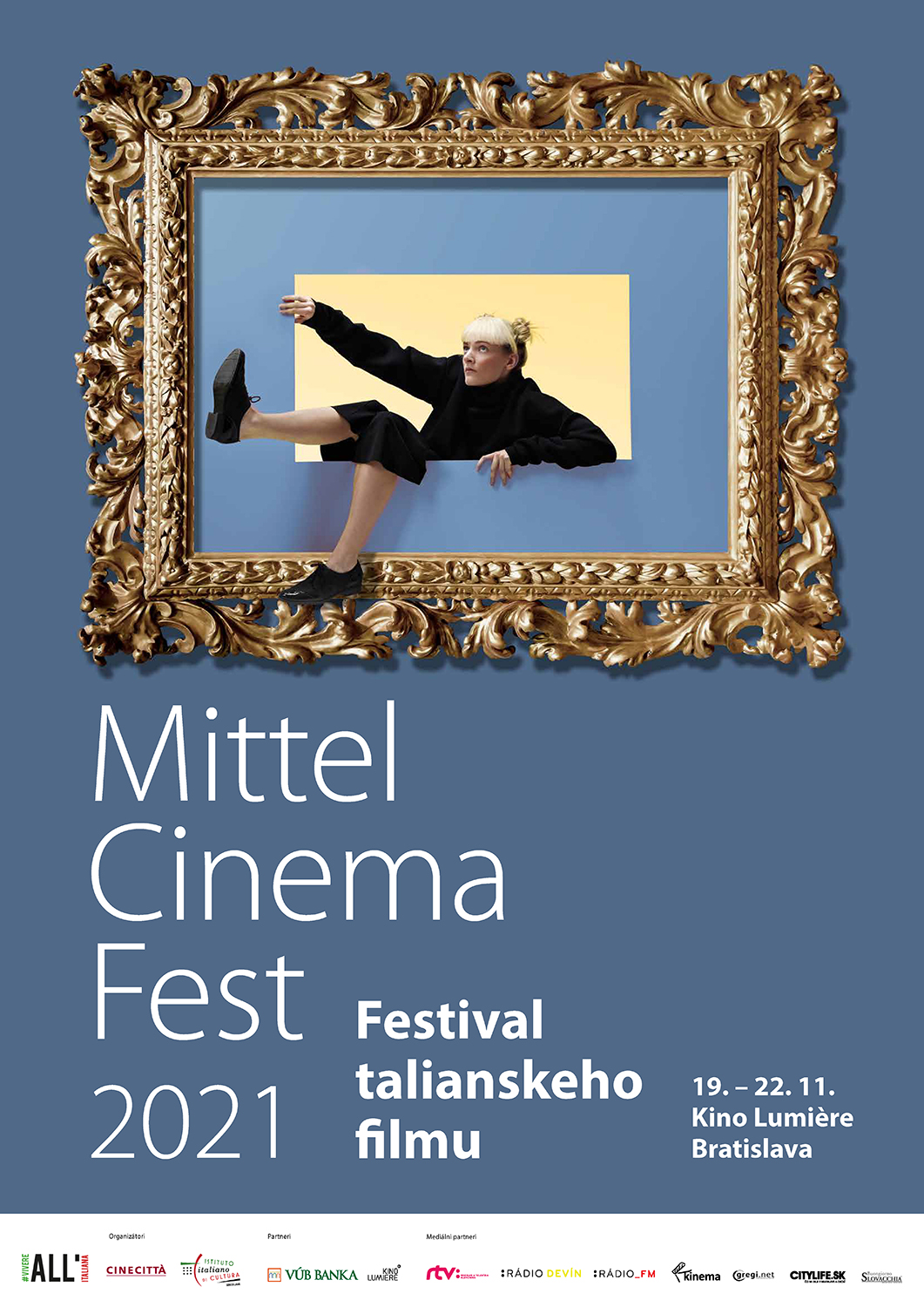 19. 11. 2021, 18.00 hod.
LEGENDA O KRABOM KRÁĽOVI / RE GRANCHIO
r. Alessio Rigo de Righi, Matteo Zoppis, 2021, 100', *it/sk/eng
19. 11. 2021, 20.00 hod.
TRI POSCHODIA / TRE PIANI
r. Nanni Moretti, 2021, 119', *it/sk/eng
20. 11. 2021, 18.00 hod.
AMERICA LATINA
r. Damiano D'Innocenzo a Fabio D'Innocenzo, 2021, 90',. *it/sk/eng
20. 11. 2021, 20.00 hod.
KÝM NÁS BOH NEROZDELIL / PER TUTTA LA VITA
r. Paolo Costella, 2021, 101', *it/cz
21. 11. 2021, 18.00 hod.
CALIFORNIE
r. Alessandro Cassigoli a Casey Kauffman, 2021, 78', *it/sk/eng
21. 11. 2021, 20.00 hod.
ČAS NEHYBNOSTI / ARIAFERMA
r. Leonardo Di Costanzo, 2021, 117', *it/sk/eng
22. 11. 2021, 18.00 hod.
MARX MÔŽE POČKAŤ / MARX PUÒ ASPETTARE
r. Marco Bellocchio, 2021, 100', *it/sk/eng
22. 11. 2021, 20.00 hod.
CHIARA / A CHIARA
r. Jonas Carpignano, 2021, 98' *it/cz
Zdroj: TS