Dvaadvacátý ročník festivalu Svojšice proběhne v sobotu 28. května 2022 a tradičně zahájí sezónu velkých tanečních open air festivalům. V přírodním areálu ve Svojšicích u Pardubic vystoupí na dvě desítky umělců v čele s pěti zahraničními headlinery světové techno scény. Návštěvníci se letos mohou poprvé těšit na Exit Melodic Stage, která rozšíří program festivalu o kvalitní tech-house za účasti britského producenta Marshe z labelu Anjunadeep.
Lewis Fautzi [PT]
Portugalsko je neprávem trochu opomíjeno ve spojitosti s technem a právě Lewis Fautzi vás přesvědčí o opaku. Na kontě má 4 výborná alba, kde každé odhaluje trochu jinou hudební stránku tohoto skvělého producenta. Nenechte se však zmást atmosférickou náladou a až downtempovou notou jeho sólovek, ale berte to jako předpoklad k tomu, že tenhle pán umí zvuk ohnout do všech poloh a když se postaví na stage, tak do toho dokáže opravdu krutě říznout.
Harvey McKay [UK]
Jeden z prvních ostrovních producentů pod křídly Drumcode Records. Adam Beyer si ho vyhlídl už v době, kdy vydával své první skladby na Soma Records, který byl založen právě v jeho rodném Glasgow, kde patři k nejzásadnějším postavám tamní techno scény. Po jeho produkci pátrejte třeba na labelech Intec, Cocoon, Filth on Acid nebo Break New Soil, kde mu před pár dny vyšla skladba Forest.
Onyvaa [USA]
V její tvorbě a setech se mísí vlivy detroitské scény s groovy basovou linkou a devadesátkové syntezátory, což zaujalo i Laurenta Garniera, který popsal její tvorbu slovy: "excellent dancefloor monsters". Onyvaa o sobě dává poslední dobou čím dál více vědět a zastoupení v projektu KNTXT, pro který si vybírá umělce hvězdná Charlotte de Witte, jen dokazuje, že opravdu patří k producentkám s opravdu velkým potenciálem.
Stella Bossi [DE]
Extravagantní živel berlínské scény, módní ikona a performerka, kterou můžete potkat v Berghainu, KitKatClubu, ale i na místech, kde byste to opravdu nečekali. Kdo sleduje na instagramu světovou techno komunitu, ten už určitě někdy zabrousil i na její profil, který patří mezi nejsledovanější. Těšte se na úderný set v duchu jejího labelu s všeříkajícím názvem "The Beat Must Fu"k".
Marsh [UK]
Letošní novinkou festivalu je Exit Melodic Stage, zde bude headlinerem britský producent Marsh, jedna z aktuálních posil labelu Anjunadeep, která svým albem Lailonie z roku 2020 okouzlila všechny fanoušky tohoto stále více populárního hudebního impéria.
Svojšice 2022
28. 5. 2022
Předprodej v síti Ticketstream.
www.svojsice.cz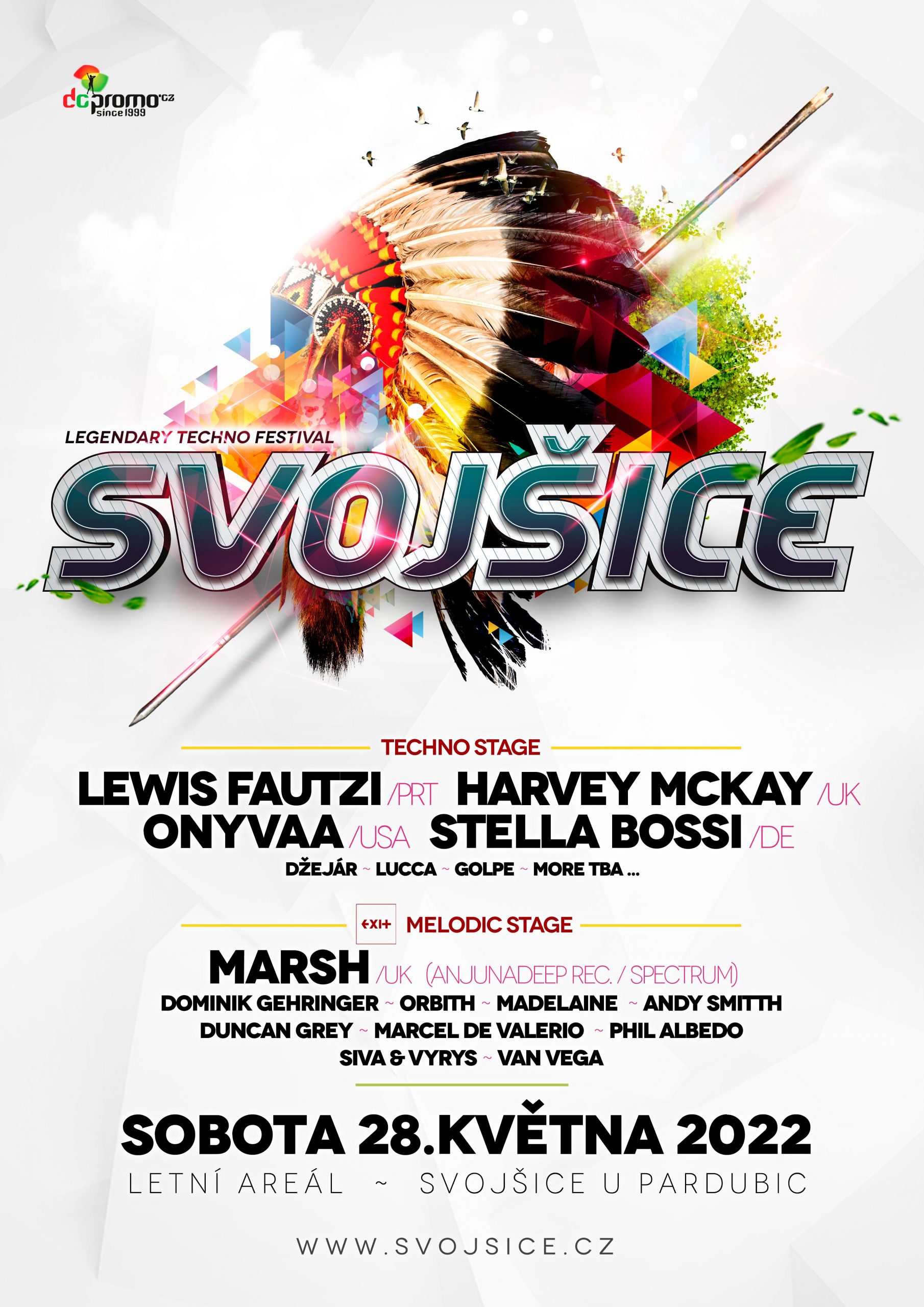 Zdroj: Svojsice