Medzinárodne uznávaná formácia slovenských virtuózov, Janoska Ensemble, sa v júni vráti do Bratislavy. Ich pripravované vystúpenie na festivale CITY SOUNDS bolo kvôli protipandemickým opatreniam dvakrát presunuté. Uvoľnenie opatrení organizátorom umožnilo stanoviť finálny termín koncertu – 24. jún 2021.
Janoska Ensemble feat. Tony Lakatos – 24. júna 2021 v Slovenskom rozhlase
Vystúpenie Janoska Ensemble v Bratislave sa stane jednou z prvých veľkých koncertných udalostí na Slovensku po niekoľko mesačnom úplnom zákaze kultúrnych podujatí. Napriek viacerým nutným presunom a zmenám termínu organizátori koncert nezrušili – dôvodom bol veľký záujem fanúšikov. Koncert bol preto presunutý na neurčito a v týchto dňoch sa dočkal nového termínu – uskutoční sa vo Veľkom koncertnom štúdiu Slovenského rozhlasu v Bratislave. V predaji sú už len posledné vstupenky.
"Máme veľkú radosť a to hneď z viacerých dôvodov. Tešíme sa, že sa po viacerých vynútených zmenách termínu môžeme opäť na "rodnej hrude" privítať Janoška Ensemble. Je tiež skvelé, že sa nám spolu s umelcami podarilo vytvoriť opäť jedno unikátne umelecké spojenie – tentokrát s Tonym Lakatosom, vynikajúcim nemecko – maďarským saxofonistom a to rovno v slovenskej premiére. A máme radosť, že aj naším koncertom pomáhame reštartovať hudobný život po dlhom pandemickom období ticha, symbolicky tým najlepším, čo slovenská umelecká scéna ponúka… Samozrejme, v súlade s nariadeniami ÚVZ a v zmysle covid semaforu pre oblasť kultúry. Bezpečnosť a príjemný pocit návštevníkov koncertu je pre nás absolútnou prioritou," odkazujú organizátori koncertu, Marian Pavlovič a Matej Šálek.
Popri koncertovaní po celom svete sa Janoškovci vždy špeciálne tešia na domovské publikum do Bratislavy. Na vystúpenie na festivale CITY SOUNDS si prizvali jedného z najrešpektovanejších jazzových saxofonistov sveta, Tonyho Lakatosa. Toto výnimočné spojenie hudobníkov sľubuje nezabudnuteľný umelecký zážitok. Ako Janoškovci hovoria, prostredníctvom novej hudobnej kolaborácie s Tonym Lakatosom chcú ukázať, že nielen ich "Janoska Style", ale tiež hudba vo všeobecnosti nepoznajú hranice a nové cesty sa objavia všade, ak ich hľadáme.
Blížiaci sa bratislavský koncert bude o to hodnotnejší, že Janoska Ensemble sa rozhodli spoluprácu s Tonym Lakatosom predstaviť v exkluzívnej koncertnej premiére práve na Slovensku. "Janoska Ensemble sa veľmi teší, že život sa vracia do normálu. Pred pár dňami sme odprezentovali naše turné, ktoré bude v júni, júli a auguste, a popri 45 exkluzívnych koncertoch po celej Európe odprezentujeme aj náš plánovaný koncert v Bratislave, na ktorý sa už veľmi tešíme. Aj napriek presunom termínu to bude ešte stále exkluzívna premiéra nášho programu s Tonym Lakatosom, s ktorým plánujeme viacero koncertov po svete," vyjadrili sa Janoškovci, ktorých tento rok čaká ešte októbrové turné 25 koncertov v USA a tiež ázijské turné, v rámci ktorého odohrajú až 30 koncertov.
V koncertnom setliste v Slovenskom rozhlase 24. júna sa budú snúbiť diela svetovej klasiky a vlastné kompozície v špeciálnom aranžmáne so saxofónom a typickým jánoškovským line-upom dvoch huslí, klavíra a kontrabasu. Milovníci dobrej hudby sa môžu tešiť na diela J. S. Bacha či L. Van Beethovena a chýbať nebudú jazzové štandardy i nové kompozície z dielne Janoska Ensemble a Tonyho Lakatosa. Okrem toho na koncert zavíta aj ďalší špeciálny hosť – najstarší brat Janoškovcov, spevák Arpád Janoška.
Janoska Ensemble
Zoskupenie Janoska Ensemble založili traja bratia z Bratislavy – huslisti Ondrej a Roman Janoška a klavirista František Janoška spoločne so švagrom Juliusom Darvasom (kontrabas). Debutovali albumom Janoska Style (Deutsche Grammophon, 2016), ktorý získal Zlatú platňu a zadefinoval ich nezameniteľný hudobný rukopis. Od svojho zrodu v roku 2013 formácia stihla spolupráce s hviezdami ako Anna Netrebko, Bobby McFerrin, Al Jarreau či Plácido Domingo. V marci 2019 vydali nový album Revolution, ktorý dokazuje technickú muzikantskú zručnosť, s akou toto zoskupenie dokáže prearanžovať do vlastného originálneho štýlu akýkoľvek žáner. Popri výbere vlastných autorských kompozícií formácie album prináša tiež klasické diela W. A. Mozarta či J. S. Bacha. Okrem toho tu fanúšikovia nájdu prearanžované hity Yesterday, Let It Be či Penny Lane, ktoré sú poctou legende The Beatles. Najnovším úspechom Janoska Ensemble je aktuálna nominácia na prestížne ocenenie Krištáľové krídlo v kategórii Hudba za rok 2020.
Tony Lakatos
Uznávaný saxofonista Tony Lakatos sa narodil v Budapešti do hudobníckej rodiny, jeho talent pre dychové nástroje vyrástol po boku dvoch huslistov – otca a brata Robyho. Ako 6-ročný začal hrať na husle a v 15tich rokoch sa rozhodol pre saxofón. V roku 1977 zvíťazil v národnej jazzovej súťaži a o dva roky nato promoval v odbore jazz na Konzervatóriu Belu Bartóka v Budapešti. Odvtedy Tony Lakatos odohral nespočetné množstvo koncertov a svojou hrou na saxofón prispel už na viac ako 280 LP a CD štúdiových nahrávok.
Koncert Janoska Ensemble feat. Tony Lakatos prináša festival CITY SOUNDS. Festival CITY SOUNDS podporil z verejných zdrojov Fond na podporu umenia a Kultminor.
Vstupenky: https://citysounds.sk/janoska-ensemble-feat-tony-lakatos/
Facebook podujatie koncertu: www.facebook.com/events/197970228766825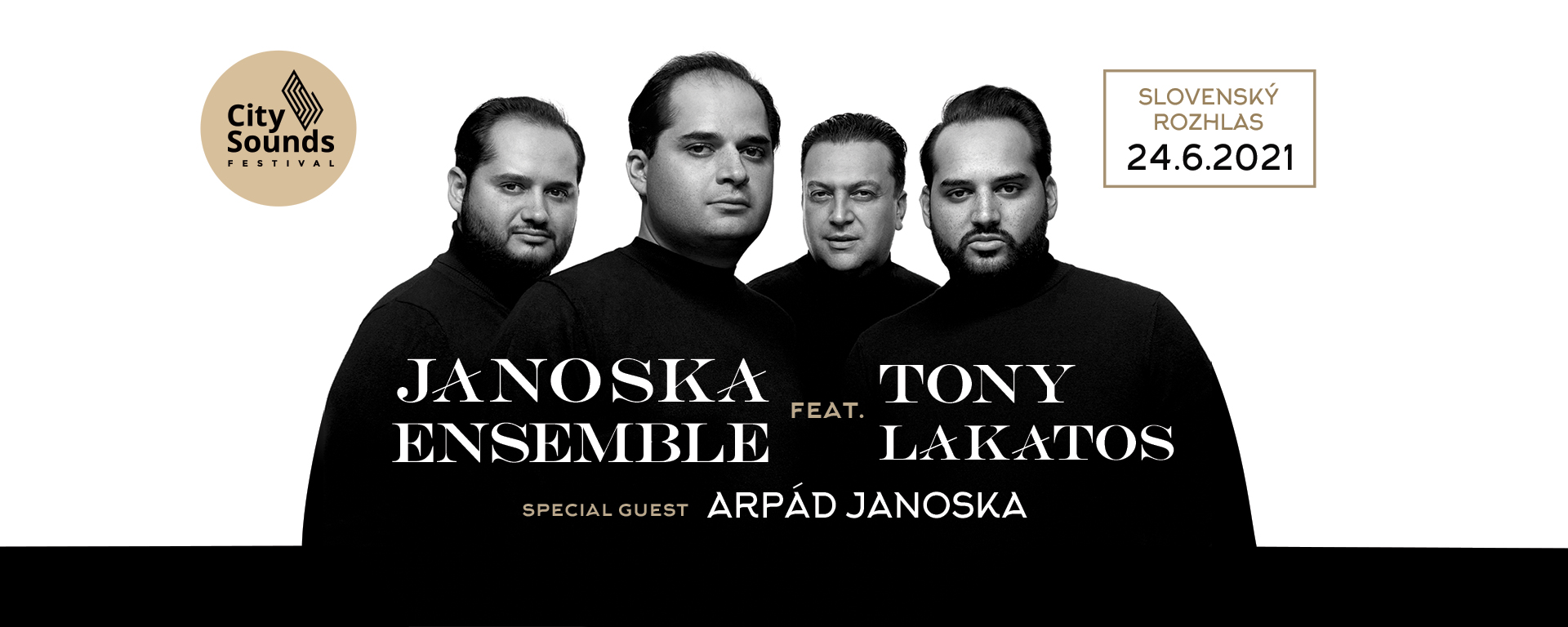 Zdroj: CITY SOUNDS