O predkapelách skupiny HEX na BACK TO THE CLUBS TOUR je rozhodnuté! Na turné si spolu s HEXákmi zahrajú skupiny Sematam, Parketový Lev, Ending, The Spants, Virvar a Fuera Fondo! Fefe, Yxo, Šarkan a Tybyke zahrajú na jeseň po celom Slovensku megahity aj chuťovky, ktoré už dávno naživo nezazneli. Stretneme sa od 15. do 24. októbra 2020 v Piešťanoch, Martine, Malackách, Prešove, Trenčíne a v Bratislave!
Klubové turné kapely HEX sa síce presunulo na október, no víťazi súťaže o predkapely sú známi už dnes. Z celkového počtu 98 prihlásených kapiel vybrali členovia skupiny HEX dvanásť, ktoré vytvorili dvojice vo všetkých šiestich mestách pripravovaného turné. Následne si fanúšikovia hlasovaním volili víťazov. V súťaži hlasovalo spolu 2785 užívateľov, ktorí podporili miestnych favoritov.
"Teší nás, že sa do hlasovania zapojilo veľa ľudí. V niektorých prípadoch to bolo naozaj tesné. Je vidieť, že podpora fanúšikov je dôležitá aj pre kapely, ktoré ešte nemajú toho až tak veľa za sebou. Presne takto sa nám podarilo presadiť na slovenskej scéne. Celkovo hodnotím túto súťaž ako vydarenú, prihlásilo sa veľké množstvo kapiel, speváčok a spevákov. Sme radi, že ľudia na Slovensku majú možnosť spoznať nové tváre. Tešíme sa už na samotné turné a na stretnutie s našimi fanúšikmi," hodnotí súťaž Tomáš "Yxo" Dohňanský.
Na prvom koncerte 15. októbra v Piešťanoch si spolu s HEXom zahrá nitrianska funky-popová kapela Sematam. O deň neskôr to v Martine roztočí kremnická pop-rocková skupina Virvar, v Malackách 17.10. vystúpi česko-slovenské indie-funkové kvarteto Ending a 22. októbra v Prešove zahrá kapela The Spants, ktorá v najtesnejšom súboji získala vôbec najviac hlasov spomedzi všetkých účastníkov. V Trenčíne sa 23.10. predstaví už pomerne známa energická zostava Fuera Fondo a na záver turné to vo V-klube v Bratislave 24.10. odpáli spolu s HEXákmi domáca bratislavská formácia Parketový Lev. Nielen víťazné kapely, ale aj ďalších finalistov môžete bližšie spoznať priamo na stránke súťaže hudba.sk/hexturne.
"Na turné to bude klasický systém, kde víťazná kapela zahrá pred nami asi 40 minút a potom zahráme my. Určite budeme radi, ak si spolu niečo strihneme. A uvidíme, možno s niektorou z kapiel aj niečo nahráme…" teší sa Yxo.
Bratislavská stálica sa na všetkých šiestich koncertoch predstaví v novej rozšírenej zostave, ktorú okrem ústrednej štvorice Martin "Fefe" Žúži – gitara, Tomáš "Yxo" Dohňanský – basgitara, Tibor "Tybyke" Szabados – bicie a Peter "Šarkan" Novák – spev tvoria aj druhý gitarista Ladislav Tvrdý a trubkár Peter Letovanec. V súčasnej zložitej situácii kapela skúša nové možnosti, ako sa spojiť so svojimi fanúšikmi.
"V týchto dňoch hrá veľa interpretov live-streamové koncerty, no keďže som aktuálne v karanténe po návrate zo zahraničia a hrať ešte nemôžeme, napadlo Fefeho, že by sme mohli zapojiť našich fanúšikov takýmto spôsobom. Veľa z nich je doma a tak stačí, aby zobrali gitaru, klavír alebo aj hrebeň a nahrali cover jednej z našich pesničiek. Najlepšie interpretácie odmeníme našim merchom. A možno aj niektorých zavoláme na náš koncert, aby si s nami zaspievali, keď pominie táto situácia,"uzatvára Yxo.
Nenechajte si ujsť nášup energie v podaní obľúbenej kapely HEX na turné BACK TO THE CLUBS TOUR. Vstupenky si môžete kúpiť na
https://predpredaj.zoznam.sk/sk/listky/hex-back-to-the-clubs-tour/ Informácie o skupine nájdete na http://www.hex.sk/ a https://www.facebook.com/HEXOFFICIAL/?fref=ts.
HEX BACK TO THE CLUBS TOUR 2020
15. 10. – Piešťany, Žiwell, hosť Sematam
16. 10. – Martin, Barmuseum, hosť Virvar
17. 10. – Malacky, Sokolovňa, hosť Ending
22. 10. – Prešov, Stromoradie, hosť The Spants
23. 10. – Trenčín, Klub Lúč, hosť Fuera Fondo
24. 10. – Bratislava, V-klub, hosť Parketový Lev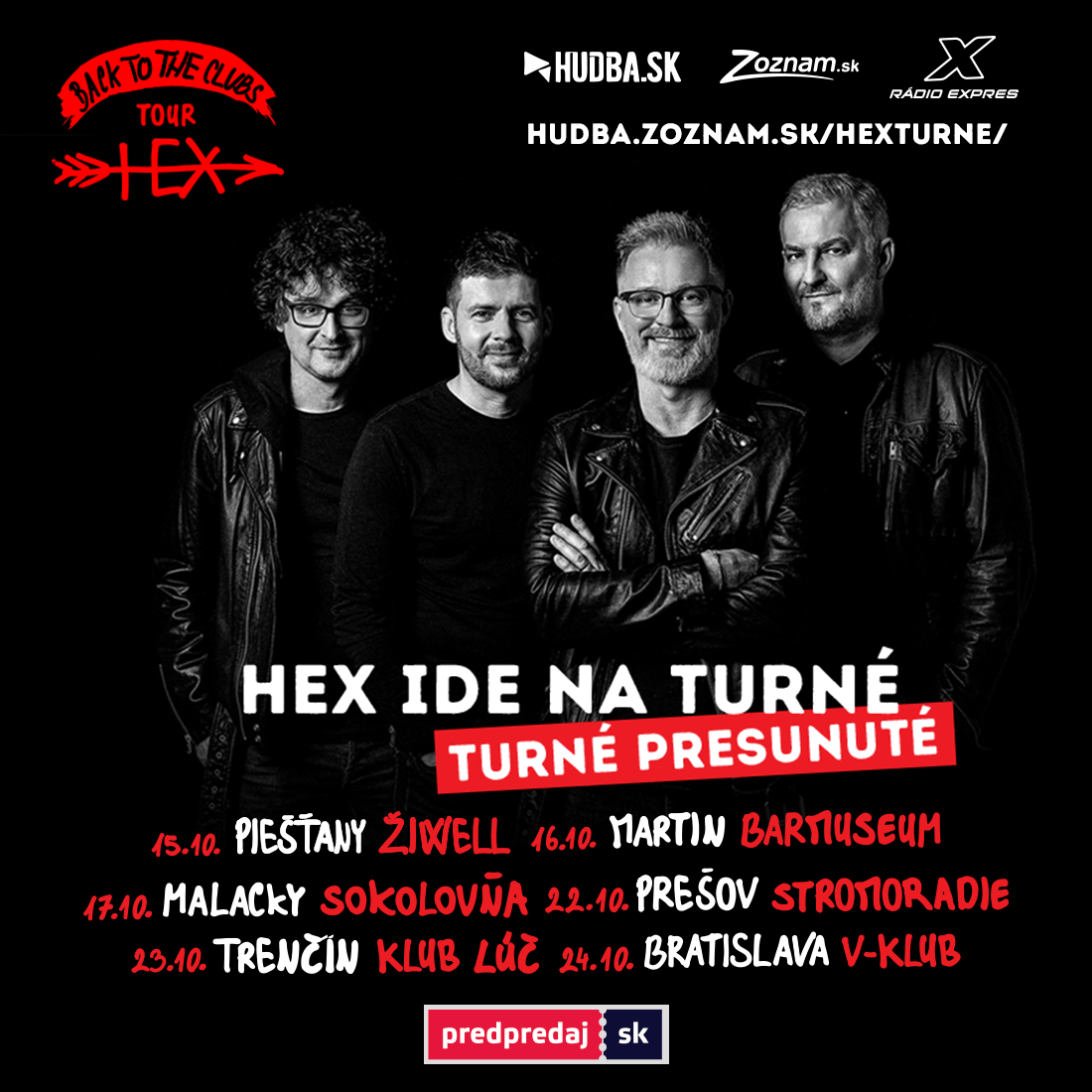 Zdroj: NK Factory