Absolútna producentská smotánka tanečnej hudby a famózni DJs v Dance Aréne na tohtoročnom Exit festivale! Organizátori srbského festivalu zverejnili ďalšie vystúpenia line-upu, medzi nimi aj mená Adam Beyer b2b Enrico Sanguiliano, Mochakk, Blond:ish, Stephen Bodzin (live) a Artbat.
Dopĺňajú tak už oznámené koncerty ako Boris Brejcha, Honey Dijon Monolink, Maceo Plex, Denis Sulta, ANNA b2b Sama' Abdulhadi, Satori a mnoho ďalších. Spolu s už známymi headlinermi ako Nick Cave, Calvin Harris, James Arthur, Iggy Azalea, ale aj Sepultura, Napalm Death tak Exit festival ponúka od 7. do 10. júla pestrý lineup v prekrásnom prostredí stredovekej pevnosti. Permanentka na celý festival je aktuálne za 95 € na www.exitfest.org , od 23. mája sa ich cena zvyšuje.
MTS Dance Arena na Exit festivale je medzinárodné uznávané pódiu s bohatou históriou, ktoré je známe ako jedna z najdivokejších párties na svete. Každoročne na ňom vystúpia veľké mená tanečnej scény a inak tomu nebude ani tento rok – Adam Beyer b2b Enrico Sanguiliano, Mochakk a Blond:ish sa pripájajú k už známym menám ako Honey Dijon, Maceo Plex, Denis Sulta a mnohým ďalším. Ukrajinské superstar duo Artbat ukončí program arény v nedeľu.
Pódium No Sleep Novi Sad je ďalším miestom, kam budú mieriť kroky všetkých fanúšikov tanečnej hudby. Tento druhý najväčší festivalový stage s tanečnou hudbou počas posledných 6tich rokov každoročne potvrdzoval, že s ním vo festivalových plánoch treba určite rátať. Tento rok na ňom vystúpia aj BĘÃTFÓØT (Live), DJ Tennis, Budino and Gerd Janson, britský techno king Dax J, Watergate z Berlína, či madridská klubová senzácia Fabrik.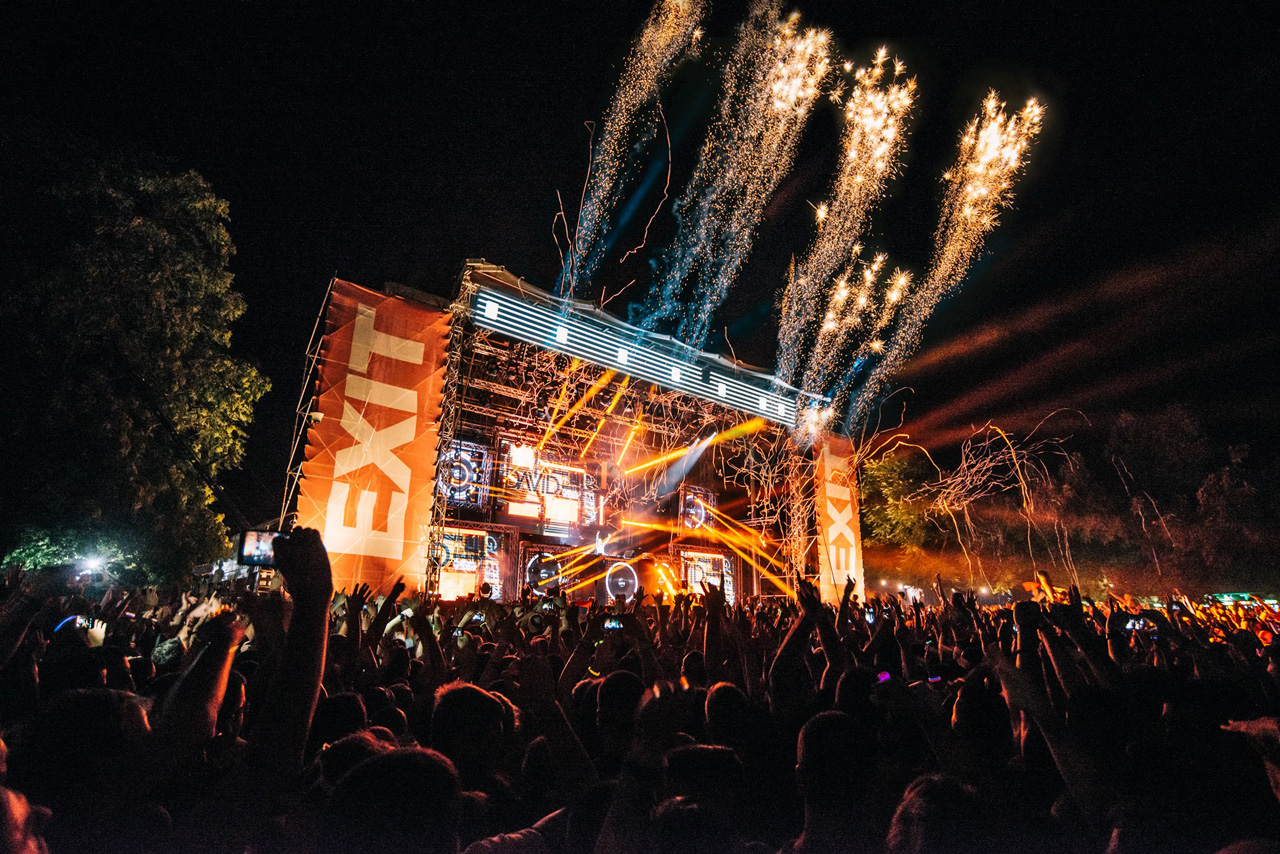 EXIT patrí medzi najvýznamnejšie európske multižánrové festivaly a jeho line-up sľubuje skvelú párty na začiatku prázdnin. Aktuálne sú v predaji permanentky za 95 €, cena vstupeniek sa však 23. mája bude zvyšovať.
Aktuálne známy program (15. 5. 2022):
DAY 1:
IGGY AZALEA
AFROJACK – JAX JONES – NAPALM DEATH
ADAM BEYER b2b ENRICO SANGIULIANO – REINIER ZONNEVELD live
ANFISA LETYAGO – ANNA b2b SAMA' ABDULHADI – ATB – DJ TENNIS – GERD JANSON – NOISIA DJ SET
DAY 2:
NICK CAVE & THE BAD SEEDS
MACEO PLEX – MASKED WOLF
DENIS SULTA – HONEY DIJON – MOLCHAT DOMA
DAX J – DISCHARGE – HÉCTOR OAKS – SHOUSE – THE EXPLOITED
DAY 3:
CALVIN HARRIS
BORIS BREJCHA
ACRAZE – BLOND:ISH – MATHAME – MOCHAKK
ADANA TWINS – ANDHIM – STEPHAN JOLK
DAY 4:
JAMES ARTHUR
ALOK – ARTBAT – MONOLINK – SATORI – SEPULTURA – STEPHAN BODZIN live – ZHU
BLIND CHANNEL – JOEL CORRY – KONSTRAKTA – MARKY RAMONEAIROD – INDIRA PAGANOTTO – SHDW & OBSCURE SHAPE
EXIT festival, jeden z najlepších európskych festivalov, patrí medzi pár festivalov, ktoré sa konali počas leta 2021. A aj toto leto sa fanúšikovia môžu tešiť na skvelé štyri dni plné hudby a párties na výnimočnom mieste – v Petrovaradínskej pevnosti postavenej v 17. storočí na brehu Dunaja. Festival sa uskutoční od 7. do 10. júla, vystúpi viac ako 1000 umelcov na vyše 40tich pódiách a koncertných zónach. V predaji sú nielen permanentky, ale aj jednodňové vstupenky. Detailné informácie aj predpredaj na www.exitfest.org/en.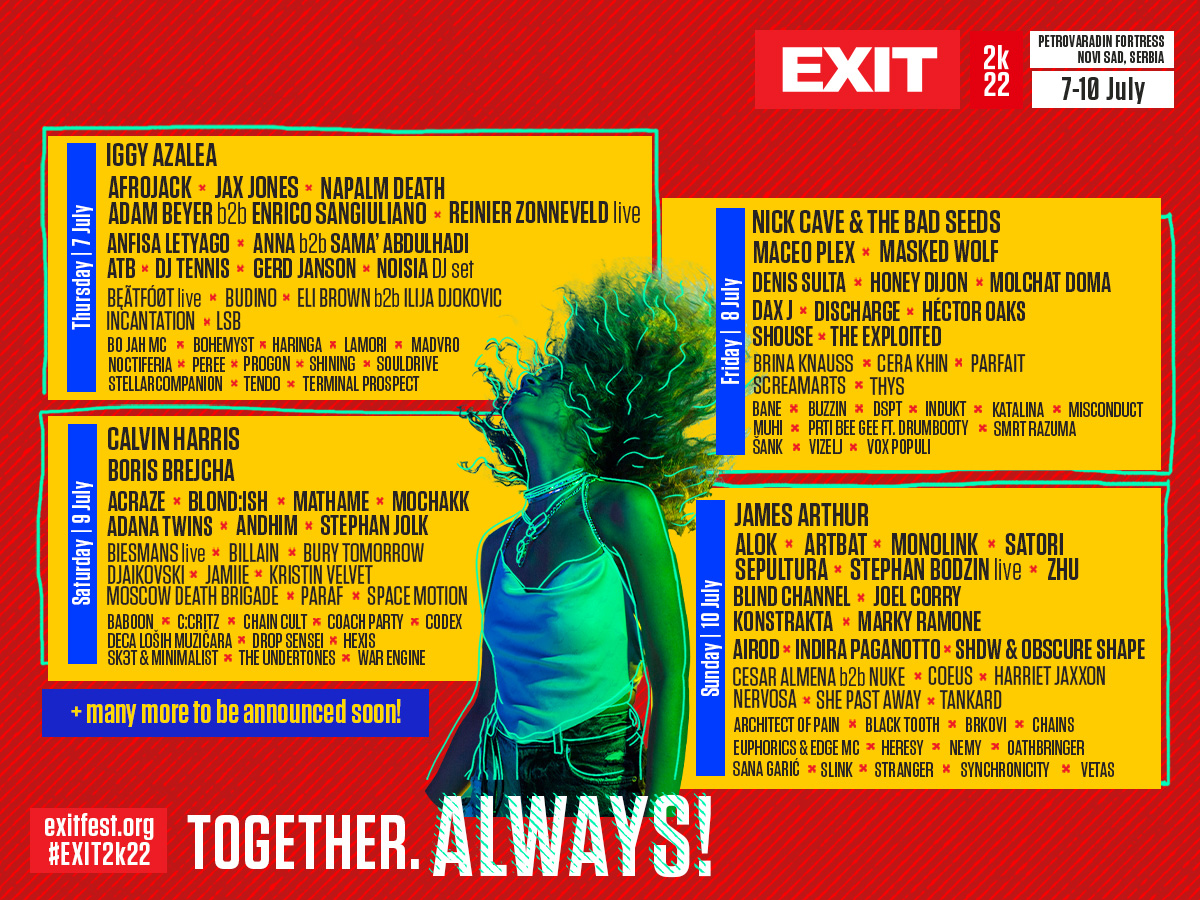 Zdroj: TS