Prezentácia súčasnej tvorby s nádychom experimentu, elektroniky, improvizácie aj pevnej formy. Na tretí ročník festivalu EX:CLASS series doletí z Kodane Sisa Fehér v sprievode Vladka Mikláša a kapely s ich projektom Bardo. Svoj zvukový svet vymaľuje Stroon a spoločne s ansámblom uvedie Preludes and Songs a svoje nové skladby predstaví elektronický producent Absorver. Tieto tri hudobné projekty vystúpia na festivale EX:CLASS 20. júna v bratislavskom MMC za sprísnených hygienických opatrení, a preto sa nemusíte báť o vašu bezpečnosť a zdravie.
V krízach prichádza inšpirácia a výsledné dielo je odrazom doby. Ako sa s tým dokáže vyrovnať umelecká obec a dokážu organizátori kultúrneho života pružne reagovať na neustále pribúdajúce výzvy? Aj to bude hlavným motívom tretieho ročníka festivalu a koncertnej série EX:CLASS, ktorej hlavným cieľom je prinášať novú a inšpiratívnu hudbu, ktorá premosťuje prvky z vážnej hudby, alternatívnej, experimentálnej, ako aj meditatívnej elektroniky (ambient, nu jazz).
Sisa Fehér patrí k najzaujímavejším speváčkam, ktoré sa v posledných rokoch objavili na našej scéne. Svoje vyjadrovacie prostriedky formovala na štúdiách v Prahe, Londýne a najnovšie v Kodani. Do tvorby vniesla slovenské nápevy (Páslo dievča pávy, Orol), ako aj etnické prvky (Postapokalyptická Balada) v originálnych aranžmánoch s momentmi improvizácie. To vyústilo do projektu Bardo, do ktorého zainteresovala multiinštrumentalistu Vladka Mikláša (Katarzia, Bert and Friends, Tryptych) a ďalších hudobníkov. Ústrednou témou týchto skladieb je príroda a jej účinok na ľudí. Vychádzajú z textov, ktoré Sisa Fehér napísala v slovenských horách a z transcendentálneho opojenia nad impresiou hmlistých kopcov, neprístupných dolín a nemennej večnosti prírodných úkazov.
Dalibor Kocián opäť vystúpi z jednej zo svojich skladateľských polôh – s ansámblom a speváčkou Katarínou Kurucovou odohrá skladby z Solar Preludes a Songs of Concealed Amplitude. Tento architekt viacvrstvových štruktúr, ostinátnych rytmov a spektrálnych harmónii prepája blízke podobnosti z elektroniky a súčasnej vážnej hudby. Taktiež má v sebe kus filmovej reči, ktorú na veľkom plátne rozvíja Hans Zimmer.
Filmové asociácie ožívajú aj u Adama Meszároša v projekte Absorver. Hudobník zo sveta počítačových hier so záujmom o technológie a zvukový dizajn prednedávnom vydal rovnomerne nazvané EP.
Festival EX:CLASS bude prístupný pre verejnosť podľa aktuálnych obmedzení a uskutoční sa aj v online priestore ako live stream.
tento projekt z verejných zdrojov podporil: Fond na podporu umenia.
Informácie:
EX:CLASS – 20.06.2021 – Majestic Music Club – vstup od 18:30
https://tootoot.fm/sk/events/606ea741965fb80020bd83d9
https://goout.net/en/ex-class-bardo+stroon+absorver/sznbrgr/
https://predpredaj.zoznam.sk/en/tickets/exclass-2020-2021/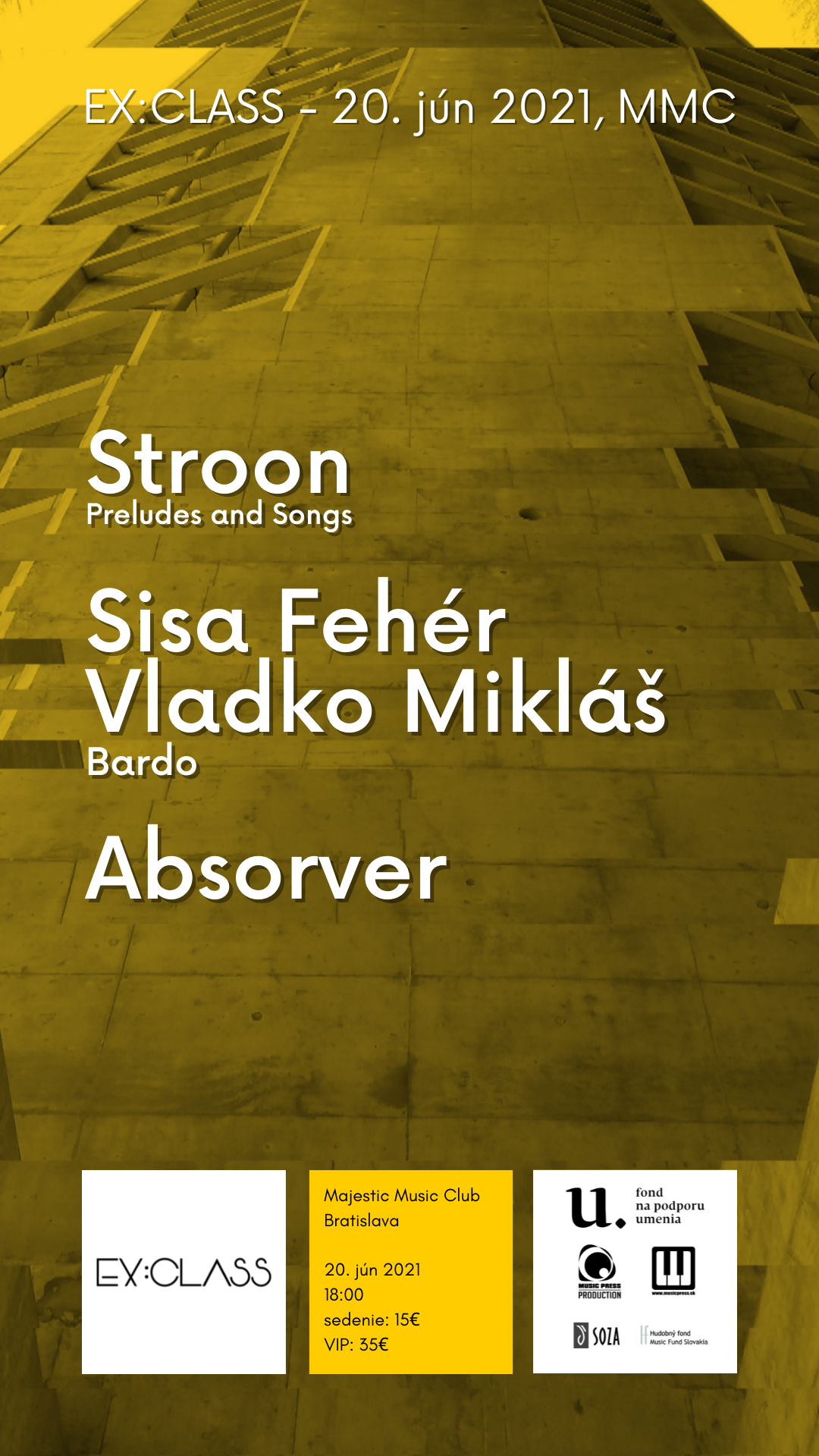 Zdroj: TS