Začiatok prázdnin odštartuje poučne aj zábavne. V Košiciach v športovo rekreačnom stredisku Jahodná vypukne 1. – 3.7.2022 prvý enviro – hudobného festivalu svojho druhu na Slovensku. Na svoju premiéru čakal dlhé dva pandemické roky: "Potreba hovoriť o klimatickej kríze tu je už dlho ale myslím si, že pandémia túto tému ešte viac vyostrila. Ľudia počas lockdownov si opäť našli cestu do prírody, na kopce a k riekam. Mnohí zostali sklamaní z toho čo tam našli. Znečistené brehy, divoké skládky, nadmerná ťažba dreva a k tomu extrémne výkyvy počasia a otepľovanie. Našou snahou je podporiť dosť veľký nezáujem o celospoločenský problém, akým nesporne klimatické zmeny sú. Náš koncept síce vychádza z klasického festivalového formátu , no dve tretiny sú atypické . Viac pripomínajú konferenciu o zmenách v prírode a o "normálnom"- nie konzumnom životnom štýle. Festival tým napĺňa ambície byť vôbec prvým podobným formátom na Slovensku so snahou ľuďom – návštevníkom, nenásilne vysvetľovať. Toto je hlavný, edukatívny, charakter podujatia. Je potrebné mať každý deň na pamäti, že jedine vystúpením zo svojich komfortných zón môžeme niečo s danou situáciou – samozrejme máme na mysli globálnu úroveň – urobiť . A aby tieto vážne myšlienky boli lepšie stráviteľné "namixovali" sme do toho zhruba jednu tretinu super hudby, ktorá je takisto vyberaná na základe istých enviro parametrov." vysvetlil Rastislav Šimko, riaditeľ festivalu NATURE.
Ľúbivá muzika a spíkri, čo sa neboja
Počas prvých troch júlových dní v krásnej prírode pri Košiciach bude zaznievať z úst odborníkov či aktivistov veľa zaujímavých pohľadov na environmentálnu krízu. Tie sa budú miešať s tónmi ľúbivej hudby od interpretov ako Aneta Langerová, Para, Katarína Koščová, Akustika, Chris Ellys, Irish Rose, ale aj komorný sláčikový Orchester Musica Iuvenalis, rázovití chlapci z osady Lomnické Čháve a mnohí ďalší budú tvoriť fantastickú koncertnú náladu v prirodzenom amfiteátri na Jahodnej.
Fundovaní odborníci z rôznych odvetví sa nebudú báť rozoberať pálčivé environmentálne témy. Minister životného prostredia, Ján Budaj prebral nad festivalom záštitu a príde aj osobne diskutovať o tom, čo Slovensko páli najviac.
Kanaďan Allan Bussard, Michal Wiezik, Ladislav Miko, Adela a Viktor Vinczeovci, Juraj Hipš a ďalší. Diskusie bude moderovať Radka Kovaľ Mazáková.
NATURE obmäkčí všetky generácie
Festival je viacgeneračný a vrelo pozýva celé rodiny. Program je koncipovaný tak, aby si každá veková kategória prišla na svoje . Pripravuje sa Čajovňa, v ktorej bude, cvičenie jogy, masáže, muzikoterapia, ale aj tvorivé či poučné workshopy. Za všetky spomenieme workshop propagátora elektromobility na Slovensku, Jara "Jaira" Kapša, ktorý sa dovezie na svojej Tesle a počas festivalu sa o ňu ochotne podelí či povozenie sa na čisto eklektickom terénnom prototype SWIN car.
NATURE kino
Pre milovníkov dokumentárnych filmov a filmov s hlbšou myšlienkou na enviro nôtu bude pripravené kino a výber tých najzaujímavejších dokumentov, ktoré dostupná enviro scéna ponúka.
Pozrieť si a aj si vyskúšať budú môcť návštevníci netradičnú disciplínu "slackline" – teda chodenie po lane. V príjemnom tieni to bude fantastická oddychová a relaxačná platforma. K tomu všetkému nesmie chýbať chutný eko catering mysliaci aj na vegetariánov či vegánov, pokus o čo najmenšie množstvo odpadu na festivale, eko stanové mestečko a veľa ďalších sprievodných aktivít.
Na festival "pešibusom"
Najekologickejšie by bolo, prísť na festival na Jahodnej po svojich, prípadne na bicykli. To sa však nepodarí každému a preto bude pripravených niekoľko alternatív. Z Košíc bude, vďaka spolupráci s Dopravným podnikom mesta Košice, zriadená kyvadlová doprava elektroautobusmi, tie budú doplnené o elektromobily, ebajky, ekolobežky od ďalších partnerov festivalu. Okrem dopravy sa bude apelovať na nízku uhlíkovú stopu aj pri stravovaní či pitnom režime. Návštevníkom NATURE budú adresované výzvy ako, čapovať si vodu z cisterien do vlastných ekologických fliaš, jesť menej mäsa, prísť peši či nazbierať cestou kôpku odpadkov z lesa.
Motto festivalu NATURE : "…až keď bude otrávená posledná rieka a vyrúbaný posledný strom , snáď pochopíme, že peniaze sa jesť nedajú. Nedovoľme nám prísť až sem…"
Program ako aj všetky ďalšie informácie sú na webe: www.festivalnature.sk alebo sociálnych sieťach Instagram a Facebook.
www.predpredaj.sk
www.festivalnature.sk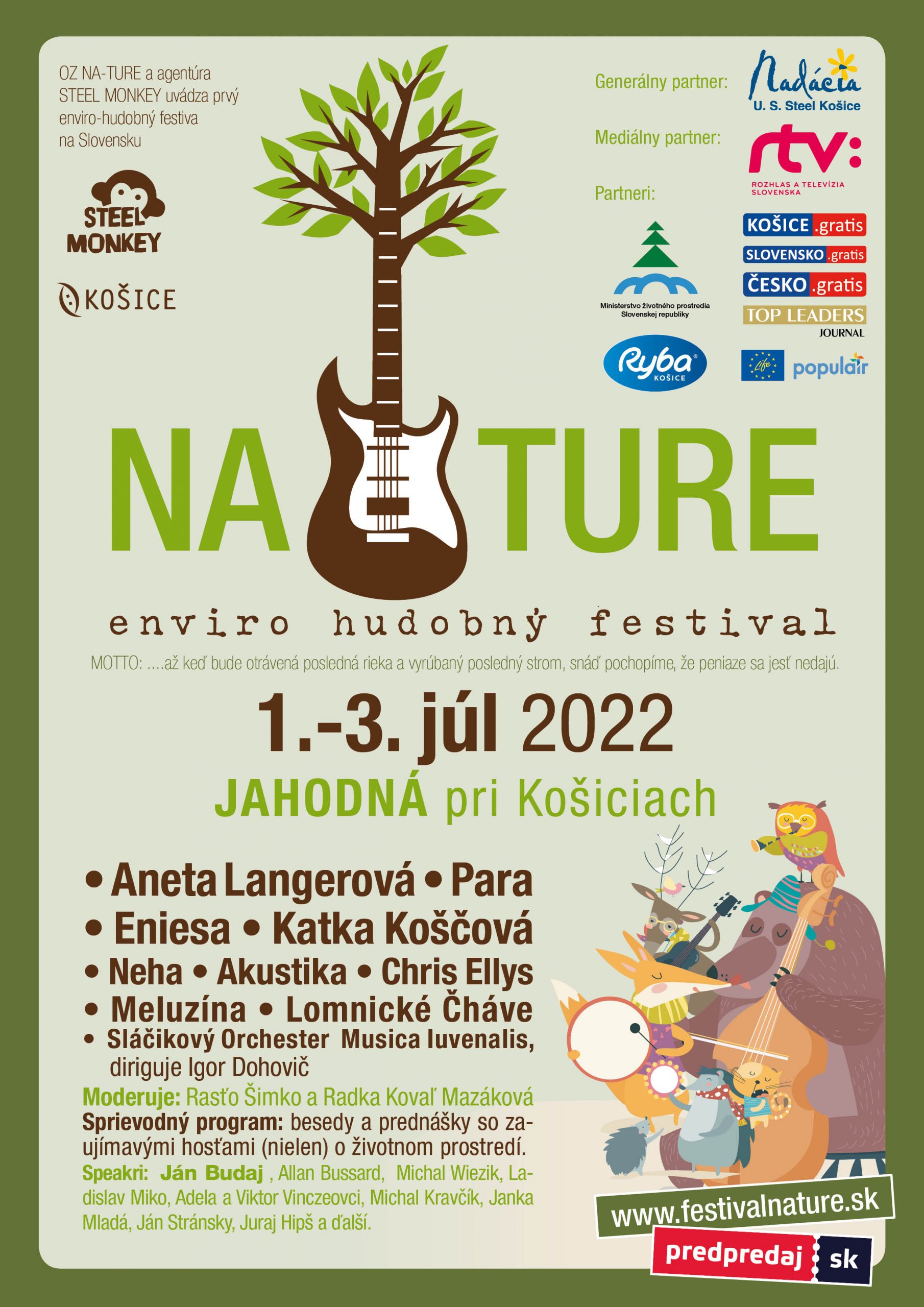 Zdroj: TS