Eniesa, vlastným menom Sandra Urbančíková, je košická muzikantka, speváčka a tvorkyňa hudby do predstavení či filmov. Má za sebou už 5 autorských albumov, z ktorých sa zatiaľ najviac k poslucháčom dostalo Jablko, na ktorom sa silne podieľal frontman kapely Čechomor, Franta Černý. Okrem tejto nu-folkovej spolupráce, má Eniesa na konte mnohé ďalšie so slovenskými, českými, ale aj zahraničnými hudobníkmi ako Aaron Brooks, Yaahn Hunter či Bill Barrett, s ktorými minulý rok vyšiel jej anglický country nosič Arya´s.
Vráťme sa ale úplne na začiatok. Svoju úplnú hudobnú prvotinu, krstila Eniesa v lete 2013 v košickej FUGE. Presne po desiatich rokoch sa vracia na to isté miesto, aby uviedla do sveta svoj šiesty album s názvom EFARMOSA, ktorý v sebe nesie niekoľko duetov v slovenčine aj češtine.
"V mojom živote plnom muziky a cestovania stretávam mnoho inšpiratívnych muzikantov a spevákov, s ktorými rada trávim čas aj mimo štúdia či pódia. Preto som veľmi rada, že niektorí z nich prijali pozvanie aj na môj album EFARMOSA, ktorý svojim názvom, pochádzajúcim z botaniky, hovorí práve o tom, ako nás spoločne formuje jedno prostredie. HUDBA!" Eniesa
Aj tomuto albumu značne zvukovo, muzikantsky aj aranžérsky pomohol hlavne Andrej Karlik, ktorý s Eniesou spolupracuje dlhodobo a ktorý je súčasťou aj jej momentálnej kapely. Okrem neho na albume môžete počuť ich dvorného bubeníka Adriána Polovku a ďalších hostí. Husle Jerguša Tesáka, akordeón Petra Sabola, basu Oskara Rózsu, klavír Mateja Benka, kontrabas Tomáša Durkáča či trombónu Gregora Chalupeckého, ale aj klavír Jozefa Kovalčíka, ktorý pieseň Kvety nad nami s Eniesou aj naspieval.
"EFARMOSA bola vytvorená hlavne pre spolupráce so spevákmi. Hlasy všetkých tvoria Efarmosu a tak pre mňa majú obrovskú hodnotu. Som im preto nesmierne vďačná za ich ochotu a tento dar. Ich výber bol do veľkej miery intuitívny a sám sa skladal počas posledného roka. Som napríklad veľmi rada, že hoc na poslednú chvíľu, tesne pred hodením flinty do žita, som stretla úžasného človeka, herca Ondřeje Kavana, u ktorého som toto leto koncertovala. Naspieva so mnou pieseň Obluda, ktorá už niekoľko rokov čakala na ten druhý temný hlas vedľa môjho." Eniesa
Herca Ondřeje Kavana, alebo skôr jeho hlas, môžete poznať hlavne zo seriálu Rod draka, ale aj mnohých ďalších. Okrem neho si v Efarmose zaspievali aj Martin Geišberg, Ivana Mer, Susanna Jara, Zdenka Predná, Tatiana Karlik Hicová aj Pavol Kovaľ.
"Efarmosa ukrýva mnohé príbehy zamilovanej slobodnej duše, v ktorých sme sa všetci niekedy ocitli. Je to pre mňa zmes plná farebnej, emotívnej hudby a textov s divadelným, či filmovým nádychom. Preto som sa rozhodla stvárniť ich na koncerte nie len hudobne, ale prizvať si na pódium aj tanečníkov a akrobatov a spoločne vám predstaviť príbeh o láske, slobode a vernosti sebe samému. Eniesa
Efarmosa si teda nájde vaše ušné svety už 27. novembra 2023, v košickej FUGE na Moyzesovej 62. A vy sa už teraz môžete tešiť na nie len hudobný, ale aj tanečný a akrobatický zážitok.
KRST:
27. november 2023
19:00
FUGA – kultúrne centrum kresťanov
Moyzesova 62
KOŠICE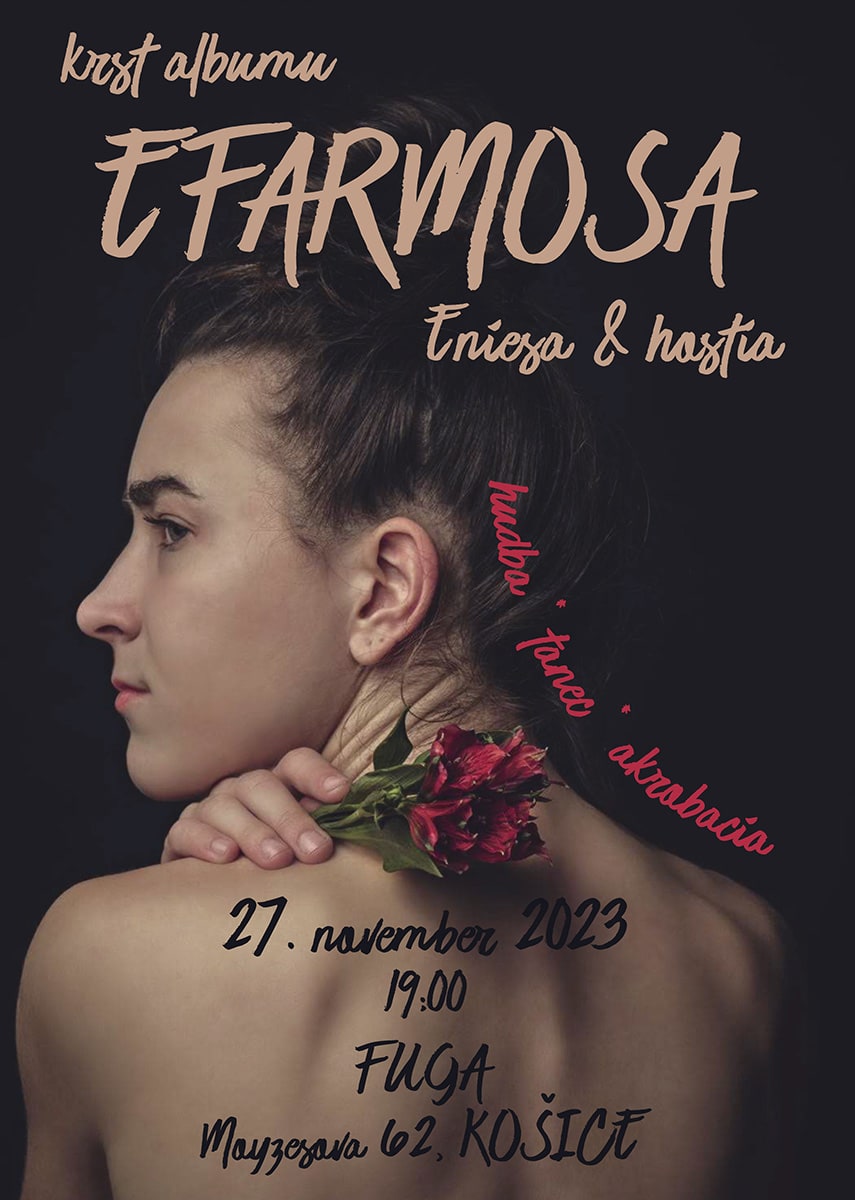 Text: A. Urbančíková
Foto: Peter Ivan