Funk-soul-hiphopová parta Electro Deluxe se vrátí v pátek 5. listopadu do Prahy, aby představila v Lucerna Music Baru svojí aktuální desku Apollo. Nenechte si ujít jejich nezapomenutelný koncert! Vstupenky v předprodeji za 521 Kč pořídíte na webu Lucerna Music Baru a GoOut.cz. Na místě 590 Kč.
Energická formace Electro Deluxe je spojením šesti vyhledávaných francouzských instrumentalistů s americkým zpěvákem Jamesem Copleyem. Říkají o sobě, že jsou vlci v rouše beránčím, což přesně odpovídá zážitku, který na koncertě dostanete. Elegantní a charismatičtí muzikanti se během pár minut promění v hudební dravce perfektně kombinující jazz, funk a groove.
Bubeník Arnaud Renaville, baskytarista Jérémie Coke, trumpetista Vincent Payen, trombonista Bertrand Luzigan, saxofonista Thomas Faure a klávesista Gael Cadoux donedávna naplňovali svou vizi francouzského jazzového dialogu s americkým motown funky a hip-hopem instrumentálně. Na albech jim ale zpívali a rapovali Ben l'Oncle Soul, Crystal et HKB FiNN, 20syl nebo Nina Attal. To se paradoxně ukázalo jako problém: lidé totiž chtěli slyšet zpěv i na koncertech. Setkání s americkým soulovým zpěvákem Jamesem Copleyem jim proto přišlo jako dar z nebes. Od roku 2010 navíc mohli změnit definici své hudby: soul & groove. S big bandem si pak troufli na sál slavné pařížské Olympie, kterou si samozřejmě s přehledem podmanili. Samé dobré recenze se snesly také na jejich alba Home a Circle.
Jejich šesté studiové album s názvem Apollo prozkoumává nové galaxie. Pod vedením slavného francouzského beatmakera 20SYL (C2C, HOCUS POCUS, ALLTTA…) je pařížská kapela vyslána na misi připomínat vzpomínky na budoucnost realitou současnosti. Albem provází retro-futuristický zvuk, který spojuje jejich organický groove a digitální emoce a dohromady vytváří hudební UFO s francouzským nádechem bien sûr. DNA Electro Deluxe se však nijak nezměnila. Bezvadná rytmická sekce, nadzvukové trumpety a jedinečný hlas, to vše je připraveno na mezigalaktický průzkum. Apollo je zatím jejich nejlepším hudebním počinem, který se snaží obsáhnout hudební dědictví Electro Deluxe do přítomnosti.
Electro Deluxe / FR
5. 11. 2021, doors 18:00
Lucerna Music Bar, Praha
Facebook událost: https://www.facebook.com/events/521426005526651/
Ticket link: https://musicbar.cz/cs/program/electro-deluxe/
www.musicbar.cz
http://www.electrodeluxe.com/
https://www.facebook.com/electrodeluxeofficiel
https://www.youtube.com/user/e2luxofficial
www.musicbar.cz
www.facebook.com/lucernamusicbar
www.instagram.com/lucernamusicbar
www.twitter.com/lucernamusicbar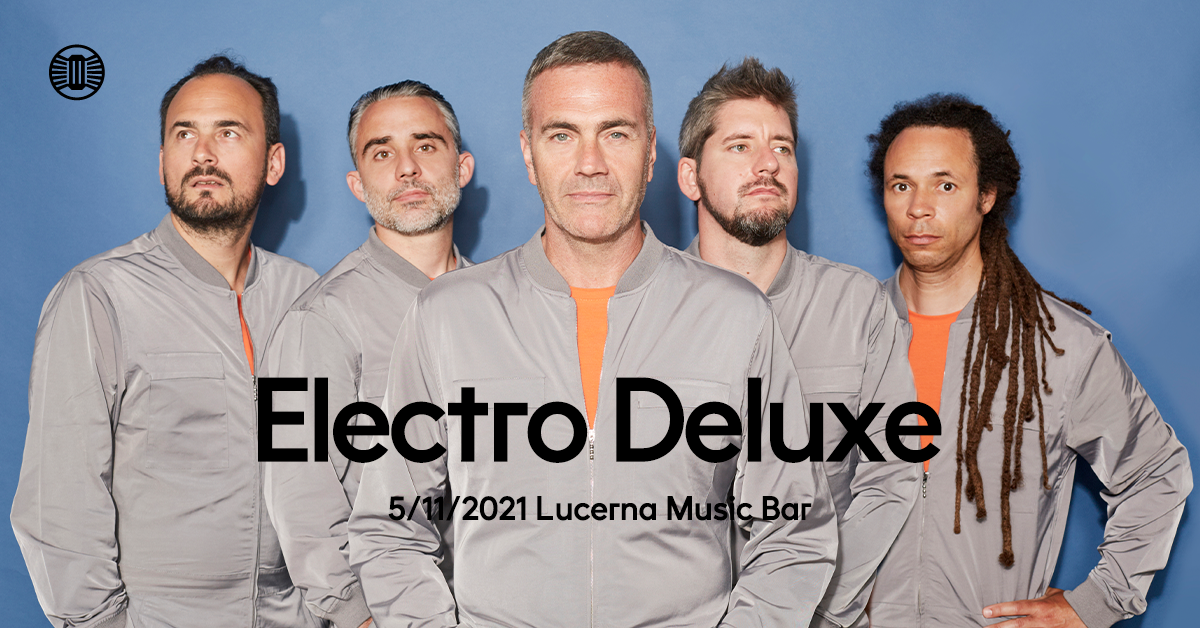 Zdroj: TS