Jedna z najpopulárnejších československých hudobných skupín Elán vypredala za rekordne krátku dobu dve najväčšie haly v bývalom Československu. Oba koncerty sú pritom až na jeseň budúceho roku. Kapela okolo frontmana Joža Ráža sa však z úspechu príliš neradovala, pretože ju zasiahla smutná správa o odchode spoluhráča, kamaráta a zakladateľa kapely Vaša Patejdla.
Na jeho počesť sa Elán do oboch hál vráti ešte raz s programom nazvaným Pre Vaša. Najprv vystúpi v sobotu 21. septembra 2024 v O2 aréne v Prahe, o týždeň neskôr 28. septembra 2024 koncert zopakuje aj v TIPOS aréne – Zimnom štadióne Ondreja Nepelu v Bratislave. Predpredaj na pridaný koncert Pre Vaša v Prahe fanúšikovia nájdu na webe www.elan.cz, na Bratislavu zas na www.elan.sk
"Ďakujeme všetkým za prejavenú sústrasť a slová podpory v súvislosti s úmrtím našho Vaša. S ním odišiel kus Elánu, ale v Eláne s nami navždy zostane aj veľký kus jeho výnimočnej osobnosti. Čo sme Vašovi sľúbili pred smrťou, to aj dodržíme, preto oznamujeme dva koncerty na jeho počesť," hovorí spevák Jožo Ráž, ktorý na koncerte zároveň oslávi svoje sedemdesiate narodeniny. Pôvodný plán bol taký, že to bude narodeninový koncert aj pre rovnako starého Vaša Patejdla.
"Vašo nám v posledných mesiacoch hovorieval, že poriadna oslava musí trvať minimálne dva dni a sedemdesiatku človek oslavuje len raz v živote. Takže oba pridané dni budeme hrať pre neho," dopĺňa gitarista Jano Baláž s tým, že kapela neplánuje koncerty v ďalších mestách či hranie na festivaloch. "Fanúšikovia nám píšu či prídeme do Brna alebo Košíc. My im odpovedáme, že tentokrát musia oni za nami do Prahy alebo Bratislavy".
Na pridaných koncertoch fanúšikovia uvidia Elán ve svojej čistej rockovej podobe. "Kapela sa na pódiu vráti do obdobia v osemdesiatych rokoch. Vtedy hrala už bez dychov a venovala sa skôr rockovejšej muzike. Zaznejú aj skladby z albumov kedy Vašo nebol členom Elánu a venoval sa svojej sólovej dráhe.popisuje manažér Elánu Michal Čimera.
Skupina Elán vznikla v roku 1968. Vydala pätnásť štúdiových albumov, päť anglických albumov aj množstvo kompilácií, za ktorých predaje získala neuveriteľných 25 platinových dosiek. Koncert Elánu na Letnej si nenechalo ujsť 100 tisíc fanúšikov, Slováci zároveň v roku 2007 vypredali aj slávnu Carnegie Hall v New Yorku. Pilierom kapely sú Jožo Ráž (spev, basgitara) a Jano Baláž (spev, gitara). Zakladateľ kapely Vašo Patejdl (klávesy, spev) zomrel tento rok v auguste. Elán naposledy koncertoval v roku 2018, kedy svoje veľkolepé československé halové a open air turné plné vizuálnych efektov a projekcií zakončoval vo vypredanej pražskej O2 aréne.
Ahoj Vašo!
Facebook event Praha vol.1: https://www.facebook.com/events/611507730996475
Facebook event Praha pre Vaša…: https://www.facebook.com/events/659556342759114
Facebook event Bratislava vol.1: https://www.facebook.com/events/903465424042059
Facebook event Bratislava pre Vaša…: https://www.facebook.com/events/3644759802515272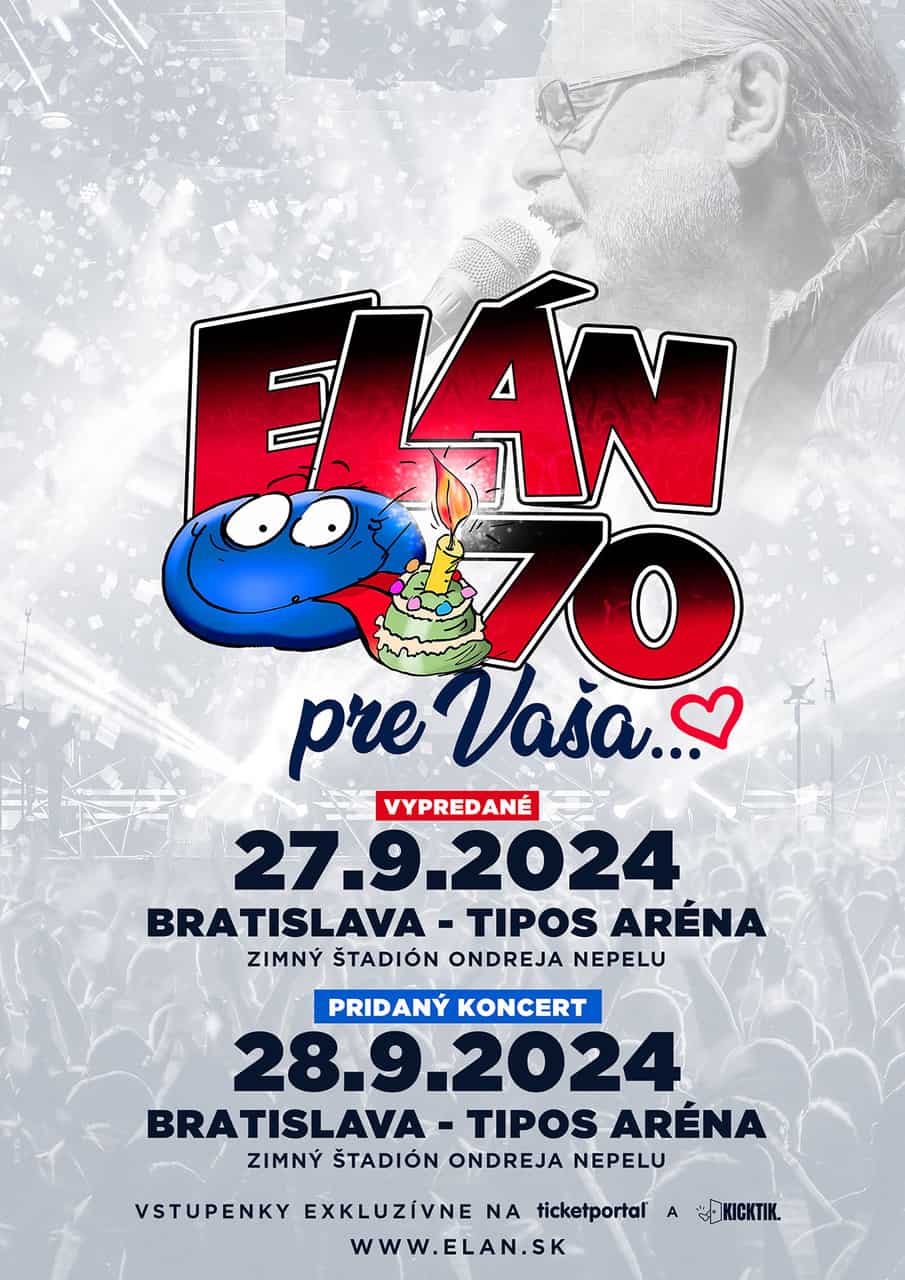 Zdroj: TS