Piaty ročník festivalu určeného milovníkom bicí­ch nástrojov DRUMFEST SLOVAKIA sa uskutoční v Pezinku 15. apríla 2023. Pod podujatím je organizačne podpísané občianske združenie P.R.D. (Pezinské rozprávkové divadlo) v spolupráci s Pezinským kultúrnym centrom a ďalšími partnermi. Podľa slov autora projektu Pettra Bittnera aj tento rok návštevníkov festivalu v priestoroch Domu kultúry v Pezinku čakajú vystúpenia špičkových svetových a domácich bubení­kov, zaujímavé workshopy či výstava bubnov a činelov.
Ako headliner, netradične hneď na obed, vystúpi bubenícka hviezda Eric Moore. Tento fantastický americký bubeník 15. 4. večer vystupuje v Bratislave s Erosom Ramazzottim a sme radi, že súhlasil so svojím sólovým performance na DRUMFEST SLOVAKIA. Je to jeden z najvšestrannejších bubeníkov súčasnosti, jeden z hlavných predstaviteľov gospel chops. Hral s takými umelcami a kapelami ako sú Eros Ramazzotti, Bobby Brown, Suicidal Tendencies a Sly And The Family Stone. Po tom ako sa intenzívne podieľal na vývoji GEWA G9 Drum Workstation, je aktuálne na cestách ako ambasádor tejto značky.
Svoje umenie v Pezinku predvedie aj bubeník, skladateľ a producent Richard Spaven z Veľkej Británie. Jeho zaujímavá hra vychádzajúca z jazzovej tradície prináša množstvo nových moderných postupov. Je známym predstaviteľom anglickej klubovej a hip hopovej scény. Má na konte štyri vlastné albumy, spolupracoval s množstvom projektov ako napríklad: Gang Star, Cinematic Orchestra, ako producent s Flying Lotus. Má za sebou množstvo masterclassov a vystúpení na bubeníckych festivaloch po celom svete.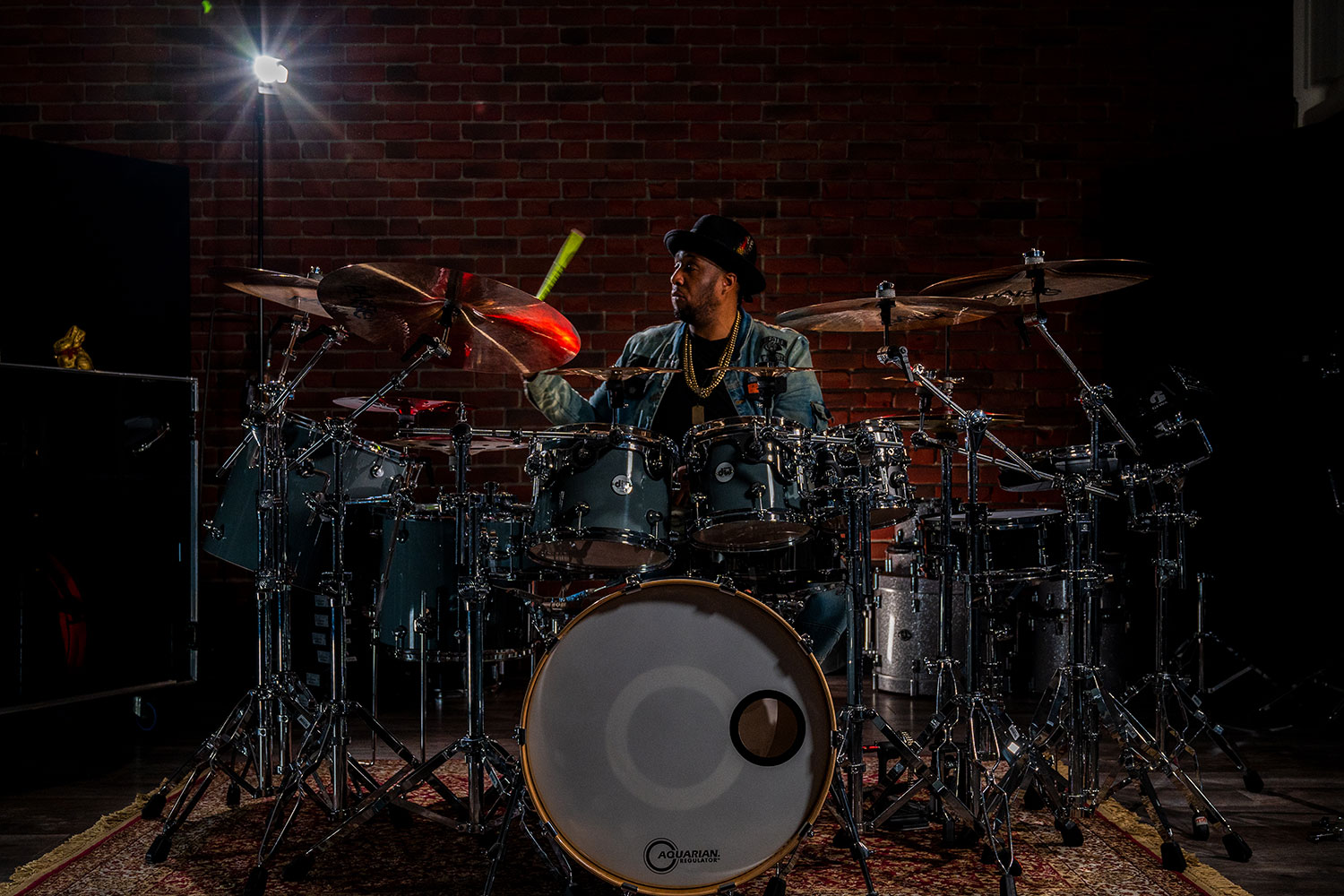 Slovenskú bubenícku obec bude zastupovať výborný hráč na bicie nástroje Marián Ševčík. Do Pezinka si pripravil špeciálny zaujímavý workshop. Je jedným z najvplyvnejších slovenských bubeníkov svojej generácie. Študoval bicie nástroje na konzervatóriu v Žiline a v Bratislave, neskôr sa zúčastnil viacerých jazzových workshopov v zahraničí. Účinkoval na jazzových festivaloch v Rakúsku, Nemecku, Švédsku, Veľkej Británii, Francúzsku, Holandsku, Poľsku, Španielsku, Taliansku, USA a Číne. Spolupracoval s radou renomovaných hudobníkov ako sú Jerry Bergonzi, Aaron Goldberg, Kevin Hayes, Danny Grissett, Wayne Escofery, Joel Frahm, Bon Mintzer, Miroslav Vitouš, Boris Kozlov, Benito González, Deborah Davis, George Mraz, Alex Sipiagin, Mary Stallings, Essiet Okon Essiet, Donny McCaslin. Získal viaceré hudobné ocenenia. Od roku 2016 pôsobí ako odborný asistent na Janáčkovej akadémii múzických umení v Brne. A od roku 2017 je zároveň aj pedagógom bicích nástrojov na Súkromnom konzervatóriu Dezidera Kardoša v Topoľčanoch.
Z Českej republiky vystúpi všestranný bubeník Josef Cigánek. Spolupracoval s množstvom umelcov od popu až po metal (Karel Gott, Helena Vondráčková, Leona Machálková, Oskar Petr, Fabrica Atomica, Boom band, Charlie band, Forrest Jump, Titanic, Vitacit, Aleš Brichta band, Törr, Symphonity, …) Má za sebou aj zaujímavé spolupráce na zahraničnej scéne s fusion gitaristom Alexom Hutchingsom, gitaristom Whitesnake Bernie Marsdenom, či s bývalým basgitaristom z Megadeth Davidom Ellefsonom. Venuje sa aj pedagogickej činnosti ako Profesor odboru bicie nástroje na Konzervatóriu P. J. Vejvanovského v Kroměříži.
Z Poľska k nám zavíta bubeník, pedagóg Mariusz Mocarski, ktorý v rámci workshopu hry na elektronickú sadu bicích nástrojov predstaví možnosti GEWA E-Drum G3, G5 a G9. Mariusz patrí medzi špičkových poľských bubeníkov. Nahrával a koncertoval s množstvom umelcov rôznych žánrov: Krzysztof Kiljański, Marysia Sadowska, Patrycja Markowska, Justyna Steczkowska, Robert Janowski, Agnieszka Chylińska, … Jeho hru možno počuť na viac ako 40 albumoch.
Už tradične prítomní vzdajú minútou potlesku hold bubeníckej legende, ktorá už nie je medzi nami. Tento rok to bude spomienka na Taylora Hawkinsa (Foo Fighters).
Po úspešnej premiére na uplynulom ročníku pokračujeme v prehliadke hry mladých hráčov do 15 rokov pod názvom DRUM KIDS. Prostredníctvom videí na facebookovej stránke DRUMFEST SLOVAKIA sa môžu odprezentovať nové nádeje bubnovania na Slovensku. Najzaujímavejšie výkony budú odmenené.
Počas dňa na prítomných čaká výstava bubnov a činelov rôznych značiek s možnosťou vyskúšania nástrojov, bubenícky bufet, limitovaná edícia vína DRUMFEST SLOVAKIA a samozrejme priateľská kolegiálna atmosféra.
DRUMFEST SLOVAKIA si počas uplynulých ročníkov získal sympatie nielen u bubeníkov. Publiku v Pezinku sa predstavili také osobnosti bubeníckeho sveta ako Benny Greb (Nemecko), Anika Nilles (Nemecko), Dan Mayo (Izrael), Virgil Donati (Austrália), Adam Markó (Maďarsko), Martin Valihora, David Hodek, z Čiech Miloš Meier, Dali Mraz a mnohí ďalší.
Viac info na: www.feelme.sk/drumfest-slovakia, facebook stránka, instagram DRUMFEST SLOVAKIA
Vstupenky na: DRUMFEST SLOVAKIA 2023 | TICKETPORTAL vstupenky na dosah – divadlo, hudba, koncert, festival, muzikál, šport
DRUMFEST SLOVAKIA program:
11.00 – výstava bubnov a činelov vo foyer
12.00 – 12.50 Eric Moore – veľká sála
13.00 – 13.30 autogramiáda vo foyer
13.30 – 15.00 výstava bubnov a činelov vo foyer
15.00 – Otvorenie festivalu, DRUM KIDS – veľká sála
16.00 – 16.50 Mariusz Mocarski – workshop GEWA elektronické bubny – malá sála
17.00 – 17.50 Josef Cigánek – veľká sála
18.00 – 18.50 Marián Ševčík – workshop, malá sála
19.30 – 19.40 Spomienka na Taylora Hawkinsa – veľká sála
19.40 – 20.30 Richard Spaven – veľká sála
20.30 – 20.45 tombola – veľká sála
20.45 – autogramiáda, foto
Zmena programu vyhradená.
Zdroj: TS