Pán gramcov – americký pionier inštrumentálneho hiphopu – Grandmaster Flash sa predstaví 6. novembra v bratislavskom MMC. Organizátori postupne zverejňujú hostí zastupujúcich 4 elementy hiphopu. Druhýelement bude patriť DJingu a svojho "učiteľa" privítajú jeho slovenskí kolegovia za mixom – David zo Senca, DJ Vec, Dj Spinhandz. Tretí element ovládne zohratá dvojica MC´s – Tono S & Zverina.
Pomaľované ulice newyorského Bronxu a z prítmia tamojších opustených budov sa ozývajú zmixované platne, skratche a beaty.DJovia – títo novodobí mozartovia vinylových platní a všakovakých mašiniek dali hiphopu jeho charakteristický zvuk, ktorý vychádzal z jazzu, funky, disco, afroamerickej hudby. Písal sa rok 1970, kedy sa New York stal rodiskom jedného z najdôležitejších fenoménov tejto doby – hiphopu. Jeden z hlavných protagonistov tejto éry – Grandmaster Flash (vlastným menom Joseph Saddler) – príde 6.novembra do bratislavského MMC ukázať, prečo právom patrí
k najvplyvnejším osobnostiam tohto žánru a je vôbec prvým hiphopovým umelcom zapísaným v Rock'n'rollovej sieni slávy. Vplyv americkej legendy je nedoceniteľný aj na československý hiphop. Inšpiroval mnohých začínajúcich DJov, ktorí si osvojili techniky DJingu – backspinu, scratchingu, punchingu, phrasingu. Na koncerte Grandmaster Flash sa predstaví aj trojica slovenských DJov a turntablistov. K služobne najstarším patrí David zo Senca – mnohonásobný majster SR v mixovaní, majiteľ najväčšej zbierky hiphopových platní a CD. Ako producent sa podpísal pod najpodstatnejšie nahrávky prvej vlny hiphopu na Slovensku. Stál za zrodom projektu Zvuk Ulice, z ktorého vzišiel aj Branči Kováč alias Vec. Spoluzakladateľ formácie Trosky posunul hiphop svojím medzižánrovým prejavom do rádií. Na pódiu sa objavuje nielen ako MC, ale aj ako DJ / beatmaker. Dj Spinhandz pôsobí na našej scéne uždvadsať rokov.
V úlohe dvorného DJa kryje chrbát Strapovi, poslucháči ho poznajú aj zo spolupráce s Gramo Rokkaz. Turntablism a.k.a. umenieovládania gramofónov vkladá do koncertov, rovnako tiež do mixtejpov s Karaoke Tundrom.
Dobrý DJ je základom každej dobrej párty a túto povesť ešte znásobí kvalitný raper váhou svojich slov. Rapovanie sa vyvinulo zdeklamovanej poézie a hovoreného slova tzv. spoken word postupným pridávaním rôznych rytmických fráz. MC´s chceli väčšinovej spoločnosti vymaľovať neprikrášlený obraz ulice. Poukázať na chudobu, sociálne a rasové nerovnosti a nepokoje vo vlastných štvrtiach bez ochrany zákona a pomoci zo strany štátu. Práve Grandmaster Flash bol súčasťou jednej z prvých hiphopových crew Grandmaster Flash and the Furious Five s ich najslávnejšou skladbou Message. Sila tohto posolstva sa dnes stráca pod nánosomslávy a bohatstva, ale nie všetci raperi sa zaujímajú iba
o svoju "reťázku". Tono S je hĺbavý, pokorný a sčítaný storyteller. Nemá problém rapovať o svojich najintímnejších veciach či o vlastnom rozvoji, rovnako sa nebojí dotknúť nespravodlivých amnestií a ďalších dôležitých spoločenských tém. Protiváhou k tomu, že hiphop sa nemá brať až tak vážne, je Zverina. Priniesol doň vtip, nadhľad, satiru, ktorú si ešte pamätáme z jeho falošnej kandidatúryna prezidenta SR. Obaja raperi majú čo povedať a povedia to pekne nahlas.
Informácie o koncerte:
Grandmaster Flash sa predstaví 06. novembra v bratislavskom MMC, kde zaznejú všetky jeho najväčšie hity v špeciálnejaudiovizuálnej live show People, Places and Things.
Organizátori z agentúry Music Press Production sľubujú aj niekoľko prekvapení, ktoré sa týkajú 4 elementov hiphopu:
Prvý element – Breaking: Laci Strike a SDA, bboys z Hasta La Muerte
Druhý element – DJing – David zo Senca, Dj Spinhandz, DJ Vec
Tretí element MC´s – Zverina, Tono S
Koncert Grandmastera Flasha sa uskutoční pod značkou Danube Music Day, ktorá chce prinášať na Slovensko prelomových apriekopníckych interpretov, ktorí výrazným spôsobom formovali hudobnú scénu (v oblasti zvuku, formy aj estetického vnímania), nonapriek tomu u nás ešte nikdy nevystúpili, alebo len veľmi sporadicky.
Rezervuj si miesto na hiphopový koncert roka ! Koncert bude v režime OTP ! Rezervuj si miesto zanecelú dvacku na hiphopový koncert roka !
Ticketportal: https://www.ticketportal.sk/event/GRANDMASTER-FLASH-Danube-Music-Day-2021
Predpredaj: https://predpredaj.zoznam.sk/en/tickets/grandmaster-flash-danube-music-day-2021-2021-11-06/ GoOut:https://goout.net/en/grandmaster-flash-danube-music-day-2021/szchejr/
TooToot: https://tootoot.fm/sk/events/609e625e11c44f09fc2f115a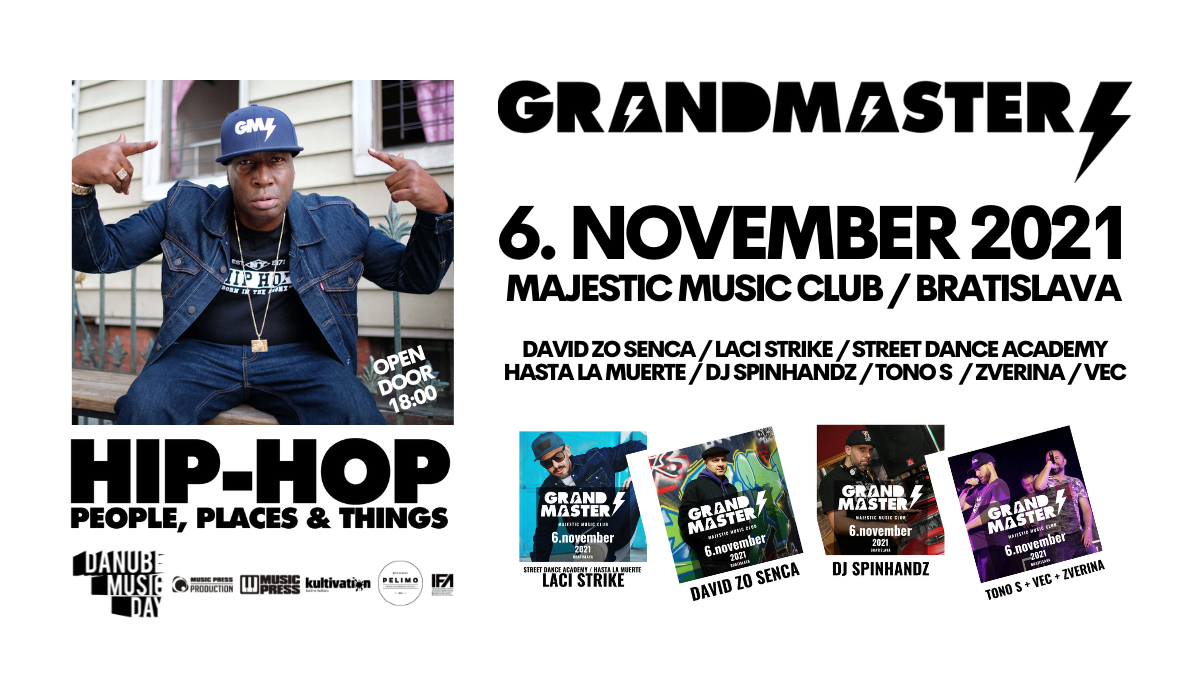 Zdroj: TS