Už o necelý mesiac sa otvoria brány DOBRÉHO FESTIVALU a areál prírodného kúpaliska Delňa bude vítať svojich návštevníkov. Organizátori zverejnili denný program jedenásteho ročníka podujatia, ktoré sa bude konať 14. – 16.6.2019 v Prešove.
Piatkový program ovládne multižánrový mix drum&bass-u, rocku, hard-roku, popu a folklóru! Koncerty spustí v Šariš Aréne kapela Inside, po ktorej nastúpia Ladies & Genitals a No Control. Večerný program tohto pódia uzatvoria Prešovčania Satin Lead a Chikiliki tu-a. Pódium Dobrej hudby VÚB banky odštartuje prešovský pesničkár Edo Klena a jeho rock-folková kapela Klenoty. Následne areál rozozvučí jedinečný hlas Štefana Šteca, po ktorom to roztočia Heľenine oči a česko-americko-brazílsko-nemecká kapela N.O.H.A. Nicolaus zóna bude v piatok plná zvučných mien! Otváraciu párty zabezpečí DJ A-Z Best, nasledovať bude vystúpenie víťaza súťaže DJ Camp Contest. Z Poľska príde zaspievať živelná Karolina Czarnecka a po nej nastúpi legenda svetového DJ-ingu DJ Craze, ktorého si svojho času na turné ako osobné DJ vybral sám Kanye West. Hlavnou hviezdou piatkového programu Nicolaus zóny budú austrálsko-britskí drum and bass-rockoví DJs PENDULUM, na ktorých nadviažu prešovskí DJs DUALL a MI:CHAL & J.M.C.
V sobotu sa program na pódiu Dobrá hudba VÚB banky začne vystúpením prešovskej speváčky a pesničkárky Viki Olejárovej, nasledovať bude Adam Ďurica a česká kapela Chinaski. Po nich svoje exkluzívne vystúpenie odpáli kapela IMT SMILE, ktorá má pre Dobrý festival pripravené špeciálne vystúpenie! Najväčšiu párty na Slovensku potom zažijeme s francúzskym duom OFENBACH. V priebehu dňa bude Šariš aréna znieť najmä metalom a hard-rockom, keďže práve tu sa večer predstaví fínska legendárna metalová kapela AMORPHIS, pred ktorou sa postupne vystriedajú White Monkeys Band, No Brake, ruská folk-metalová kapela Grai a program uzatvoria prešovské legendy Wayd. Sobota bude v Nicolaus zóne nabitá bohatým programom. Ako prvá sa nám predstaví slovenská muzikantka a pesničkárka Eniesa & LE´MURS, nasledovať bude ďalšia zástupkyňa nežného pohlavia Emma Drobná. Večer sa program prehupne do hip-hop-ovej a rapovej nálady, keď príde Erobeo, DJ Rezumé a DJ Barny s kapelou, alias Strana Východná a po nich Kali s Petrom Pannom. Program bude pokračovať funky vystúpením saxofonistu Gapu a jeho Groovin´Heads, atmosféru z najštýlovejších londýnskych klubov do Prešova prinesie DJ Lenka Toma. Časť programu je vyhradená pre dvojicu DJs Overhaul & Gurry a ich SKY PARTY východoslovenského SKY rádia.
Posledný deň festivalu odštartuje hudobný program kapela Everlong v Šariš aréne. Ďalej vystúpia Prešovčania ElevenHill a bluesová kapela otca bratov Táslerovcov Tásler Pufo Band, po ktorých zažijeme rock ´n´ rollovo – punkovú smršť v podaní Slobodnej Európy a Iné Kafe. Z pódia Dobrá hudba VÚB banky budú znieť pesničky Tomáša Buranwského, zatancujeme si s Kandráčovcami a vyskáčeme sa na indie-rockovej legende z Británie RAZORLIGHT. Večer na tomto pódiu uzatvorí Lukáš Adamec. V Nicolaus zóne sa v nedeľu zabavíme s kapelou Cha-Bud, ktorá hrá originálne vlastné autorské kompozície vo fúzii rôznych hudobných štýlov, zaspievame si so speváčkou Veronikou Rabadou a program Nicolaus zóne ukončí vystúpenie elektronického projektu Rudda, ktorý k nám príde z ďalekého Petrohradu, z Ruska.
Novinkou na Dobrom festivale bude prítomnosť samostatného pódia Reggaenade Sound so štedrou hudobnou nádielkou od ska, cez rocksteady, reggae, dub až po dancehall.
Počas všetkých troch dní sú pripravené workshopy a diskusie. Deutschmann GALÉRIA, v ktorej sa okrem podávania DOBREJ kávy, budú premietať filmy, vystavovať obrazy, čítať rozprávky a diskutovať zaujímavé témy.
V detskom kútiku je pre deti taktiež pripravený bohatý program – maľovanie na tvár, výroba šperkov, zdobenie muffinov, háčkovanie, kurz prvej pomoci, zumba a ešte omnoho viac!
Viac info: www.dobryfestival.sk a www.facebook.com/dobryfestival. Vstupenky sú v predaji v sieti ticketportal, ticketlive alebo v stánku Dobrého festivalu na Hl. ulici v Prešove.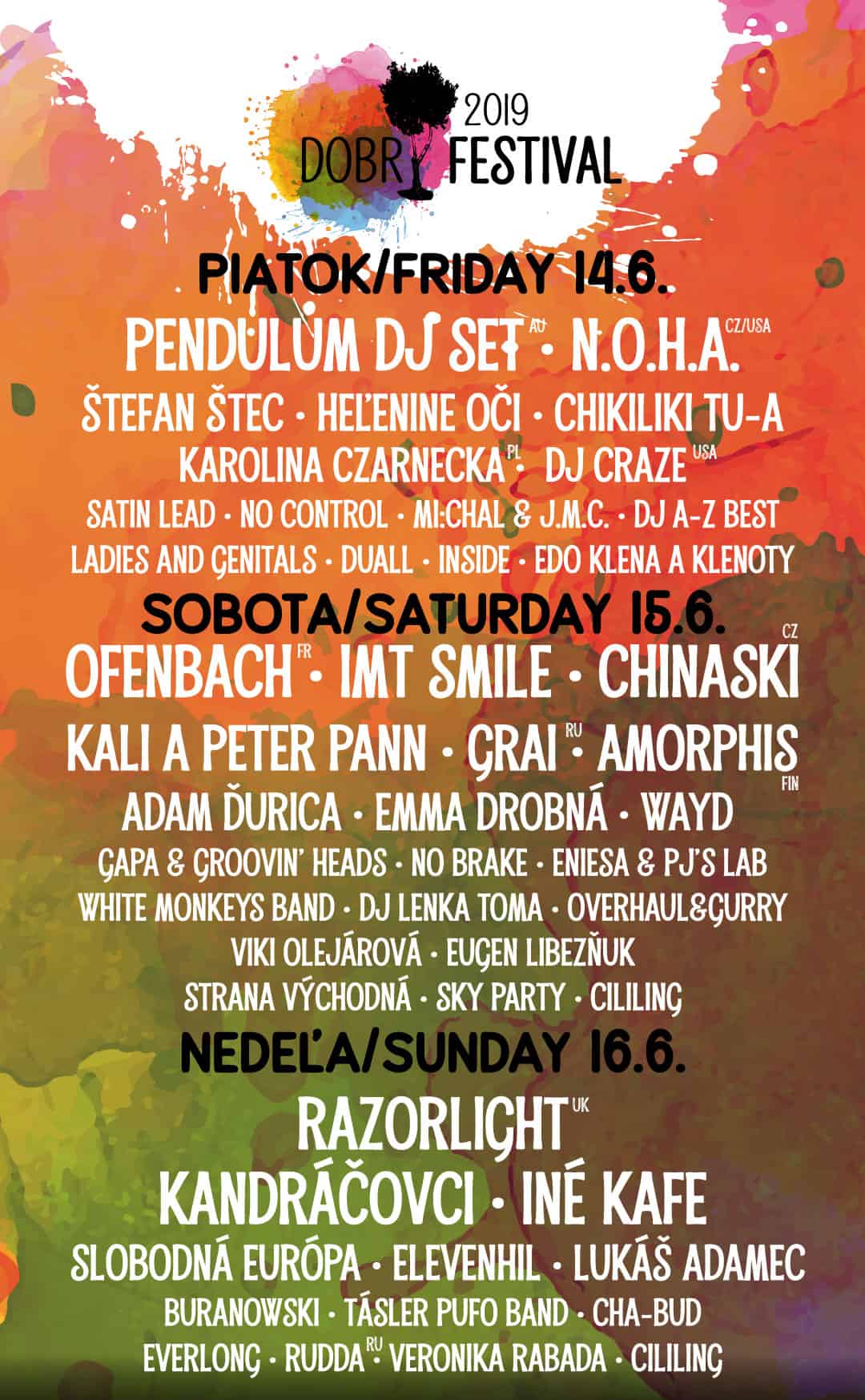 Zdroj: Dobrý Festival