Už 9.6.2023 od 14:00 hod. sa otvorí brána prírodného kúpaliska Delňa, na ktorom sa počas druhého júnového víkendu bude konať 13. ročník DOBRÉHO FESTIVALU. Ako sa dostať na festival? Kde zaparkovať?
Rovnako ako minulý rok budú obe prístupové ulice k areálu festivalu Jesenná a Jelšová pre motorové vozidlá uzavreté. Vstup bude povolený len vozidlám MHD, označeným vozidlám taxislužby, bicyklom, kolobežkám a samozrejme pešou chôdzou.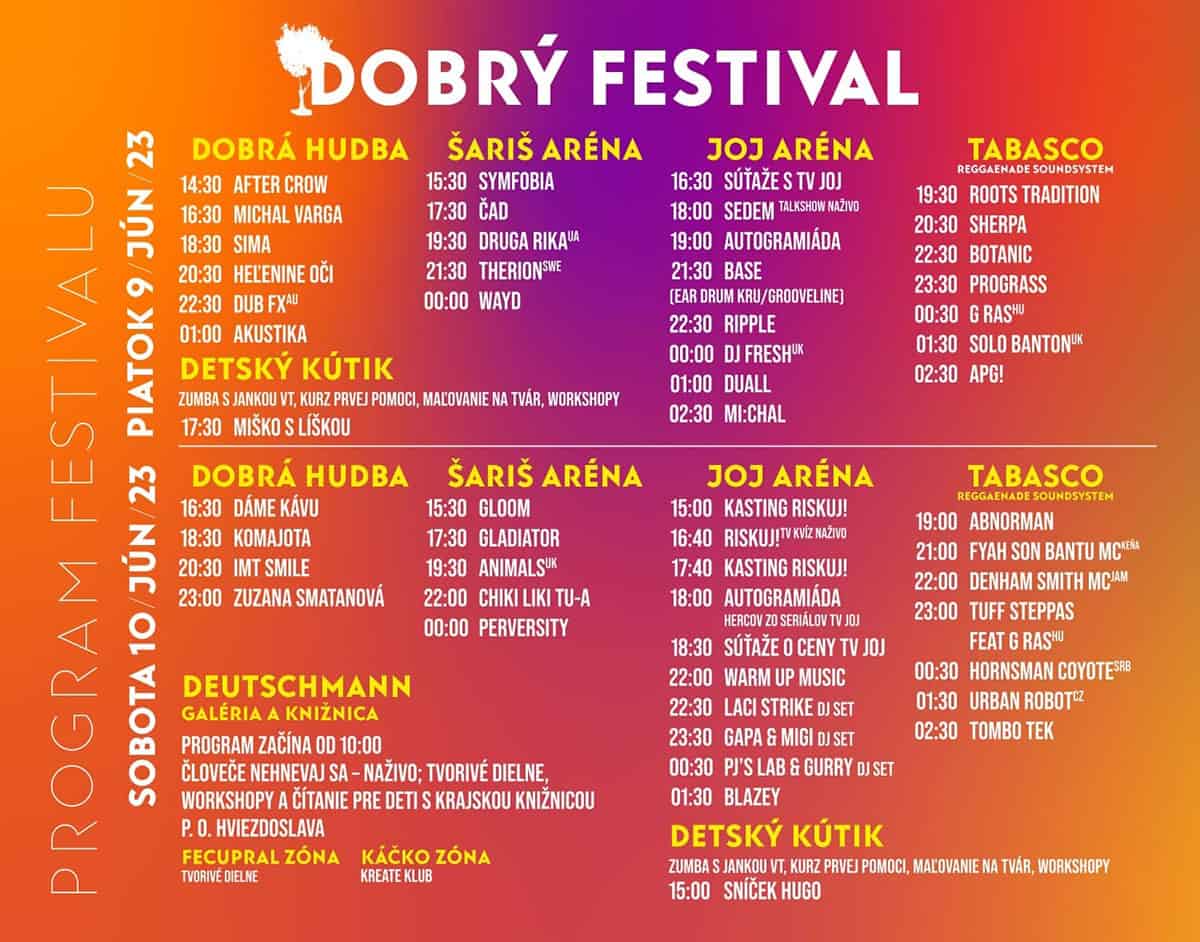 Návštevníkom preto organizátor odporúča využiť existujúce verejné parkoviská v okolí, ktoré sú v tejto časti mesta počas celého dňa bezplatné. Oficiálne záchytné a taktiež bezplatné parkovisko festivalu sa nachádza pri OC Eperia, na ktoré budú návštevníkov usmerňovať navigačné tabule na stĺpoch verejného osvetlenia.
V spolupráci s Dopravným podnikom mesta Prešov bude od záchytného parkoviska premávať kyvadlová linka "X" až do 03:00 ďalšieho dňa, ktorá bude prvýkrát pre návštevníkov bezplatná, a to na trase Železničná stanica – Kuzmányho – Rusínska – Arm. Gen. Svobodu (Eperia) – Šváby – Delňa – Žel. stanica. Bezplatná kyvadlová doprava bude premávať v intervale 15-20 min, podľa zverejneného cestovného poriadku. Od križovatky Švábska / Pionierska bude premávať druhá bezplatná kyvadlová linka "DF" na okružnej trase Šváby – Delňa a späť, v intervale 10 minút.
Zároveň je pre návštevníkov festivalu v spolupráci so spol. Antik Telecom s.r.o. pripravených až 10 000 bezplatných jázd zdieľanými červeno-bielymi bicyklami. Stačí použiť kupón "Dobrý festival" s kódom S2NFF3 a každý návštevník získa až 5 hodín bicyklovania pri preprave na festival zdarma. Potrebné je nainštalovať si aplikáciu "Antik Smart Way".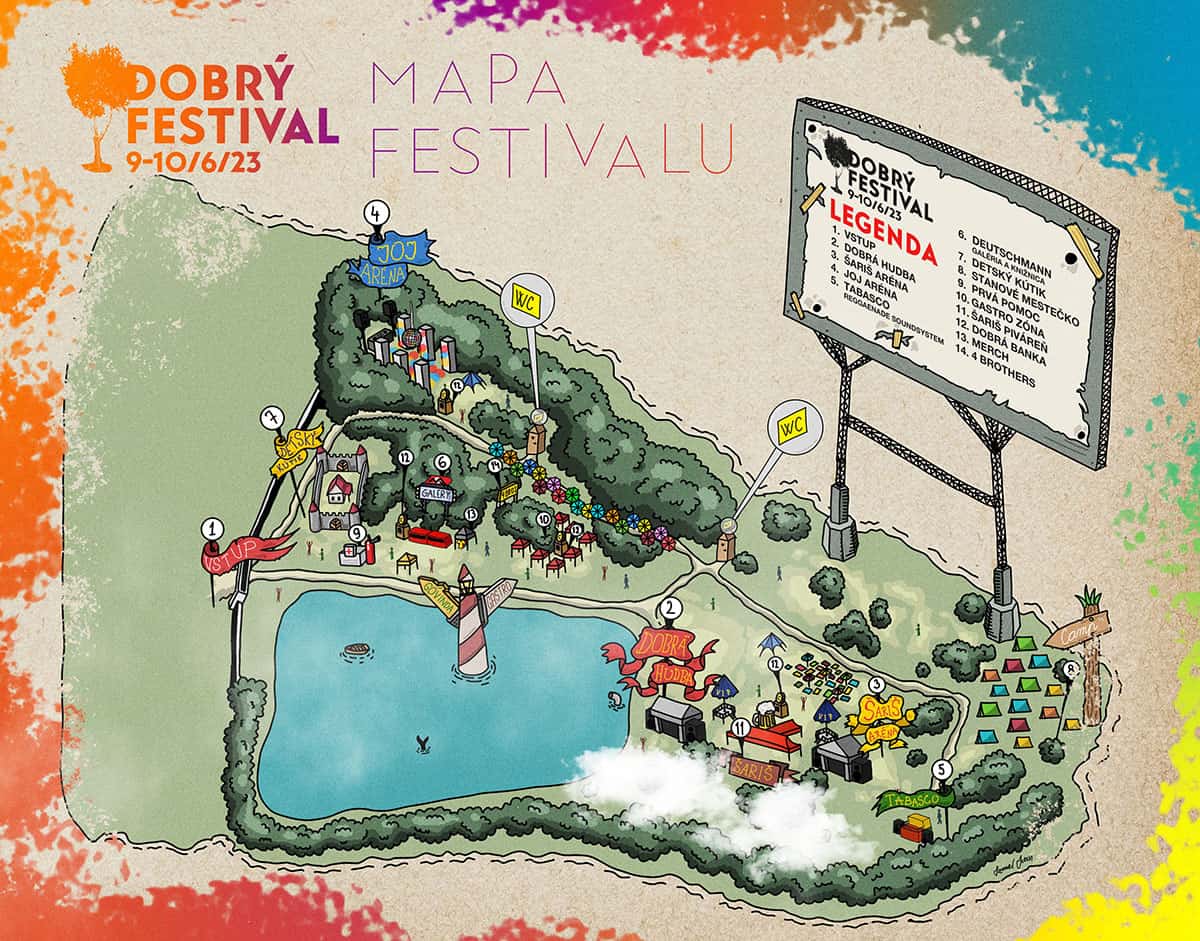 K dispozícii budú aj kolobežky TIER, na ktoré bude platiť počas konania festivalu promo akcia s bezplatným odomknutím. Kolobežky TIER majú okrem celého mesta Prešov rozšírené pokrytie aj do Ľubotíc a Veľkého Šariša.
Vzhľadom na očakávaný nápor na bezplatnú MHD, parkovanie, kolobežky a väčšiu vzdialenosť záchytného parkoviska je potrebné prísť na festival minimálne 2 hodiny vopred.
Dobrý festival sa uskutoční 9. a 10. júna 2023 na prírodnom kúpalisku Delňa v Prešove. Ohlásení účinkujúci: Therion, The Animals, IMT Smile, Dub FX, Dj Fresh, Druga Rika, Laci Strike Dj set, Sima, Komajota, Zuzana Smatanová, Helenine oči, Chikilikitua, Gladiátor, Akustika, Symfobia, Čad, Wayd, Gloom a ďalší.
Podujatie sa koná pod záštitou primátora mesta Prešov a v spolupráci s Dopravným podnikom mesta Prešov.
Zdroj: TS