Máme tu svet trochu inak. Smrtonosná kométa, ktorá mala priniesť zánik dinosaurov, akosi záhadne len preletela okolo našej planéty. Vek dinosaurov teda neskončil a pokračuje ďalej.
O niekoľko miliónov rokov na to sa na našej planéte začnú vyskytovať aj praľudia. Dinosaury sú už o kus ďalej vo vývoji a značne sa o seba starajú, dokonca hospodária. V jednej takejto rodinke žije aj bojazlivý apatosaurus Arlo. Ten sa snaží, aby si zaslúžil uznanie a obdiv svojej rodiny. Svoje úlohy pri hospodárení sa snaží plniť, ako najlepšie vie. Pri plnení povinností zažije stret s pračlovekom. Táto udalosť sa pre neho na prvý pohľad stane zlým snom. Zmení jeho osud a prinúti ho podstúpiť dobrodružnú cestu za poznaním seba samého.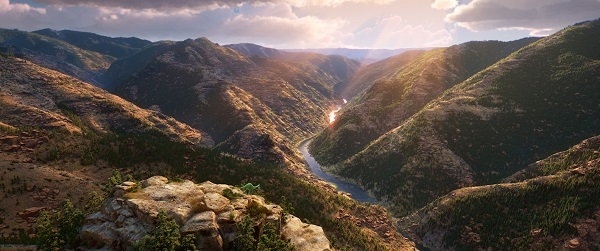 Rok 2015 je veľmi zaujímavý, čo sa týka tvorby významného filmového štúdia zameraného na počítačovú animáciu. Nejde o nič menšie než štúdio Pixar! Svoju tvorbu produkuje pod záštitou dominantného štúdia Disney. Tento rok nám najprv ponúkli príbehom úžasne prepracovaný animovaný film V hlave (Inside Out). Ide o úžasný, silný príbeh a dá sa povedať, že tento projekt je jasný kandidát na Oscara za najlepší animovaný počin. A teraz tu máme v Dobrom dinosaurovi úplne jednoduchú banálnu zápletku, akú by ste od tohto štúdia nečakali ani náhodou. Nuž tak tu máme prekvapenie na úkor príbehu. Ten nie je zas úplne na zahodenie. Nakoľko má miestami dobré, silné podfarbenie a dokáže zatlačiť aj na emócie. Lenže v priamom súperení s tematicky podobnými Krúdovcami (The Croods, 2013), ťahá za kratší koniec. Skôr by sa dal dať do mecha s animákom Doba ľadová (Ice Age, 2002), ale tam by po humornej stránke až tak neobstál.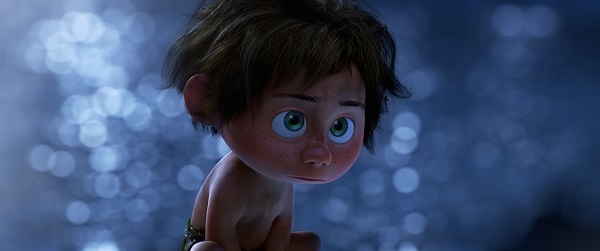 Oplatí sa vlastne vidieť tento animovaný počin v kine? Jednoznačne áno. Na druhú stranu, keď práve neohúri príbeh, tak počítačovo animovaná stránka, áno. Tá je doslova dokonalá. Hlavne okolie, kde sa dinosaury pohybujú je geniálne prepracované. Keď sa pozrieme hlbšie na dej, tak sa nám pripomenú známe animované filmy ako Dinosaurus (Dinosaur, 2000) či aj dokonca tragický podtón z Levieho kráľa (The Lion King, 1994). Samotná príbehová vetva Arla a jeho putovania s pračlovekom má svoje svetlé okamžiky a hlavne je tam cit. Horšie ale dopadajú tie vedľajšie vetvy, keď pri svojom putovaní naprieč krajinou zažívajú rôzne stretnutia.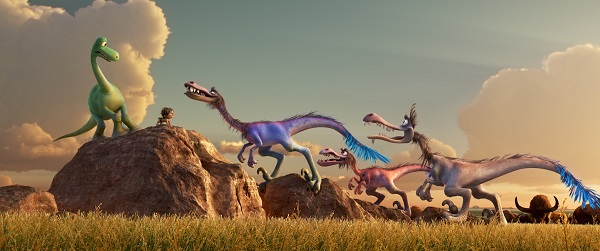 Do cesty im vojde čudný uletený Triceratops s tikom v oku. Ten tam nemá žiadny vplyv na obohatenie príbehu. Vyvoláva dojem, že je tam nasilu dosadený a toto stretnutie vyznie akurát len veľmi čudne a nezmyselne. Ani zlí Pterodaktyli s čudnými rohmi na hlavách si v animáku nenájdu to správne miesto. Skôr poslúžia len pre vyhrotenie dramatizácie a pre záverečný akčný nádych. Ich vzdušný útok "vynorenia" sa spod oblakov a lá čeluste (útok žralokov) však určite zapôsobí. Ani Velociraptori naháňajúci bizónov nedopadli práve najlepšie. Skôr pripomínali bláznivé hyeny (viď. horný obrázok). K tomu tu máme dokonca aj nadmieru priateľských Tyranosaurov, ktorých vytvorili v mierne uletenej animácii so zavalitými tvárami. V tomto prípade sa trošku grafici vybláznili a asi nie najrozumnejšie. Toto sú také väčšie a menšie zápory. Etapy, kde by bolo čo dolaďovať. Tieto negatíva ale prekoná zábavná súhra hlavných dvoch aktérov a ich cesta k priateľstvu. Takže v deji sme ako na hojdačke raz hore a raz dole. V tomto to je fakt nevyvážené, za čo asi môže aj neskúsený režisér Peter Sohn a niekoľko prerábok tohto projektu. Bol to pre neho debut. Po nie príliš dobrých výsledkoch z kín a taktiež nenadšenej kritiky, môžeme očakávať, že už asi nebude mať druhú šancu režírovať takýto veľký projekt.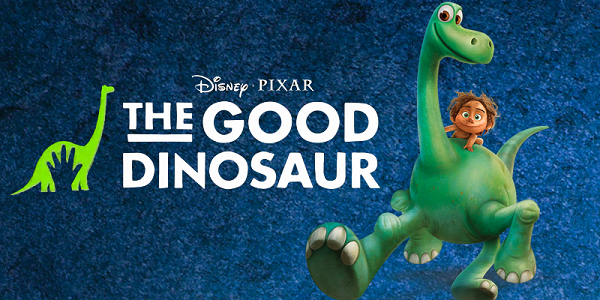 Komerčný ohlas filmu Dobrý dinosaurus (k 13.12.2015):
Originálny názov: The Good Dinosaur
Rozpočet: $187,5 milióna
Otvárací víkend v USA: $39,155,217
Tržby v USA: $90,962,643
Tržby mimo USA: $78,200,000
Tržby Celosvetovo: $169,162,643
V Slovenských kinách od: 26.11.2015
Info: Pred Dobrým dinosaurom je v kinách uvedený krátkometrážny film Sanjay's Super Team.
napísal: Matúš Gajdošech