STOP-ZEMLIA je radikálny, autentický a citlivý pohľad na ukrajinskú mládež, ktorý pozitívne zarezonoval všade na svete, kde ho uvádzali a z prestížneho Berlinale si priniesol aj cenu. Za posledné týždne sa však na Ukrajine všetko zmenilo, tvorcovia si želajú, aby sme videli ich film, aby sme videli život pred vojnou a verili spolu s nimi, že sa stane aj ich budúcnosťou. Podľa režisérky Kateryna Gornostai je STOP-ZEMLIA "oknom do života". Do slovenských kín prichádza film vo štvrtok 21. apríla 2022, vďaka distribučnej spoločnosti Filmtopia, majú ukrajinskí tínedžeri vstup na film zadarmo.
"Som veľmi zvedavá, ako budete vnímať náš film cez prizmu súčasného diania. Niektorí ľudia hovoria, že to teraz vyzerá ako artefakt zo života tínedžerov, ktorí si nevedeli predstaviť, že stratia všetko, čo majú radi, svoje domovy, svojich milovaných. Ale ja chcem o STOP-ZEMLII uvažovať inak, je to okno do života, ktorý by sme mali po našom víťazstve. S novými krásnymi školami, ukrajinskou hudbou a jazykom – s pokojnou májovou oblohou v posledný školský deň!," napísala v liste pre slovenských divákov/diváčky debutujúca ukrajinská režisérka Kateryna Gornostai, ktorá napísala aj scenár k filmu.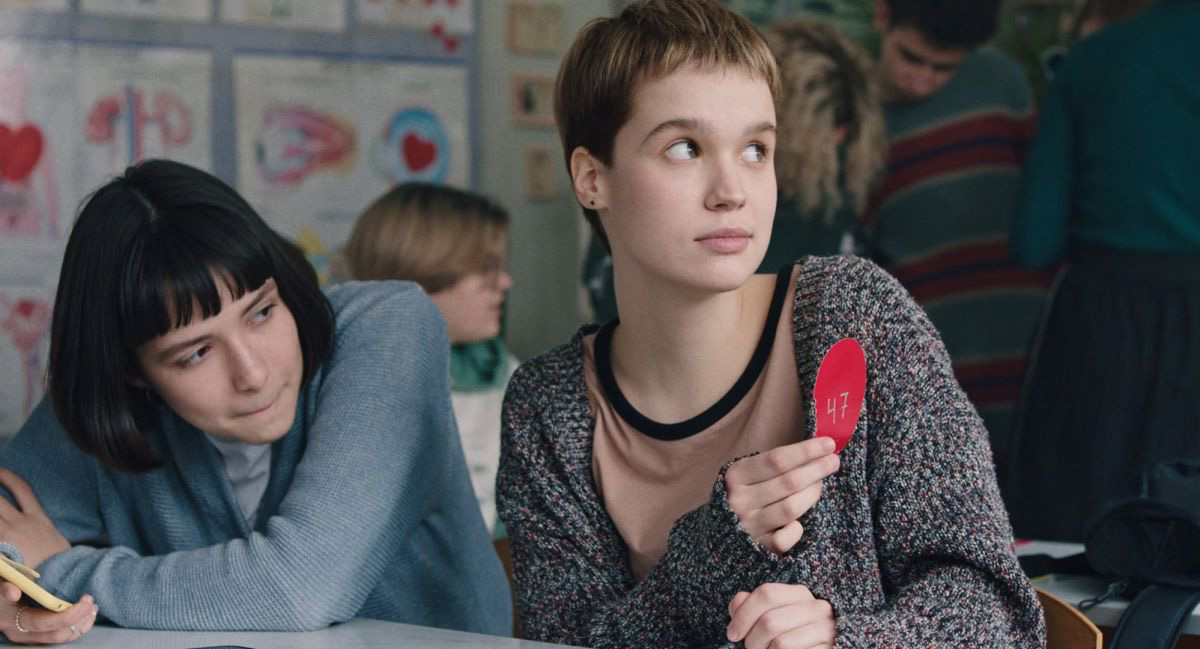 Ako píše ďalej v liste, od vypuknutia vojny je na predmestí Kyjeva. Dvaja herci z filmu sú však z bojmi ťažko skúšaného mesta Irpiň. "Senia a jeho rodina utiekli z Irpinu ešte skôr, v prvom týždni invázie. Evakuácia Andriyho a jeho babičky nebola taká jednoduchá, pretože most bol už zničený. Zostali v meste, kým na ich ulici nezačali strieľať ruské tanky. Andriy je teraz v Kyjeve ako dobrovoľník. Prečo vám to všetko hovorím? Chcela som sa s vami podeliť o našu novú realitu. Na Ukrajine nie je nikto, kto by nevedel, aké to je žiť vo vojnovej zóne," napísala režisérka v pôsobivom texte pre divákov/diváčky. Ďalej zdôrazňuje, že toto nie je vojna o územie, ale pre Ukrajincov a Ukrajinky je to "existenčná vojna".
Kateryna Gornostai vytvorila hlboko osobný príbeh o sebaobjavovaní a trpezlivosti. Snímka zaujala aj na prestížnom festivale Berlinale, kde získala v sekcii Berlinale Generation 14Plus Strieborného medveďa. Film sa premietal v USA, Kanade, Mexiku, Číne, Japonsku, Taiwane, Južnej Kórei, Južnej Afrike, Poľsku, Anglicku, Írsku, Litve, Fínsku, Nórsku, Španielsku, Taliansku, Chorvátsku, Nemecku, Rakúsku Luxembursku, Belgicku, Francúzsku a v Českej republike film uviedol IFF Karlovy Vary.
Hlavné postavy stvárnili: Maria Fedorchenko, Arsenii Markov, Yana Isaienko, Oleksandr Ivanov.
Riaditeľka filmovej distribučnej spoločnosti Filmtopia Silvia Učňová Kapustová vybrala film STOP-ZEMLIA už približne pred rokom, no pandémia poposúvala plány. Slovenskú premiéru mal film tohto roku na Febiofeste. "Film uvádzame v kamenných kinách, filmových kluboch a alternatívnych priestoroch. S Kinom Lumière v Bratislave a s ďalšími kinami na Slovensku sme dohodli, že ukrajinskí tínedžeri budú mať vstup na film zadarmo," doplnila Silvia Učňová Kapustová. Distribúciu filmu do slovenských kín podporil Audiovizuálny fond.
Ak sa neodvážiš, nikdy sa nedozvieš – taký je podtitul filmu.
Introvertná stredoškoláčka Masha sa považuje za outsidera, pokiaľ sa nezdržuje s Yanou a Seniom, ktorí zdieľajú jej nekonformný status. Zatiaľ čo sa snaží zvládnuť intenzívne obdobie pred ukončením školy, zamiluje sa a to spôsobom, ktorý ju núti vyjsť z komfortnej zóny.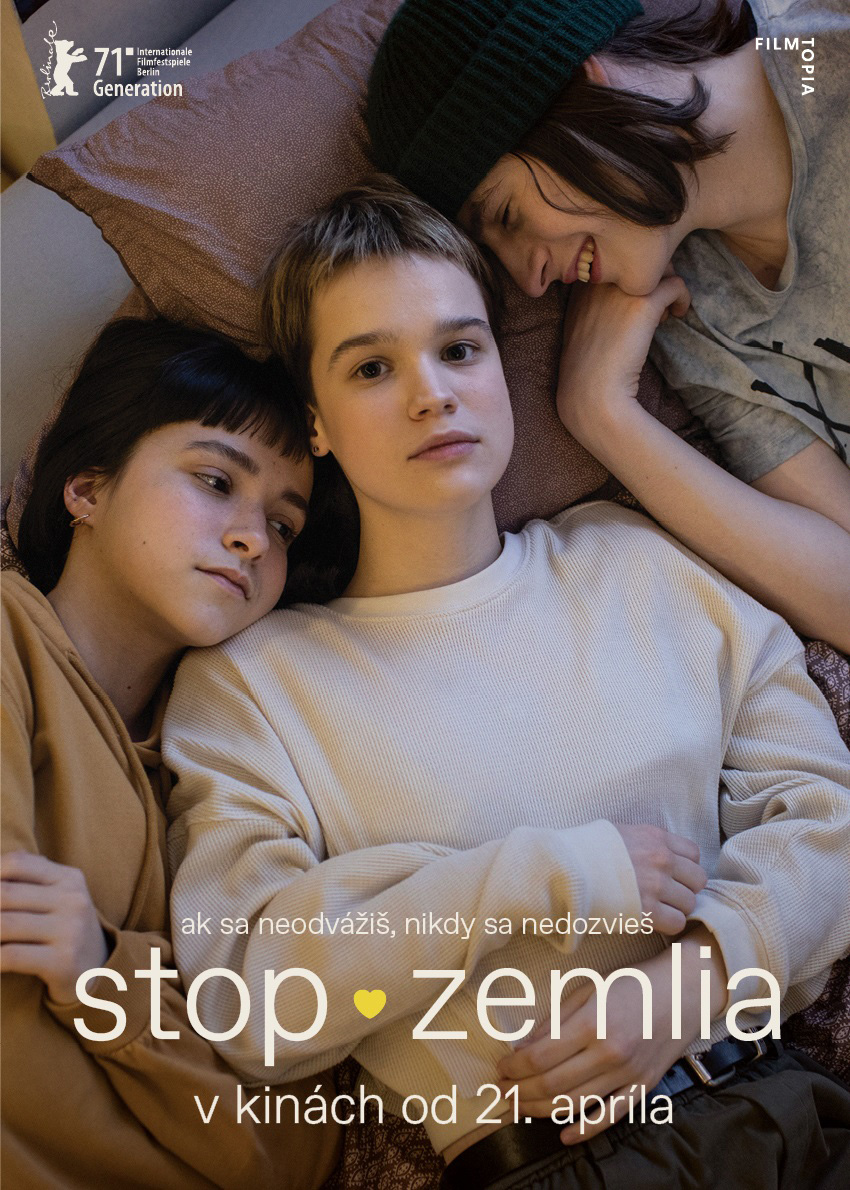 Zdroj: TS