Bratislavský knižný festival BRaK 2022 odštartoval v stredu večer otváracím warm-up podujatím PechaKucha Night. Festival bude pokračovať v piatok 13. 5. konferenciou, v rámci ktorej nadviaže na tohtoročnú festivalovú tému nebáť sa nerásť a poskytne knižným profesionálom a profesionálkam priestor diskutovať o udržateľnosti knižného priemyslu v súčasných podmienkach. Cez víkend v programe festivalu vystúpi viac než 30 spisovateľov a spisovateliek a návštevníci budú môcť počas predajnej výstavy stretnúť aj 50 slovenských a zahraničných vydavateľstiev.
Filipenko predstaví príbeh o chlapcovi a krajine, kde sa nič nemení
Do Bratislavy zavíta aj spisovateľ, novinár a moderátor Saša Filipenko. Svetlana Alexijevič o ňom tvrdí, že je jedným z tých mladých autorov, ktorí sa okamžite stali váženými spisovateľmi. V roku 2021 ho PEN International vyhlásil za obeť cenzúry. Jeho kniha Bývalý syn (E.J. Publishing, 2022) bola v Bielorusku zakázaná a jej uvedenie sa preto konalo v Kyjeve. Šestnásťročný chlapec upadne do kómy a preberá sa po desiatich rokoch. Ocitne sa však v krajine, v ktorej sa za desať rokov nezmenilo absolútne nič. Vládne jej ten istý človek, mladí ju húfne opúšťajú a každý protest je potlačený…
Portugalský román roka
Hneď na začiatku románu Tučná (Portugalský inštitút, 2022) nájdeme upozornenie, že je to čistá fikcia a číra realita spisovateľky Isabely Figueiredo. Svoje dielo označila ako autofikciu, hoci v ňom nájdeme viacero podobností medzi ňou a hlavnou postavou. Obe sú dcéry navrátilcov z Mozambiku, bojovali s nadváhou a predsudkami, lebo vždy a všade sa nájde niekto, kto z tej či onej stránky nezodpovedá spoločenským normám. Portugalský denník Público vyhlásil tento román za knihu roka 2016. "Všade sa nájde mnoho ľudí, ktorí neakceptujú odlišnosť, nech už je akákoľvek. Podľa názvu románu Tučná by sa dalo usudzovať, že sa dielo týka najmä nadváhy, no osud hrdinky je poznačený aj faktom, že je dcérou navrátilcov z Mozambiku a hľadá si miesto v novej krajine" Zuzana Chudíková, riaditeľka Portugalského inštitútu.
Ilustrovaný sprievodca rozkošou
Klub rozkoše (82 Bøok & Design Shõp, 2021) je inkluzívna kniha o sexe pre 21. storočie, ktorú vytvorila francúzska ilustrátorka Jüne Pla. V jednom momente totiž zistila, že ju už nebaví stále tá istá rutina a že potrebuje otvoriť tému sexuality, rozkoše a dosahovania orgazmov. O dva roky neskôr vydala rovnomennú knihu Klub rozkoše: Tipy a triky pre kvalitný sexuálny život, ktorá sa stala vo Francúzsku bestsellerom. "Jüne Plã spôsobila vo svojom rodnom Francúzsku doslova revolúciu a reakcie slovenského čitateľstva sú pre mňa signálom, že to nebude inak ani u nás. Som preto veľmi rád, že sa s Jüne budeme môcť porozprávať v sobotu večer naživo a že nám pár knižiek po jej vystúpení aj podpíše" Adam Berka, vydavateľ.
Tvár #MeToo v Japonsku
Vo vydavateľstve KPTL vyšla tento rok kniha Čierna skrinka, ktorá je osobnou výpoveďou japonskej novinárky Šiori Itó. Tá si dovolila spraviť niečo, čo ženy v japonskej spoločnosti nerobia: verejne prehovorila o tom, ako bola v roku 2015 znásilnená prominentným japonským novinárom Norijukim Jamagučim. Bezprecedentné odhodlanie autorky búrať tabu o sexuálnom násilí páchanom na ženách v japonskej spoločnosti vzbudilo široký záujem svetových médií. Šiori Itó je japonská novinára, spisovateľka a dokumentaristka. Vo svojej tvorbe sa venuje predovšetkým otázkam rodovej rovnosti a ľudských práv. Jej film Osamelá smrť bol ocenený na filmovom festivale v New Yorku v roku 2018. Za príspevok k japonskému hnutiu #MeToo ju časopis Time v roku 2020 zaradil medzi 100 najvplyvnejších ľudí na svete.
Čerstvý držiteľ ceny Magnesia Litera Pavel Kusák, výnimočný český publicista, vo svojej novinke Uvnitř banánu píše, že príručky sa väčšinou sústredia na informácie, túto však zaujíma rozprávanie príbehov. Čo majú spoločné? Hudobníkov, ktorí neprežívali úspech v klasickom ponímaní a celkovo nezapadajú do veku popularity. U outsiderov však aj tak niekde zboku rastie ich príbeh ako nenahraditeľná správa. Všetkými šesťdesiatimi heslami potom nenápadne prechádza téma hodnôt, ktoré dokáže vyjadriť len hudba.
Ivan Štrpka o komplikovanej podobe sveta
Už vyše tridsať rokov predstavuje edícia Mušľa čitateľom a čitateľkám to najlepšie z domácej poézie. V poslednom období v nej vyšli tri očakávané novinky. Ivan Štrpka, jeden z našich najvýznamnejších básnikov, v zbierke Hermovská chôdza reflektuje aj pohlcuje nejednoznačnú, komplikovanú podobu sveta.
Fokus na Ukrajinu
Festival tento rok ponúkne predajný priestor ukrajinskému vydavateľstvu Vydavnictvo, ktorého majiteľka Liliya Omelyanenko utiekla pred vojnou do Bratislavy a v programe porozpráva o vydávaní kníh počas vojny. Aspekt vojny na Ukrajine sa dotkne aj detského programu. Prostredníctvom workshopu sa deťom predstaví kniha Vojna, ktorá zmenila Rondo ukrajinských ilustrátorov Romany Romanyšyn a Andrija Lesiva, ktorí sa po udalostiach na Majdane a anexii Krymu v roku 2014 rozhodli spracovať svoje emócie do autorskej knihy a pomôcť tak rodičom hovoriť s deťmi o tejto téme. Kniha sa stala obľúbenou nielen pre školy a rodiny zasiahnuté vojnou v roku 2014, ale po celom svete, o čom svedčí jedno z najvýznamnejších ocenení pre tvorcov detských kníh na knižnom veľtrhu v Bologni – Bologna Ragazzi Award 2015. Na workshop nadviažu aj ďalší dvaja ukrajinskí ilustrátori Kateryna Omelianenko a Mumrik Nege, s ktorými si deti rôzneho veku budú môcť vytvoriť ilustrácie z ich obľúbených rozprávok. Program bude tlmočený z ukrajinčiny.
Celý festivalový program nájdete na www.brakfestival.sk
Vstupné v hodnote 5 € platí na celý festival.
PRIATELIA Z UKRAJINY A DETI DO 12 ROKOV MAJÚ VSTUP ZADARMO
Víkendová predajná výstava kníh sa uskutoční v sobotu 14. 5. od 10.00 do 19.00 a v nedeľu 15. 5. od 10.00 do 17.00.
BRaK Bratislavský knižný festival 2022
Dátum: 11. – 15. máj 2022
Miesto konania: Nová Cvernovka, Račianska 78, Bratislava
Web: https://www.brakfestival.sk
Facebook: https://www.facebook.com/brakfestival
FB event: BRaK 2022
Festival z verejných zdrojov podporil Fond na podporu umenia – hlavný partner festivalu.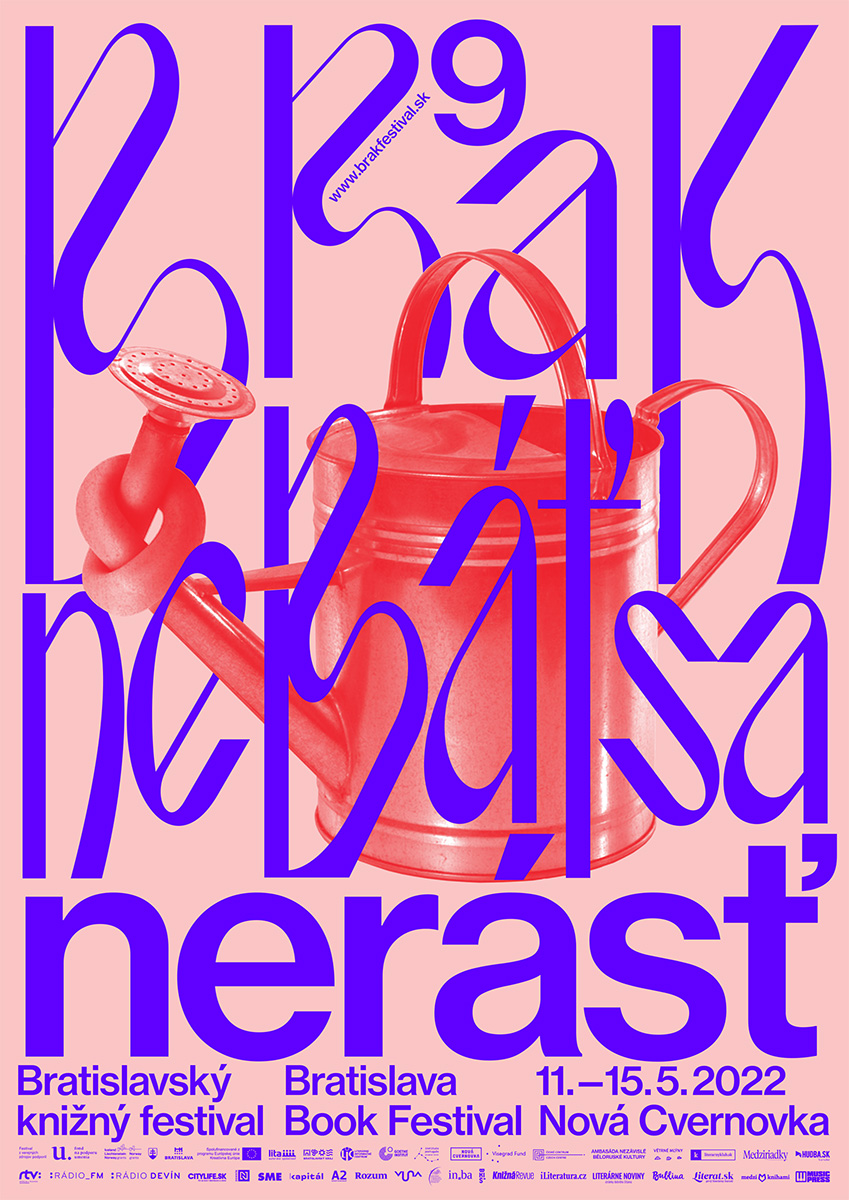 Zdroj: TS