Do Banskej Štiavnice a na Slovensko zavíta po prvý raz islandská speváčka, skladateľka a multiinštrumentalistka Jófríður Ákadóttir so svojím hudobným projektom JFDR. Charizmatická rodáčka z Reykjavíku je na scéne už od štrnástich rokov a je inšpiráciou aj pre svetoznámu Björk. Minulé leto hrala na rovnakom mieste dark-popová princezná Islandu Sóley, nezameniteľná atmosféra, typická pre súčasnú islandskú hudobnú scénu, sa po roku opäť obnoví. Koncert sa uskutoční v Art Cafe v Banskej Štiavnici, kde JFDR vystúpi v sobotu 27. mája 2023 o 20.00 hod.
"Vďaka podpore Grantov EHP sme mali možnosť dať priestor ženskej umeleckej výmene medzi Slovenskom a Islandom, a to dvom umelkyniam zo Slovenska, tanečnici Soni Ferienčíkovej, skladateľke a hudobníčke Kataríne Málikovej, a dvom Islandským hudobníčkam, Sóley a Jófríður Ákadóttir. Spolupráca s Islandským partnerom v júli tohto roku skončí, ale my sme vďaka nej mali možnosť robiť aj také umelecké aktivity o akých sa nám predtým, ako malému kultúrnemu centru, ani nesnívalo," povedala organizátorka koncertu Zuzana Bargerová z Art Cafe.
Jófríður Ákadóttir začala kariéru hudobníčky ako 14-ročná, v hlavnom meste Islandu, Reykjavíku, objavovaním obrovského vesmíru experimentálnej hudby. Za posledných dvanásť rokov Ákadóttir vydala dvanásť nahrávok a spolupracovala s renomovanými umelcami Ólafurom Arnaldsom a Damienom Riceom. Pracovala tiež na oceňovanom islandskom filme Backyard Village a získala si fanúšikov po celom svete – vrátane Björk, ktorá Ákadóttir nazýva svojou inšpiráciou.
Po albume Brazília z roku 2017 a jej prvej nahrávke vydanej pod pseudonymom JFDR, sa Ákadóttir vrátila v roku 2020 na scénu s albumom New Dreams, ktorý je "trošku strašidelný, a jeho elektro-popová hudba je zároveň veľmi jemná a intímna" (NPR Music). Minulý rok JFDR predstavila nový singel/video s názvom The Orchid. Tento rok už ohlásila vydanie novej piesne Spectator z pripravovaného albumu Museum.
"Spectator je hymnou pre spolu-závislých, uspávankou pre mierne spolu-závislých a aj
pre tých, ktorí takúto skúsenosť ešte nemajú; zrkadlo surového myšlienkového procesu niekoho, kto sa dotkol dna," hovorí JFDR. "Videoklip Spectator vznikol v spolupráci s dobrým priateľom Timotheom Lambrecqom a s neprehliadnuteľnou podporou manžela Josha Wilkinsona a starého kolegu z kapely Áslauga Magnúsdóttir. Mraky predstavujú myšlienky a pohltenie veľkým mrakom symbolizuje myšlienky, ktoré vás môžu ovládnuť, keď stratíte pevnú pôdu pod nohami. Chcela som tiež poukázať na album a jeho obal, ktorý sa sústreďuje okolo sochy, predstavujúcej energiu zamrznutú v čase. Úprimne dúfam, že vďaka tejto piesni sa niekto bude cítiť viac videný," uzavrela islandská umelkyňa.
predaj vstupeniek: https://tootoot.fm/sk/events/6409a1b7e7ff3011385c1589
Podujatie je financované z projektu "Slovensko-islandskej spolupráce pri rozvoji malých a kultúrnych centier – SLICE" podporeného v rámci Grantov EHP a Nórska 2014 – 2021 a štátneho rozpočtu Slovenskej republiky. V roku 2020 grant získali OZ Povala (Art Cafe) a islandská organizácia Rockall. Celoročný projekt sa zameriava jednak na kultúrnu výmenu s Islandom, ale prinesie okrem dvoch festivalov niekoľko výrazných podujatí venovaných mladým ľuďom, seniorom či ľuďom žijúcim vo vylúčených komunitách.
Podujatie: 44https://artcafe.sk/jfdr-island-v-art-cafe-27-5-2023-o-20h00/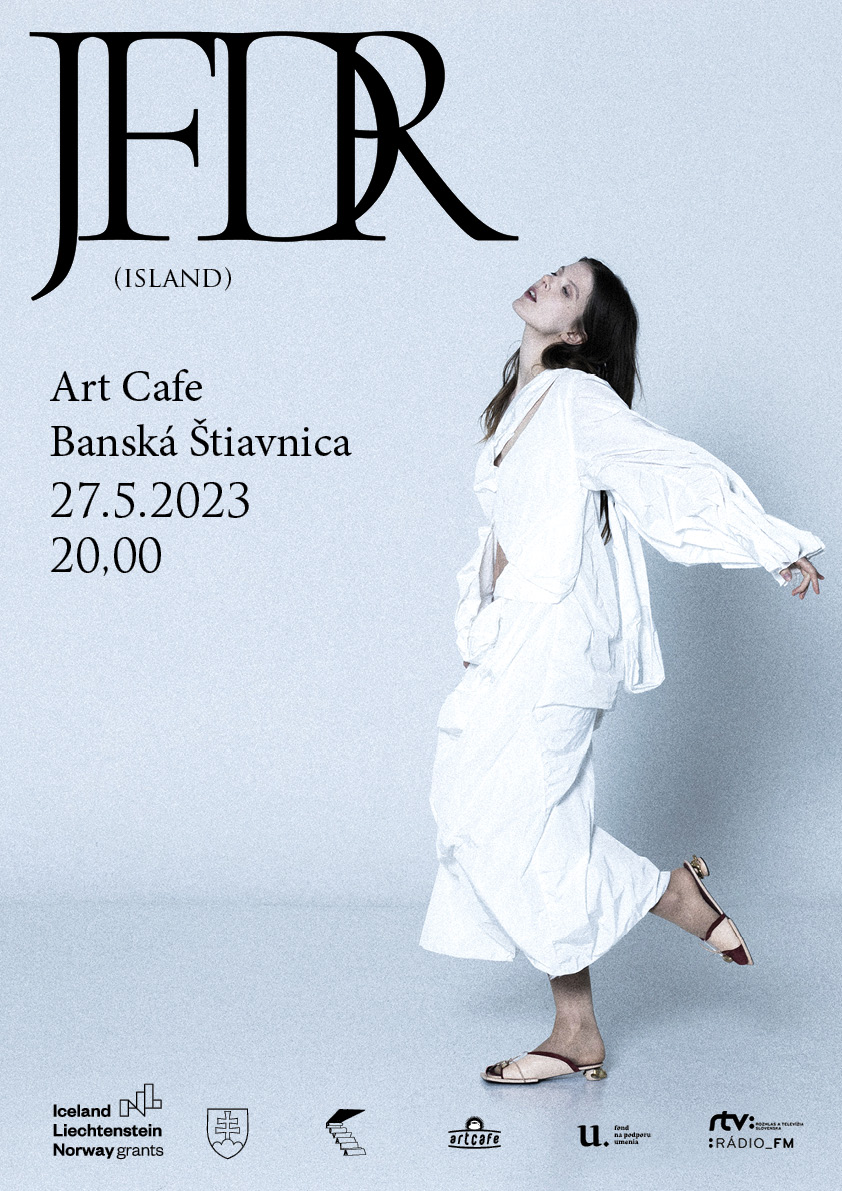 Zdroj: TS