Portlandská elektro-dance-rocková čtveřice STRFKR (což je taková zkratka pro Starfucker) se vrací do Česka! Poprvé v Praze oficiálně a pro veřejnost vystoupili před deseti lety v MeetFactory, letos mají fanoušci šanci užít si kapelu 7. prosince v pražském Lucerna Music Baru. Za těch deset let tvorba STRFKR nezestárla ani o den, naopak, udržuje si mladistvý a hravý náboj a není pochyb o tom, že i tahle show bude příležitostí pro upuštění páry. A kdo by přesně tohle před Vánoci nepotřeboval. Vstupenky za 390 Kč + poplatky pořídíte od pátku 29. září na musicbar.cz a goout.cz. Cena na místě 490 Kč.
STRFKR se začali formovat už v roce 2007, původně mělo jít o sólový projekt zakladatele Joshui Hodgese. Nějak se to ale semlelo, k Joshuovi se přidali další hudebníci a vznikl projekt STRFKR. O šestnáct let později jim to stále skvěle hraje a vypracovali se mezi špičku elektro-dance-rockové scény. Nebo indie-pop-rockové alternativní scény, chcete-li. A taky nezapomeňme, že skvěle pracují i s neo-psychedelií.
Zajímavou hudební fúzi doplňují STRFKR o komplexní texty, se kterými si umí vyhrát. Textové nároky na party muziku, do které STRFKR rozhodně můžeme zařadit, nejsou zpravidla nijak vysoké a o to příjemnější je, že se při poslechu jejich tracků můžete nejen houpat v bocích, ale věnovat se i svým myšlenkám a klidně i emocím. Prostě můžete souběžně prožít party i vnitřní prozření. A jak kapela sama říká, obě složky – taneční i spirituální, jsou v jejich tvorbě zcela zásadní a určující.
STRFKR mají na kontě celkem šest studiových alb, jsou známí svými až magickými živými vystoupeními, mají za sebou velké hity, jejich nejznámější skladba Rawnald Gregory Erickson the Second překonala na Spotify hranici 100 milionů přehrání, mají zajímavé a zábavné videoklipy, nebojí se humoru ani vážnějších témat – je to prostě kapela, která má co nabídnout. Přijďte se přesvědčit.
Lucerna Music Bar & D Smack U Promotion present
STRFKR / US
7. 12. 2023, doors 20:00
Lucerna Music Bar, Praha
www.musicbar.cz
Facebook událost: https://www.facebook.com/events/1491973658259306/
Ticket link: https://musicbar.cz/program/strfkr-us/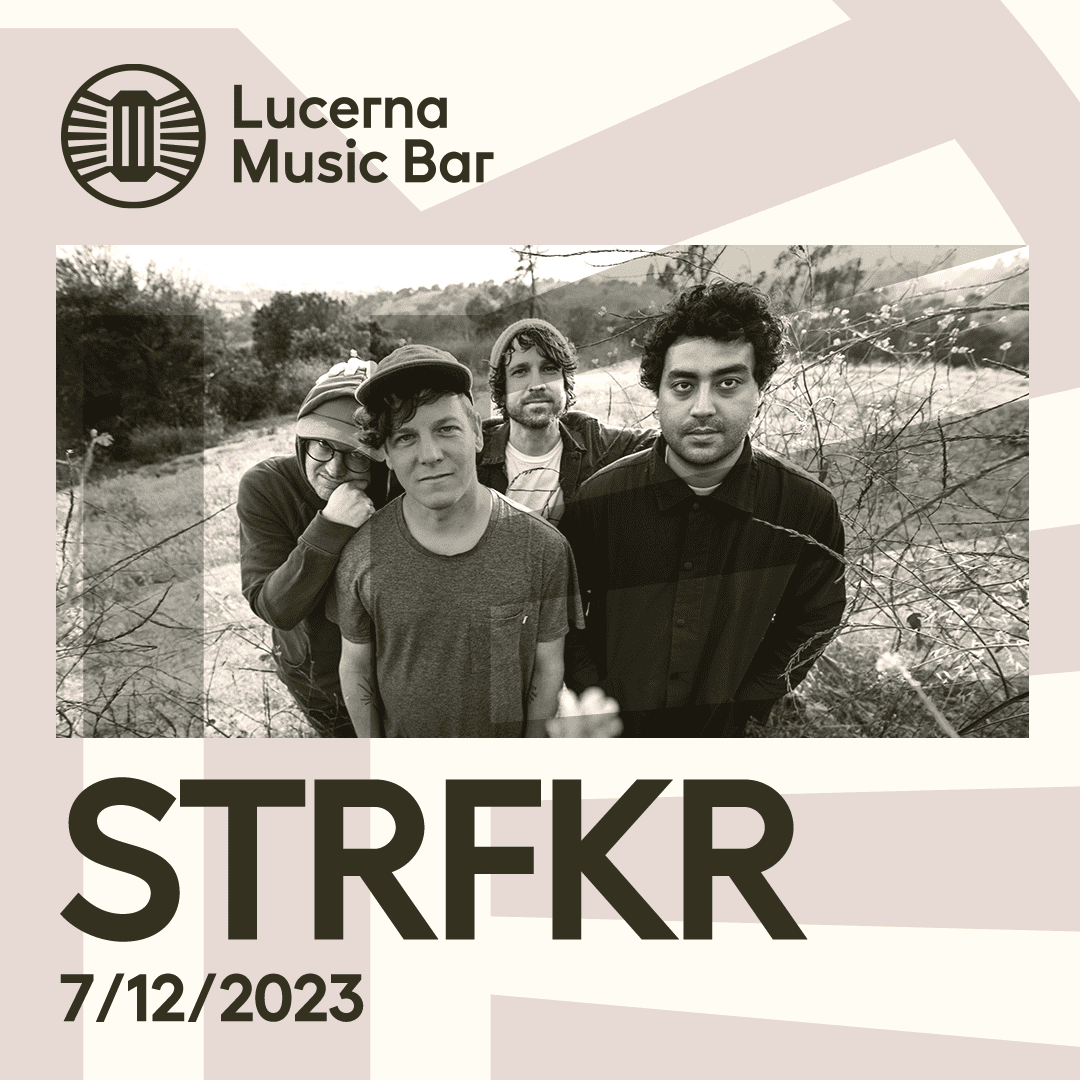 Zdroj: TS