Mladý slovenský jazz dostal opäť príležitosť zažiariť. Tentokrát v podobe debutového albumu jazzového gitaristu Petra Palaja, ktorý vychádza vo vydavateľstve Hudobný fond. Nahrávka News For Peter predstavuje etablovaných hudobníkov mladej jazzovej scény, prezentujúcich štýly ako bebop či moderný jazz.
Talentovaný gitarista Peter Palaj, pochádzajúci zo Zvolena, na seba prvýkrát upozorňuje už ako 14-ročný, kedy sa stáva objavom roka na súťaži Nové tváre slovenského jazzu. V tom istom roku sa zúčastňuje aj medzinárodnej jazzovej súťaže v poľskom Tarnowe, odkiaľ si spolu s kapelou Martin Uherek Quartet odnáša 2. miesto. S chuťou hrať a tvoriť pokračuje na Janáčkovej akadémií múzických umení v Brne pod vedením Davida Dorůžku a Viléma Spilku. Svoje hudobné znalosti si neskôr rozširuje aj štúdiom kompozície na Hudobnej akadémií Jána Albrechta v Banskej Štiavnici. Mladý jazzman, ktorý má na konte množstvo úspešných koncertov, sa medzičasom vyprofiloval na hudobníka s vlastným štýlom, typickým svojou originálnou improvizáciou. A práve improvizácia je hlavným spájacím prvkom skladieb albumu News For Peter.
Nahrávka ponúka poslucháčovi sedem kompozícií, ktoré odhaľujú vnútorný svet autora a poukazujú na to, čím si vo svojom živote prešiel. CD zachytáva pestré nálady a hudobné motívy, obohatené o nápadité a moderné improvizácie mladého gitaristu. Najväčší vplyv na jeho hru majú hudobníci 40., 50. a 60. rokov minulého storočia, čo sa premieta aj na samotnom albume. "Napriek tomu, že skladby vychádzajú z jazzovej tradície, nechcel som, aby to bola hudba minulosti, ale aby to bola hudba, ktorá je teraz – hudba prítomnosti," uviedol Palaj. Na vzniku CD sa podieľali Palajovi dlhoroční priatelia a etablovaní hudobníci – klavirista Ľudovít Kotlár, kontrabasista Róbert Ragan Jr. a bicista Kristián Kuruc. K nahrávaniu do štúdia Divadla na Orlí bol prizvaný aj špeciálny hosť – tenorsaxofonista Martin Uherek, ktorého môžeme počuť v štyroch skladbách. Novovzniknutý kvintet tak skladbou Beyond the Clouds CD nielen otvára, ale prostredníctvom skladby Don´t Sleep aj uzatvára. Zoskupeniu muzikantov sa podarilo uviesť do života sedem kompozícií, z ktorých šesť pochádza z pera samotného gitaristu. Palaj sa tak verejnosti neprezentuje len ako jazzový hudobník, ale aj ako autor. "Najstaršou skladbou albumu je Plán B, ktorá vznikla v časoch štúdia na JAMU, kde som začal aj komponovať. V tom čase vznikli prakticky všetky skladby až na Harsh Bossa, ktorá bola napísaná počas štúdií v Banskej Štiavnici a bola venovaná môjmu učiteľovi Viktorovi Hársovi. Jediná Don´t Follow The Crowd patrí medzi jazzový štandard z dielne Billa Leeho," vysvetlil Palaj.
Album News For Peter vychádza ako novinka zo série každoročne vydávaných jazzových albumov vydavateľstva Hudobný fond. Slovami Petra Palaja: "Nahrávka podáva pozitívne správy všetkým poslucháčom, ktorí majú radi jazz a dobrú hudbu."
Videovizitka Peter Palaj – News For Peter:
https://www.youtube.com/watch?v=5gRzooTZCOw&feature=youtu.be
Ďalšie informácie o CD Peter Palaj – News For Peter:
https://www.musicaslovaca.sk/index.php?route=product/product&product_id=2943&search=palaj
FB profil Hudobného fondu
https://www.facebook.com/hudobnyfond.sk?fref=ts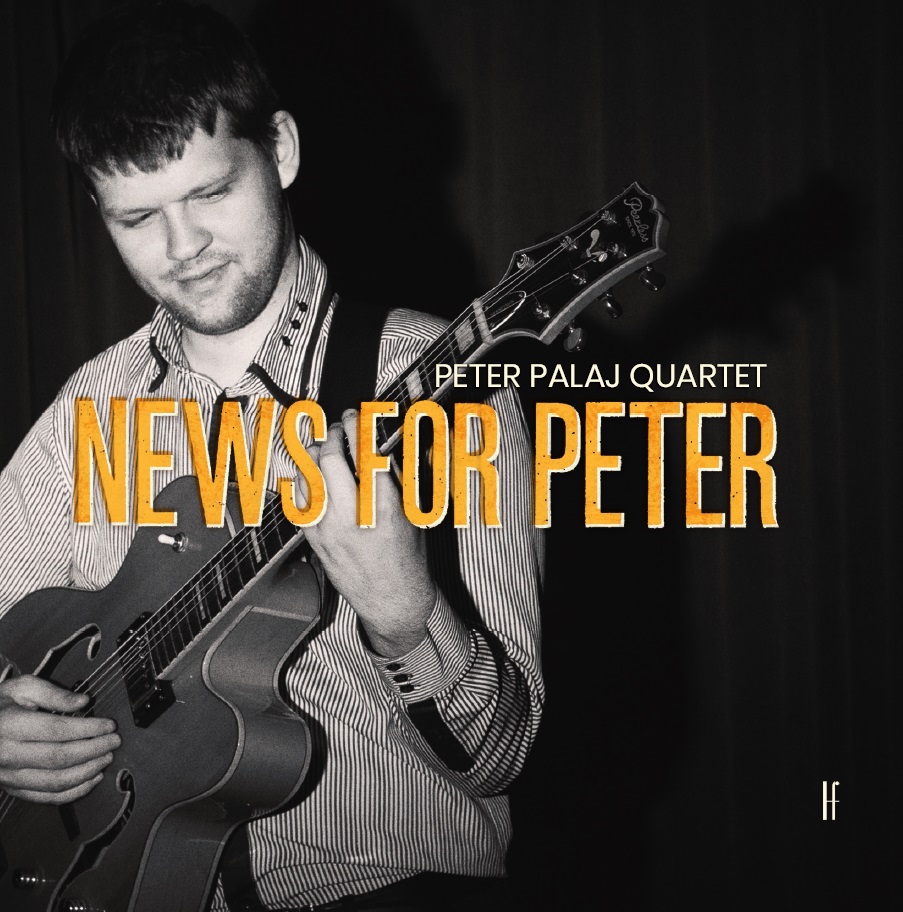 Zdroj: Hudobný fond