MAYHEM, norská legenda, která stála u zrodu black metalu, jak ho známe dnes, se po třech letech vrací do ČR a na Slovensko. Přijíždí na druhou část velmi úspěšného turné k poslednímu albu "Daemon" pojmenovaného jako Northern Ritual MMXX ve společnosti speciálního hosta, původního basáka a textaře Emperor MORTIISe, které v Brně posílí ještě Ostraváci INFERNO.
MAYHEM jsou nejen zakladatelé norské blackmetalové scény, ale zároveň jedna z nejvlivnějších kapel, která ovlivnila a stále ovlivňuje pelotony dalších umělců a zavdala vzniku i několika kapel s dnes už legendárním statusem.
Uznávaní Norové se se svou nekompromisní hudbou objevili už v první polovině 80. let, kdy děsili svými krvavými vystoupeními, okultní stylizací (zpěvák Dead noc před koncertem zahrabával své oblečení do země a na pódiu se rozsáhle řezal) a corpsepainty, jež jsou dnes již neodmyslitelnou součástí černého žánru.
Černá je však i jejich kontroverzní historie spojená se sérií vypalování norských kostelů, sebevraždou zpěváka Deada a vraždou kytaristy Euronymouse bývalým členem Vargem Vikernesem (Burzum). Ani tyto temné události, které filmaře inspirovaly k natočení filmu Lords of Chaos (Čsfd), kde sedmnáctiletý Euronymous s partičkou fanatických mladíků založí nejděsivější kapelu na světě, však MAYHEM nezastavily.
Stylotvůrní blackmetalisté si totiž za posledních 20 let hudebně prošli lecčíms. Jejich vývoj zaznamenal progresivnější a avantgardně experimentální polohy ("Grand Declaration of War"), zahrabal je hluboko do záhrobí ("Ordo Ad Chao"), ale navrátil je i k mrazivému black metalu ("Chimera").
Z něj MAYHEM čerpali i v roce 2019, kdy vyšla šestá deska "Daemon". Ta jde hudebně lehce proti proudu času a nejen atmosférou navazuje na nechvalně proslulý debut "De Mysteriis Dom Sathanas" z roku 1994, který je totální klasika žánru, neb ve spojitosti s úmrtím Deada a pak i Euronymouse vznikal dlouhých sedm let.
Jak bylo zmíněno, doprovodem Mayhem bude MORTIIS. Poté, co ho omrzel black metal a koncem r. 1992 opustil Emperor, založil svůj sólový projekt a ve třech odlišných érách se vydal zkoumat jinou část temnoty.
(Klávesový dungeon) Ambient tvořil na všech albech z 90. let, pak hloubal v darkwave/synthpopu na albu "The Smell of Rain" a od alba "The Grudge" zakotvil v industriálním rocku. Nakonec se ale opět vrátil ke své temné, ambientní darkwave poloze (dnes označované jako dungeon synth) – v roce 2020 vydaná deska "Spirit of Rebellion".
Speciálním hostem brněnského koncertu budou obskurní blackmetalisté INFERNO, kteří s Mayhem už jedno turné odjeli a které si norský kult opět vyžádal. Ostravská kapela svou loňskou desku "Paradeigma" vydala u uznávaných Debemur Morti Prod. a pro její surrealistický zvuk inspirovaný gotikou a post-punkem 70.-80. let bodovala po celém světě.
MAYHEM, MORTIIS, INFERNO
27. 4. 2022 – Brno, Fléda
FB event: https://facebook.com/events/922013045322727
e-TICKET: https://obscure.cz/cs/tickets/detail/id/432
Vstupenky dále v síti GoOut a Ticketmaster.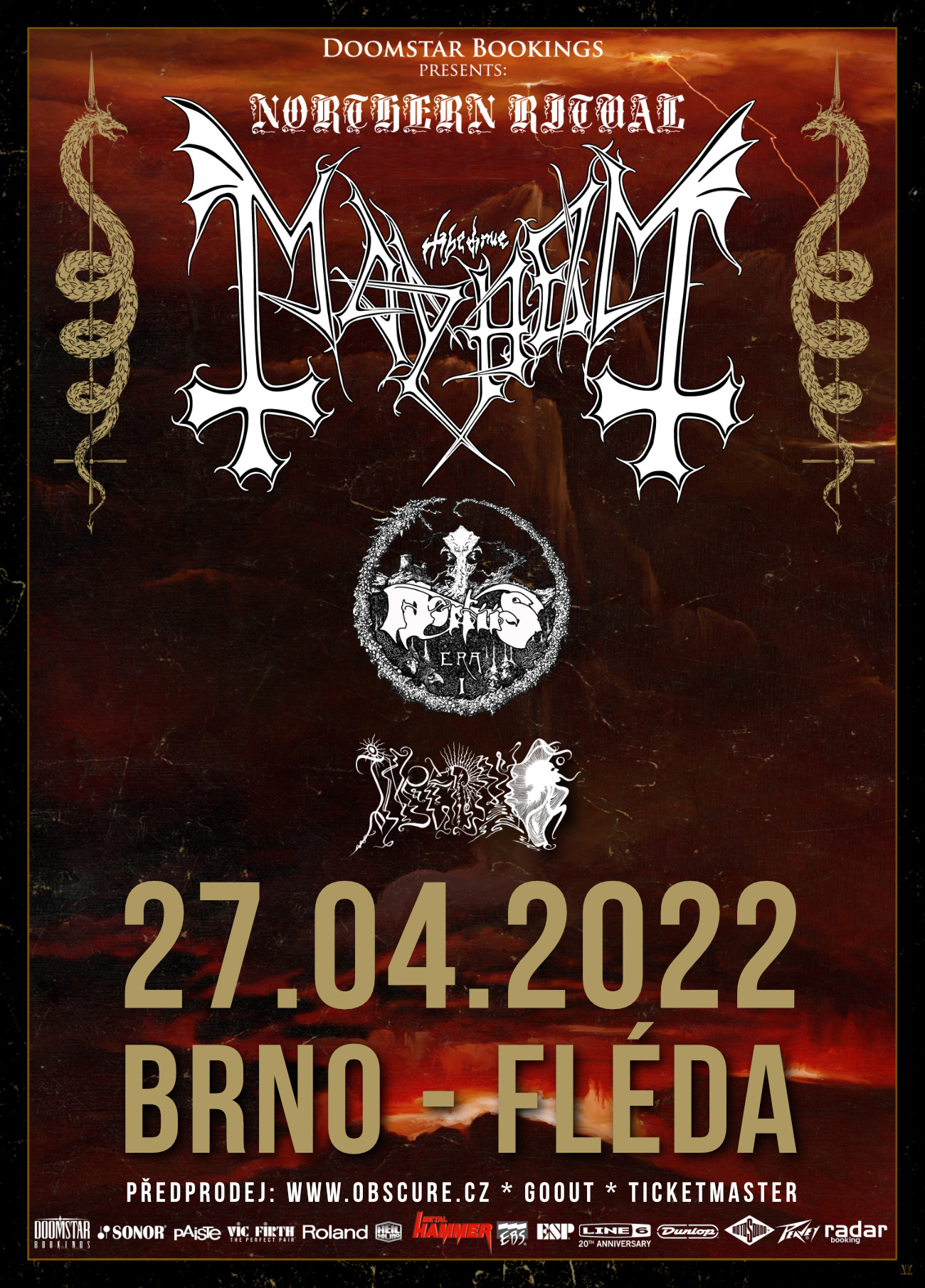 MAYHEM, MORTIIS
28. 4. 2021 – Košice, Collosseum
FB event: https://facebook.com/events/799592867404372
e-TICKET: https://obscure.cz/cs/tickets/detail/id/353
Vstupenky dále v síti Ticketportal.sk a na baru v klubu Collosseum.
Již dříve zakoupené vstupenky zůstávají v platnosti.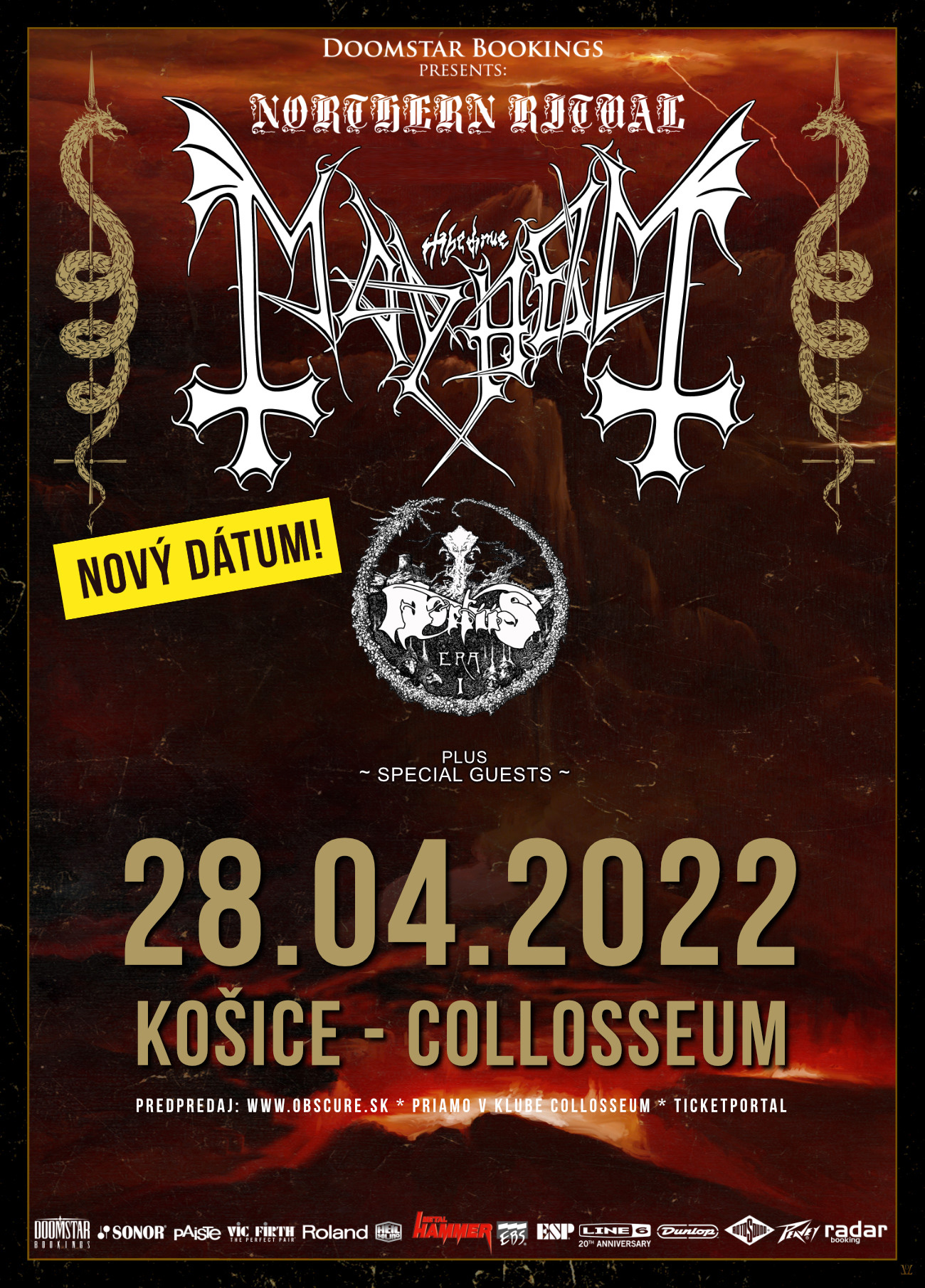 Zdroj: Obscure Promotion