Osmnáctý ročník mezinárodního festivalu Colour Meeting zve ve dnech 23. – 24. července na hudební a divadelní vystoupení, workshopy, domácí kuchyni a unikátní atmosféru parku pod poličskými hradbami.
Hvězdami letošního ročníku jsou výrazné ženské osobnosti evropské world music a české alternativní scény. Portugalská zpěvačka Lina Rodrigues, spolu s katalánským elektro producentem Raülem Refree (Lee Ranaldo, Rosalía aj.), svým projektem a albem Lina_Raül Refree, přesadili tradiční portugalské fado do 21. století. Izraelská elektro-popová diva Liraz je známá nejen ze seriálu Teherán, snímků Na konci světa doleva nebo Lovná zvěř, ale také díky své undergoundové spolupráci s iránskými hudebníky. Brìghde Chaimbeul, vysoce respektovaná hráčka na tradiční hebridské dudy smallpipes, přijede v doprovodu cenami ověnčeného skotského houslisty Aidana O'Rourke. Iva Bittovápředstaví svou alternativně-rockovou polohu spolu s legendárním uskupením Dunaj. Vystoupí také Monika Načeva s aktuálním projektem Zdivočelí koně, ve kterém zhudebnila básně umělců pronásledovaných minulým režimem.
Exotická směs žánrů a tanečně-hypnotické koncerty, to jsou Cacao Mental, psychedelické elektro-cumbia trio, dělící svůj původ mezi Itálii a Peru. Decolonize Your Mind Society je maskovaná šestice z Budapešti, Inspirující se v tradiční mimoevropské hudbe i psychedelií, mimořádný zvuk určuje také využití netradičního ladění. Dvě přítelkyně s odlišnými hudebními kořeny a jeden nástroj, estonská citera, na kterou hrají společně – Duo Ruut vychází z estonského folklóru, zpracovávají ho však v nových souvislostech.
Z české a slovenské scény se dále můžete těšit na splynutí folklóru Horňácké muziky Petra Mičky a nu-jazzu Lesní zvěře v projektu Hrubá Hudba. Drsné příběhy psanců ze západočeského pohraničí odvypráví Povodí Ohře, hudebními recenzenty oceňovaný slovenský rapper Fvck_Kvlt dorazí i se speciálním hostem v osobě současné královny experimentálního rapu, Arletou. S tou spolupracuje i hudebník a producent Lotus Wash aka David Herzig (Bert and friends, Never Sol), který přiveze své první album Field Theory. S aktuální deskou Květy Květy se po patnácti letech na Colour Meeting vrací Květy. Špinavý house s osmdesátkovým feelem, fluorescentní techno nebo temné bublavé beaty, HRTL vždy překvapí novinkami. Písničky pro trampy, freak country nebo autonomní art folk, to je městské country v podání pražských Dingo, s experimentálním popem s prvky screamu, ambientu i techna vystoupí polsko-čínská skladatelka, hudebnice a producentka Ai Fen.
Autorské klavírní skladby s nádechem folku a šansonu a vynikající album Až se řeky vylijí z břehů představí Alen. Děti a dospělí se mohou těšit na divadelní představení v provedení divadel Holektiv, Damúza a Divadlo Víti Marčíka. Vstupenky na festival Colour Meeting jsou k dostání v prodejní síti GoOut.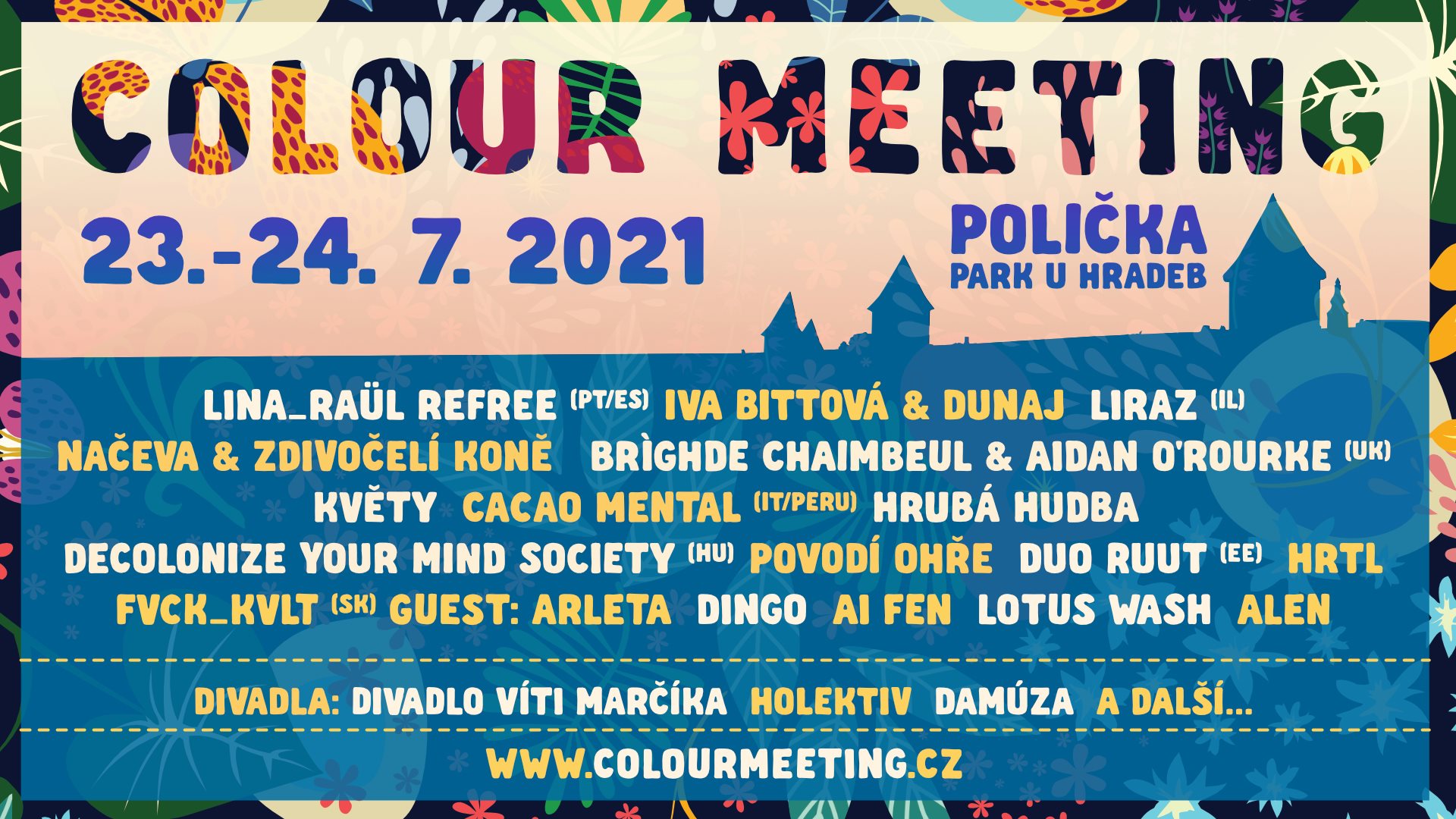 Zdroj: TS