Povedzme si úprimne, čo môže byť zaujímavejšie ako kombinácia dlhoročných skúseností a mladá kreatívna myseľ? Spojenie týchto dvoch vlastností vytvorilo niečo, čo tu ešte nebolo. Párty, ktorá nebude len taká bežná ako si ju môžete predstaviť.
Vizuálna atmosféra o ktorú sa postará produkcia Watch Them, ktorá sa taktiež venuje live streamu a video produkcii, bude naozaj jedinečnou a zmení všedný, opozeraný klub na nepoznanie. Členovia Eat My Techno zavolali na túto akciu okrem dlhoročne známych domácich mien aj dve zahraničné.
Tým prvým spomínaným je portugalský DJ a producent A. Paul. Jeho 30 ročné pôsobenie na scéne mu zaručilo popredné miesta vo svetových rebríčkoch. Popýšiť sa môže taktiež vlastným vydavateľstvom "Naked Lunch Records", ktoré produkuje tracky nie jednému zvučnému menu. Medzi kluby, ktoré pravidelne osviežuje svojím setom patrí napríklad Tresor alebo Fabrik.
Ako druhý nemôže chýbať mladý nemec Matt Mus, ktorý okrem toho, že je DJ a producent dizajnuje vlastnú značku MTMS. Svojou dravosťou sa za pár rokov vypracoval na uznávaného DJa. Dobrou školou mu boli jeho nemecký kolegovia a kluby kde sa naučil vlastnému štýlu, ktorý vnáša do svojich trackov. Počuť a vidieť ste ho mohli napríklad na festivale B4L alebo akcii bratislavského Techno Gangu.
Zaujímavú akciu, ktorá nás čaká už 18. mája v Bratislavskom MMC rozdunia sety aj od bratislavských DJov ako je napríklad jedno z najväčších domácich mien a to starý známy Loktibrada, ktorý nás svojou produkciou reprezentuje po celom svete. Pravidelne sa objavuje na pódiách klubov Tresor či Berghain Berlin a iných. Tento večer taktiež na pódiu privítame Pedestrians či Pace to P.M. Trojicu našincov doplní duo Gala vs Daily, ktorí párty v plnom prúde potiahnu až do samotného konca. Nenechajme si túto novovzniknutú kombináciu nápadov ujsť a spoločne si ju užime na plno. Vidíme sa!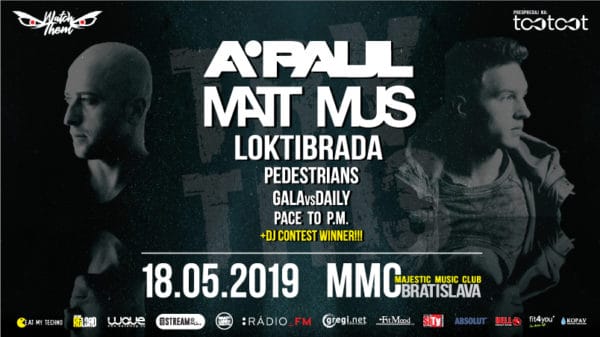 Zdroj: TS