Medzinárodné podujatie pre deti vo veku od 12-14 rokov Cena mladého publika (Young Audience Award), ktoré je organizované v spolupráci s Európskou filmovou akadémiou sa už po 8. krát vracia aj na Slovensko a to 25. apríla. Cena mladého publika sa z dôvodu pandémie Covid-19 už po druhý raz musí konať online, no prvýkrát naozaj prekročí hranice Bratislavy a zúčastniť sa jej môžu deti z celého Slovenska.
25. apríla tak budú mať účastníci od 12-14 rokov jedinečnú šancu stať sa na jeden deň porotcom Európskej filmovej akadémie, hodnotiť tri vybrané filmy a vybrať ten najlepší. Môžu zažiť jedinečnú atmosféru a rozhodnúť o najlepšom filme spolu s porotcami z ďalších 38 krajín v ten istý čas. Vo všetkých týchto krajinách Cena mladého publika ponúka mladým účastníkom príležitosť objavovať vysoko kvalitné európske filmy. Okrem samotného pozerania a hodnotenia budú účastníci o filmoch diskutovať. Moderátorka jednotlivých online diskusií bude Martina Mlichová, ktorá má v rámci Asociácie filmových klubov (ASFK) na starosti iniciatívu Filmový kabinet deťom a na Cene mladého publika bude spolupracovať už tretí rok. Tá sprostredkuje deťom formou dialógu informácie nielen ako film vzniká, ale aj ako sa na film dívať.
Súčasná situácia spojená s pandémiou Covid-19 zasiahla aj Cenu mladého publika, ktorá už minulý rok musela byť organizovaná online. "Tentokrát ale nestrácame čas a rozhodli sme sa isté "nevýhody" online priestoru využiť v náš prospech. A tak Cena mladého publika v rámci Slovenska prvýkrát prekročí hranice Bratislavy a zúčastniť sa jej môžu deti vo veku 12-14 rokov z celého Slovenska aj vďaka našim partnerským inštitúciám a kinám," hovoria organizátori z občianskeho združenia Boiler, ktoré okrem iných aktivít stojí aj za medzinárodným podujatím Visegrad Film Forum.
Medzi tri vybrané filmy na tento rok sa dostali oscarový nominat v kategórii najlepší animovaný film – WOLFWALKERS režisérov Tomma Moora a Rossa Stewarta; PINOCCHIO v réžii Mattea Garroneho s Robertom Benigni v hlavnej úlohe a nórsky príbeh dôvery a priateľstva z obdobia 2. svetovej vojny – THE CROSSING režisérky Johanne Helgeland.
Detskí účastníci, ktorí sa chcú stať filmovými porotcami sa môžu prihlasovať do 10. apríla priamo cez webstránku podujatia www.mladyfilm.sk. Účasť na podujatí je zadarmo a jedinou podmienkou účasti je byť v čase konania vo veku od 12 do 14 rokov.
Po premietnutí všetkých filmov 25. apríla sa účastníci dostanú do unikátnej pozície porotcov a môžu online hlasovať o poradí jednotlivých filmov. Výsledky sa dozvedia počas slávnostného odovzdávania cien v Nemecku v ten istý deň podvečer, ktoré si účastníci môžu pozrieť prostredníctvom live streamingu na stránke www.yaa.europeanfilmawards.eu.
Organizátori zároveň plánujú po znovuotvorení kín priniesť filmy aj do vybraných partnerských kín, spolu aj s diskusiami. Prvýkrát tak aspoň zlomok z atmosféry Ceny mladého publika budú môcť zažiť aj rodičia spolu s deťmi. Táto iniciatíva má za cieľ oživiť opätovný záujem o kiná.
Cenu mladého publika (EFA Young Audience Award) organizuje a udeľuje Európska filmová akadémia a EFA Productions s podporou Mitteldeutsche Medienförderung (MDM). Hlavným organizátorom podujatia na Slovensku je občianske združenie Boiler, spoluorganizátorom je Asociácia slovenských filmových klubov. Projekt je finančne podporený Audiovizuálnym fondom. Partnermi podujatia na Slovensku sú Kino Lumiére Bratislava, Kino Úsmev Košice, Kino Tatran Poprad, mestské kultúrne centrum Hlohovec a Filmový klub Iskra Kežmarok.
Zúčastnené krajiny: AUSTRÁLIA, BELGICKO, BOSNA A HERCEGOVINA, BULHARSKO, CHORVÁTSKO, CYPRUS, ČESKÁ REPUBLIKA, DÁNSKO, ESTÓNSKO, FRANCÚZSKO, GRUZÍNSKO, NEMECKO, GRÉCKO, GRÓNSKO, MAĎARSKO, ISLAND, ÍRSKO, TALIANSKO, KOSOVO, LOTYŠSKO, LITVA, LUXEMBURSKO, MALTA, ČIERNA HORA, SEVERNÁ MACEDÓNIA, NÓRSKO, POĽSKO, PORTUGALSKO, RAKÚSKO, RUMUNSKO, RUSKO, SRBSKO, SLOVENSKO, SLOVINSKO, ŠPANIELSKO, ŠVAJČIARSKO, TURECKO, VEĽKÁ BRITÁNIA
Vybrané filmy:
PINOCCHIO
Réžia: Matteo Garrone
Taliansko / Francúzsko
Filmová adaptácia známeho detského románu Carla Collodiho Pinocchiove dobrodružstvá, ktorý vyšiel prvý raz v roku 1883. Matteo Garrone sa vracia späť ku koreňom tohto príbehu. V prelomovom hranom filme natočenom v úchvatných talianskych lokáciách vytvoril Garrone pestrý fantastický svet plný tajomstiev a zázrakov, radostných, vtipných i dojímavých okamihov.
THE CROSSING
Réžia: Johanne Helgeland
Nórsko
The Crossing rozpráva príbeh dobrodružného desaťročného dievčatka Gerdy a jej bračeka Otta a ich rodičov, ktorí boli súčasťou nórskeho odboja počas druhej svetovej vojny. Autorka Maja Lunde napísala aj scenár k filmu The Crossing. Film vychádza z oceňovanej knihy z roku 2012 a je vzrušujúcim, dojímavým a podnetným príbehom dôvery a priateľstva, strachu a veľkej odvahy mladých ľudí, ktorý je založený na historických udalostiach.
WOLFWALKERS
Réžia: Tomm Moore a Ross Stewart
Írsko / Luxembursko
Mladá lovkyňa vlkov sa vybrala so svojím otcom do Írska, aby zničili poslednú vlčiu svorku. Nájde si neočakávané priateľstvo s dievčaťom z lesného kmeňa o ktorom sa hovorí, že sa menia na vlkov. Oceňovaný tvorca Tomm Moore (Pieseň mora, Brendan and the Secret of Kells) prináša ďalší podmanivý animovaný príbeh. Film, okrem iných ocenení, získal nominácie na Oscara, Bafta Awards a Zlatý glóbus za najlepší animovaný film.
Prihlasovanie: http://mladyfilm.sk/prihlasovanie-2021/
O Cene: http://mladyfilm.sk/o-cene-mladeho-publika/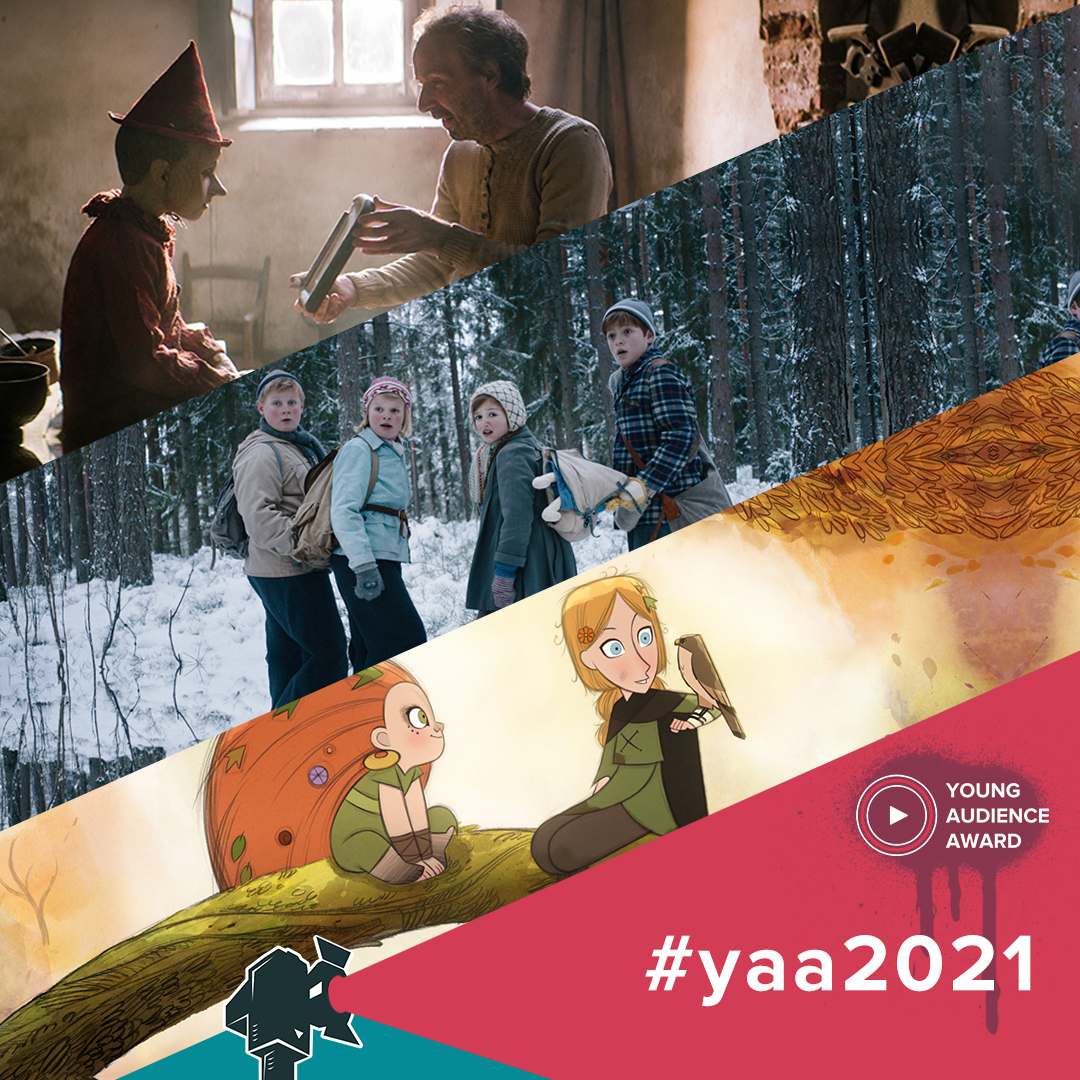 Zdroj: TS