Predstavujeme Vám SLOVAK METAL ARMY Sampler
#1.
Je to zbierka aktuálnych kapiel zo Slovenska a Českej Republiky a jediný účel, prečo tento Sampler vznikol je, aby sa ČeskoSlovenská scéna dostala do širšieho povedomia metalheads. Verím, že si to určite zaslúži. Preto prichádza z mojej strany prosba o Tvoju podporu a promotion.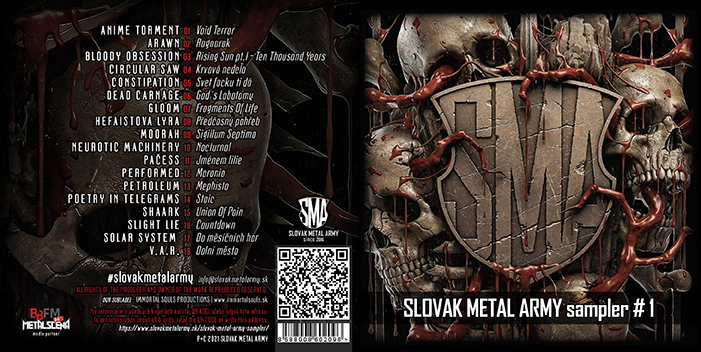 Okrem skvelých žánrovo rôznych skladieb ponúka SLOVAK METAL ARMY Sampler #1 hlavnú devízu a síce, JE ZDARMA. Vychádza v náklade 3.000 Cds a fyzické kópie budú k dispozícii u kapiel a aj u vydavateľa, odkiaľ sa dajú objednať do celého sveta ZDARMA a platí sa len za poštovné. Okrem klasického CD je SLOVAK METAL ARMY Sampler #1 prístupný na Youtube a samozrejme v obvyklej digitálnej distribúcii.
Výber kapiel som už vydal a to v roku 1997 pod značkou Immortal Souls Productions a dnes, po 24 rokoch prichádzam opäť s myšlienkou dostať fyzické nosiče k čo najviac metalheads, ktorí sa o hudbu a nové kapely zaujímajú a nezostávajú len pri kapelách z prvej ligy, pretože práve Underground ponúka nekonečnú studňu dobrých kapiel.
SLOVAK METAL ARMY Sampler #1:

Dátum vydania : 25/03/2021
Sleeve CD : 3.000 ks
Digital distribution : VŠADE
Support : dobrovoľný príspevok cez Bandcamp profil SMA : https://lnk.sk/luh3
Info o kapelách : https://lnk.sk/wcj1
Tracklist
01. ANIME TORMENT – Void Terror
02. ARAWN – Ragnarok
03. BLOODY OBSESSION – Rising Sun pt.I – Ten Thousand Year
04. CIRCULAR SAW – Krvavá nedeľa
05. CONSTIPATION – Svet facku ti dá
06. DEAD CARNAGE – God´s Lobotomy
07. GLOOM – Fragments Of Life
08. HEFAISTOVA LYRA – Předčasný pohřeb
09. MOORAH – Sigillum Septima
10. NEUROTIC MACHINERY – Nocturnal
11. PAČESS – Jménem lilie
12. PERFORMED – Moronia
13. PETROLEUM – Mephisto
14. POETRY IN TELEGRAMS – Stoic
15. SHAARK – Union Of Pain
16. SLIGHT LIE – Countdown
17. SOLAR SYSTEM – Do měsíčních hor
18. V.A.R. – Dolní město
ODKAZY
SMA Sampler #1 Youtube: https://lnk.sk/bzmv
SMA Sampler #1 Spotify: https://lnk.sk/wf17
SMA Sampler #1 iTunes: https://lnk.sk/xmnq
SMA Sampler #1 Bandcamp: https://lnk.sk/luh3
SMA Sampler #1 INFO : https://lnk.sk/wcj1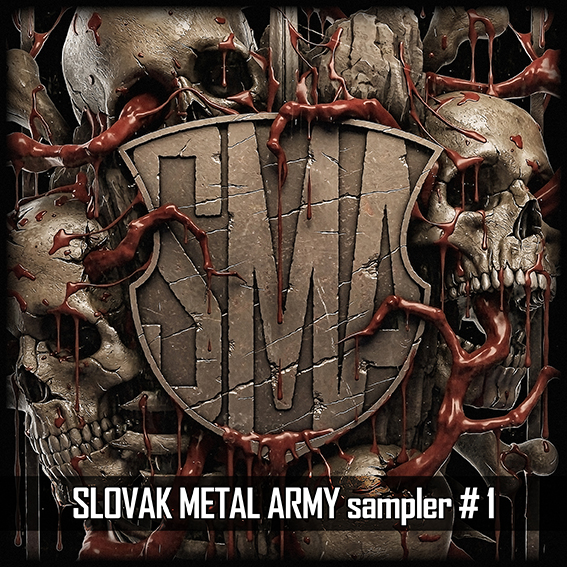 Zdroj: TS