IDF – Medzinárodná diabetologická federácia – eviduje 537 miliónov ľudí s diabetom, a predpokladá ich nárast do roku 2045 na 783 miliónov. Svetová zdravotnícka organizácia v septembri 2022 uviedla, že až 95% pacientov trpí diabetom 2. typu voči 5% pacientov s DM 1. Hyperglykémia je jedným z najznámejších prejavov cukrovky 2. typu, pričom najčastejšími komplikáciami pacientov s cukrovkou sú slepota, zlyhanie obličiek, zlyhanie srdca, mozgová príhoda a amputácia dolnej končatiny.
Podľa najnovších dát, publikovaných v novembri 2021, je na Slovensku dispenzarizovaných 336 968 osôb na DM 2, čo predstavuje takmer 6 200 osôb na 100 000 obyvateľov. Až 91% z nich malo viac ako 45 rokov a vyše polovicu tvorili ženy. Za posledných 10 rokov je to 10%-ný nárast výskytu tohto ochorenia a iba za posledný rok pribudlo takmer 25 tisíc nových – diagnostikovaných – pacientov.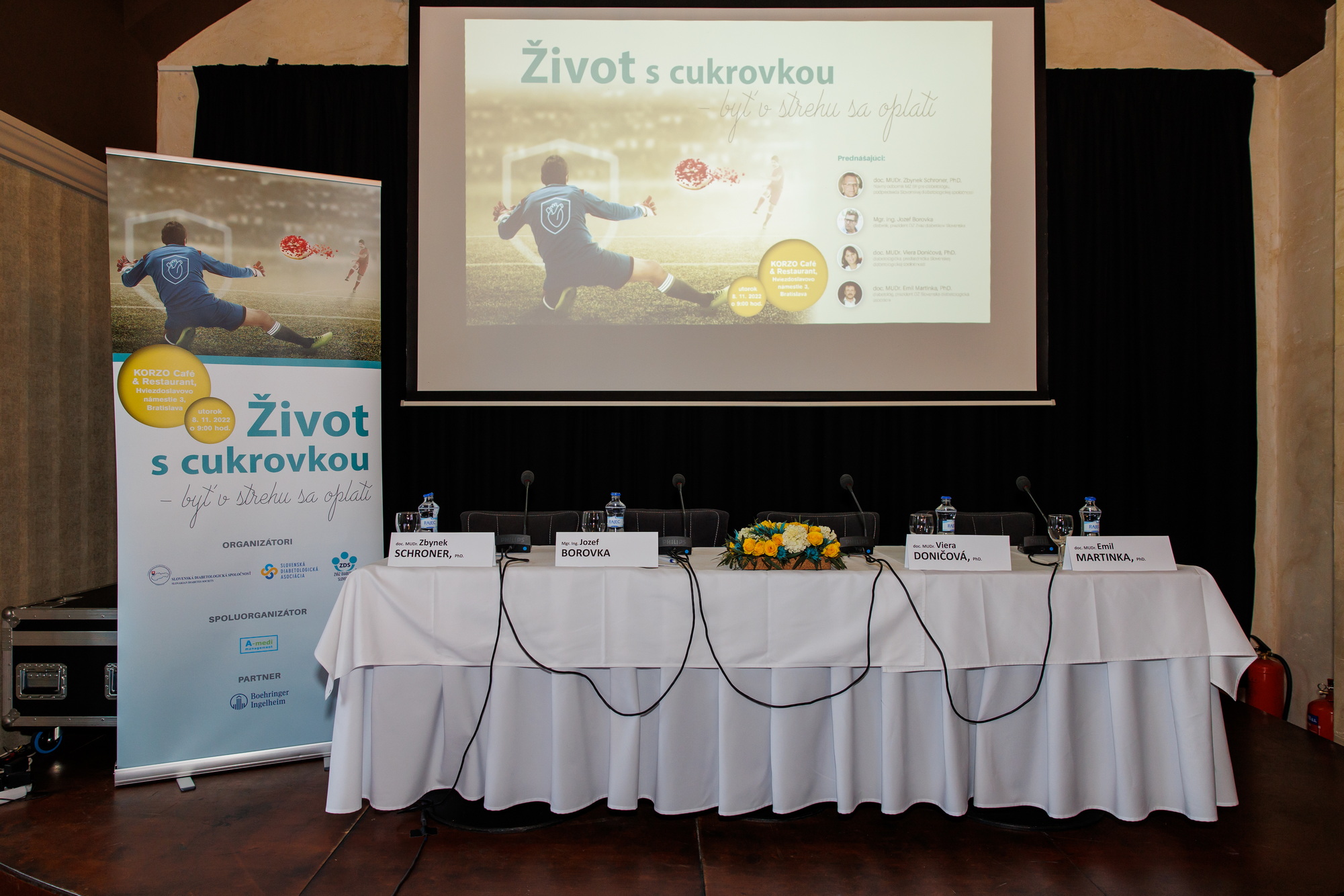 Doc. MUDr. Zbynek Schroner, PhD., hlavný odborník MZ SR pre diabetológiu a podpredseda Slovenskej diabetologickej spoločnosti uviedol, že diabetes mellitus je hlavným rizikovým faktorom komplikácií veľkých aj malých ciev. Čo znamenajú tieto komplikácie? Je to predovšetkým dvojnásobne častejší výskyt mozgovej príhody u cukrovkárov voči bežnej populácii, až 4-násobná pravdepodobnosť srdcovo-cievneho ochorenia, poškodenia filtračného systému obličiek a ich zlyhanie, mikrovaskulárne poškodenie sietnice oka a následná slepota a poškodenie nervov, vznik rán a vredov a následná amputácia chodidiel a nôh.
Každých 5 sekúnd zomiera 1 človek z dôvodu diabetu
Mgr. Ing. Jozef Borovka, prezident OZ Zväz diabetikov Slovenska, je jedným z tých, komu diagnostikovali diabetes, keď mal 40 rokov. Včasná diagnostika cukrovky patrí medzi kľúčové faktory, ale rovnako dôležitou je aj jej liečba, ktorá výrazným spôsobom dokáže skvalitniť a predĺžiť životy pacientov. Už samotná cukrovka skracuje život pacientov až o 6 rokov, a to vtedy ak pacient nemá žiadne iné komplikácie. Ak diabetik prekoná infarkt alebo mozgovú príhodu, je pravdepodobné, že sa jeho život skráti až o 12 rokov. Ak je prítomná aj chronická choroba obličiek – bilancia je mínus 16 rokov. Preto je nesmierne dôležité dbať o prevenciu, poznať typické príznaky tohto ochorenia a pri podozrení okamžite vyhľadať lekára.
Doc. MUDr. Viera Doničová, PhD., ako predsedníčka Slovenskej diabetologickej spoločnosti predstavila vývoj technológií v liečbe diabetu. Od testovania moču v roku 1776, cez objavenie inzulínu v roku 1922, sme postupne postúpili ku glukometrom, objaveným v roku 1977 a ku glukózovým senzorom v roku 1999. O kontinuálnom monitoringu glukózy (CGM) sa na Slovensku hovorí od roku 2001. Na Slovensku máme aktuálne 36 ambulantných certifikovaných centier na ambulantné nastavenie inzulínovej pumpy a kontinuálny monitoring glukózy. Pani docentka zdôraznila, že senzory dokážu priniesť pacientom významné oddialenie akútnych a chronických komplikácií cukrovky, finančnú úsporu v nákladoch na liečbu cukrovky a skvalitnenie života cukrovkára, aj spoločnosti. Tento manažment liečby sa týka diabetikov s DM1. Vysvetlila, že bez úhrady CGM nie je možné dosiahnuť dlhodobú uspokojivú kompenzáciou cukrovky 1.typu ani u detí, ani u dospelých. Dnešok považuje za historickú šancu výrazne pomôcť pacientom a ušetriť prostriedky poisťovní.
Uplynulo 100 rokov od podania prvého inzulínu
Prvú zmienku o cukrovke objavili v Egypte v roku 1862 pred n. l. Podľa odhalených papyrusov vzniklo toto ochorenie po tom, ako sa ľudia začali usádzať a priberať. V roku 1922 bol vynájdený inzulín, ktorý dnes – po 100 rokoch – zachraňuje a skvalitňuje životy pacientom s diabetom. Byť v strehu je však neustálou výzvou pre každého človeka, lebo cukrovka je dnes jednou z najčastejších a najzávažnejších civilizačných ochorení aj na Slovensku, a nebolí.
"Posledných 5 rokov bolo pre diabetológiu a jej pacientov mimoriadne dôležitých" – uviedol doc. MUDr. Emil Martinka, diabetológ a prezident občianskeho združenia Slovenská diabetologická asociácia. "Nielenže sme porozumeli niektorým dôležitým mechanizmom, ale získali sme pre našich pacientov nové možnosti liečby. Podarilo sa vyvinúť účinné lieky so zásadným prínosom pre pacienta, ktorými sú nielen úprava glykémie, ale aj zníženie úmrtnosti na srdcovo-cievne a obličkové ochorenia."
Docent Martinka vysvetlil, že srdcovo-cievne riziká treba znížiť už od samého začiatku. K dispozícií máme liečbu, ktorá popri úprave diabetu významne chráni orgány. Ochorenia, ktoré inak voláme aj "metabolický syndróm" majú rovnaké podhubie. Donedávna sme vedeli liečiť jednotlivé rizikové faktory samostatne. Dnes je diabetológia multidisciplinárnym odborom, ktorá lieči pacientov komplexne. To je niečo, čo si zasluhuje pozornosť a vyžaduje zmenu manažmentu ochorenia.
Odborníci sa zhodujú, že úprava telesnej hmotnosti sa v aktuálnych medzinárodných odporúčaniach stala jedným z hlavných cieľov terapeutickej intervencie.
V slovenskej populácii má až 90% pacientov s DM 2 nadváhu alebo je obéznych.
Zdravý životný štýl, čo znamená predovšetkým zdravé stravovacie návyky a pravidelný pohybový režim, je základom prevencie cukrovky. Možnosť ovplyvniť výskyt, priebeh a liečbu tohto ochorenia je natoľko dosiahnuteľná, až ju väčšina ľudí bagatelizuje a zanedbáva. Hovoria o tom aj čísla, pretože vyše 25% bežnej populácie trpí obezitou a vyše 1/3 obyvateľov na Slovensku má nadváhu.
Výzvou pre boj s diabetom teda naďalej ostáva osveta o zdravom spôsobe života a zároveň kontrolovaná liečba diagnostikovaných pacientov.
Zdroj: A-medi management s.r.o.