O den rozšířený
Brutal Assault 2022
se přiblížil. Již za méně než 200 dní jeho pětadvacátý
l
ine-up během pěti dní představ
í
na 150 umělců napříč žánry. Poslední rozšíření sestavy před Vánoci
ji
přehoupl
o
již
přes stovku a dost
alo
do soupisky další headlinery.
Pokud je třeba zmínit některé, jmenujme např. Mercyful Fate, Cannibal Corpse, As I Lay Dying, Cradle of Filth,
Static X,
Municipal Waste, Jinjer, Katatonia,
Mayhem
, At the Gates, Comeback Kid, Lorna Shore, Paradise Lost, Venom a
další. S
amozřejmostí jsou
ale
i interpreti mimo metalové žánry jako Front Line Assembly, Die Krupps, Clutch, Atari Teenage Riot
nebo
Melt-Banana
a zajímavý nehudební program, který
bude
představ
en
později.
Opožděná oslava 25. ročníku oficiálně začíná už v úterý 9. srpna a všechny vstupenky zakoupené od podzimu 2019 jsou platné. Organizátoři též podotýkají, že je prodáno již 60 % vstupenek a že aktuální edice vstupenek končí úderem ledna, tedy v pondělí!
Vstupenky: https://brutalassault.cz/cs/tickets
Event: https://facebook.com/events/493050868165392
Aktuálně potvrzené kapely: 1914, Abbath, Aborted, Ad Nauseam, Ahab, Alcest, Amenra, Arcturus, As I Lay Dying, Asphyx, At The Gates, Atari Teenage Riot, Baest, Bell Witch, Benighted, Blood Incantation, Bloodbath, Butcher Babies, Cannibal Corpse, Cattle Decapitation, Clutch, Comeback Kid, Conjurer, Cradle Of Filth, Dark Funeral, Darkest Hour, Decapitated, Die Krupps, Draconis Infernum, Evil Dead, Evoken, Excrementory Grindfuckers, Exhorder, Exhumed, Extinction A.D., Fleshgod Apocalypse, Front Line Assembly, Frontierer, Fueled By Fire, Gaahls Wyrd, God Mother, Hangman's Chair, Hentai Corporation, Humanity's Last Breath, Igorrr, Imperial Triumphant, Insomnium, Jinjer, Katatonia, Leprous, Life Of Agony, Lorna Shore, Lost Society, Manes, Mass Infection, Mayhem, Melt-Banana, Mercyful Fate, Misery Index, Mors Principium Est, Municipal Waste, Mysticum, Nailed To Obscurity, Necrophobic, Necrot, Nekrogoblikon, Nunslaughter, Onslaught, Ottone Pesante, Pallbearer, Paradise Lost, Pensées Nocturnes, Pentagram, Phlebotomized, Psycroptic, Psykup, Razor, Regarde Les Hommes Tomber, Rings Of Saturn, Rivers Of Nihil, Sacred Reich, Sigh, Skywalker, Slagmaur, Soen, Soreption, Static–X, Strigoi, Suffocation, Swallow The Sun, Tallah, Tesseract, The Agonist, The Black Dahlia Murder, Uada, Undergang, Unearth, Urne, Valkyrja, Venom, Vitriol, Voices, Vola, Winterfylleth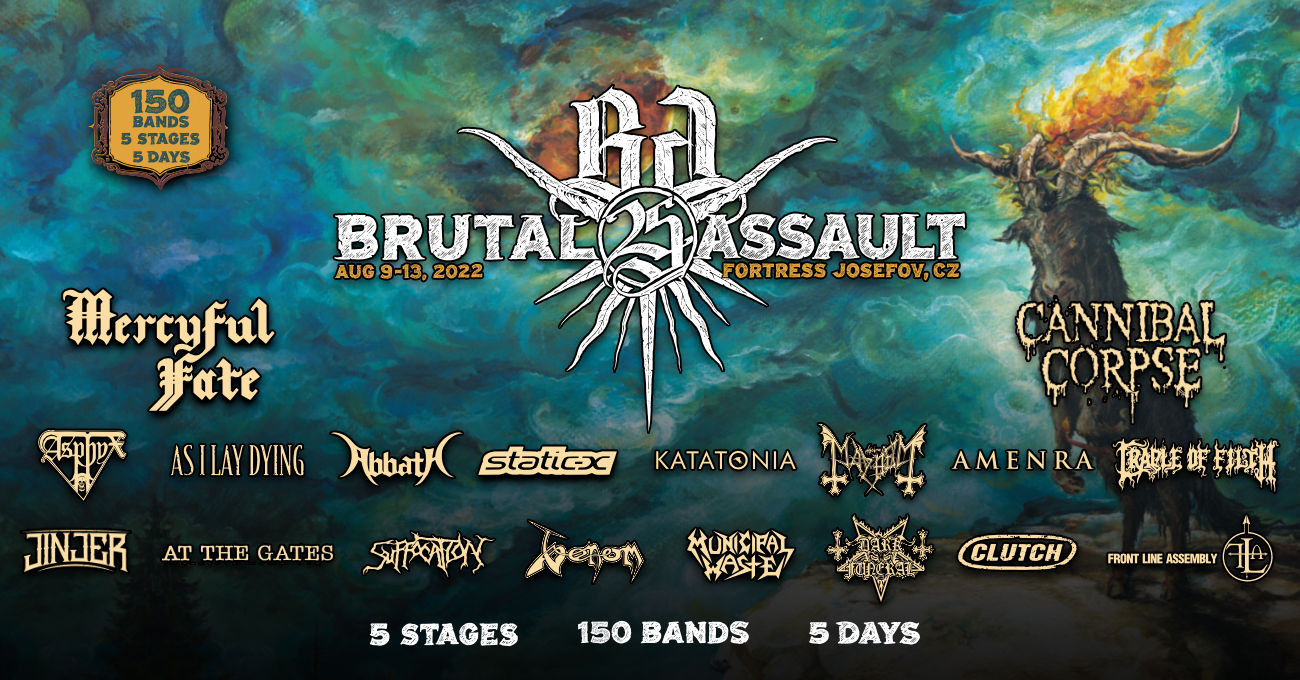 Zdroj: Obcure Promotion