Štvorica hudobníkov v zostave Šteffi Kovalčík, Filip Pokorný, Adam Šamaj a Matej Piliar sa hlási o slovo s novým videoklipom k skladbe Všetci veľmi dobre vedia že.
"Hľadám dokonalý zvuk, dokonalú pieseň, ktorá zmení svet a tvoj život tiež." Týmito slovami otvára skladbu bubeník a spevák Šteffi, ktorý v prvej slohe opisuje poslucháčom život v zlatej klietke rock'n'rollu. "Pre mňa je táto pieseň o vyslobodení sa z tohto materialistického sveta prostredníctvom hudby a iných hodnôt. Hon za peniazmi medzi ne nepatrí," vysvetľuje Šteffi.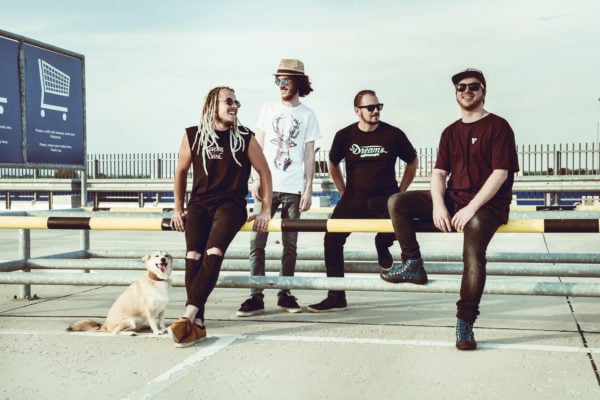 Refrén piesne Všetci veľmi dobre vedia že bol prvým textom, ktorý speváci Šteffi a Filip vymysleli spoločne. "Šteffi kedysi organizoval jamky v skúšobni na Kolibe. Chodilo tam dosť ľudí, čo si pamätám, niekedy aj pätnásť-dvadsať muzikantov. Na jednej takejto jamke sme sa náhodou ocitli za mikrofónmi my dvaja, a tak spontánne vznikol refrén tejto piesne," spomína Filip. Plnohodnotná pieseň ale vznikla v podaní kapely Žabí Rauš až o dva roky neskôr. "V štúdiu sme experimentovali so synťákovými zvukmi, ktoré boli hrané na base. Improvizoval som do slohy melódie, ktoré mi napadli a potom z nich Filip vybral jednu pasáž a presunul ju do refrénu. Tak vznikla hlavná "disco-synth" linka v refréne," opisuje kreatívny proces pri produkcii skladby basgitarista Matej.
Gitarovo-synťákovo-rapová pesnička zaváňa atmosférou rockovej hudby deväťdesiatych rokov a dočkala sa i podobne ladeného klipu. Ten vznikal v skúšobni kapely na bratislavskej Kolibe v spolupráci s kameramanom Matejom "Indym" Sovišom. "Indy sa výborne pohral so svetlami, čím klipu dodal šmrc klipov z deväťdesiatych rokov. Zelené svetlo výborne vystihuje náš názov," teší sa gitarista Adam. Jeho zábery potom prešli cez ruky strihača Kinimoda, ktorý mu vdýchol atmosféru a dodal mu konkrétnejšie kontúry a nakoniec sa dotočili zábery z rozostavanej Bratislavy, ktoré mal na starosti kameraman DTNT. "Chceli sme v klipe ukázať meniacu sa tvár nášho mesta. Človek ide mestom a všade sa stavia. Mňa to núti zamýšlať sa, kto to stavia a pre koho? Kto z toho bude prosperovať? Je to metafora na špirálu peňazí, v ktorej buď si a točíš sa v nej, alebo ju len z vonku pozoruješ," vysvetľuje Filip.
Okrem chalanov si v klipe zahral i Šteffiho novorodený syn Lukáško, ktorému Šteffi spieva. "S Lukáškom sa točilo výborne, celý ten náš rock'n'roll úplne pokojne prespal," smeje sa kapela.
Žabí Rauš len pred nedávnom debutovali na scéne s animovaným videoklipom k piesni Do lesov. Klip k skladbe Všetci velmi dobre vedia že je však i predzvesťou pripravovaného albumu. "Na CD bude 12 piesní. Momentálne riešime finálne detaily, grafiku, vydavateľstvo a poradie piesní. Album bude rozmanitý a budú na ňom aj zaujímaví hostia," prezrádza Filip.
Žabí Rauš je kapela, ktorá rada spája žánre a tvorí z nich živé a tanečné piesne. V ich tvorbe nájdete rockové gitary, funky basové groovy a rytmy od raggae cez punk až po hip-hop. Môžte sa o tom presvečiť pri vypočutí ich debutového EP "Do lesov", na ktorom sa nachádza šesť skladieb. EP je dostupné na všetkých streamovacích službách ako Spotify, Deezer alebo iTunes, ale dá sa vypočuť aj bezplatne na Youtube.
Ak by ste chceli Žabí Rauš počuť naživo, budete ich môcť vidieť 1.3. v bratislavskom Kulturák Klube ako afterparty kapelu na koncerte známeho Braňa Mojseja.
FB: https://www.facebook.com/zabiraus
IG: https://www.instagram.com/zabiraus
Soundcloud: https://soundcloud.com/zabiraus
EP Do lesov na spotify: spoti.fi/2TlNtqT
EP Do lesov na youtube: https://www.youtube.com/watch?v=d6_nsq0aSbk&list=PLZQoWojNH_NVL5TACMLZSeryKqwf7bnpx
Videoklip Do lesov: https://www.youtube.com/watch?v=wWi_bxviNgk
Zdroj: TS