NKP Bombura vchádza do tridsiateho roka svojej existencie. Je to úctyhodný vek a v rámci Slovenska by sme len ťažko našli starší, nepretržite fungujúci hudobný klub. Počas svojej činnosti hostila a poskytla svoj priestor mnohým umelcom z celého sveta, šírila a šíri aktívny odkaz alternatívnej kultúry a začlenila sa medzi významné kultúrne centrá ďaleko presahujúce región v ktorom sa nachádzajú. 30 rokov na scéne nevydrží hocikto a aj preto je tento míľnik hodný pripomenutia a oslavy.
Pozývame vás na festival organizovaný na počesť bomburáckeho jubilea. Celé to odštartuje v piatok, 27 mája, výstava "30 rokov plagátu 92 – 2022". Budete mať jedinečnú možnosť vidieť prierez rôznych propagačných materiálov, ktoré boli odložené v osobnom archíve Maroša Pavúka, alebo u návštevníkov klubu. Nostalgická, spomienková hodnota je doplnená aj o historický rozmer. Divák bude svedkom vývoja grafiky, štýlu, koncepcie propagačného plagátu a nepochybne to bude zaujímavý pohľad ako pre odbornú vernosť, tak aj pre laikov.
Po vernisáži bude nasledovať hudobná produkcia v réžii zakladateľa NKP Bombura Maroša Pavúka a jeho Gramcovačka Sound System. Sobotňajší program prinesie zaujímavú prednášku Prof. Július Fujaka: Marián VARGA – Hudba vnútornej slobody, v ktorej vám profesor Fujak predstaví osobnosť legendárneho slovenského muzikanta. Prednáška bude obohatená aj o hudobné ukážky a bude po nej nasledovať otvorená diskusia. Július Fujak je jednou z najfundovanejších osobností na poli hudobnej vedy a stretnutie s ním je pre milovníka hudby povinnou jazdou. Po prednáške bude nasledovať diskusia so zakladateľom NKP Bombura Marošom Pavúkom, ktorého vyspovedá Tomáš Bartoněk.
Reč bude samozrejme o klube, o jeho začiatkoch, výzvach či problémoch, o festivale Slovenské Alternatívne Leto, ktorý významne rezonuje v umeleckých kruhoch a určite neobídeme ani Marošovu osobnosť a jeho najnovší literárny počin. Večer máme pre vás pripravené dva nádherné koncerty. Prvý z nich sa odohrá v breznianskej synagóge a bude sa niesť v podmanivých jazzových tónoch. Výnimočná slovenská hudobná skladateľka, speváčka, textárka a pedagogička Ester Wiesnerová vydala svoj debutový album pod názvom Blue Journal a príde vám ho do Brezna predstaviť spoločne s členmi jej kapely, ktorí pochádzajú z rôznych kútov sveta ( Japonsko, USA, UK ). Druhý koncert rozozvučí priestori klubu Bombura. Vystúpi slovenská kapela La3no Cubano, ktorá je charakteristická svojim vysokým tanečným potenciálom. Vo svojej tvorbe prepája rytmy sveta (Orient, Balkán, Afrika, Latinská Amerika) s rôznymi žánrami funky, drum´n´bass, jazzygrooves, reggea a to všetko s prímesou slovenského folklóru. V nedeľňajšom programe si na svoje prídu priaznivci filmu, divadla aj hudby.
Program začne o 14:00 premietaním filmu Komúna. Prítomný bude aj jeho autor Jakub Julény. Námetom pre film je zabudnutý životný príbeh umelca, filozofa a politika Marcela Strýka premietnutý do osobných tragédií i víťazstiev predstaviteľov košického undergroundu. Divadelné predstavenie bude venované najmä deťom. Zahrať príde divadlo Concordia z Banskej Štiavnice a detváky sa môžu tešiť na Huncúta Gašpara a jeho dobrodružstvá. Festivalový zlatý klinec na záver bude koncert fenomenálneho trubkára Laca Décziho frontmana kapely Celula New York. Jeho diskografia je bohatá a pestrá, hrával so svetovými menami jazzovej scény ako napríklad Elvin Jones, Bill Watrous, Junior Cook, pravidelne hráva turné v USA a vystupuje vo svojom domovskom klube Aventinum na 70 ulici v New Yorku. Svoj kumšt vám príde ochotne ukázať aj do Brezna, všetci ste srdečne pozvaní.
Podujatie z verejných zdrojov podporil Fond na podporu umenia. Partnerom podujatia je Mesto Brezno.
FB udalosť: https://fb.me/e/4MykwQH8c
Predpredaj: https://predpredaj.zoznam.sk/sk/listky/30-rokov-nkp-bombura/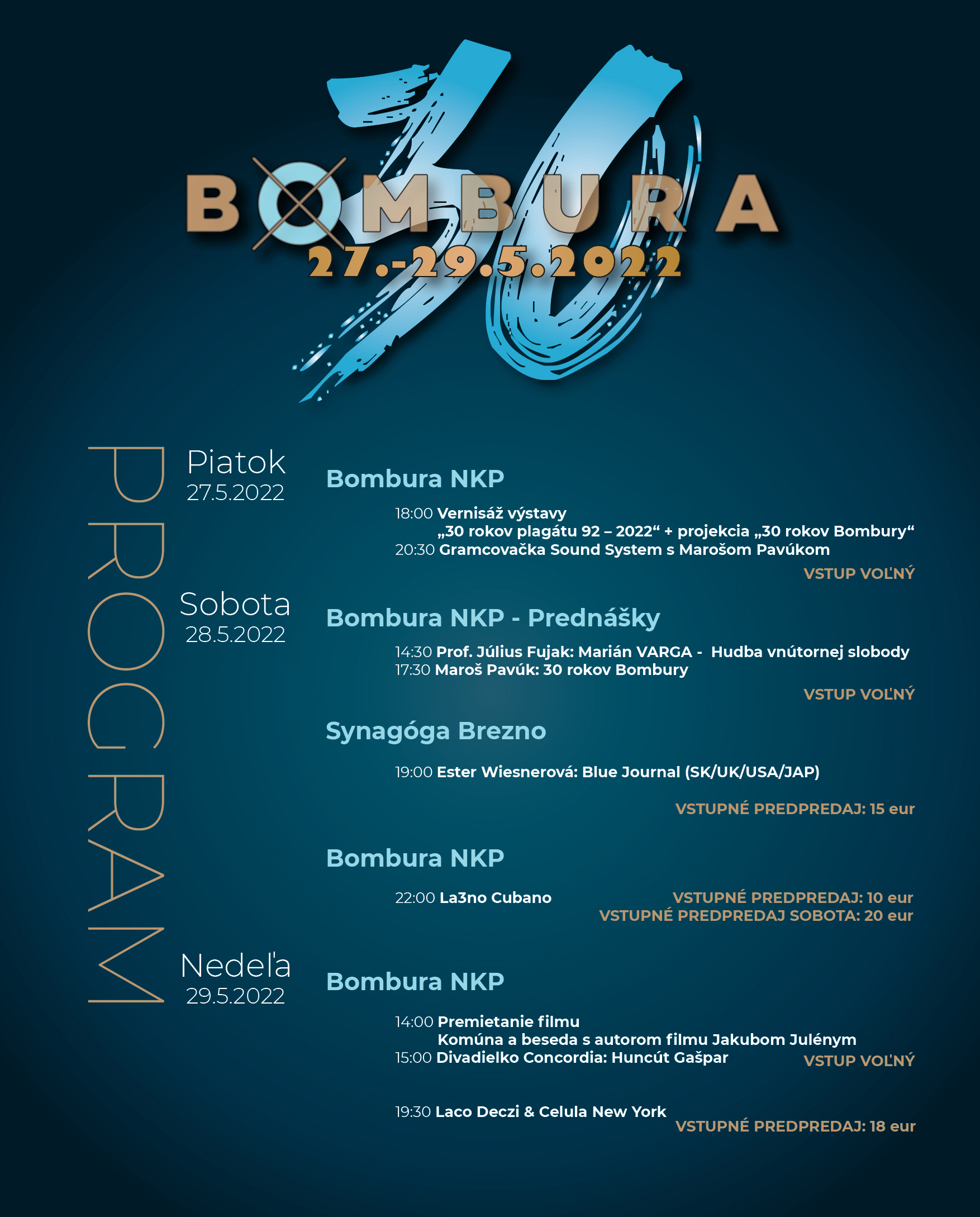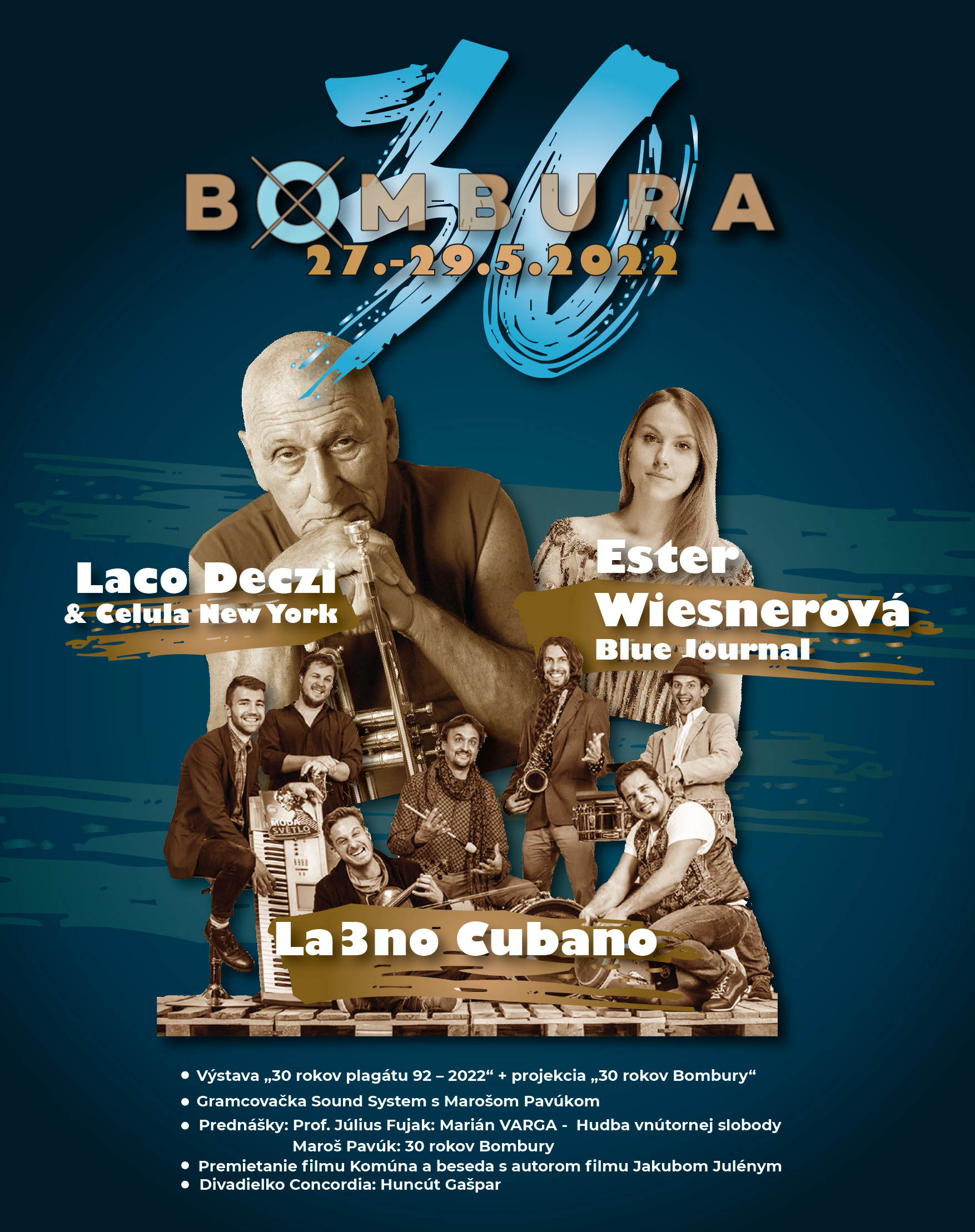 Zdroj: TS