V horúci letný deň, 23. júna 2021, prišlo do Národného rehabilitačného centra v Kováčovej "osvieženie" v podobe benefičného podujatia Ruky spoja ruky. Pre deti a osoby so zdravotným znevýhodnením ho po deviatykrát pripravilo Občianske združenie Milan Štefánik a NRC Kováčová. Pre pacientov to bol prvý koncert – prvý kontakt s kultúrou po lockdowne.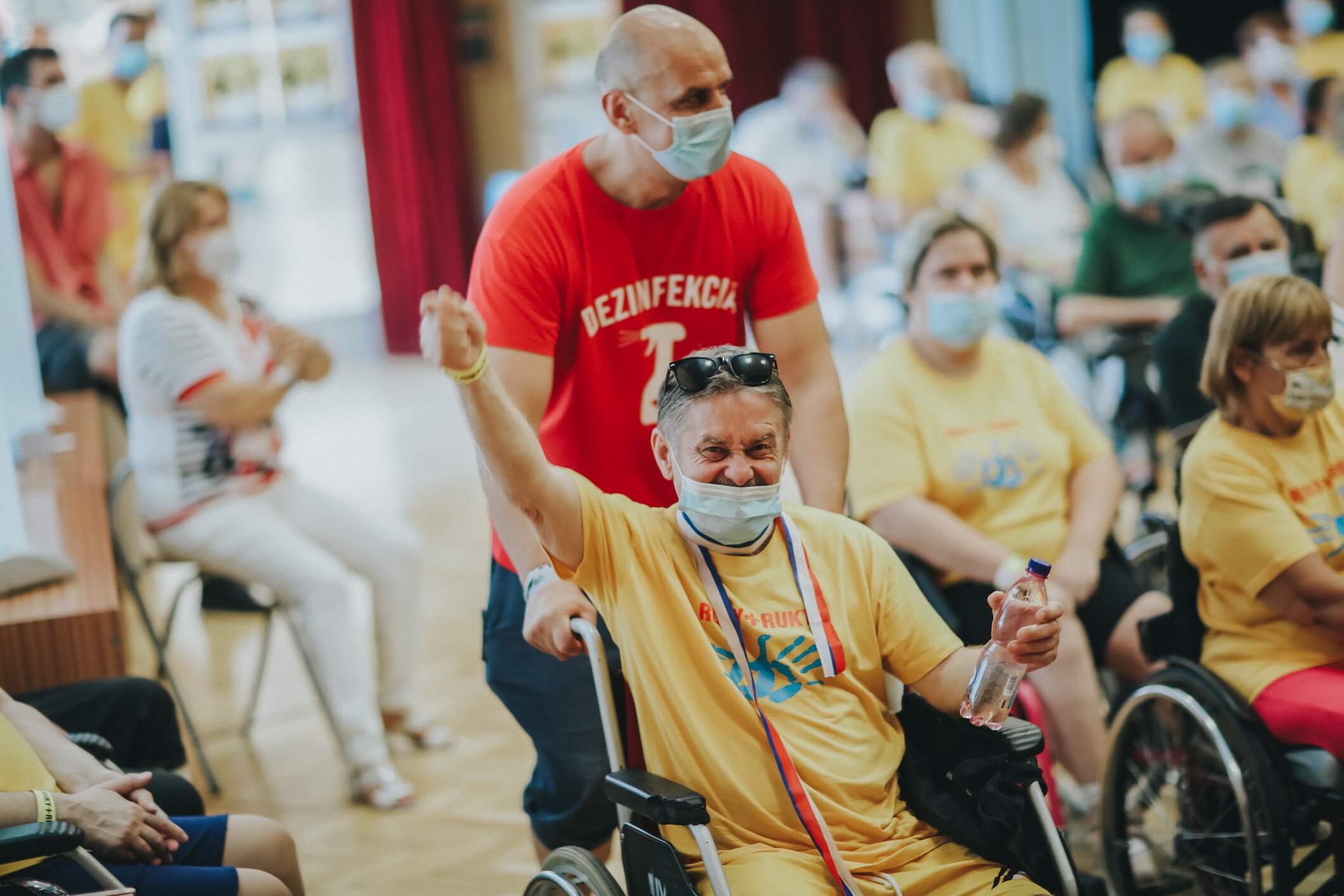 Napriek uvoľneniu opatrení organizátori nenechali nič na náhodu. Od rána prebiehala dezinfekcia priestorov, umiestňovali sa tabuľky s pravidlami, pripravený bol teplomer, dobrovoľníci zoradili stoličky, dodržiavali sa primerané odstupy. K tomu ešte posledné technické úpravy na pódiu a už len skontrolovať, či sú hudobní hostia pripravení.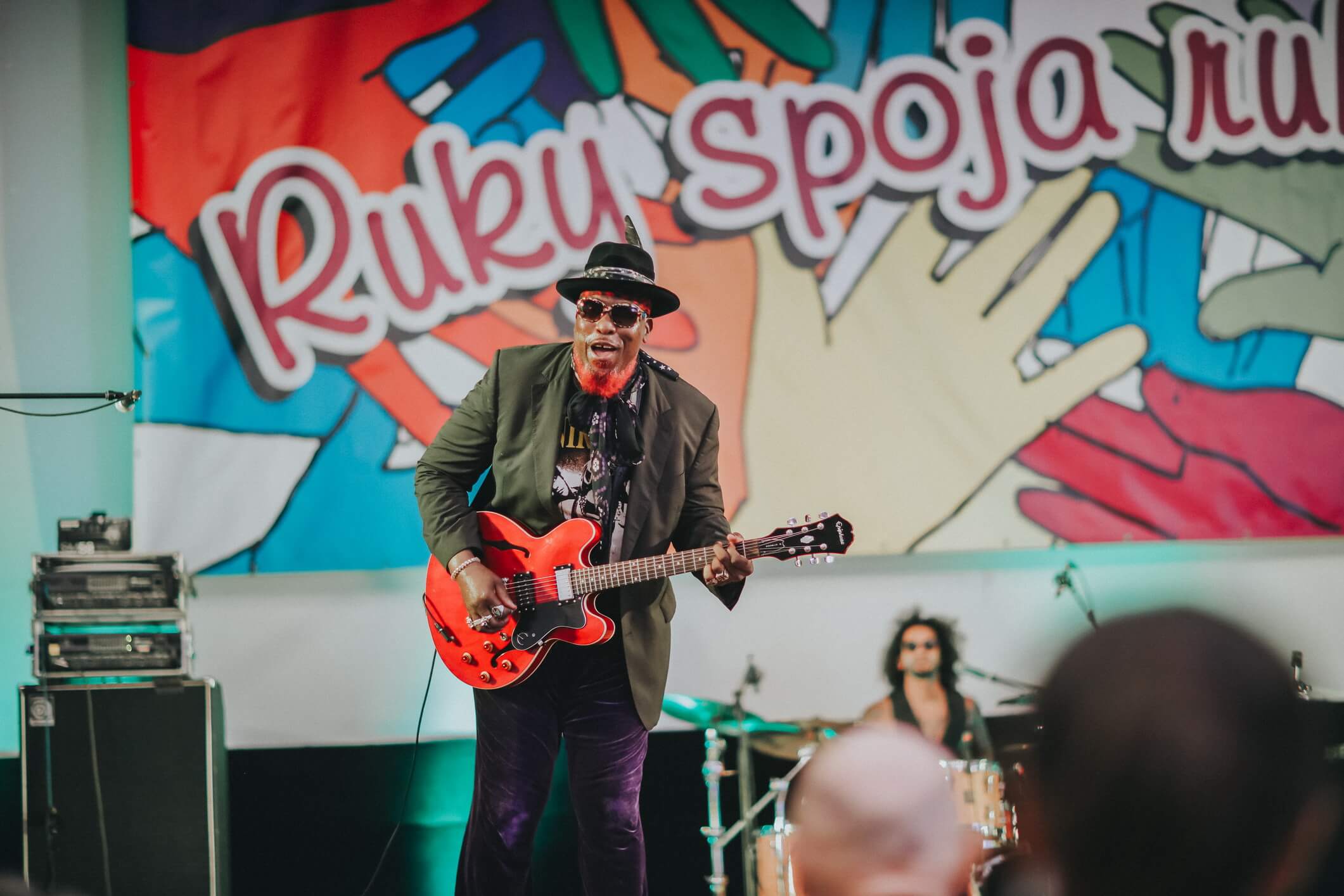 Sálu začali postupne zapĺňať krásne žlté tričká, ktoré symbolizovali veselú letnú pohodu. Do rovnakého sa obliekol aj Andrej Bičan, moderátor podujatia. Keďže pozvanie prijal s vďakou, od prvého momentu odovzdával z javiska smerom k publiku úžasnú pozitívnu energiu. Hneď v úvode si k sebe pozval Milana Štefánika, aby riaditeľke NRC, Ing. Oľge Zábojníkovej, odovzdali obraz, ktorého fragment – otlačky rúk, sa stal motívom podujatia. Dielo je o to zaujímavejšie, že samotná autorka, Paulínka Csápaiová Triščová, má handicap. Ruky totiž namaľovala na plátno nohami.
Andrej Bičan pripomenul prítomným platné opatrenia a ako prvých pozval na pódium exotické duo Lord Bishop Rocks. V súčasnosti pôsobia v Nemecku. Ale… Spevák a gitarista v jednej osobe, Lord Bishop, je pôvodom z New Yorku. Bubeník Duda pre zmenu z temperamentnej Brazílie. Kombinácie funku s rockom, blues, punkom, reggae, či hardrock s jazzom, k tomu rock and roll. To všetko vytváralo emočne nabitú zmes, ktorú sami členovia nazývajú Hendrixian Motor Funk. "Inak obdarení" si ho mohli vychutnať v plnej paráde. Rečová bariéra nehrala žiadnu rolu. Spevák divákov zaujal nielen zamatovým hlasom, ale i outfitom. Šatka na krku, klobúk na hlave. Na Slovensku nehrali po prvýkrát. "Kdekoľvek a kedykoľvek hráme, hlavné je, že chceme urobiť ľudí šťastnými. A pre nás je veľmi dôležité urobiť šťastnými týchto ľudí, ktorí si prešli cez veľmi zložité časy." Ako sme sa dozvedeli v zákulisí, Lordovi Bishopovi sa okrem našej krajiny páčia i slovenské dievčatá. Preto veríme, že sa na Slovensko ešte vráti.
Spoza opony už na javisko kráčajú statní Gladiátori. Prvý akord na gitarových strunách. Úder paličkou do bicích. "Nevedeli sme sa dočkať, kedy po takej dlhej prestávke príde táto chvíľa." Na hudobnú scénu prinášajú už tri desaťročia nefalšovaný rock. Za ten čas zožali niekoľko úspechov doma, ale i za hranicami. Niet sa čo čudovať. Hity Keď sa láska podarí, Nechcem o teba prísť, Nemôžem dýchať, rozjasali sálu NRC okamžite. Známe slová piesní sa ozývali z mikrofónu, aj z publika. "Tieto akcie hráme tradične niekoľkokrát do roka a myslíme si, že je to v podstate to najmenej, čo môžeme spraviť. Ľudia s handicapom chcú tak isto žiť plnohodnotný život. A my sa snažíme, aby ho taký naozaj mali." I to si myslí Georgio o účinkovaní kapely na akciách pre "inak obdarených". Najsilnejším odkazom pre prítomných pacientov je pieseň Hlavu maj hore. Atmosféru na koncerte asi najviac vystihla skladba Kúpim si pekný deň… Kapela Gladiátor ho "kúpila" naozaj všetkým.
Prestávku na zmenu scény využil Andrej Bičan na pripomenutie pravidiel. Pochválil publikum, že napriek priam tropickej teplote vydržalo s rúškami na tvárach. Ešte pár malých úprav a ide sa do finále. PUĽS – Poddukelský umelecký ľudový súbor. Už v názve je počuť husle, cimbal, basu i akordeón. Nádherné hlasy "zabalené" do farebných sukní. Mašle vo vlasoch. Ľanové košele. Folklórne klobúky. Ľúbezné tóny vpletené do nádherných tanečných scén. Vedeli ste, že súbor má niekoľko zložiek? Spevácku, baletnú… Otočky, zdvíhačky a vysoko vyskočiť. Čo znamená vystúpenie pre členov PUĽS-u? "Keď stojíme na javisku a pozeráme na týchto ľudí, tak vlastne oni dávajú energiu nám. A vtedy sa cítime veľmi dobre. Pretože vieme, že to, čo robíme, je to správne. A že i my sme na tom správnom mieste." Diváci vydržali a výkony členov súboru ocenili obrovským potleskom.
Organizátori a dobrovoľníci, napriek tričkám prepoteným do poslednej nitky, usmerňovali "inak obdarených", aby si pri malej autogramiáde mohli vyzdvihnúť podpisy alebo si zblízka pozreli kroje, ktoré ich veľmi zaujali. Aj za to im patrí veľká vďaka.
Čo dodať na záver? Ako povedala riaditeľka NRC, Oľga Zábojníková "môžem povedať, v mene všetkých pacientov, že už dávno som ich nevidela takto pokope usmievať sa a vytešovať." Pri diagnózach, ktoré ich pacienti majú, je práve úsmev najväčším darom. Darom, ktorý i keď symbolicky, spojil ich ruky.
TEXT: Júlia Platková
Foto: Milan Maršalka, Igor Frimmel a Marek Vaco