13. október 2021, taká obyčajná streda. A predsa pre niektorých výnimočná. Občianske združenie Milan Štefánik s aktívnou podporou mesta Žiar nad Hronom pripravili pre osoby s mentálnym a zdravotným postihnutím v poradí už deviaty ročník benefičného koncertu – Na krídlach anjelov. Mestské kultúrne centrum sa stalo miestom radosti. Nádherná sála sa naplnila hudbou, potleskom a energiou.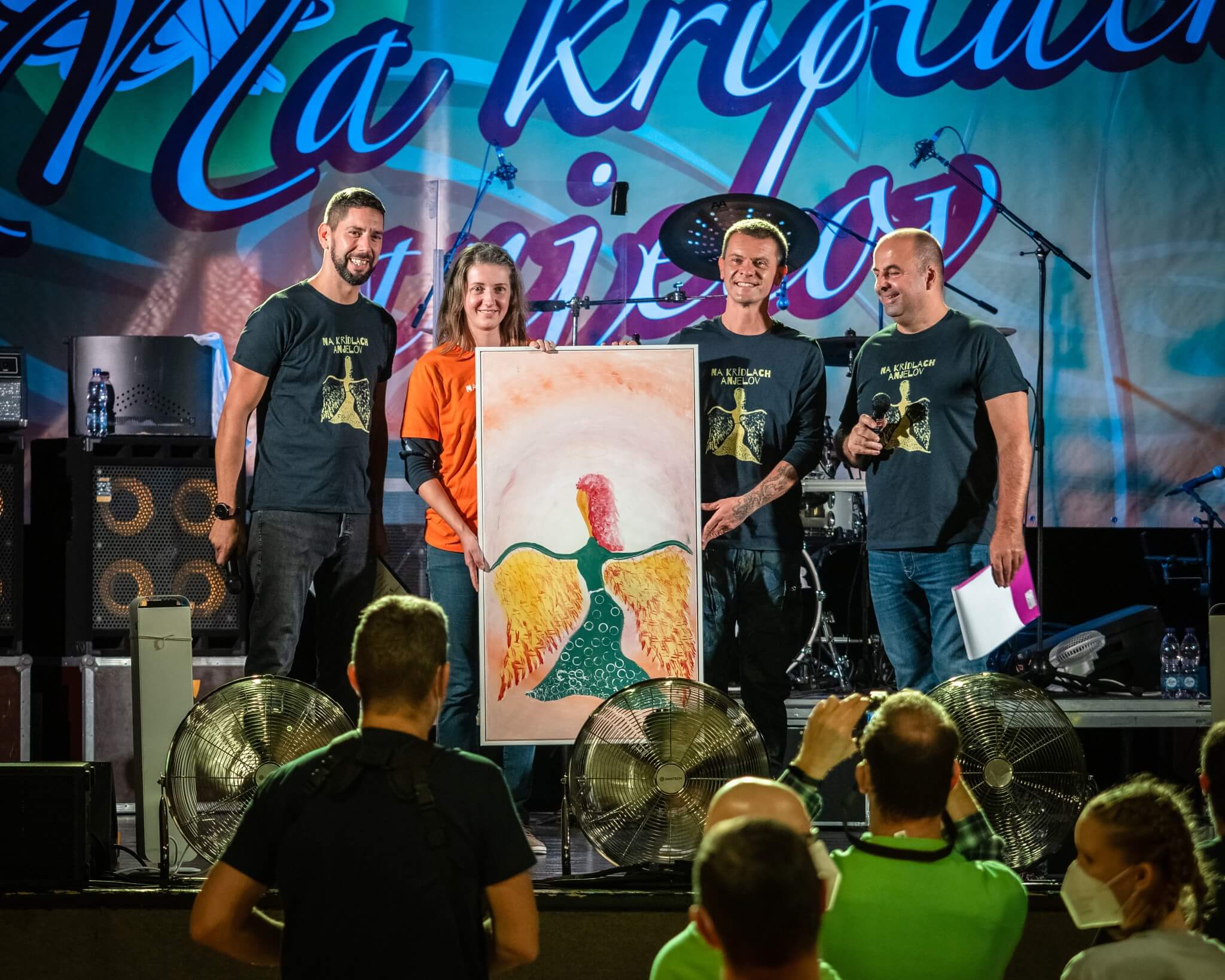 Nič by ale nebolo možné bez prípravy. Preto už ráno zaplnil priestory šuchot nôh a hlasy dobrovoľníkov. Nosili a skladali. Spájali, pripevňovali a lepili. Na epidemiologické opatrenia upozorňovali plagátiky na vstupných dverách. Stojan s dezinfekciou pripravený. Ešte farebné tričká. Dokončiť zvukovky. Kreatívne dielne. Kontrola, či je každý na svojom mieste. A ideme na to. Vstup len pre pozvaných.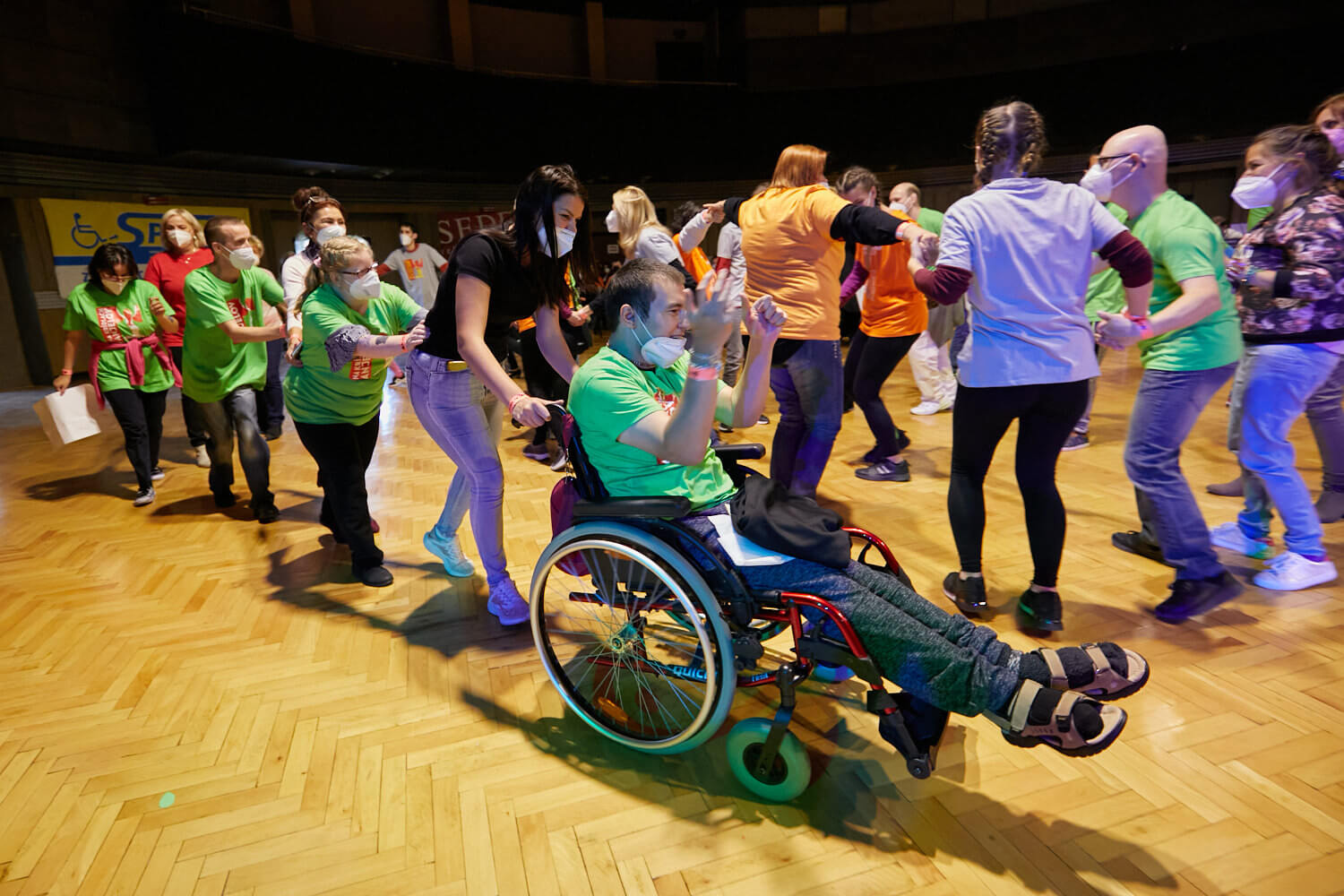 Na pódium vybieha dvojica moderátorov. Richard Vrablec a Juraj Šoko Tabáček. Ale čo to? Akosi sa nedohodli a hovorí i jeden i druhý? Tak sa pekne poďme "zladiť". S prvými tónmi pozývajú už jednohlasne na pódium dievčatá so Zumby s Alou. Tanečníčky prišli podporiť dobrú vec. Tanec na lákavé latino rytmi zodvihol "inak obdarených" zo stoličiek. Krok vpred. Krok vzad. Ruky nad hlavu. Poskočiť. I Šoko si vyskúšal pár tanečných krokov. Veru by ho Ala zobrala do svojej partie. Otočka. Veľký úsmev. Zumbáčky prišli podporiť i maskoty. Kamaráti z Trinity. Zatancujte si s nimi na chytľavú Hej, s nami sa smej. A už sa miešajú medzi publikum postavičky Triniťáci.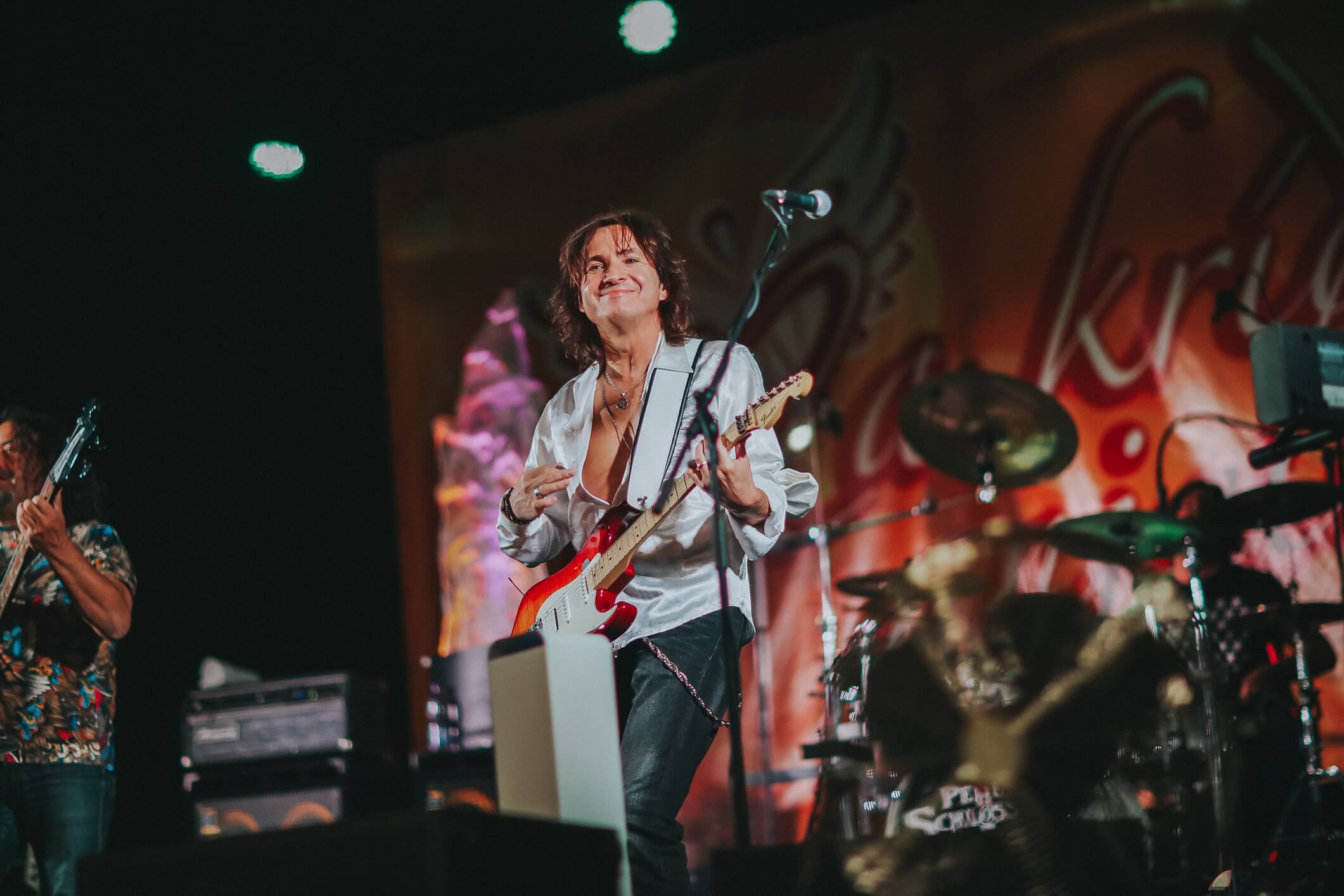 Richard so Šokom pripomínajú pravidlá. R-O-R. Rúško môže ísť dole len pri občerstvení vo vyhradenej zóne. V kreatívnych dielňach si zasa môžete vyskúšať enkaustiku – maľovanie horúcim voskom. A nie len to. Na rukách si odnesiete krásne maľované ornamenty. Sadrové odliatky sú krajšie, ak sa pomaľujú pestrými farbami.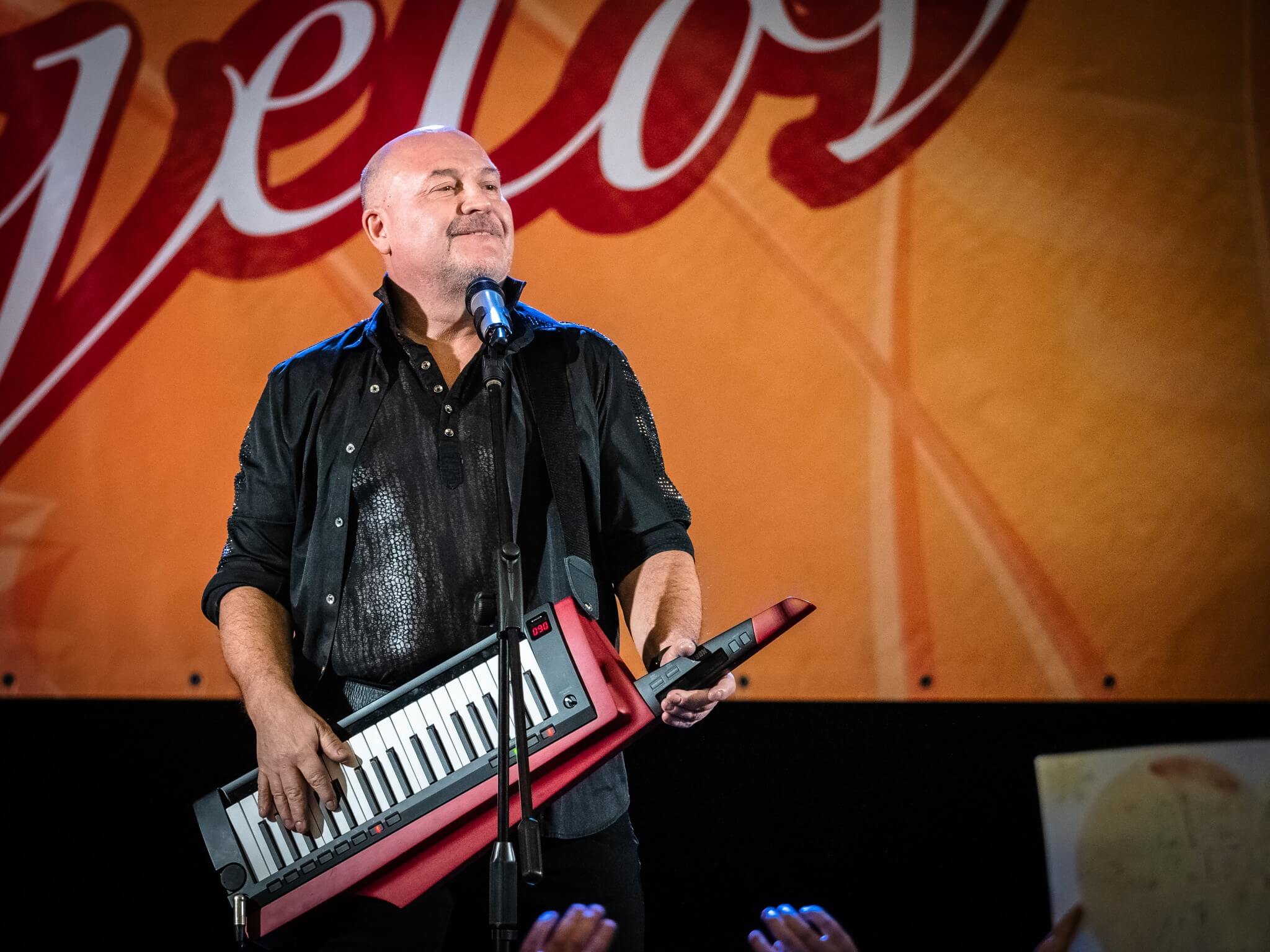 Moderátori pozývajú k sebe viceprimátora mesta Žiar nad Hronom MUDr. Ladislava Kukolíka a organizátora Milana Štefánika. Milan Štefánik nesie v rukách krásny obraz od výnimočnej maliarky, Paulíny Csápaiovej-Triščovej. Sama patrí medzi "inak obdarených". Obraz s anjelom namaľovala nohami. Z DD a DSS Žiar nad Hronom obraz prišla prevziať pani Eva Mrázová. Nechýbali slová vďaky. "Z celého srdca sa chcem v mene všetkých našich klientov poďakovať za pozvanie na, ako to ja volám, krásny koncert pre ešte krajších ľudí a aj za prenádherný obraz. Všetci máme z neho obrovskú radosť." A hneď vo štvrtok prišlo i foto. Obraz má výnimočné miesto na chodbe zariadenia.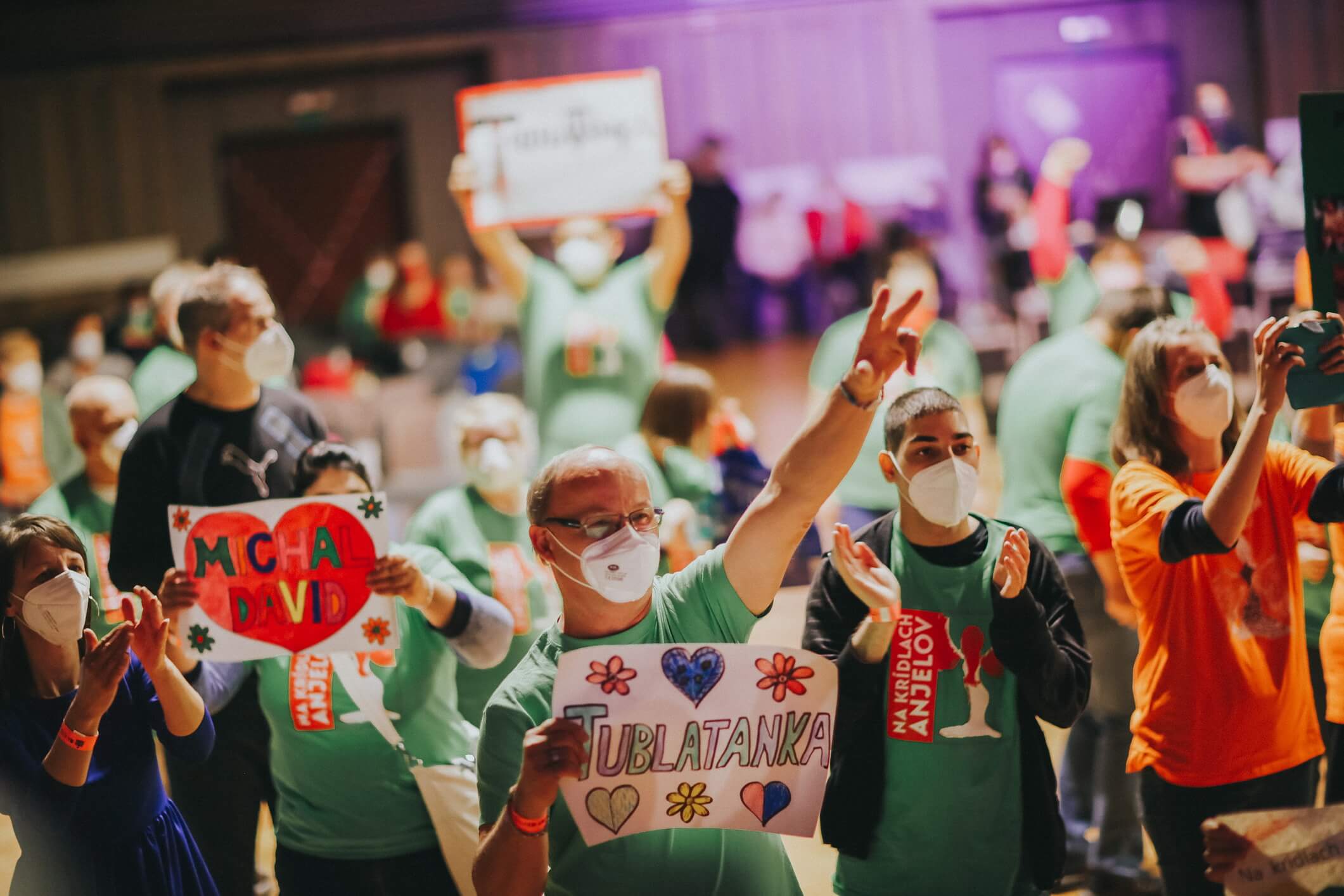 Nástroje pripravené. A už je tu. S mladíckym výzorom. V typickej košeli. Martin Ďurinda. Nie je sám. Bez správnych rockerov by to nebolo ono. Tublatanka. Takmer štyridsať ročná história kapely nesie so sebou množstvo hitov. Chlapci otvorili Šlabikár a spod gitarových strún sa začal odvíjať príbeh. Ja sa vrátim. Klavír a Dnes. Dnes mám rande so svojim mestom… Bubny naberajú na sile. Transparenty nad hlavami. "Teším sa, keď dostaneme takéto pozvanie, zahrať aj takémuto publiku, ktoré možno nemá tú príležitosť chodiť bežne na koncerty našej kapely. A keď našu muziku môžeme posunúť ešte aj ľuďom, ktorí prídu a počúvajú ju s nadšením a doma maľovali transparenty s nadpisom Tublatanka, prilepovali tam fotografie, to si nás veľmi uctili." Čo by sme mali Bez tvojej lásky. Všetkým mamkám, tetám v sále vyhŕkli slzičky pri piesni Matka. Slová také pravdivé. Zabudni na trápenie … Baladickú melódiu vystriedal poriadny rock Vo veľkej škole dní. A odznela i moja obľúbená Loď do neznáma. Krásne spomienky na maturiťák. Aktuálna téma i po rokoch Pravda zvíťazí. Publikum spieva refrén s Martinom. "Toto publikum bolo strašne milé a my si to veľmi vážime. Spievali s nami celý koncert. A to je niečo perfektné, čo ma hreje pri srdci."Veľký potlesk. Darčeky.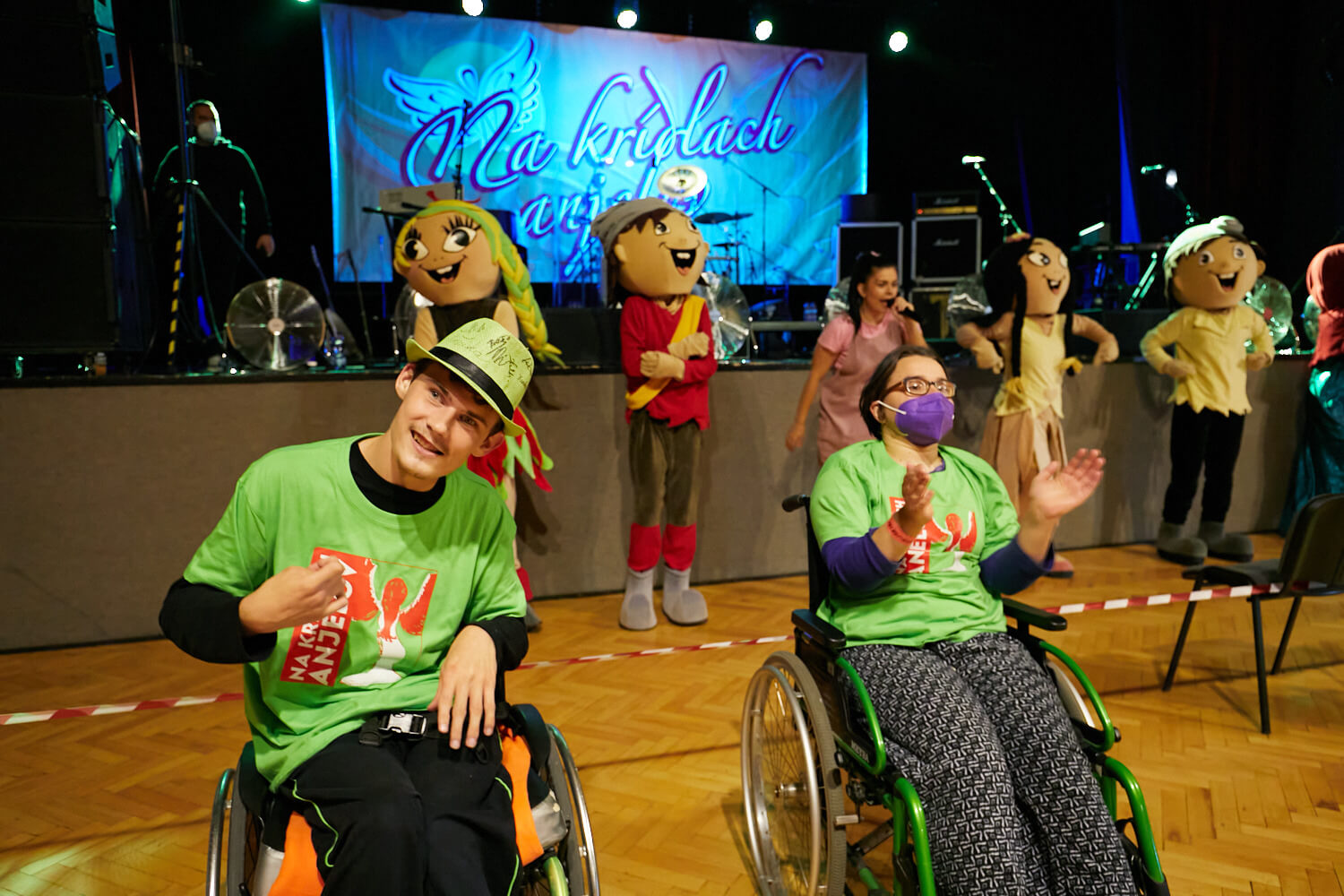 Výmenu nástrojov treba využiť. Moderátori odovzdávajú slovo šarmantnej Lenke z dezinfekčnej hliadky. Vysvetľuje ako prebieha dezinfekcia, kde nájdu prítomní členov hliadky.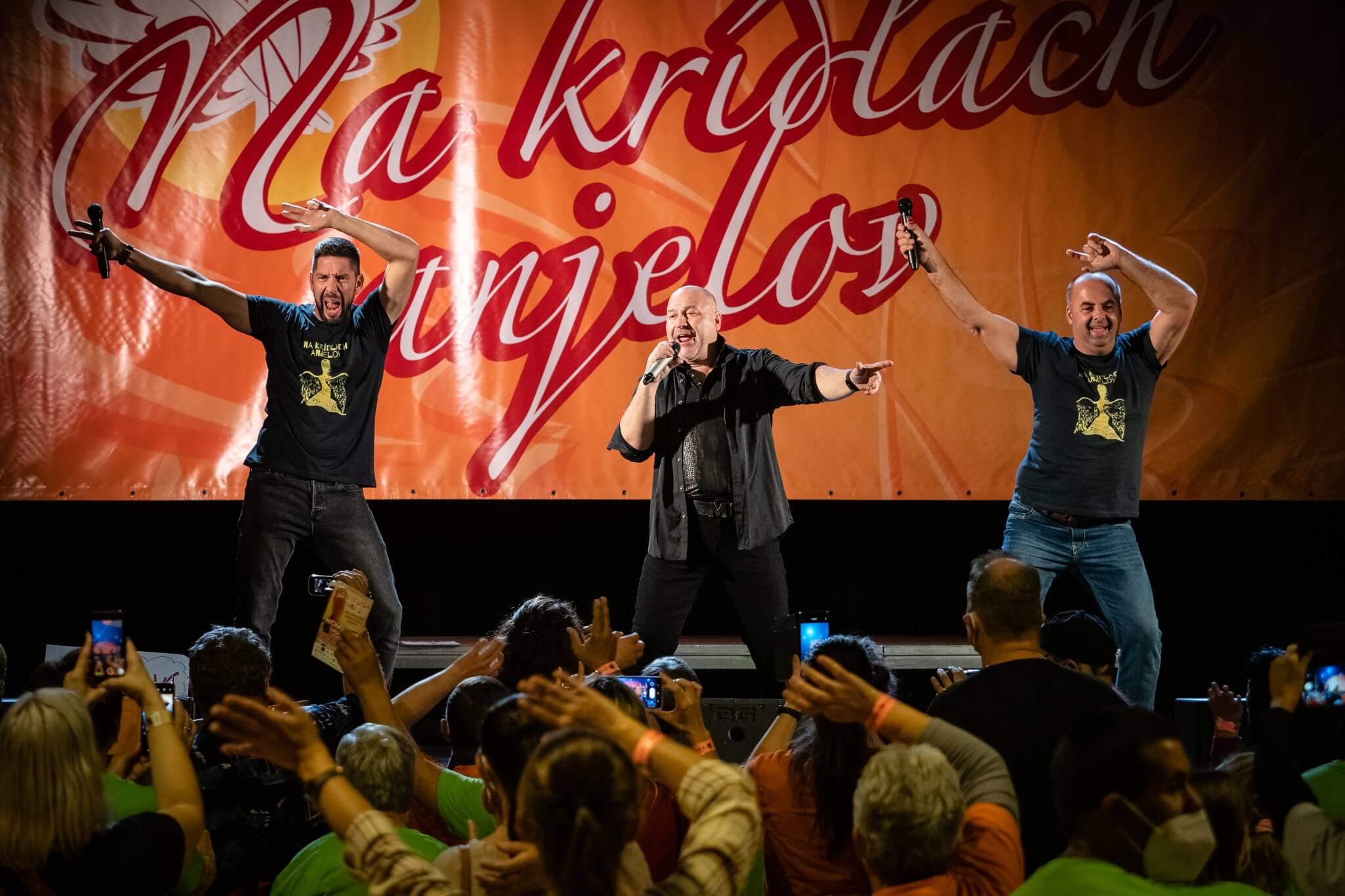 Ale čo to? Chystá sa nebodaj svadba? Elegantní páni vo vestách. S klobúkmi na hlave. Nie. To už je pripravená kapela Los Brados. Záhorácka zábava v priamom prenose. Čierne okuliare. No…ako z filmu. Prevzaté piesne slovenských i zahraničných interpretov pretextované do záhoráčtiny. Dobrá nálada sa dá aj doma, Vo vani zažiť. Neobišla ich ani Korona. Naliať ruma sme si nemohli, tak sme si dali aspoň Pečivo, chleba a 4 rohlíky. A poďte si zatancovať všetci. Makarena. Ruky. Zavrť bokmi. Hop. "My sme strašne prekvapení a tešíme sa, jak sa bavili deti. Plagáty boli krásne, fantastické. A byť na plagáte s Tublatankou a Michalom Davidom, tak to je pre nás veľká česť."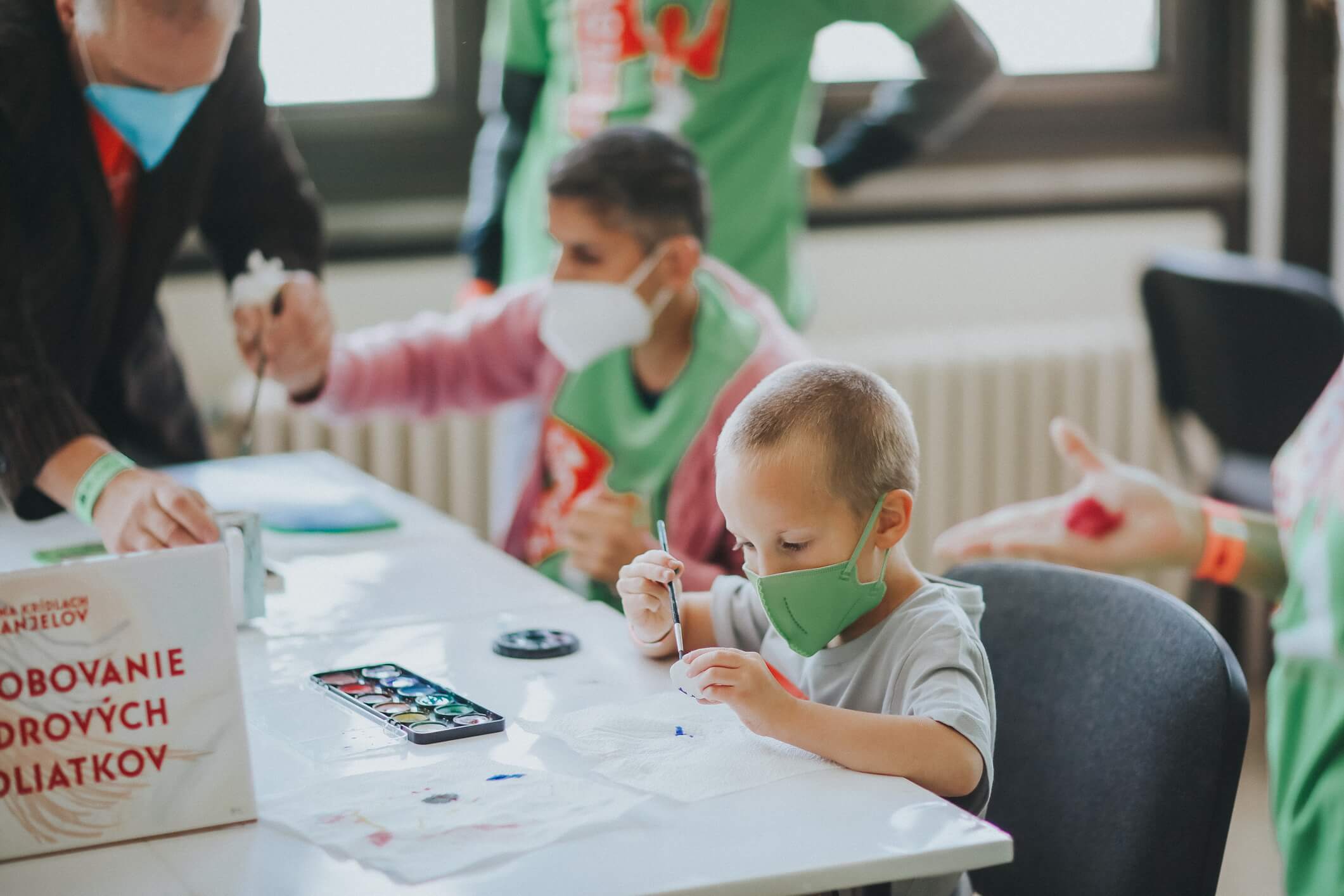 A tak prišiel i čas odmeniť. Transparenty. Tie naj. Prísna porota v zložení Milan, Richard a Šoko veru mali ťažkú úlohu. Vybrať ten, alebo radšej ten vzadu? Ktorý je najkrajší? Alebo najväčší? Krátka porada a darčeky putujú k víťazom. Ani ostatní nesmúťte. Malý darček dostane každý. Šoko s Richardom sa doplnili. "Tá atmosféra, ktorá tu je, nie je len nejako umelo vytvorená, ale že naozaj vzniká tu, na mieste. Cítim tu ja osobne srdiečko."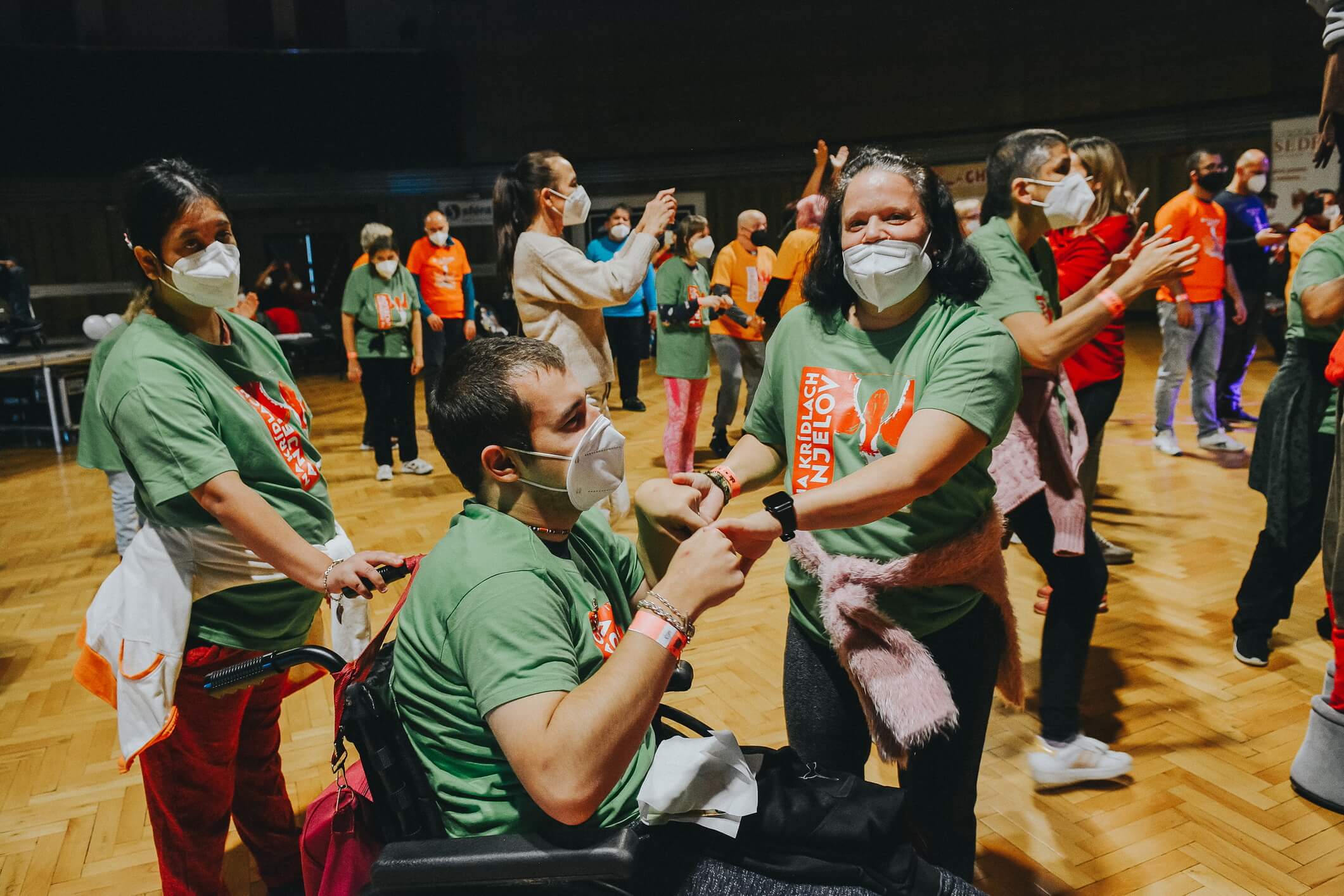 To najlepšie na koniec. Kto iný, ako Michal David. "Proto že tyhlety děcka si zaslouží určitě nějakou hezkou muziku. Zaslouží si určitě uspořádat takovéto akce." Český jazyk – žiadny problém. Hitom Nonstop odpálil Michal disco ako sa patrí. Nesnáčím loučení, Céčka. Zábava naberá na obrátkach. Čo tak občerstviť sa. Colu, pijeme colu. Roztáčame svoj Diskopříběh. A "inak obdarení" tancujú, spievajú. Aspoň na chvíľu zabúdajú. Na svoje starosti. Žijú teraz, v prítomnosti s Decibelmi lásky, ktoré znejú po celej sále. Ooo. " Já bych jim přál všem těm děckám, ať jsou Na křídlech andělu, ať se vznášejí. Proto že muzika k tomu patří. A při tom těžkým životě, co mají, ať mají trošku radosti." Každý nám v tej chvíli mohol závidieť. Ruky nad hlavy. Stlmiť svetlá. Nekončiaci potlesk. Foto. Ešte posledné darčeky. Zamávať.
Záver. Posledná "klapka" a ide sa domov. So slovami vďaky na perách. Veľké ďakujem pre organizátora, účinkujúcich. Ďakujem pre dobrovoľníkov, zvukárov, podporovateľov. Ďakujem aj pre tých, čo sa celý rok starajú o "inak obdarených". Najlepšie to vystihla Eva Mrázová: "myšlienka tohto podujatia zasiahla aj našich seniorov, s ktorými sme sa podujatia zúčastnili. Od dojatia mali slzy na krajíčku."
A my sa už teraz tešíme na Benefičný koncert Na krídlach anjelov 2022.
Text: Júlia Platková
Foto: Igor Frimmel, Milan Maršalka a Marek Vaco
Video: Igor Kolesár